Ultra Music Festival was on fire – literally and figuratively – this year in Miami! 
---
Ultra Music Festival is famous in the world of electronic music and in Miami itself, having called it home for over twenty years. This year's edition of the festival saw a location change to Virginia Key Beach which had a huge impact. As it was my first time experiencing Ultra and being in Miami, I was hoping that our infamous Florida weather would hold up. My prayers were answered with beautiful, warm, sunny days and cool, clear nights. It's hard to not know who and what Ultra is if you're at all involved in the world of EDM as their brand has a longstanding reputation as a hard-hitting festival that travels the world and is known for its extravagance and showmanship.
A new home on Virginia Key meant more space and new sights and stages for everyone to enjoy.
When it came to the venue, the festival was broken up into two parts, the first being the area and stages around the main stage including the UMF Radio, Live Arena, and Ultra Worldwide stages. The second was Resistance Island, which, after a thirty-minute walk, featured some smaller stages such as the Arrival and Reflector stages. Overlooking those was the appropriately named Carl Cox Megastructure.
Compared to the main stage area, Resistance Island was figuratively and literally darker with an exotic feel curated by the more creative and intimate stages, aside from the Megastructure itself. Thankfully, the walk to each side of the festival, albeit being longer than most people would have liked, was well lit and kept us entertained with strategically placed speakers and screens broadcasting the various stage performances.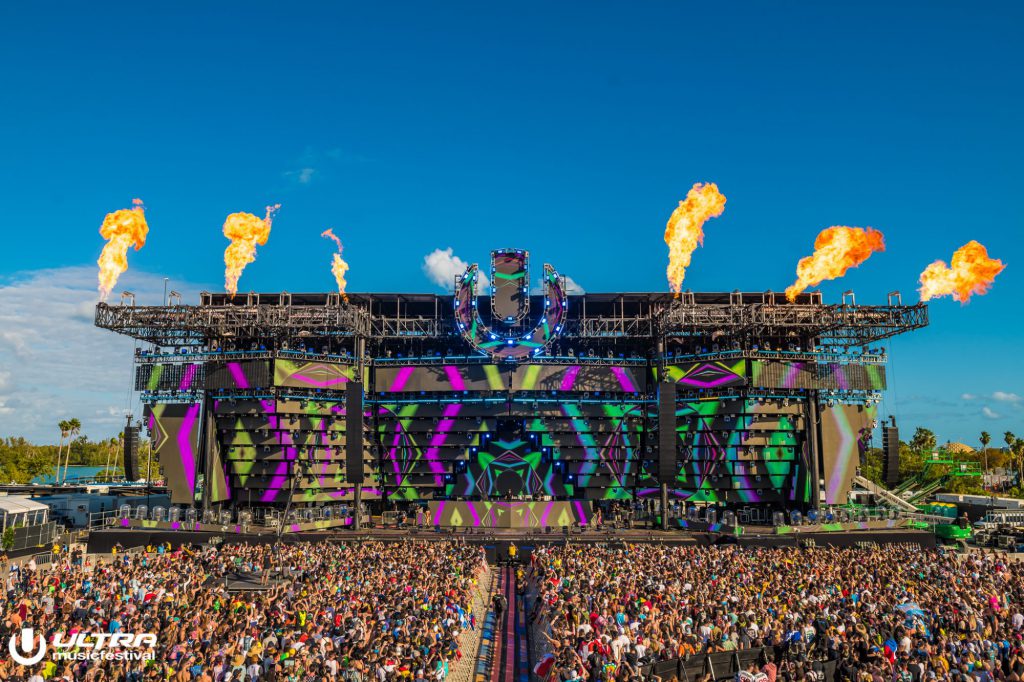 Some technical difficulties led to a bumpy start, but new terrain can often lead to new challenges.
Unfortunately, Ultra did have some technical issues which can be frustrating for everyone involved. There were at least two major issues with power outages at UMF; one during Cash Cash's set and another during deadmau5. Electronic trio Cash Cash had a spectacular diva moment when after several glitches with their mixer, one member decided to throw it off the stage and toward the crowd. About twenty minutes later, it was replaced by Ultra staff and the show continued, but even though technical malfunctions like that are incredibly frustrating for artists and fans alike, having a temper tantrum and chucking expensive equipment toward a crowd of your fans seems a bit extreme.
In contrast, when the generators powering deadmau5's Cube 3.0 structure powered down about forty minutes into his premiere set, he reacted much more calmly by hanging out onstage and commiserating with his fans about the major flop that was Colonel Sanders' set from the first day until the power was up and running once again.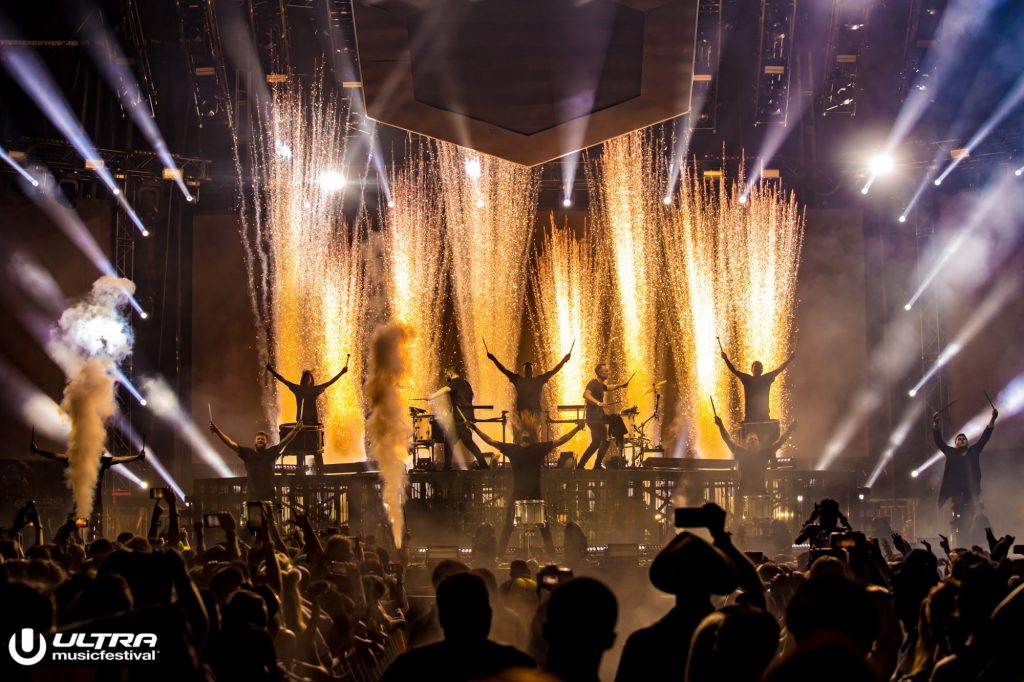 As many have heard by now, there were also a few issues with transportation out of the festival on Friday night.
The decision was made to disable Uber, Lyft, and other third-party ride-sharing drivers from coming onto Virginia Key to pick anyone up, and instead festival-goers were encouraged to board shuttle buses to various drop-off points throughout the city. The few ferries were reserved for VIP guests and those that had purchased passes beforehand. The entire experience can be summarized as confusing. Some reports say that an accident held up several of the buses, but it was clear that there weren't enough shuttles operating in the first place to accommodate the tens of thousands of people leaving the festival all at once.
No one was quite sure where to go, not even the security personnel or police officers, though they were useful for trying to stop people from wandering out into the road. To top it all off, a fire broke out next to the main walkway in the grounds, and we, along with many others, were all guided out of the event and onto the street. Trying to get on any shuttle with open doors became dangerous as people resorted to pushing and shoving their way on board.
After waiting over an hour, we decided to join the mass of thousands of attendees who had decided to walk three miles to the mainland to order a ride home.
Unfortunately, the apps, if they were working at all, were charging a minimum of $50 to travel only two or three miles. My crew found a cool group of guys who were going the same direction and walked the last two miles laughing and talking with them. This was just another heartening example of people at festivals coming together and staying positive in unpleasant situations that makes me love this community that much more.
Ultra sent out an apology via Twitter the next day. Thankfully, there were no serious injuries reported, and the transportation organization improved monumentally for the next two days. Their solution to the problem involved increasing the number of shuttles and keeping the grounds and vendors open for another hour after the stages closed, and they even had some secret pop-up sets so that everyone didn't leave all at once. Despite the technical and organizational difficulties, UMF was still able to win over its attendees with its incredible lineup.
Diving into the heart of the festival, the music, here are some of my favorite sets from each day.
Tom Morello started us off on Friday at the Live Arena with a rock vibe that fit surprisingly well at an electronic festival like Ultra, which is why I imagine he was asked back this year. The bulk of his set focused on his 2018 album The Atlas Underground, a rock/electronic fusion album that made waves by featuring names like Bassnectar, Big Boi, Pretty Lights, Steve Aoki, and several more. The veteran guitarist had everyone rocking with him with popular tracks like "Every Step That I Take", and he got us excited for what was to come with day one.
I was surprised to see them play anywhere other than the main stage, but either way, ODESZA dominated their performance, as has become habit for them. Always putting on an enrapturing show with lights and colors that move their audiences, the duo shook the stage along with their signature drum line.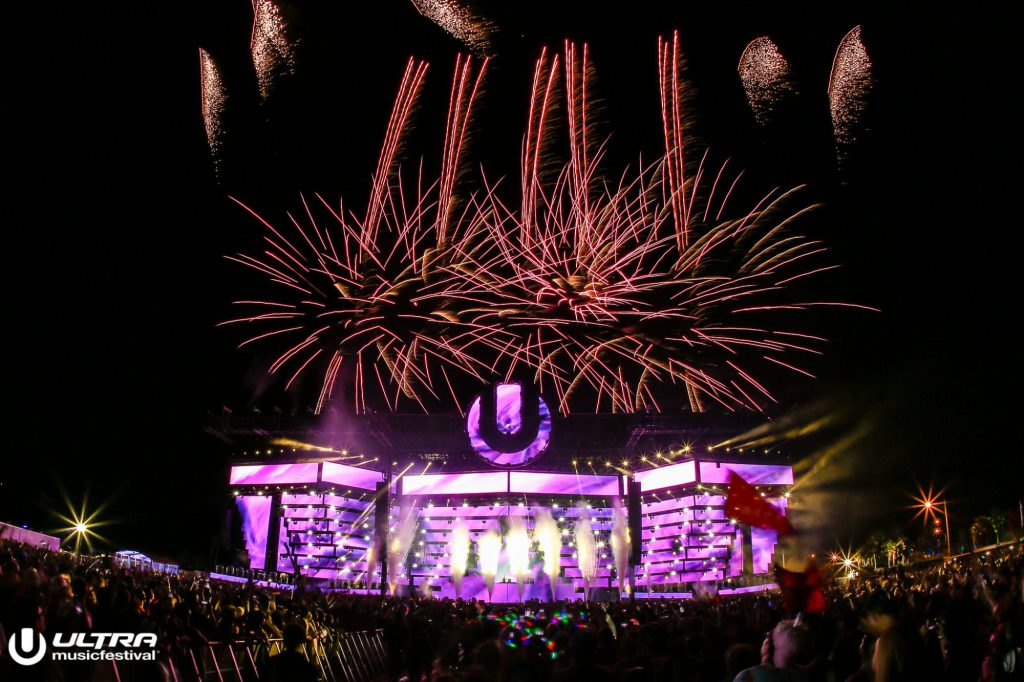 Wandering over to the Ultra Worldwide stage we caught some of the much-anticipated Skrillex & Boys Noize collaboration, Dog Blood.
With such hype surrounding their comeback appearance, there was a huge crowd, and while I could understand the excitement from the more die-hard Dog Blood fans, I wasn't quite as impressed as I had hoped to be by the performance. The two had a lot of energy and were constantly hyping up the crowd, but the music itself lacked the intensity that we were expecting. But I'm hopeful that they'll find their groove for the rest their upcoming events this year like Sunset Music Festival.
Coming to the rescue were Swedish DJs Galantis, whose bubbly sound with an infectious beat had us bouncing again in no time. When it came to production size and the pure energy between those two and the crowd, it felt like we were watching a brighter and more spirited version of an ODESZA set, lasers, pyrotechnics, and all. For my first time seeing Galantis live, I can say I was definitely impressed, and I was glad to see that the size of the crowd they drew seemed to show that I wasn't the only one.
Marshmello finished out the night on the main stage.
He lit up the festival with colorful rainbow visuals and fireworks. One thing he knows how to do is keep a crowd's energy and attention by mixing in some great tracks like "Heads Will Roll" by the Yeah Yeah Yeahs, "Don't Stop Believin'" by Journey, and "Mr. Brightside" by The Killers. Overall, Marshmello was able to exceed my already high expectations and close out the first night on a good note before the madness of the trip home afterward.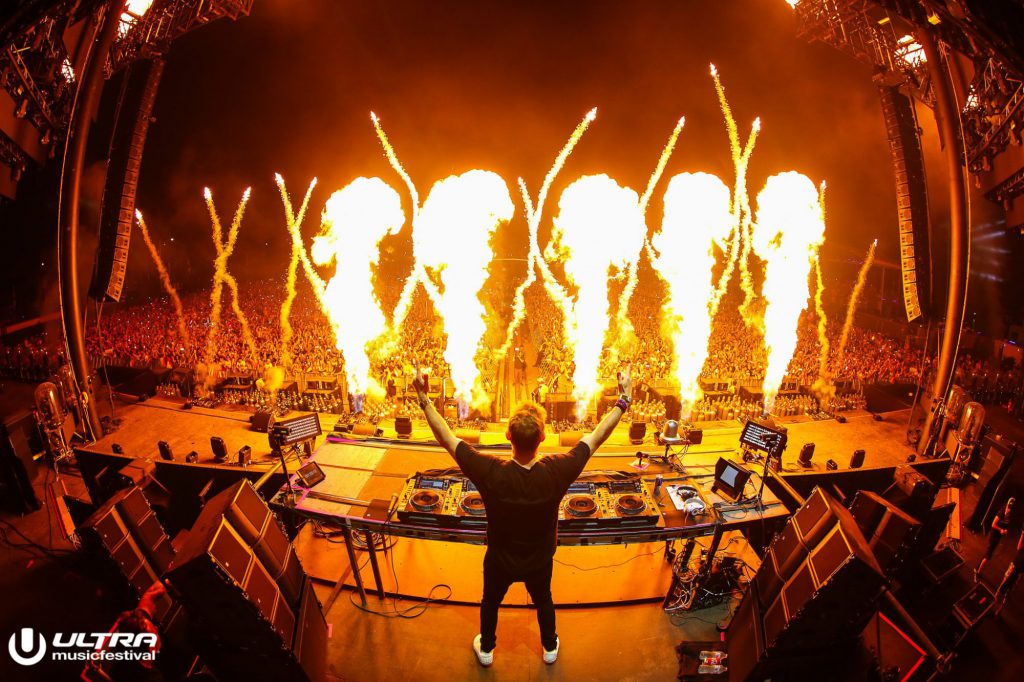 Saturday proved to be my favorite day for music by far, and every artist brought the heat to Miami with them.
NGHTMRE collaborated with GUD VIBRATIONS partner Slander earlier in the day and came back with a bang that night to appear with Big Gigantic in their Gigantic NGHTMRE set. The three didn't hold anything back, and the result was an epic concoction of jazzy hip-hop and trap/electronic influences. These two lit up the stage with a fiery performance of top hits like "Got the Love" and one of my personal favorites, "Like That", which perfectly plays off the musical strengths of both artists.
Keeping the good vibes flowing at the Live Arena, GRiZ pulled all the stops in his first Ultra Music Festival performance and "Let the Good Times Roll" such as in his hit track with Big Gigantic. He pulled in some hip-hop influences by remixing "X" by Kendrick Lamar, 2 Chainz, and Saudi and put his trip hop twist on it as well. Always one to end strong, GRiZ made sure to include the locals by bringing out the University of Miami's drumline to perform Kanye West's "All of the Lights" and his own hit "It Gets Better", and the crowd absolutely ate it up.
At the main stage, we then happened to catch a bit of the beginning of Zedd, and the Russian-born artist did so well that we ended up watching the entire set. I was definitely expecting to see more of a bubbly pop style like his radio hits, but when he dropped an edit of Childish Gambino's "This is America" followed by an epic transition into "Thunderstruck" by AC/DC, Zedd flipped every expectation I had in the best way. He kept the hits coming, dropping more tracks like "Mi Gente", "I Wanna Dance With Somebody", "Losing It", and his famous "Clarity", each followed by a remix that showed off his technical abilities and style as well.
At the end of the night came deadmau5's unveiling of the Cube 3.0 stage, a massive rotating structure with screens that move around the DJ.
His set had some of the most captivating visuals thanks to the Cube and its ever-changing displays. The crowd would go wild when the screens would rotate and we would get a glimpse of Joel at his seat inside the Cube, and it's safe to say this new production set was a massive success. That is, until the generator that powered it shut down and left deadmau5 wandering the stage shrugging apologetically to his fans. He made sure to fit in some jokes at Colonel Sanders' expense afterward though, and joked that the KFC mascot "blew the power". His good attitude kept the crowd entertained until the issue was resolved and he killed the remainder of his set.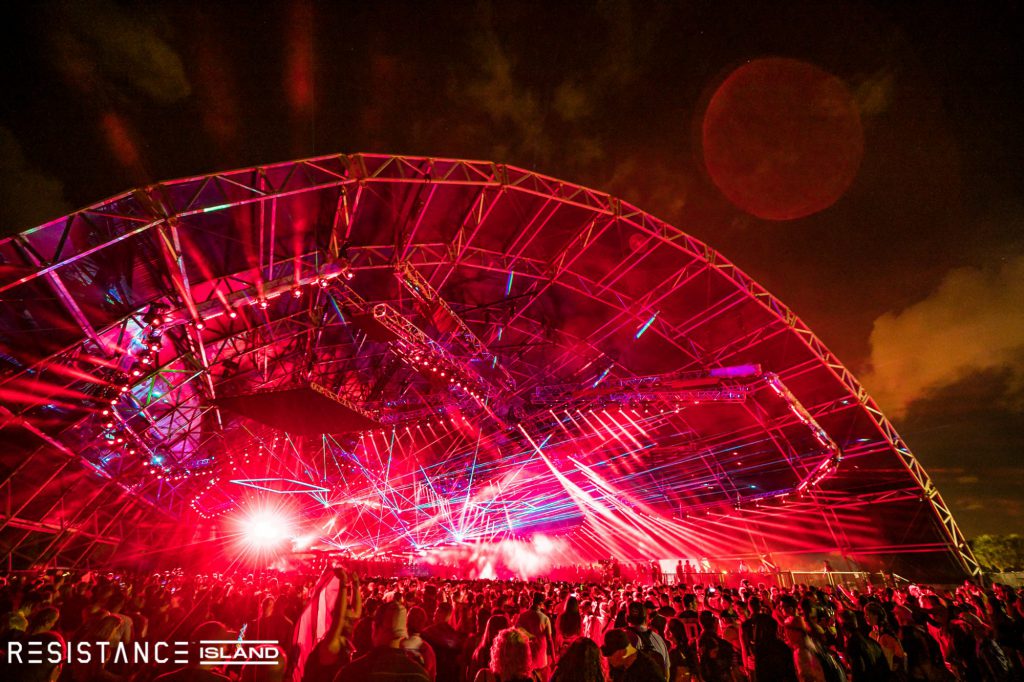 Day 3 raked in even more talent and took us on a trip to the wild side of Resistance Island.
The unanimous choice for perhaps the best show on Sunday was the famous Dutch DJ Oliver Heldens who took on the main stage as the sun went down and the stars came out over Virginia Key. Another Childish Gambino fan, he too threw out a "This is America" edit, along with his popular remix of Calvin Harris and Dua Lipa's "One Kiss" and even a "Sweet Disposition" mix that had us all in our feels. Heldens took this set as an opportunity to show off his ability to break down and dissemble beats and songs and reassemble them with his own personal touch, and it resonated with us all.
We took the opportunity to make the trek over to Resistance Island on the last day to catch some of Carl Cox's set at his impressive Megastructure that made the Live Arena look tiny by comparison. The house and techno legend played for two hours with the Ultra Angels dangling in the air on either side, making for an extraordinary sight.
We then headed back to the main stage area to finish out the night with Zeds Dead, a long-time favorite of mine who never fail to wow fans and bring the heat to whatever event they play. This time around, they unveiled a ton of new music but still threw down some fan favorites like their "Eyes on Fire" remix, "Samurai" with Ganja White Knight, "Where the Wild Things Are", and "Collapse". In my opinion, these guys are always the best choice to close out a festival or event on a high note.
In the end, the actual fire might have been extinguished, but the fire Ultra Music Festival lit inside of us burned all week long.
While Ultra Music Festival definitely struggled with some major organization and communication issues, they still threw one hell of a festival, and they deserve credit for their recovery and speedy resolving of those issues. It's not uncommon for festivals, even veteran productions like Ultra, to have trouble in new locations, but I think I can safely say that we're all curious to see where the aftermath of this Miami takes them next year. I can't wait to return to Miami for Ultra 2020 and hope that they can continue to improve their brand, because I truly had an amazing time here.
---
Follow Ultra Music Festival on Social Media: