Let your style shine bright at this year's edition of EDC Las Vegas with these five festival fashion trends!
---
With one of the biggest electronic festivals in the world a little under two weeks away, if you're planning on attending, you probably already know how you'll be getting to the speedway, where you'll be staying throughout the weekend, and maybe even what artists you plan on seeing. Beyond the necessary incidentals, however, one of the most exciting parts about preparing for EDC Las Vegas is deciding what to wear to the fest and creating three days of fashion looks!
With so many new trends already emerging in the first half of 2019, it can be overwhelming trying to incorporate all of them into your weekend looks. After all, there are only three days to experiment with. To make things easier, we've compiled our top five favorite trends for you to try this year to take your outfits to the next level at EDC Las Vegas this year. From harnesses to platform boots, read on for some inspiration to help make you the hottest raver on the speedway!
Related: Looking for some extra fashion ideas? Check out our picks from last season!
Don't forget when you're shopping at Little Black Diamond to use code EDMIDENTITY to save some cash on your new look!
Five Fashion Looks to Elevate Your EDC Las Vegas 2019 Outfit
---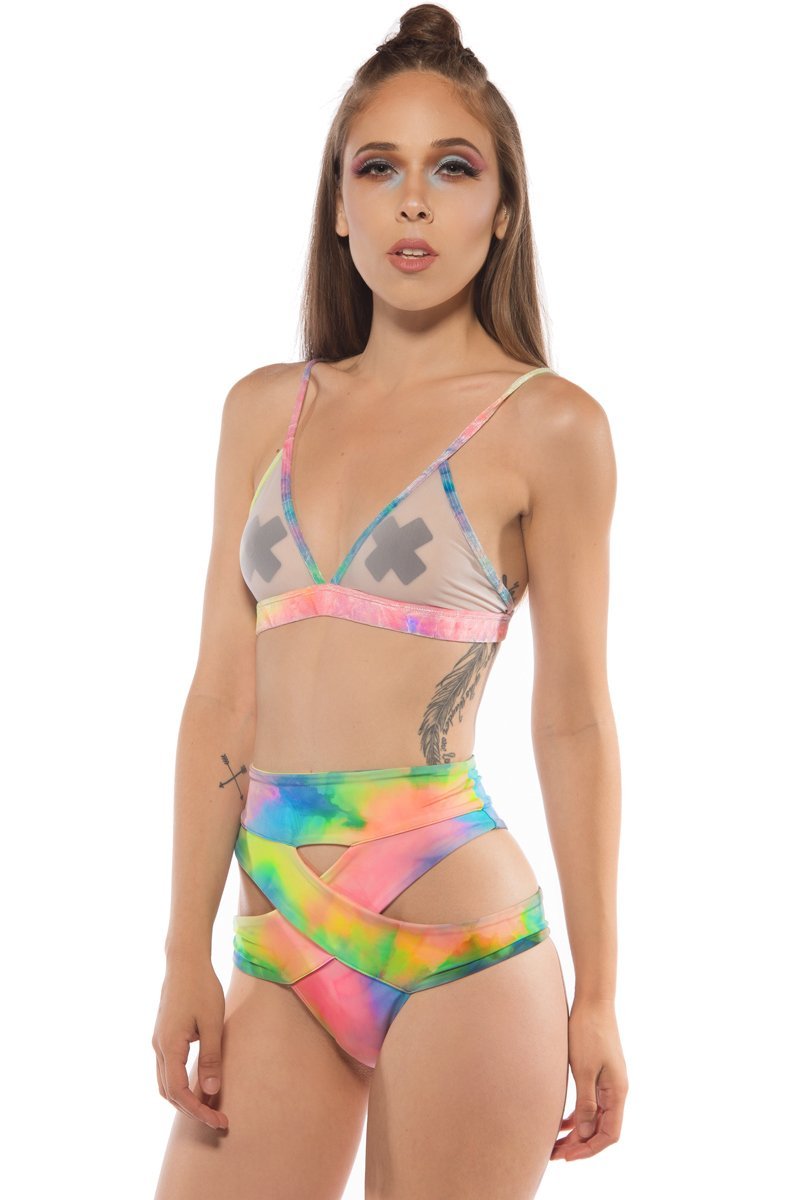 Tie Dye Everything
This year, the 70s are back and we're not complaining. Tie-dye is everywhere this season – from New York's runways to your favorite blogger's Instagram, so why should EDC Las Vegas be any exception? Incorporating this trend into your EDC fit couldn't be easier and how you choose to do so is entirely up to you.
Spice up your look and head over to Little Black Diamond for a classic bodysuit with some tie-dye, or add in some pasties to complete this hippie-chic look. Freedom Rave Wear also has a full line of tie-dye fits to choose from too.
---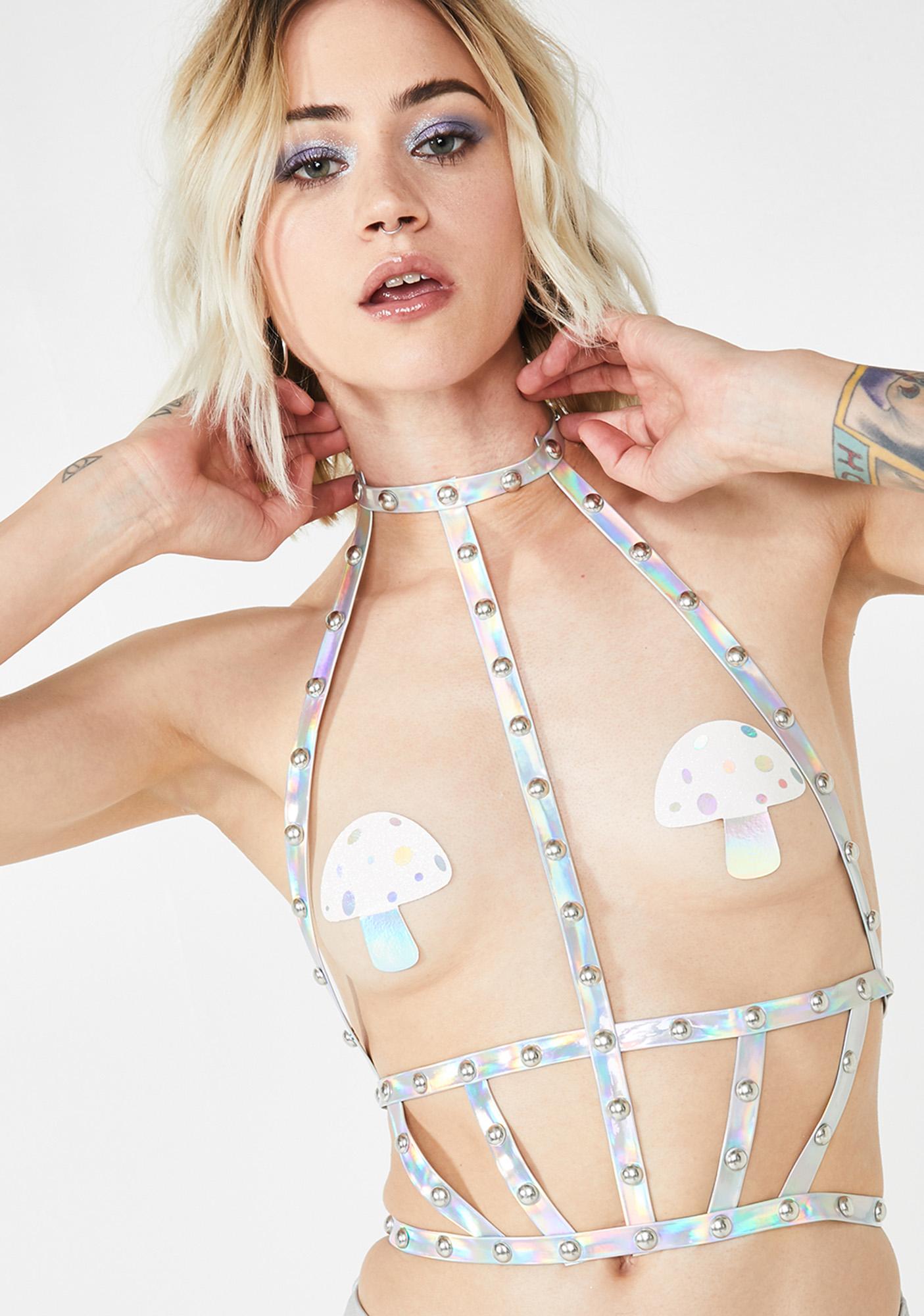 Holographic Harnesses
As burner and BDSM aesthetic continues to creep into mainstream rave wear, we're seeing a steady increase in harnesses and buckles worn by our favorite festival fashionistas. The best part about this trend is that depending on how hard you want to commit to it, your outfit can range from full on 50 Shades of Rave to a more subtle baby dominatrix.
Dollskill has some amazing options on their site that are perfect for suiting all your harness needs. From playful silver studded looks to the more intense, black chain-adorned top, if you're open to experimenting with this trend, they have something for you.
---
Platform Boots
If you're looking to truly elevate (ha ha) your style this EDC, these platform boots are the way to go. With these bad boys on, the world is your oyster. Not only are they super cute and add the finishing touch to every outfit, but they're also extremely durable and somehow more comfortable than your typical platforms.
And forget the festival, these boots are perfect for all occasions. Need a killer pair of shoes for the perfect night out? Check. Looking to start your own street racing gang? Double check. Gearing up for the apocalypse? Super check.
Of course, if you're looking to keep things simple, these also make the perfect addition to any EDC outfit. Hey, it's your life. Check out Dollskill for all your platform boots needs.
---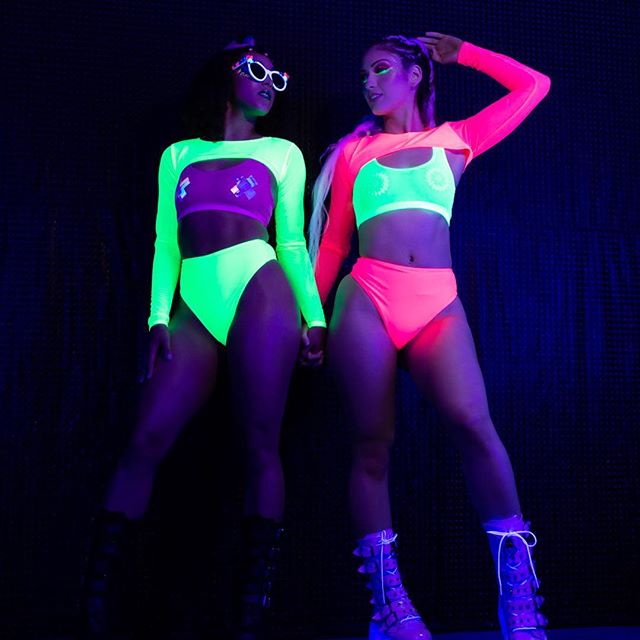 All Things Neon
If you find yourself spending the majority of your EDC grooving away in neonGARDEN, then this trend is for you. Allow your outfit to glow under the blacklight of your favorite stage by opting for a colorful, neon color scheme. It doesn't matter what color you choose, as long as it's bright and reminiscent of your mom's go-to jazzercise clothes circa 1985.
Pretty much every site that sells festival fashion fits currently has great neon options. From these amazing neon add-in hair extensions from Dollskill to these classically cool high-waisted bottoms from Freedom Rave Wear, you're sure to find some way to embrace your inner neon.
---
Hand Fans
Whether you're an EDC veteran or just have done your research, you know that the speedway can get hot. Add in some crowds and pyrotechnics at the bassPOD and before you know it you'll have sweat off that eye glitter you spent an hour meticulously applying.
Combat the heat while looking chic by accessorizing with one of the biggest trends in festival fashion right now. Although they've been around for years now, fans have become more and more prominent on the speedway, both for their practicality and versatility.
Freedom Rave Wear is a place for all your accessorizing needs and has some fans that will cool you down in stock. Clack That Fan also has a variety of cool styles and fun prints to choose from!
---
Connect with EDC Las Vegas on Social Media: