Citizens of the bass world, get re-introduced to the curators of funk in drum & bass music – Brookes Brothers!
---
Ever stumble into something so groovy and funky it infects you in just the right way? The artistic duo of Daniel and Phillip Brookes – quite literally the Brookes Brothers – did just that and set the world aflame with their breakthrough hit in 2008, "Tear You Down," released on Breakbeat Kaos.
Since then the brothers continue to influence the funky, groove-laden side of DnB music with two albums (most recently 2017's Orange Lane), multiple singles, and tours all over the world. Last year we saw the release of "New Wave" on Breakbeat Kaos, and you can also check out the Drum&BassArena release of "Every Minute" and its remixes on our YouTube channel.
Now, Brookes Brothers return to the fold on Drum&BassArena again with a brand new single titled "Good Thing". In celebration of their first release of 2019, we wanted to sit down with them and get the lowdown on who this brotherly duo really is and their journey in the dance music scene. So take a listen to their latest track below and read on for our chat with this Drum & Bass duo!
Listen to Brookes Brothers – Good Thing on YouTube:
---
First of all, thanks for sitting down with us! It's a pleasure to have two outstanding producers with some legs in the scene to chat with.
Thanks guys it's a pleasure!
Let's start with something fresh and easy for those who may not know you: what ingredients go into the recipe that makes up Brookes Brothers? If you were to plate your music as a meal, how would you describe it?
Maybe a stew? We take our time on our music, leave it to marinate and make sure it's packed with flavour.
Your sound melds the energy of drum and bass music with the funk and soul of soul and R&B. Did this creativity spur from your musical roots or is it a byproduct of just loving sounds that warm the soul?
Bit of both, we're soul boys at heart but really we love all kinds of music.
Last year you rocked the community with "Every Minute" and this year you're kicking the doors down with "Good Thing". Could you describe the creative process that went into both tracks, and if possible, what your favorite tool you used on each production?
We tend to start with a vocal idea and a chord sequence, once we've nailed a vibe we're really feeling we start to build the track properly. We were on different sides of the Atlantic when we wrote this one so we used this site called Bounce Boss, which allows us to work remotely in the same detail as if we were in the studio together. Really useful.
Breakbeat Kaos returned from the depths last year to celebrate fifteen years last year. Your classic "Tear You Down" got touched for the mix compilation along with a fresh track "New Wave." Describe what the label means to you, and more generally, what you see as the lasting legacy for the label.
BBK will always have a special place in our hearts as it's where we first really started getting noticed, that was an exciting time for us. Lasting legacy would be its amazing catalogue of music – Dreadlock, Tomb Raider, all the early Pendulum stuff, etc. so many great tunes, and some classic artwork.
The breakthrough moment you carry in your biography about using an old AOL Instant Messenger address for Breakbeat Kaos demo submissions sounds so archaic today but also so simple. When you look at the industry today, what do you see as the greatest challenge for new talent garnering exposure?
Ruthless self-promotion! The game has changed so much since the days we came through, being savvy in that respect seems as important as actually making the music. We never had to worry about social media and branding when we broke through, we could just focus all of our energy into making the best music we could.
You've been celebrating ten years of "Tear You Down" as of this past November. Looking back at all the memories and struggles, what five pieces of advice could you offer to a rising talent?
Don't let success go to your head
Keep a tight-knit group of friends around you
Don't forget to set your alarm after an abroad gig and miss your flight home
Eat healthy on the road – plenty of fruit and veg
Don't sign any crappy deals – have everything looked at properly and never sell yourself short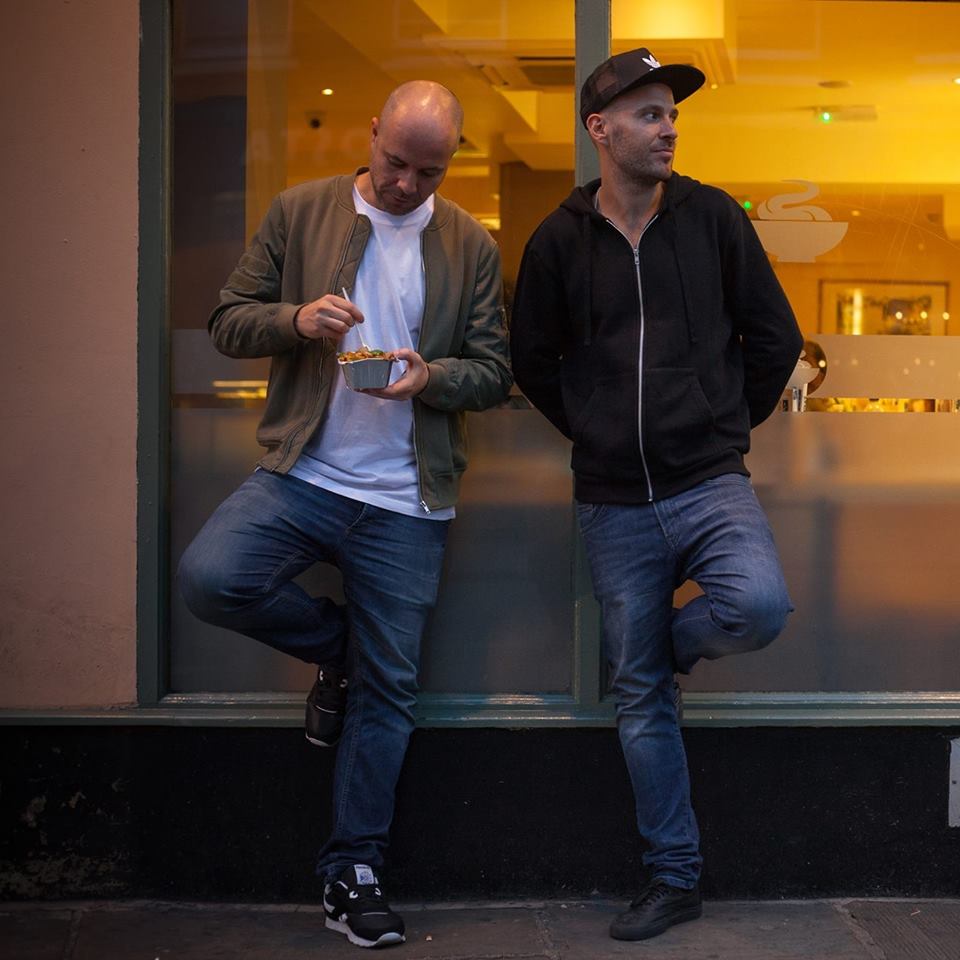 Let's shift to touring and performing. What are three items that absolutely have to be in your bag outside of your USB sticks and headphones?
A big bottle of water – always stay hydrated especially when consuming alcohol
Laptop in case of any last minute rekord box alterations
Fresh towel to mop your sweaty brow
One last fun question – what's one hobby that people would be surprised to find out love or do? What keeps you engaged in doing it?
Music is still our hobby as well as our career, which makes us very lucky guys. Besides that we've both loved to play snooker since we were kids and spent much of our time as teenagers in a dark, smoky snooker hall. Sadly we haven't played in a good few years but it's a passion we'd both like to rediscover.
As a closure, we'd love to thank you for the time you've both taken in answering our questions and sharing a slice of your lives with us. Any parting comment for fans?
Thanks for having us! Huge shout to our lovely fans and thanks so much for your continued support over the years. We love you guys.
---
Follow the Brookes Brothers on Social Media:
Facebook | Twitter | Instagram | SoundCloud | Spotify