Genre-bending bass music artist Crankdat has released his much-anticipated debut EP, GEARWORLD, Vol. 1, on Kayzo's Welcome Records.
---
Crankdat has absolutely emerged as one of the most innovative artists in the bass music scene over the past few years. First gaining traction in the community through his popular SoundCloud remixes of Fetty Wap, Skrillex, and more, Crankdat has evolved into a diverse and groundbreaking artist, constantly pushing the boundaries of his sound and brand. His releases have consistently improved over the years, culminating with this release of his debut EP, GEARWORLD Vol. 1.
Take a listen to the six tracks below, and expect more amazing music from Crankdat in the future while he blows our minds on the tour front! He will absolutely be on my "can't miss" list for the upcoming festival season following an impressive performance at Electric Forest last year.
GEARWORLD, Vol. 1, available now on Beatport, is appropriately released on Kayzo's Welcome Records imprint.
Stream GEARWORLD Vol. 1 on Spotify:
---
Let's get into the music!
"Welcome to the Jungle" features a long, epic buildup to kick off the EP. It then impresses with a few dubstep drops before ultimately closing with a commanding mid-tempo rhythm. I really love the changes that Crankdat includes in his drops. Often, a typical track might switch up slightly in the second drop of the arrangement, but Crankdat often includes multiple surprises quickly within the same drop, and then totally switches it up later in the track.
The next song, "Monster", is one of my favorites. I'm not always a fan of rap verses within EDM songs, but the way he includes a verse from Hyro The Hero in "Monster" is perfect. "Riot", a collaboration with Gammer, is definitely one of the highlights of the EP. I'm sure every bass music producer in the world would love to watch these two guys make a track in the studio. I know I would! The two producers' unique styles are blended perfectly in their collab.
The last two tracks of the EP are a completely different vibe. Rather than brutal bass music, the focus shifts to emotional, melodic tunes. "Do You Mind" really showcases Crankdat's musical talent, as well as his ability to make any type of music he wants.
Crankdat is currently in the midst of the first phase of his "GEARWORLD" tour, with Minesweepa, Ray Volpe, and Moonboy as supporting acts.
Most tour dates showcase the premiere of a brand new visual experience and presentation, which has been carefully curated by Crankdat himself over the past year. Denver, Berkeley, and Vancouver stops still remain on the tour.
If you're lucky enough to make it to one of the remaining stops on Crankdat's tour, I highly recommend attending. His live sets are amazing; I nearly drove up to Detroit from Chicago to see his show last weekend. With festival season upon us, it has already been confirmed that Crankdat will be at Spring Awakening, and hopefully more to be announced.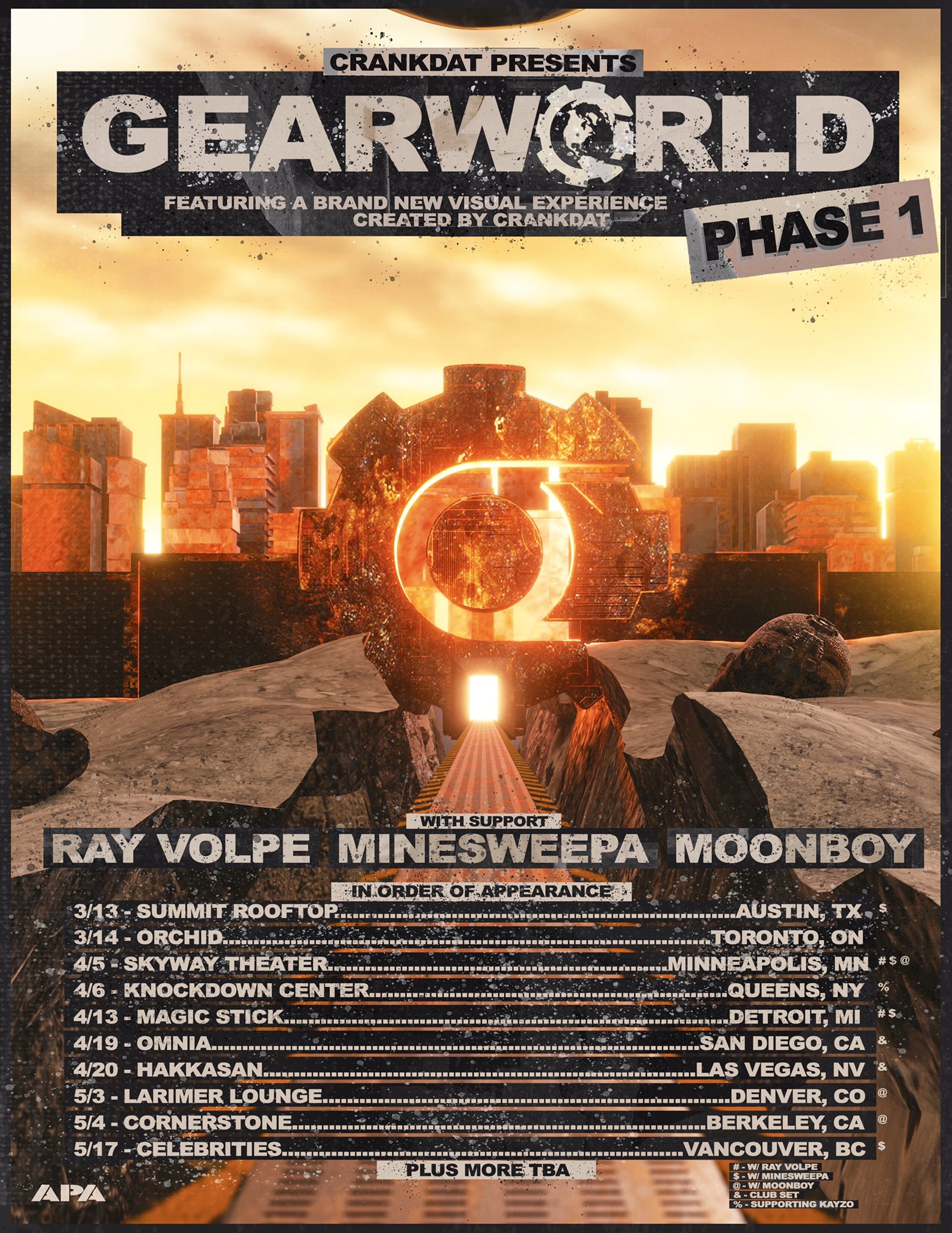 ---
Connect with Crankdat on Social Media:
Facebook | Twitter | Instagram | SoundCloud | YouTube