Zeds Dead return to Red Rocks for two nights of Deadrocks VI, featuring support from Liquid Stranger, NOISIA, Moody Good, and many more!
---
Following their highly-anticipated Electric Forest set, Zeds Dead will make their way to the Red Rocks Amphitheatre on July 2-3 for their sixth annual edition of Deadrocks. The two-night curated event consists of two unique sets from the epic bass duo, as well as a massive undercard to match. This year, attendees will witness supporting sets from INFINITY producer Liquid Stranger and DnB trio NOISIA. In addition to these legendary acts, Deadrocks VI will host 1788-L, Moody Good, Mersiv, and several others.
Grab your tickets to Deadrocks VI on AXS to lock in your experience and read on to explore the artists who are set to take the stage this year!
The first night's support will be headlined by Liquid Stranger and Moody Good. Undercard acts include Jaenga, Pax Impera, and Vampa.
Having put on my favorite set I've ever seen in my entire life at The BUKU Project 2019, Liquid Stranger will bring the weird and wonderful to Red Rocks. Showcasing his brand new album as well as some unreleased heat and old-school throwbacks, the WAKAAN founder will put on a show you will never forget.
Moody Good is just as much of a force to be reckoned with; the English producer just released his Goofball EP which has already been rinsed in live sets by Zeds Dead, Mersiv, and several other notable producers. If you're thirsty for intricate sound design like you've never heard before, Moody Good's set will satisfy your craving.
Based in New York City, Jaenga comes strapped with a wildly diverse repertoire. Filled with vibey swells and ridiculous wobble, Jaenga's sonic collection is sure to blow Deadrocks attendees away and prime them for the night. For a taste of this artist's artistic flair, check out one of my favorites by him and Weekend Warriors, "Monsters".
Up next on the lineup for Night 1 is Pax Impera. With seductive electro influence and dark midtempo, Pax Impera's sound will be a much-welcomed change of pace in the night. Check out his subterranean basswaves in "Purge" and see what you're in for!
Last but definitely not least on the first night's lineup is VAMPA. If you like that kind of lowdown wobble that'll shake your soul, you're gonna love this girl's set. Specializing in deep dub, VAMPA's hypnotizing soundwaves will undoubtedly get you groovin' low and dirty. Check out one of my favorite tunes by her, "Shapeshifting".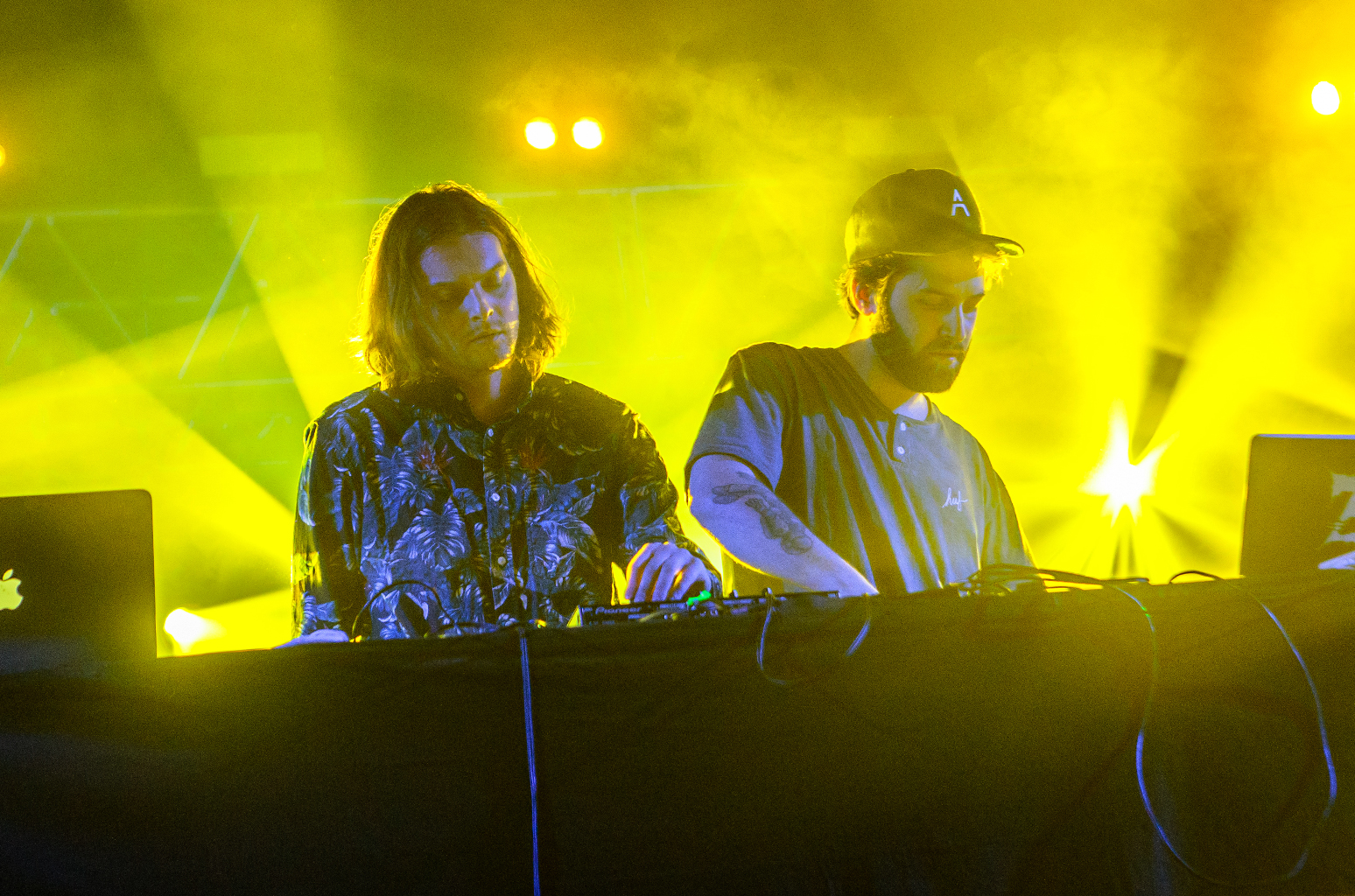 The second night's support will be headlined by NOISIA and 1788-L, followed by Mersiv, LICK, and Holly.
Dutch trio NOISIA is regarded as one of the most influential and legendary electronic acts to grace the bass music industry. While integrating revolutionary sound design, NOISIA seamlessly intersects genres while placing a majority of their focus on drum and bass. It only makes sense that Zeds Dead, a widely diverse bass duo that dabbles in everything, would join forces with the iconic DnB trio.
1788-L has been all the rage the past few months. The mysterious artist has appeared alongside other popular midtempo bass acts such as Rezz and Deathpact. If you dig deep and dark static-filled wubs and ominous electro, you'll love this set.
I got the chance to finally catch Mersiv at BUKU this year, and he was one of my favorite sets for so many reasons. This aspiring artist does an impeccable job of mixing, layering slinky hip-hop vocals and beats with delectable bass tunes. His stage presence is beautifully intense and makes you realize just how immersed he is in what he does. Check out one of my favorite songs by this quickly rising bass star, "Phase One".
Based in Los Angeles, LICK will carry a vibe similar to Pax Impera's for Night 2. With layers upon layers of lurking wubs and seductively dark electro, LICK will bring the energy you need. I've been especially feeling this kind of sound lately, and I know that you will too: see what I mean and check out "REBEL" from the artist's latest EP release, DIMENSION.
Last for the second night is Holly, whose alien-like warbles and subterranean basslines are sure to get your hips shaking and bass fingers waggling. Be ready for splashes of splintering dubstep, experimental bass, and some vibey genre-benders. Whatever Holly throws our way, we're bound to love. Check out his collab with Loosid "Fire Flower" that I absolutely can't get enough of.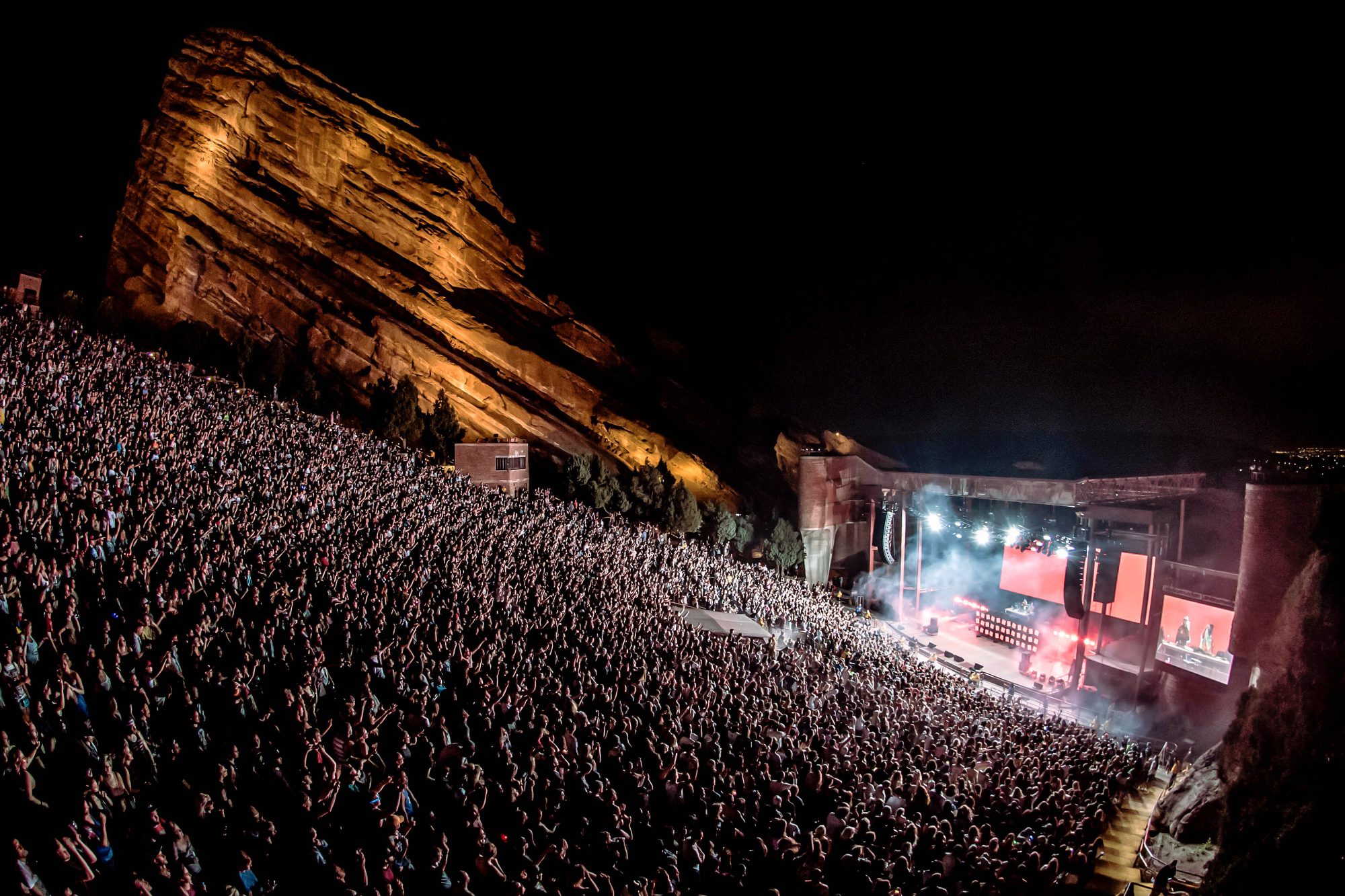 ---
Deadrocks VI – Essential Info
Date: July 2-3, 2019
Location: Red Rocks Amphitheatre, CO, 80465
Age: All ages
Hours: TBA
Facebook Event Page: RSVP HERE
Tickets: Purchase HERE
---
Deadrocks VI Lineup Poster: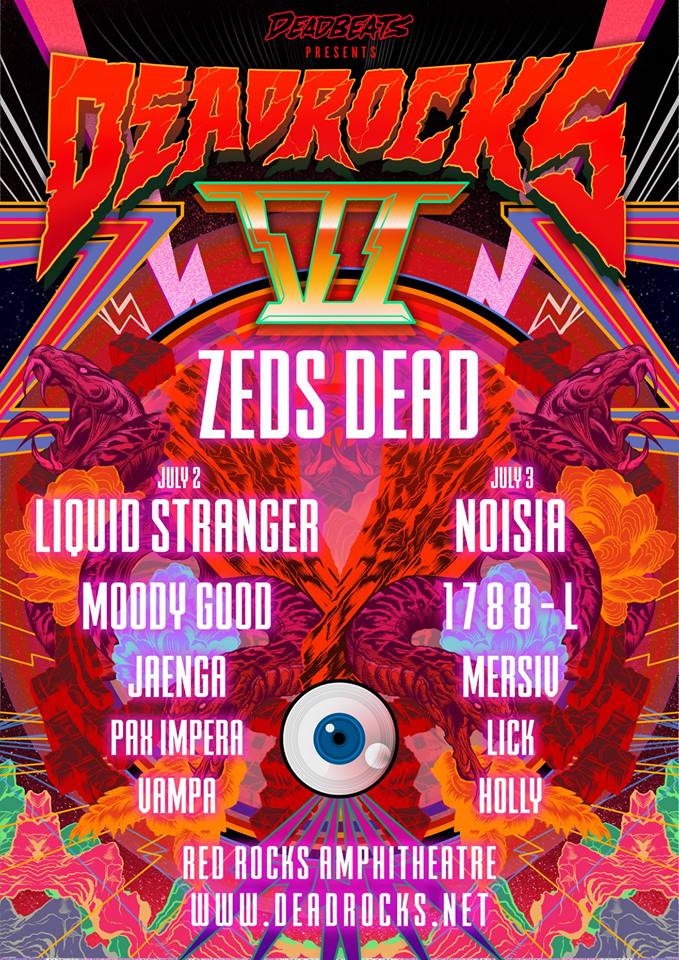 ---
Connect with Zeds Dead on Social Media:
Website | Facebook | Twitter | Instagram | SoundCloud | YouTube