Breaking a long silence since his passing, Tim Bergling's family and team have announced that a posthumous Avicii album, TIM, will be released this June.
---
Ever since the news broke that Avicii had tragically passed away last year the entire electronic music community has been reeling from the loss. The mourning reached all corners of the globe with artists paying tribute during their sets and fans soaking in every second of his music of his that they could. His passing also sparked up many discussions about mental health in the music industry as many shared their own stories.
After a long silence, Avicii's family announced the launch of the Tim Bergling Foundation in his memory last month. Focused on mental illness and suicide prevention the foundation will be everlasting and work with other organizations working in those fields. Today, more news has been released as Avicii's team has unveiled a posthumous album dubbed TIM that will also help raise funds for the charity.
Due out on June 6, TIM will feature the tracks that Avicii had been working on prior to his passing, as he had left nearly finished songs and plenty of notes about the music as well. The first single "SOS" is set to be unveiled on April 10, so stay tuned for that new song and more details as we arrive closer to the full album's release this summer.
A video has also been released to help tell the story of Avicii and the creation of TIM so that fans can get a first look at what's to come. Check it out and share your favorite memory of him and his music in the comments below.
Watch The Story Behind The Album TIM on YouTube:
---
Read the message from Avicii's Team: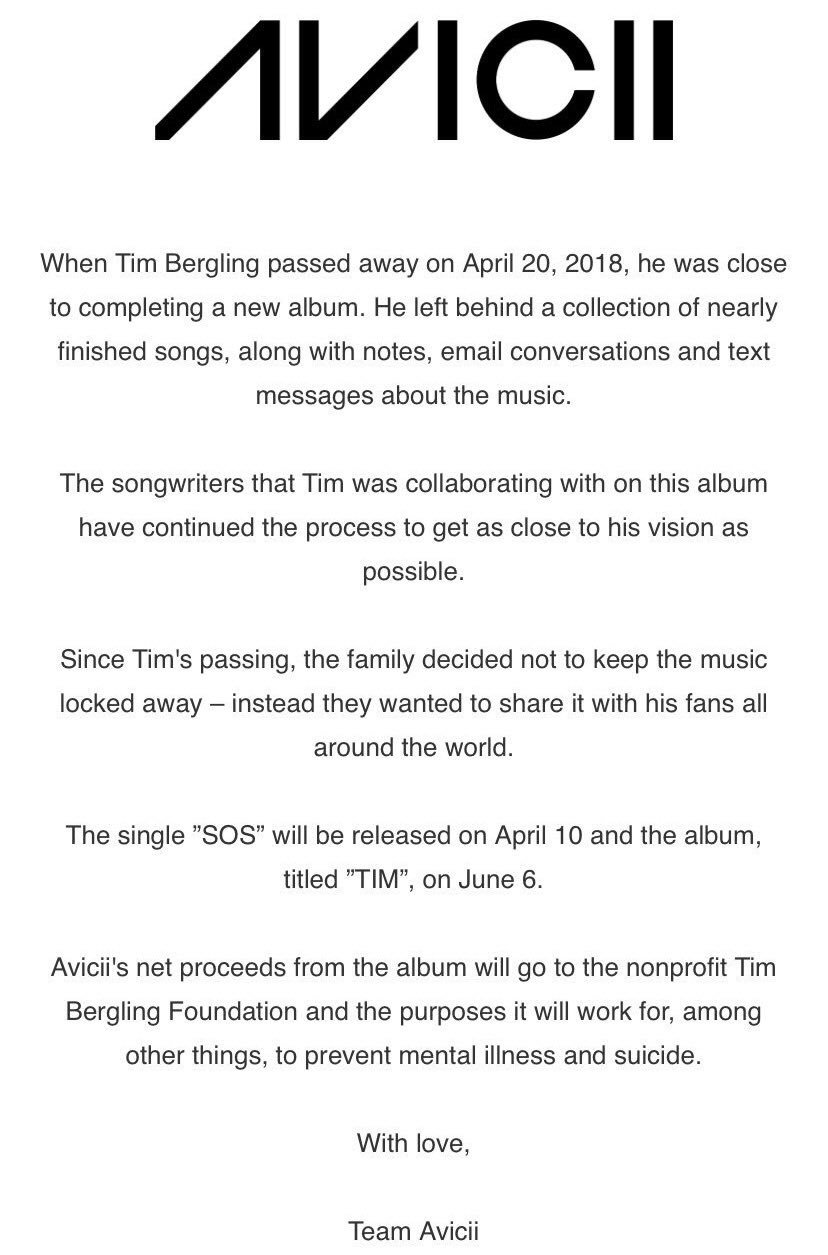 ---
Stay updated on the upcoming releases Avicii on Social Media:
Website | Facebook | Twitter | Instagram | SoundCloud | YouTube