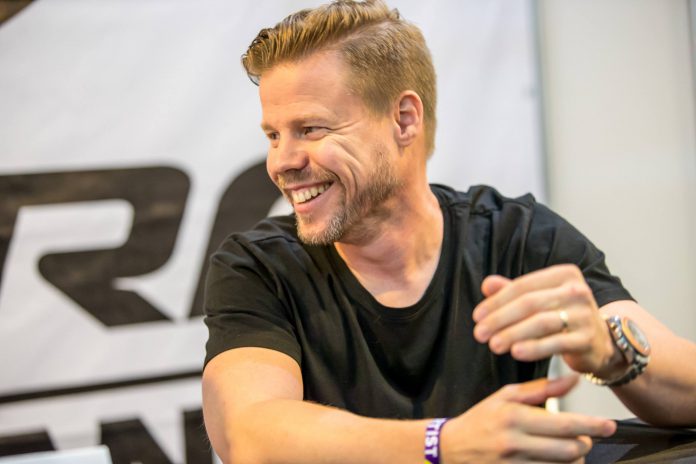 Ferry Corsten presents his next highly-anticipated solo production with "Freefall" feat. NEVVE!
---
Ferry Corsten spent the better part of last year promoting his UNITY project so when he released this solo track unrelated to the project, fans were excited to hear what the multi-talented star had up his sleeve. In his latest release, Corsten teamed up with vocalist Nevve to release the gorgeous sounding "Freefall".
This track is quite different from what he has been doing with UNITY. With that album, he teamed up with superstars from along the trance spectrum, such as Paul Oakenfold, DIM3NSION, Jordan Suckley, and Ilan Bluestone. In comparison, "Freefall" is one of the first completely solo Ferry Corston production he has released in some time! In addition, he teamed up with vocalist Nevve who has been working with some of the hottest producers in electronic music.
Not one to be confined to a single genre, on "Freefall" Corston ditches the pure trance style and returns to that progressive and electro house inspired style akin to her productions on his L.E.F. album. The uptempo track is perfectly paired with Nevve's breathy vocals with lyrics spreading a positive and inspirational message. You honestly can't help but groove and dance to the expertly placed guitars, synths, and drums beautifully woven throughout the track.
Ferry continues to traverse multiple worlds are he continues to create innovative sounds as well as revisiting previous styles. From Gouryella to System F and Blueprint to UNITY, Corsten continues to be a visionary in the electronic music world. Check out his latest track and get ready to "Freefall" with Ferry Corsten and Nevve!
Take a listen to the tune below, stream or purchase "Freefall" on your favorite platform, and let us know what your thoughts are in the comments!
Stream Ferry Corsten – Freefall on Spotify-:
---

---
Connect with Ferry Corsten on Social Media:
Website | Facebook | Twitter | Instagram | SoundCloud