W.A.R Festival 2019 is just a few days away! If you still aren't sure who to catch we've got you covered with five artists you can't miss!
---
In just a few days, hardcore, Frenchcore, and hardstyle lovers will flock to Los Angeles, CA to rage and hakken at W.A.R. Festival 2019. With a stacked lineup featuring the likes of Sefa, D-Fence, Killshot, and more, this is sure to be an amazing two days of music!
To be honest, everyone on this line-up brings a unique flavor to the billing. With so many great acts to choose from, I have to admit that I took the easy way out when picking my top 5 acts. As there are so many US debuts and one farewell, it was easy to choose what acts I definitely would not be missing.
If you have not yet guessed who my top five W.A.R. festival artists are, check out the list below! Remember, regardless of who you choose to see, you'll be in for a treat as each artist is amazing in their own right and having a stacked festival like this in the heart of LA means that we all win!
Tickets for W.A.R. Festival 2019 are going fast so grab your Day 1 and Day 2 tickets ASAP! 
Five Artists You Shouldn't Miss at W.A.R. Festival 2019
---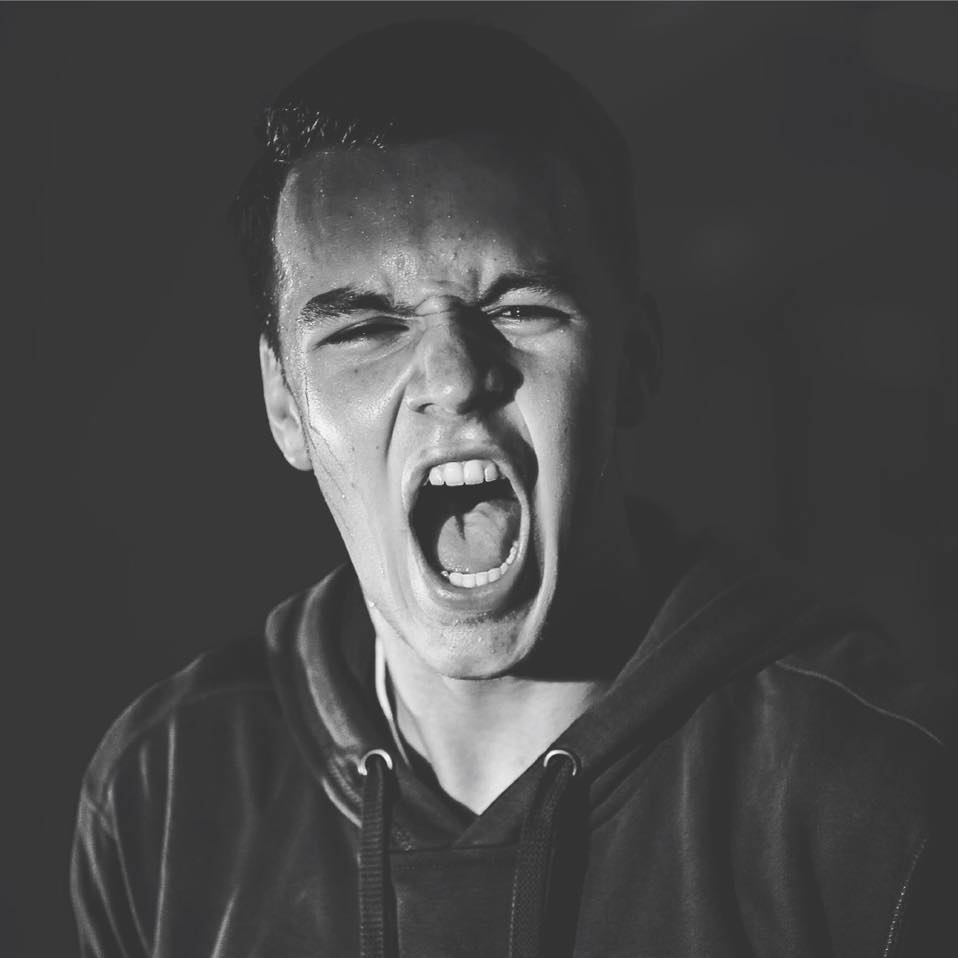 Sefa
Facebook | Twitter | SoundCloud
It's no surprise that one of the most anticipated artists of the event is none other than the Frenchcore prodigy, Sefa! He first became interested in the hardcore genre at age 10 and gravitated toward Frenchcore right around the time he met Frenchcore maestro Dr. Peacock. Sefa went on to release his first Frenchcore track at age 11, has collaborated with Dr. Peacock numerous times, and has accomplished so much especially when you consider he's only 18!
In addition to creating Frenchcore, Sefa enjoys listening to classical music. When you listen to his tracks, this is clear as he often includes raw sounds of the organ and other instruments in his tracks. He is also a self-taught pianist whose skill can be seen during any Peacock in Concert set where he and other musicians play Frenchcore on live instruments.
The 18-year-old has played multiple massive events such as Defqon.1, Dominator, Q-Base, and more. Now he is adding W.A.R. Festival to the list and opening up his performances to a larger US market, though he already has a massive fan base in the states! Make sure to catch both of his sets at his US festival debut as he will be playing a live set on Friday and a DJ set on Saturday!
---

D-Fence
Facebook | Twitter | SoundCloud
Not much is known about the masked musician but it's clear that he is making waves in the hardcore scene. D-Fence burst onto the scene in 2015 but the sets he was dropping were so amazing, you'd think he had been in the scene for years. Hardcore fans ate up every track they heard and he soon had multiple strings of hits. By 2016 he began playing major events and soon became known for dropping massively energetic sets.
D-Fence has amassed support from some of the biggest names in the scene such as Angerfist and Destructive Tendencies so he's definitely here to stay. We expected nothing short of an electrifying US debut from the mysterious musician.
---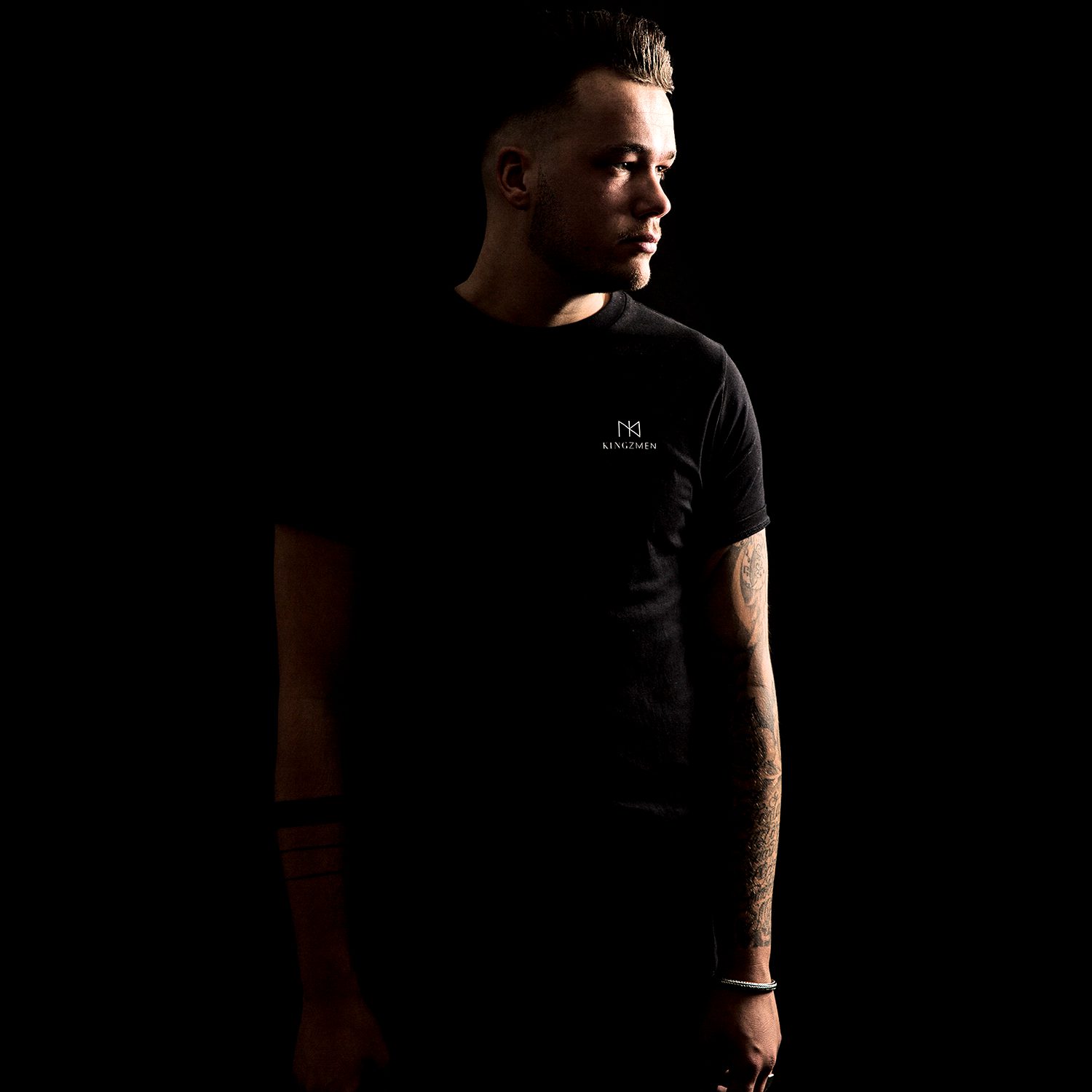 Killshot
Not to be confused with the infamous Eminem diss track, the Dutch DJ known as Killshot is a master of hardstyle. Since 2017 Killshot has been part of the revered hardstyle label, End of Line Recordings and has taken his energetic style to numerous festivals around the world. Killshot is an artist I have consistently heard about but have not had the opportunity to see therefore I'm definitely looking forward to his set. His style has been described as bold, vivacious, and all-encompassing, all of which get me hyped to see what he will be bringing to the stage on Friday.
---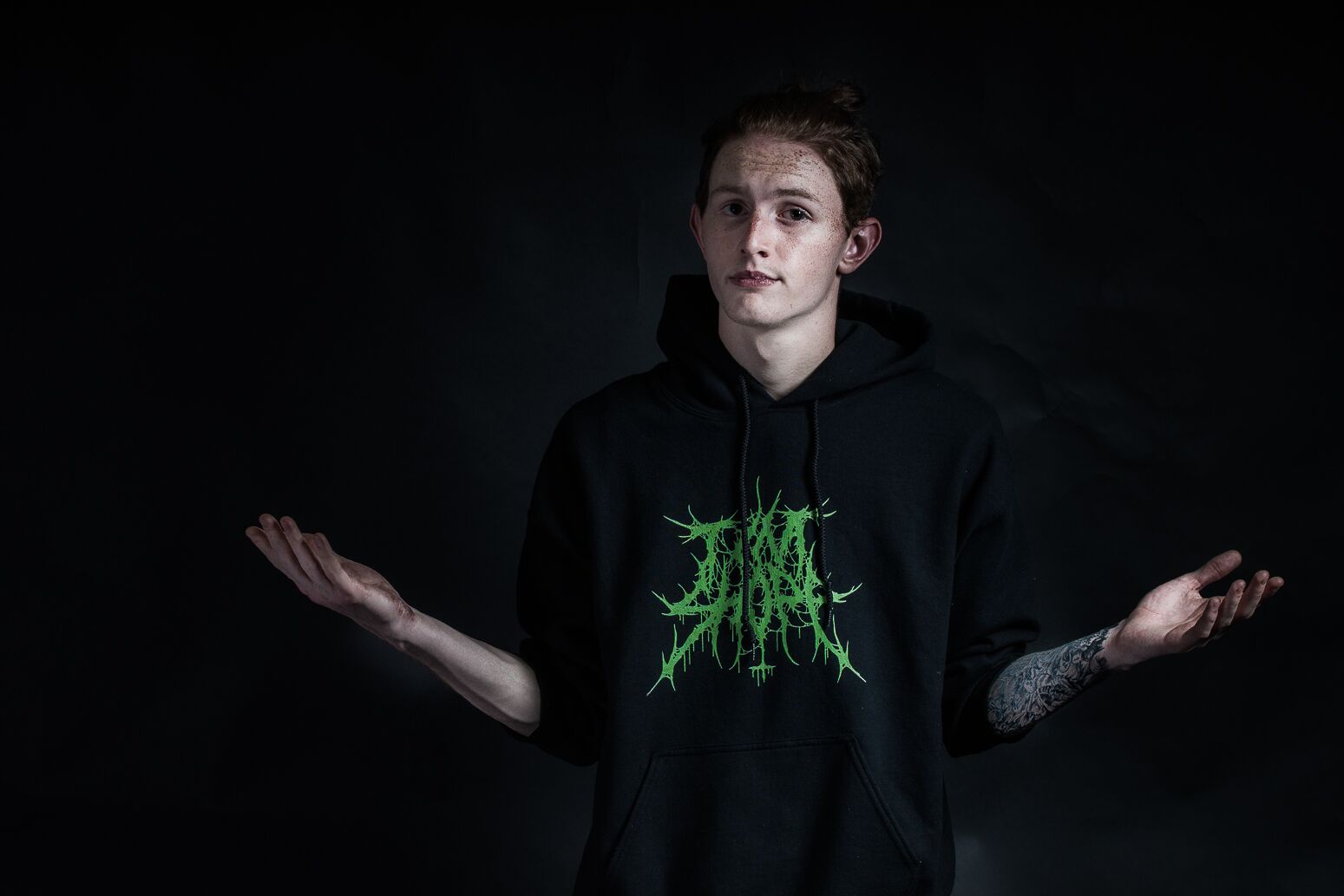 Tim Shopp
Facebook | Twitter | SoundCloud
One of the premiere American hardcore DJs, Tim Shopp has a style that is all his own. It may be due to his penchant for death metal but his sets also dabble with more of the terror and speedcore sides of the hardcore scene along with the uptempo sound he's most known for. The New Jersey hardcore artist is known both domestically and internationally and has garnered support from some of the most notable artists in the scene.
Tim's Saturday set is going to a special one. Though he has played around the US and made appearances overseas, this set will mark his farewell from the US scene for some time. Tim plans on moving to The Netherlands where he will fully immerse himself in the hard dance scene. If you've ever been a fan of his style, his sets, his tracks, or if your curiosity is piqued, be sure to check out his farewell appearance as who knows when he will return.
---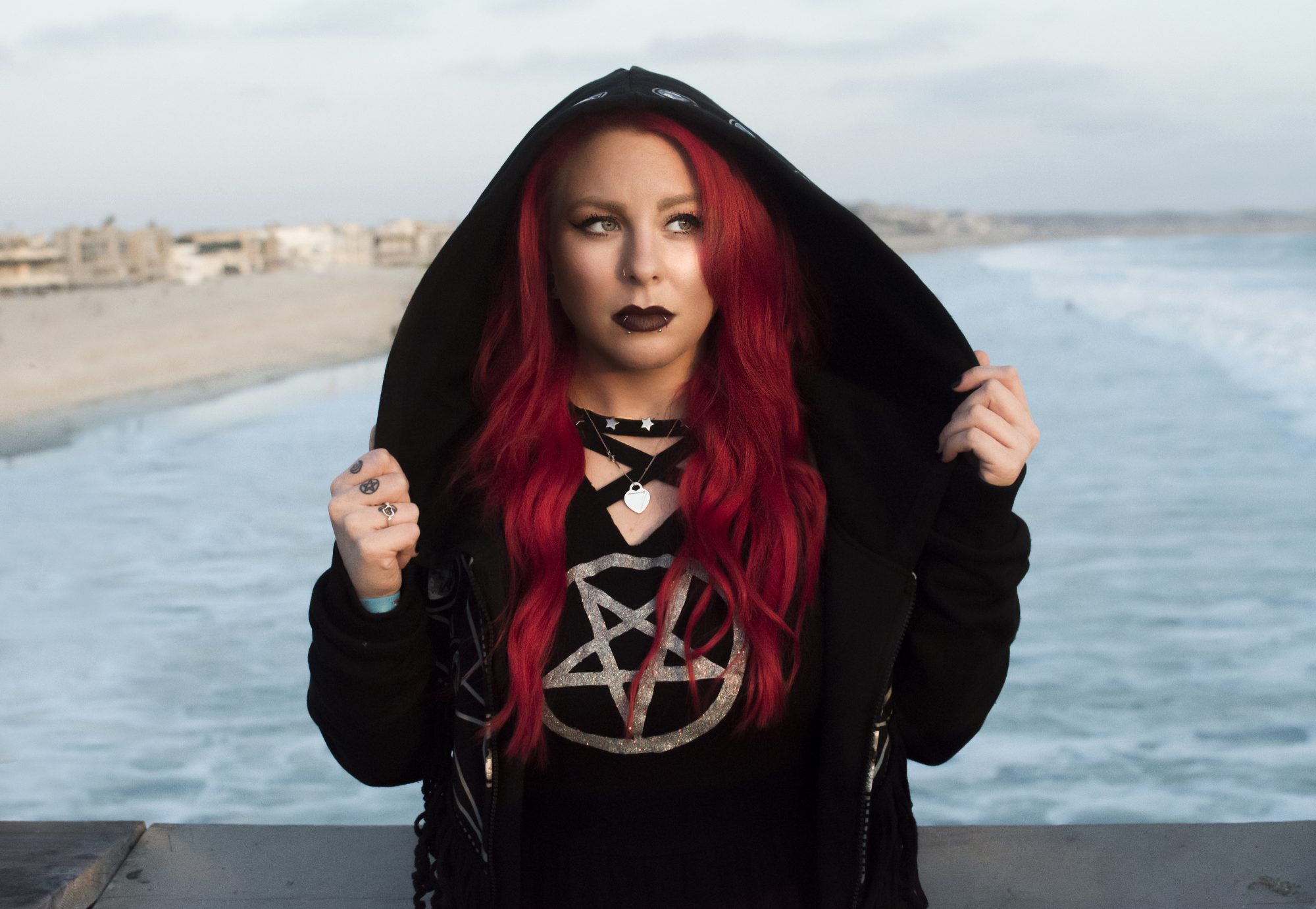 Lauren Valentine
Facebook | Twitter | SoundCloud
New York native, Lauren Valentine is no stranger to performing. Growing up in a musical family meant that she was exposed to multiple instruments such as the piano and drums. Once she discovered hard dance and specifically rawstyle, Lauren was able to channel her lifelong love of music into producing some of the most unique beats. With her background in rock n roll, she has a penchant for blending multiple hard bass sounds with a rock and roll flair.
Affectionately known as the "Princess of Rawstyle" Lauren has made a name for herself as a performer who has mastered the art of the aural journey. She's a storyteller through and through as she lays down each track, the audience is enraptured by her sound and trusts her to lead them down a path and as she directs them to what they desire.
---
W.A.R. Festival – Day Splits: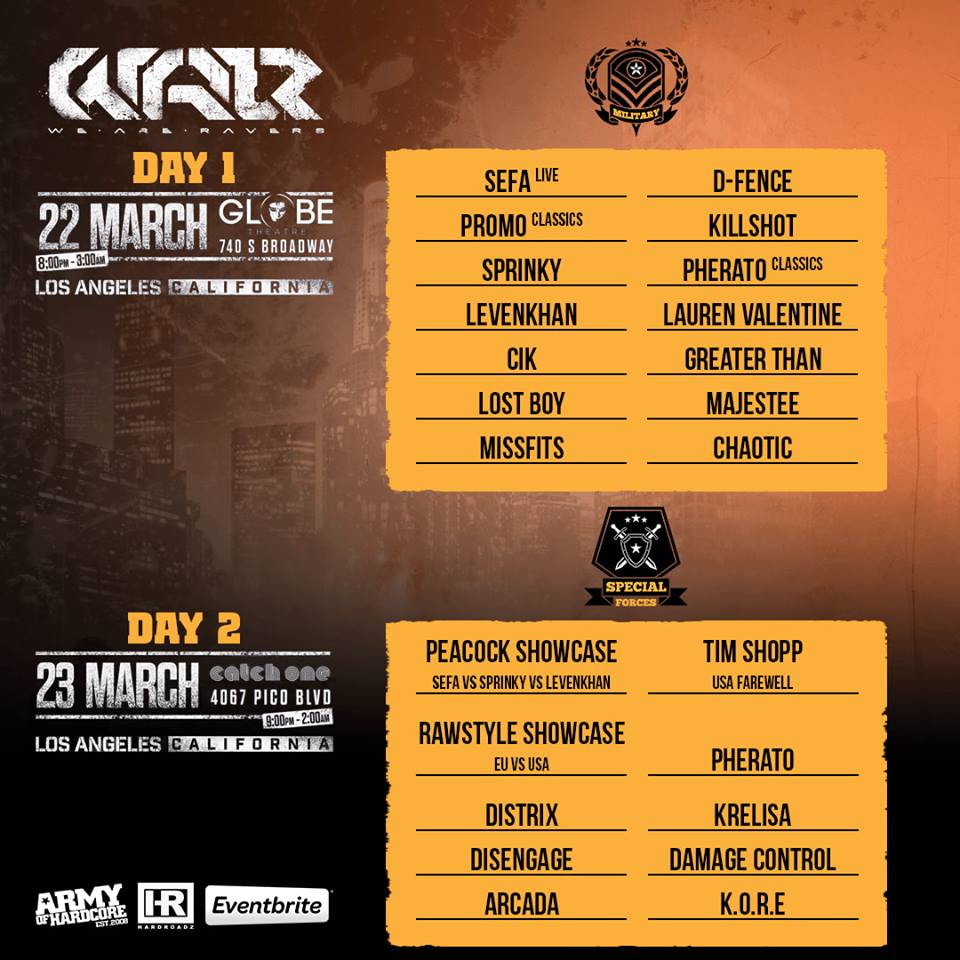 ---
W.A.R. Festival Day 1 Essential Info:
Date: Friday March 22, 2019
Ages: 18+
Hours: 8PM – 3 AM
Venue Address: Globe Theater – 70 S. Broadway Los Angeles, CA 90014
Tickets: Purchase HERE Use WAR25 for a 15% Discount
Facebook Event Page: RSVP HERE
---
W.A.R. Festival Day 2 Essential Info:
Date: Saturday March 23, 2019
Ages: 18+
Hours: 8PM – 3 AM
Venue Address: Catch One 4067 W. Pico Blvd Los Angeles, CA 90019
Tickets: Purchase HERE Use WAR25 for a 15% Discount
Facebook Event Page: RSVP HERE
---
Follow Hardroadz Media on Social Media:
Facebook | Twitter | Instagram
Follow Army of Hardcore USA on Social Media: