On March 22 – 23, get ready as Frenchcore and hardcore take over Los Angeles at W.A.R. Festival!
---
You know it's destined to be a good time when two of the biggest Los Angeles hard dance companies unite! On March 22 – 23, Army of Hardcore and Hardroadz Media combine to bring hardcore lovers one of the most amazing festivals full of domestic and international hardcore and Frenchcore talent. The We Are Ravers aka W.A.R. Festival lineup is seriously stacked with big names and first-time appearances, as well as support for US producers.
W.A.R. Festival is bringing out the best of the best with a lineup that is fully stacked. Honestly, we would be remiss if the first artist mentioned is not the talented Frenchcore prodigy Sefa whose career has exploded over the past few years. W.A.R. Festival attendees are fortunate enough to not only be privy to Sefa's US debut but also catch two separate sets. On the first day there will be a live set where he will play on piano and on the second you can catch Sefa at the Peacock Showcase where he will be playing a versus set with label mates Sprinky and Levenkhan who will also be playing separate solo sets.
In addition to the heavy-hitters listed above, there will be massive acts such as Killshot and D-Fence, both of whom will also be making their US debut appearances. Let's not forget about the bangin' homegrown acts though. Rounding out the lineup are local and domestic artists such as Lauren Valentine, Krelisa, Lostboy, and more! Lastly, come celebrate with Tim Shopp as it is his final show in the US before departing! Have we piqued your interest yet? If so, check out the full lineup below!
If you're a hard dance lover, this is not an event to be missed! Note that there are separate tickets for day one and day two and each day is located at a different event. Be sure to grab your tickets as W.A.R. Festival is coming up soon! 
---
W.A.R. Festival – Lineup: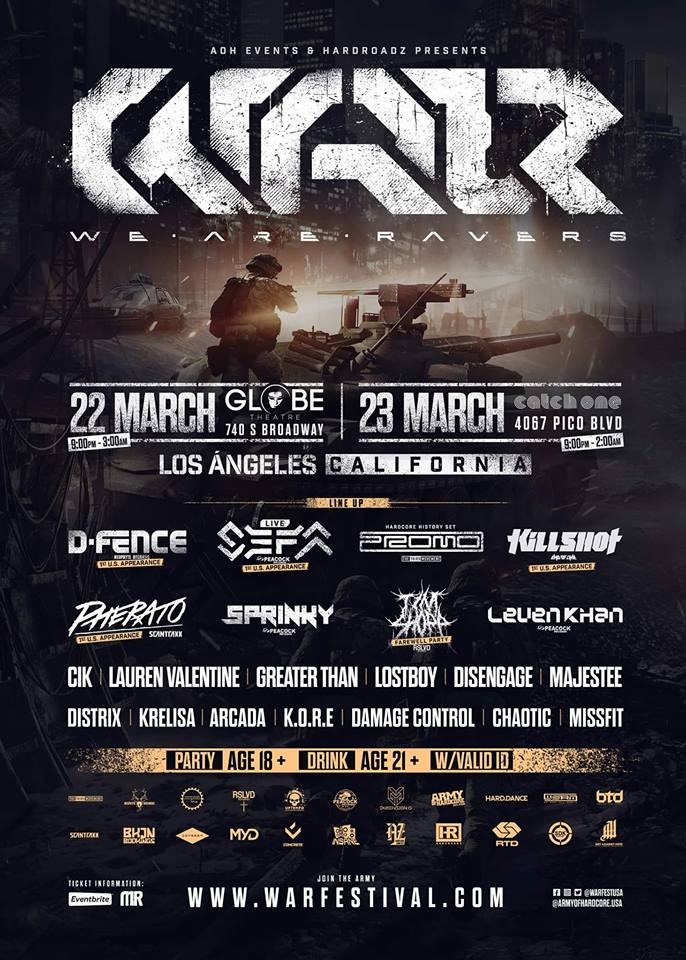 W.A.R. Festival – Day Splits: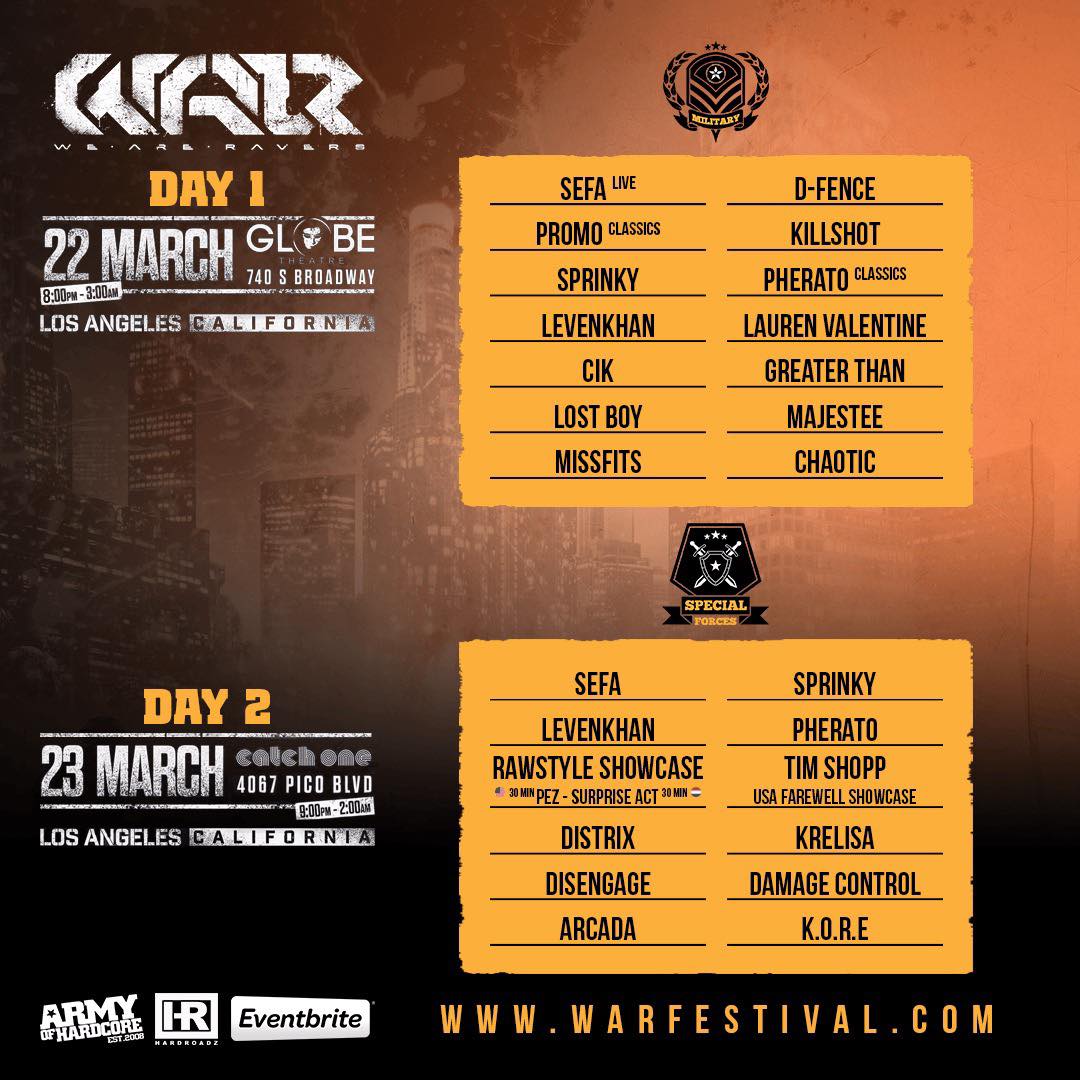 ---
W.A.R. Festival – Lineup by Artist:
Arcada
Chaotic
CIK
D-Fence
Damage Control
Disengage
Distrix
Greater Than
Killshot
K.O.R.E.
Krelisa
Lauren Valentine
Levenkhan
Lostboy
Majestee
Missfits
Pherato
Promo
Sefa
Sprinky
Tim Shopp
---
W.A.R. Festival Day 1 Essential Info:
Date: Friday March 22, 2019
Ages: 18+
Hours: 8PM – 3 AM
Venue Address: Globe Theater – 70 S. Broadway Los Angeles, CA 90014
Tickets: Purchase HERE Use WAR25 for a 25% Discount
Facebook Event Page: RSVP HERE
---
W.A.R. Festival Day 2 Essential Info:
Date: Saturday March 23, 2019
Ages: 18+
Hours: 8PM – 3 AM
Venue Address: Catch One 4067 W. Pico Blvd Los Angeles, CA 90019
Tickets: Purchase HERE Use WAR25 for a 25% Discount
Facebook Event Page: RSVP HERE
---
Follow Hardroadz Media on Social Media:
Facebook | Twitter | Instagram
Follow Army of Hardcore USA on Social Media: