Transform your experience at Lightning in a Bottle and look into this year's lineup for Learning & Culture at The Compass! 
---
There is no doubt the music at Lightning in Bottle fuels a large part of the experience, but diving deeper into the educational aspects can provide enriching, nourishing perspectives you didn't know you needed. The Compass is the educational heart of Lightning in a Bottle and will host a variety of speakers and workshops over the weekend.
Their mission is to create experiences that carry themselves beyond the festival. Reflecting on my first LiB this is the reason I fell in love with the festival. I was glowing with gratitude from all the impactful words I heard from speakers and workshops. Take a break from the music and be sure to immerse yourself in all aspects that make Lightning in a Bottle so beautiful.
As Lightning in a Bottle opens a new chapter embodying the new 6 Ways of LiB: Celebrate Life, Create Community, Respect Yourself And One Another, Actively Participate, Honor The Land, and Be A Citizen there will be no better place to put them into practice than The Compass. Speakers include author and scientist Dr. Vindana Shiva and Mycologist Paul Stamets and workshops will range from Daily Water Blessings and Sunset Fire Gratitudes to Sound Healing and Self Love Rituals For Women.
Looking for the music lineups? Check out our posts covering the first phase and second phase of artist announcements and don't forget to grab your tickets soon!
Lightning in a Bottle 2019 – Learning & Culture at the Compass Lineup: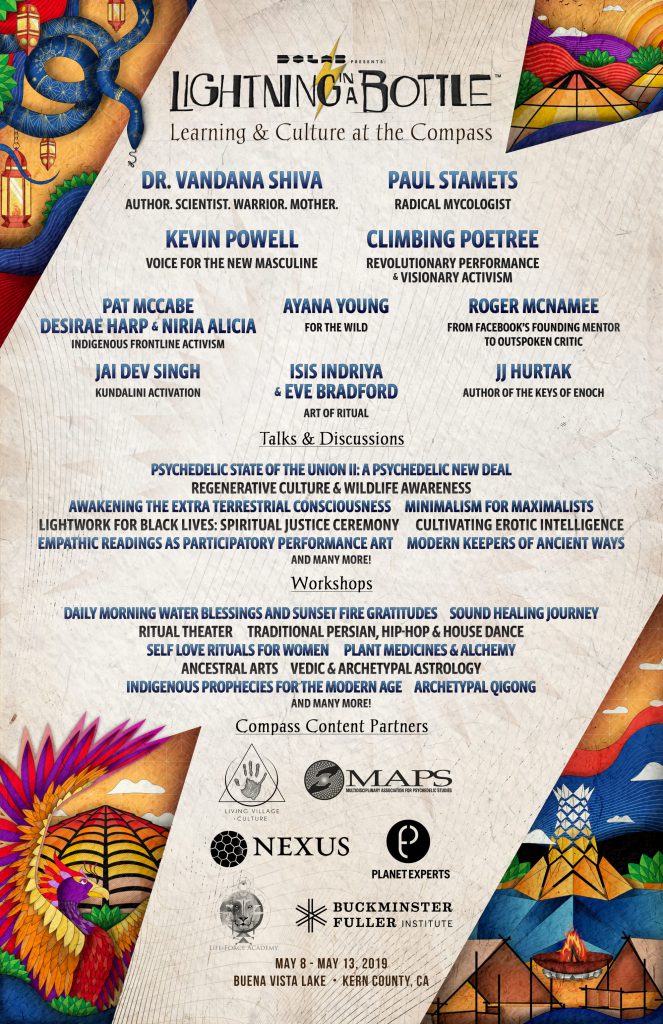 ---
Lightning in a Bottle 2019 – Learning & Culture at The Compass
Featured Speakers
Dr. Vandana Shiva (Author, Scientist, Warrior, Mother)
Paul Stamets (Radical Mycologist)
Kevin Powell (Voice of the New Masculine)
Climbing Poetree (Revolutionary Performance and Visionary Activism)
Pat McCabe, Desirae Harp, & Niria Alicia (Indigenous Frontline Activism)
Ayana Young (For The Wild)
Roger McNamee (From Facebook's Founding Mentor to Outspoken Critic)
Jai Dev Singh (Kundalini Activation)
Isis Indriya & Eve Bradford (Art of Ritual)
JJ Hurtak (Author of The Keys of Enoch)
Talks & Discussions
Psychadelic State of the Union II: A Psychedlic New Deal
Regenerative Culture & Wildlife Awareness
Awakening The Extra Terrestrial Consciousness
Minimalism for Maximalists
Lightwork for Black Lives: Spiritual Justice Ceremony
Cultivating Erotic Intelligence
Empathic Readings as Participatory Performance Art
Modern Keepers of Ancient Ways
Workshops
Daily Morning Water Blessings and Sunset Fire Gratitudes
Sound Healing Journey
Ritual Theater
Traditional Persian, Hip-Hop & House Dance
Self Love Rituals for Women
Plant Medicines & Alchemy
Ancestral Arts
Vedic & Archetypal Astrology
Indigenous Prophecies for the Modern Age
Archetypal Qigong
---
Connect with Lightning in a Bottle on Social Media: 
Website | Facebook | Twitter | Instagram | SoundCloud | YouTube