Lightning in a Bottle has just released the lineups for Grand Artique, The Stacks (fka Pagoda), Favela, and Compass stages! 
---
The hype for Lightning in a Bottle continues to build as The Do LaB releases more and more information about this year's festival. This year, the festival has found a new home in Kern, County at the Buena Vista Aquatic Recreation Area and will be held May 8 – 12, and just a few weeks back the first wave of artists who would be playing was announced including Disclosure (DJ set), Big Gigantic, and a special 3D experience from Flying Lotus.
Today, phase two lineup additions were released and it includes over 100 additional artists performing the Grand Artique, The Sticks (fka Pagoda), Favela, and Compass stages. Joining the LiB lineup this year are artists like Balkan Bump, The Fungineers, Marques Wyatt, Her Story, Dela Moon, DJ Dan, Frameworks, and Light The Sky.
In addition to music Lightning in a Bottle will host an array of workshops, speakers, and activities throughout the weekend to keep your mind stimulated. Between the three main stages and additional music experiences spread throughout the festival, there will be no shortage of new music to discover. Check out the full list of additions below and stay tuned as more information surfaces!
Tickets and camping passes are on sale via Eventbrite so be sure to grab them today as this festival historically sells out! 
Lightning in a Bottle 2019 Phase 2 Lineup: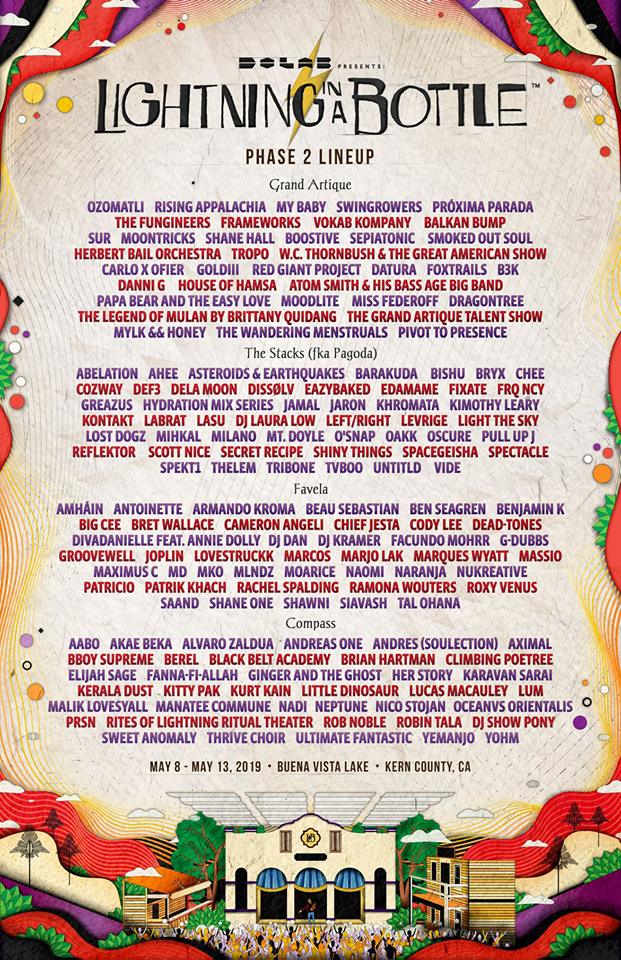 ---
Lightning in a Bottle 2019 Phase 2 Lineup By Stage:
Grand Artique:
Ozomatli
Rising Appalachia
My Baby
Swing Rowers
Próxima Parada
The Fungineers
Frameworks
Vokab Kompany
Balkan Bump
Sur
Moontricks
Shane Hall
Boostive
Sepiatonic
Smoked Out Soul
Herbert Bail Orchestra
Tropo
W.C. Thornbush & The Great American Show
Carlos X Ofier
Goldiii
Red Giant Project
Datura
Foxtrails
B3K
Danni G
House of Hamsa
Atom Smith & His Bass Age Big Band
Papa Bear And The Easy Love
Moodlite
Miss Federoff
Dragontree
The Legend Of Mulan By Brittany Quidang
The Grand Artique Talent Show
Mylk && Honey
The Wandering Menstruals
Pivot To Presence
The Stacks (fka Pagoda):
Abelation
Ahee
Asteroids & Earthquakes
Barakuda
Bishu
Bryx
Chee
Cozway
Def3
Dela Moon
Dissølv
Eazybaked
Edamame
Fixate
FRQ NCY
Greazus
Hydration Mix Series
Jamal
Jaraon
Khromata
Kimothy Leary
Kontakt
Labrat
Lasu
DJ Laura Low
Left/Right
Levrige
Light The Sky
Lost Dogz
Mihkal
Milano
Mt. Doyle
O'Snap
Oakk
Oscure
Pull Up J
Reflektor
Scott Nice
Secret Recipe
Shiny Things
Spacegeisha
Spectale
Spekt1
Thelem
Tribone
Tvboo
Untitld
Vide
Favela:
Ahmáin
Antoinette
Armando Kroma
Beau Sebastian
Ben Seagren
Benjamin K
Big Cee
Bret Wallace
Cameron Angeli
Chief Jesta
Cody Lee
Dead-Tones
Divadanielle feat. Annie Dolly
DJ Dan
DJ Kramer
Facundo Mohrr
G-Dubbs
Groovewell
Joplin
Lovestruck
Marcos
Marjo Lak
Marques Myatt
Massio
Maximus C
MD
MKO
MLNDZ
Moarice
Naomi
Naranja
Nukreative
Patricio
Patrik Khach
Rachel Spalding
Ramon Wouters
Roxy Venus
Saand Shane One Shawni
Siavash
Tal Ohana
Compass:
Aabo
Akae Beka
Alvaro Zaluda
Andreas One
Andres (Soulection)
Aximal
Bboy Supreme
Berel
Black Belt Academy
Brian Hartman
Climbing Poetree
Elijah Sage
Fanna-Fi-Allah
Ginger And The Ghost
Her Story
Karavan Sarai
Kerala Dust
Kitty Pak
Kurt Kain
Little Dinosaur
Lucas Macauley
Lum
Mali Lovesyall
Manatee Commune
Nadi
Neptune
Nico Stojan
Oceanvs Orientals
Prsn
Rites Of Lightning Ritual Theatre
Ron Noble
Robin Tala
DJ Show Pony
Sweet Anomaly
Thrive Choir
Ultimate Fantastic
Yemanjo
Yohm
---
Connect with Lightning in a Bottle on Social Media: 
Website | Facebook | Twitter | Instagram | SoundCloud | YouTube