Fisher and Chris Lake have steadily climbed in popularity recently, culminating with a multi-night, sold-out show series at the Shrine Auditorium. 
---
My crew and I headed up from San Diego on Friday night and arrived at The Shrine shortly after doors opened. The lines to enter were already reaching far down to the street, so we quickly found our place in line and patiently waited for it to move. There was excitement in the air and the groups around us were all hyped up, we couldn't wait to get down to some beats from Chris Lake and Fisher.
While waiting in line, everyone was sharing stories about the last time they caught Chris Lake and Fisher play. After chatting with plenty of people, I actually found a few who had also seen them welcome the sunrise at EDC Las Vegas this past year just like me. I also met someone who had attended the Thursday show and wondered how similar the sets would be between the performances.
Past the metal detectors and once inside we headed straight for the dancefloor Mason Maynard was their opener and he was still playing when we arrived. The venue was filling up quickly so we looked for a good spot to call home for the night as Mason continued to throw down some fantastic beats. He closed his set out and we knew it was about time for our night to get kicked into high gear.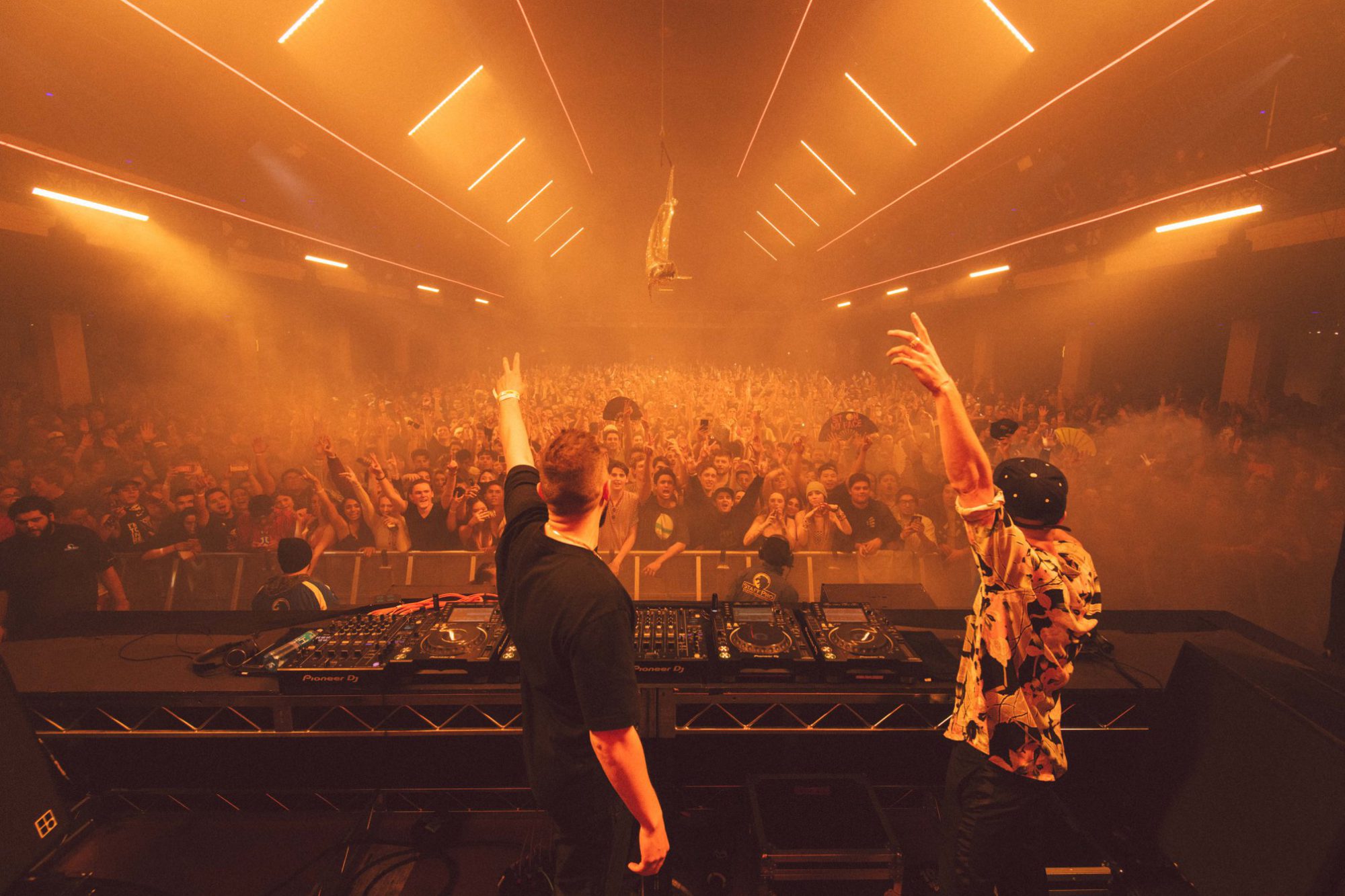 The lights dimmed and smoke poured on to the stage and a soft, melodic house beat started to play.
The energy of the crowd continued to grow as lights flashed and the volume of the music increased with every note. Then, Chris Lake and Fisher took the stage and madness ensued. An explosion of cheers and whoops emanated from the crowd as Fisher asked how we all were doing tonight and if we were ready to have a party. Just like that, we were off to the races as their set began.
Something I noticed immediately was the impactful production elements that they had brought into The Shrine. Rotating lights attached to various trusses high above us formed a triangular-like shape to create a cool effect and in the center, a revolving disco shark kept its watchful eye on the crowd as lights bounced off it.
To me, the first hour felt as if they were building for a massive release of energy. Track after track was played and there was definitely an emphasis on the bass, and an hour in they dropped, "House & Pressure" by Route 94.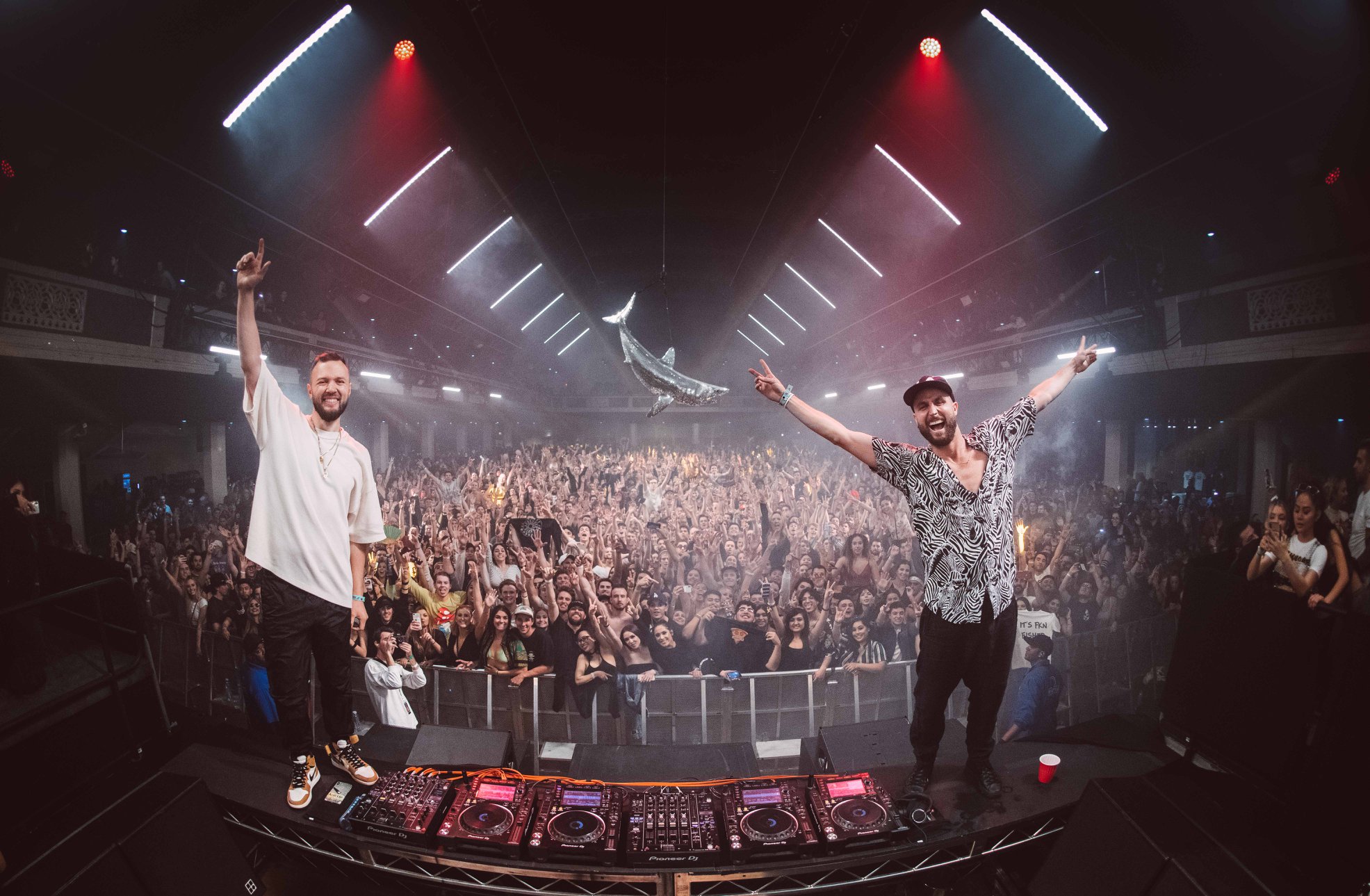 This was where the party really got started as from then on Fisher and Chris Lake must have both decided the rest of the night would be filled with bangers.
The two of them dominated the stage by blending of "Toute Vie Est" into "Dance", which led directly into "Ya Kidding," and demolished the dance floor at the same time. Everyone was moving, swirling around the venue in a constant state of house bliss, and I had entirely lost track of time.
I really love Cages' remix of "Turn Off The Lights", so I was over the moon when they dropped it live. Then as if the night couldn't get any better they blended it into their last song of the set, which of course had to be "Losing It". Chris Lake and Fisher thanked us for coming and before we knew what was happening the lights came on, what a perfect end to the night.
Although the first hour felt like a large amount of exposition they came together and brought a fierce amount of energy to the night. Compared to the other sets I've seen from them I thought it could have been more balanced but at the end of the night I really just wish they had more time to find their groove. I'll definitely need to catch these two again!
---
Connect with Chris Lake on Social Media: 
Facebook | Twitter | Instagram | SoundCloud
Connect with FISHER on Social Media:
Facebook | Twitter | Instagram | SoundCloud