Valentine's Day is a holiday centered around love, and the Desert Hearts take over of The Belasco Theater was the perfect reminder.
---
My crew and I headed up to Let's Make Love and couldn't wait to get our groove on. We arrived at The Belasco shortly after doors had opened and the will call line was actually longer than the actual line to get in. It didn't take that much time though, and after a quick search, we were inside ready to dance and feel the love from the Desert Hearts Crew.
A small table at the entrance housed their charity clothing drive, and if you brought an item to exchange, you were gifted a small Desert Hearts necklace in return. This wasn't a new addition, as Desert Hearts also hosted a toy drive at their Christmas Hearts event last year. These kinds of promotions have really started to become a staple of their brand and we absolutely love it. It is the perfect way to highlight not only our love of music but to extend that love to those in our community in need.
Walking into the theater's main room is always a surprise.
You never really know what to expect when you head to a Desert Hearts event, how it will be decorated or how packed the dance floor is going to be, and Let's Make Love was no different. The stage immediately reminded me of an MTV throw back. Giant, open, red lips, with an extended tongue housed the decks. On the tongue sat a conspicuous Desert Hearts logo. Around the deck were classic CRT TV's.
The TV's were all of different sizes and many were playing a variety of old school cartoons, shows, or just test images. It was truly a throwback that showed attention to detail and a creative arrangement. Behind the deck sat the giant projection screen that displayed a variety of images throughout the night. High above the deck was the ever-present disco ball, more Desert Hearts logos, and lips and hearts strung together.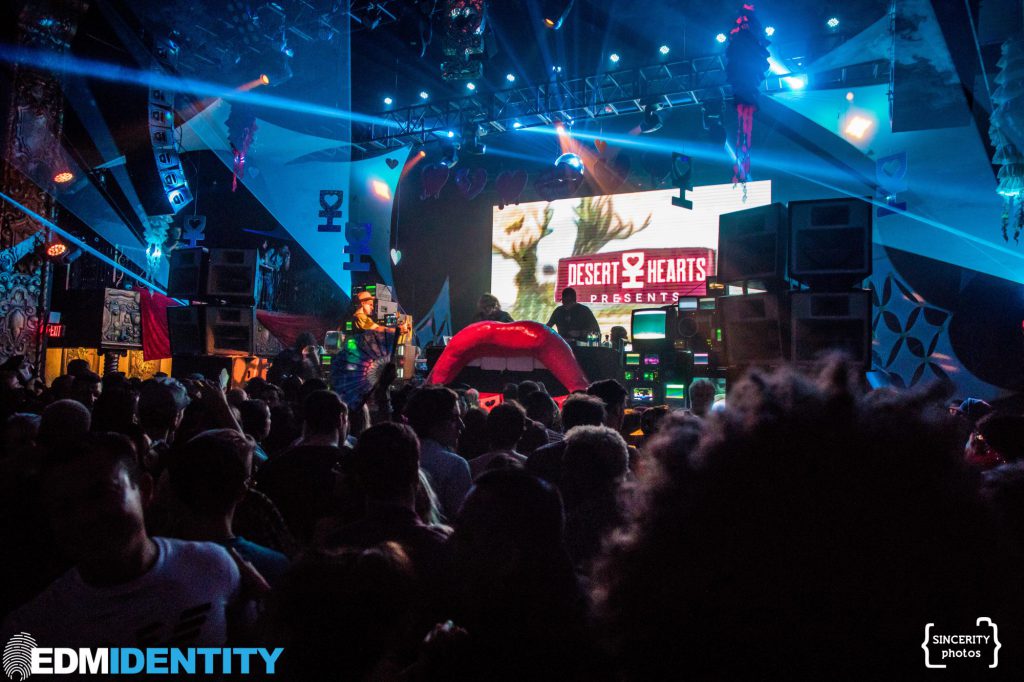 The dance floor was like a family reunion, not just for myself but for everyone around as well.
It was incredible to witness how truly knit the community is. Familiar faces, and phrases like, "I haven't seen you since…" could be heard all over the place. Marbs was laying down some thick beats and the main room was filling pretty quickly.
Next up was Lee Reynolds who was actually joined on stage by Doc Martin, who must have been in between sets from the basement. His dark beats and tech mixes really took control of the crowd. At some point giant balloon jacks appeared in the crowd leading into Mikey Lion's set. Still not entirely sure where they came from but they were a fun prop to have in the crowd.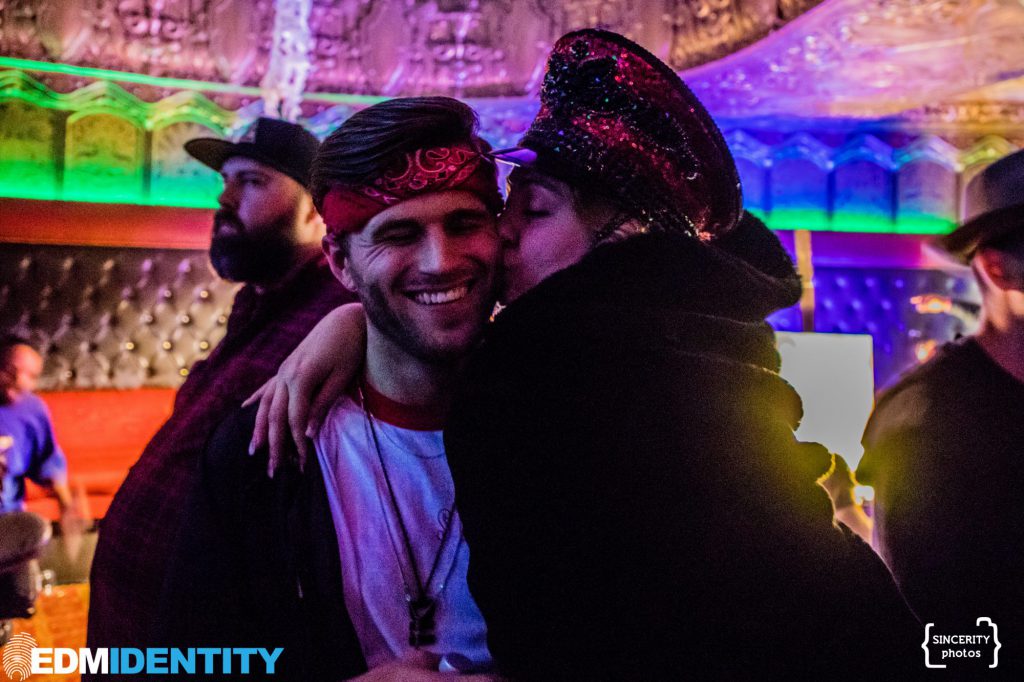 Love was in the air as we explored the venue to find even more good vibes.
The smoking courtyard had a small bar but otherwise was pretty empty which was surprising because there had been vendors present in the past. We would later learn that the vendors had been relocated to the balcony which honestly made the shopping experience even better because you could see the stage while you checked out some cool designs.
The basement was dark both in lighting and beats. The deep vibe was perfectly complimented by the atmosphere and was just packed enough to feel full without completely impeding people's space. The whole venue was a party and no matter where you went the good vibes followed.
Before we knew it, it was 4am and we didn't even know where the time went.
The music stopped and the lights came on and a surprising full dance floor slowly started to pour out into Downtown LA. The night was full of hugs, kisses, and so much dancing. The Desert Hearts community is a fun and caring time that really highlighted the many facets of Valentine's Day. It was the perfect reminder that music unites us building a foundation of love as we gather together.
Check out our full photo gallery over on Facebook and let us know if you fell in love at this event in the comments! 
---
Connect with Desert Hearts on Social Media:
Website | Facebook | Twitter | Instagram | SoundCloud