Stephen Disario stopped by to chat about his beginnings as an artist, experience out at Burning Man, some artists on his radar, and more!
---
One of the artists who has been rising through the ranks of Los Angeles' techno scene and caught our ear as of late is none other than Stephen Disario. Bringing his unique style of underground beats to the stage wherever he goes, his sets at events like Aftertraxx in Long Beach and Bass Therapy in Las Vegas have continued to keep us coming back for more.
It isn't just the mixes that have us falling hard for this rising star in the techno scene, though, as Disario unleashed a slew of releases last year on imprints like Hotstage Records, HE-ART, and Minimal Sessions. While his EPs like Illusion and Radar left a lasting impression, his remixes of tunes like Moderat's "The Mark" and collaborations with artists like Brennen Grey on "Eye of RA" also hit on all cylinders.
Coming off a major year that provided listeners with plenty of tunes, some epic shows he hosted as Cognition Events, and so much more, we wanted to catch up with Stephen Disario for a quality chat. Stream his exclusive guest mix below and read on for some insight into his career!
Stream EDMID Guest Mix 154 || Stephen Disario on SoundCloud:
---
Hi Stephen, thanks for taking the time to chat with us today! Let's kick things off by chatting about your start in the scene. When did you decide to start pursuing a career as a DJ/producer and who were some of the influences that initially drew you to house and techno?
Of course, thank you for having me! In 2013 I began DJ'ing for fun, throwing renegade parties in the Mojave desert with friends. Eventually decided I wanted to take it a bit more seriously which lead to me downloading a copy of Ableton shortly after. I have so many influences it'd be impossible to name them all, but guys like Recondite and Fur Coat were ones who really sparked it for me at the beginning.
Last year saw you release a barrage of EPs like Illusion, Radar, and Dystopian that were absolutely stunning. When you're producing tracks do you have the full EP in mind or does compiling them together come later?
I generally do not make music with a  certain sound in mind, unless I am strongly inspired by a certain style at that moment. All of my releases are usually compiled later.
You've also put your spin on tracks like ATB's "9PM Till I Come" and Moderat's "The Mark". How do you approach the production process on reworks compared to original releases?
There was a moment I was just listening to ATB's track daily and decided to make a version that could fit into my sets. For that one, it was pretty simple, because I wanted to use most of the elements I just took loops from the track and added my own flavor over it.
For the Moderat remix, I actually sampled a recording from a show not even realizing it was Moderat until I sent it out to some DJ's and they made me aware. So that approach was totally different, I was just trying to implement a recording from a show and it ended up being Moderat! Surprised I didn't catch it myself as I love their music.
When you look back to the sets that you've played over the years, can you share one that has stuck out to you as special or was a defining moment of your career so far?
Along the journey, there are quite a few special sets that raised the bar for me. Of course, throwing my first event was an eye-opening experience and made me realize that this is something I can pursue. As of recent, I'd say playing for 6AM/Synthetik Mind's Rebekah show was a huge one for me. I played three hours with my best friend Brandon Heinz and had the time of my life with a packed dance floor. We have had so much amazing feedback on that night I can't wait to do something like that again!
Who are three artists that are on your radar that you've been digging lately or have tracks you've incorporated into your sets?
Introversion, KlangKuenstler, and Keith Carnal have been absolutely crushing it lately. Hard for me to not play any of their music every set! I guess I've found myself a bit more on the European techno side of things lately ever since I went to Amsterdam for ADE.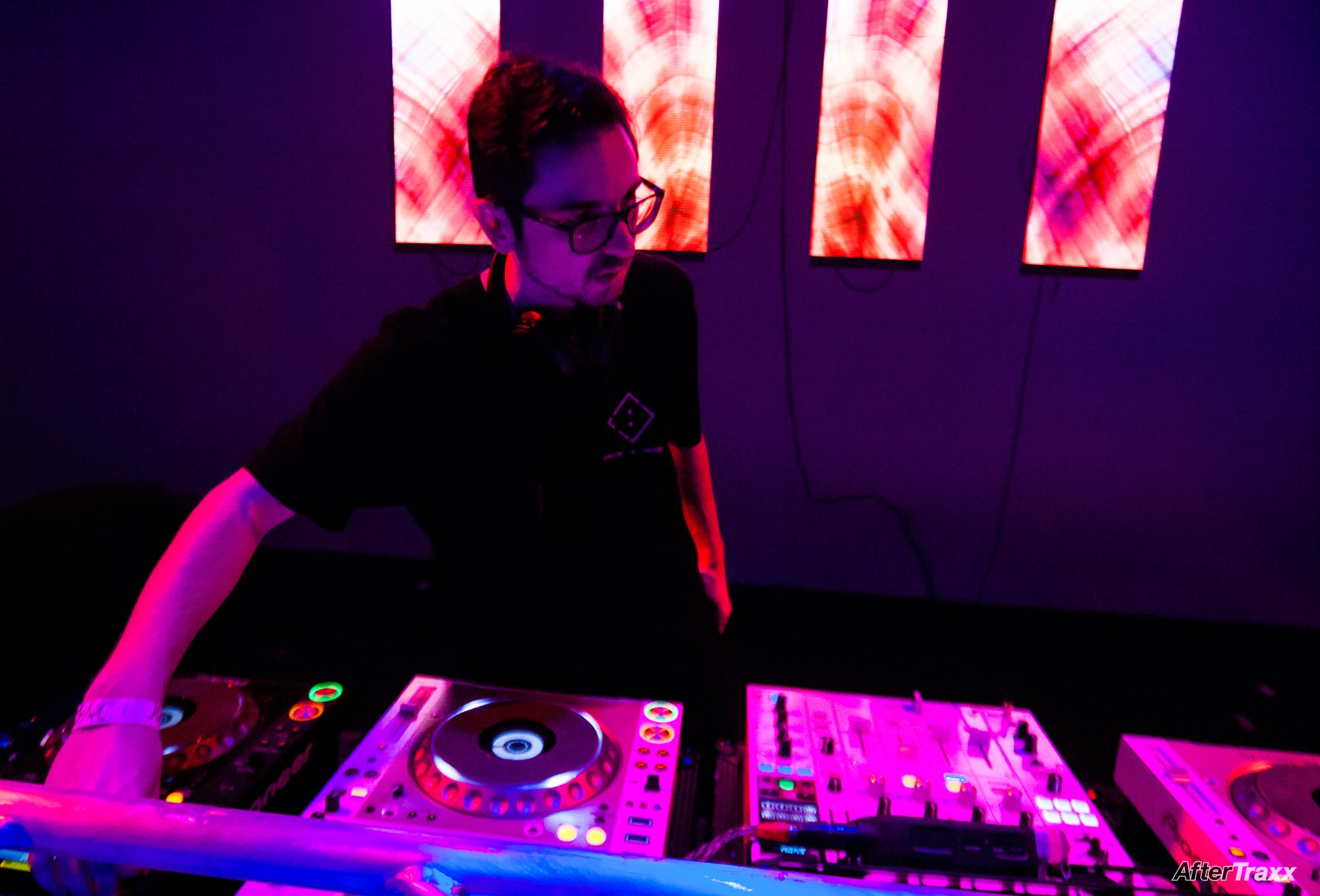 Aside from your work as a DJ/Producer you also co-founded Cognition Events that has brought some serious talent to the stage in Los Angeles like Pig & Dan and Julian Jeweil. How do you find a balance between putting on these shows and advancing your career as a DJ/Producer?
Most of the time it's pretty easy for me to find a balance, as we try not to throw shows all the time, more so on a quarterly schedule which gives me plenty of time to make music in between.
You also have traveled out to Burning Man in the past! How did you first get involved with that community and what does that gathering mean to you on a personal level?
Since I came from the desert scene originally, Burning Man is home to me. Long story short, I had a lot of changes going on in my life in 2016 and I had to back out of the Oregon Eclipse Gathering, instead, I ended up making it to Burning Man after my buddy Brennen Grey kept telling me to just pull the trigger and go!
So I ended up going and staying at Camp Juicy with my friend Luke, who also is apart of Cognition, they brought me in to help on the musical side of the camp and I have been blessed to be able to curate the entire lineup for our camp ever since. I love this event because for me it is a very grounding experience, bringing me back to the roots. It's not a music event, in my opinion, it's a community that has an energy you will never find anywhere else full of free-loving spirits ready to connect and enjoy life together.
When you're looking to grab some Mexican food in LA, where is your go-to spot and what's your favorite thing to order off the menu?
Ahhh don't tempt me with good Mexican food! My absolute favorite! To be honest, I don't eat in downtown very often, I live in Torrance so I usually eat around here before I go out for the night and what not. My favorite go-to out here has been this place called Baja California Fish Tacos, absolutely amazing fish tacos for a fairly cheap price! 10/10 would recommend to anyone ever out this way!
Finally, with 2019 in full swing, what are some goals that you'd like to achieve this year?
My main goal this year is to continue playing shows outside of LA and sign more releases to even more "notable" labels. I really want to branch out and get my music heard in as many places as possible. Another big one for me is to continue getting better in the studio, there's always so much more to learn!
---
Connect with Stephen Disario on Social Media:
Facebook | Twitter | Instagram | SoundCloud