RÜFÜS DU SOL is set to have an incredible 2019 after being booked at festivals like at Coachella, and now they've added two special venues to the mix.
---
When I first listened to RÜFÜS DU SOL back in 2015, it was love at first listen. The three Aussies have made an incredible impact on dance music in such a short time, however, when you listen to their tracks you can see why. The feeling you get when you listen to a RÜFÜS DU SOL track is unexplainable. They convey heavy emotion and transport you to an entirely different world.
Now, after multiple albums and successful shows around the world, they are gearing up for an incredible 2019. Having already secured a slot at Coachella and Shaky Beats, they've announced a show at The Greek Theater in Berkeley, CA on July 19 and two shows at Red Rocks Amphitheater in Morrison, CO on October 2 -3.
Each venue will have different supporting acts. In Berkeley, The Acid will be joining them and in Red Rocks, Bob Moses will perform as well. If you haven't seen RÜFÜS DU SOL yet, these venues will provide one of the best places to catch them live!
Having been to both venues, I can confidently say that these will provide the perfect atmosphere for their music. The Greek Theater in Berkeley is rich in history and some amazing acts have performed there. The acoustics are incredible and it's amphitheater-style seating where there is no bad seat in the house. Red Rocks Amphitheater in Colorado is an infamous venue. Playing there secures you as one of the greats in the music world. It's a venue that has a huge capacity, beautiful scenery, and amazing acoustics as well!
Tickets for all three shows have already sold out, so if you plan on purchasing any from a third-party seller make sure to follow our tips. RÜFÜS DU SOL has also announced that more shows will be announced on Monday.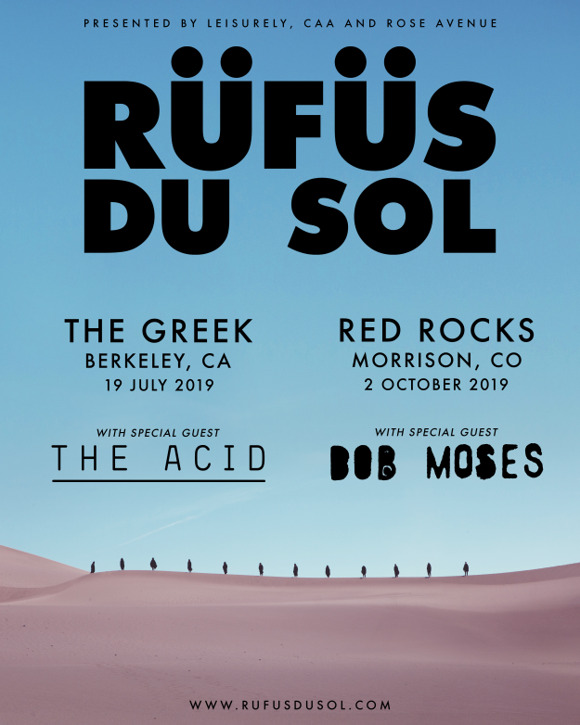 ---
Follow RÜFÜS DU SOL on Social Media:
Website | Facebook | Twitter | Instagram | SoundCloud | YouTube