Is the SHIFTPOD2 from Advanced Shelter Systems as much of a game changer for camping festivals as it seems?
---
I first heard about SHIFTPODs by way of Facebook and Reddit, but it was actually out at Burning Man where I came across one in the wild. Looking exactly as if an alien craft had landed on the planet I knew I needed to find out more about this very unique tent since I'm obsessed with all things space-like. So, after the burn that year, I headed to their website to get more details on these sleek-looking tents. Upon pulling up the page I quickly realized that SHIFTPOD2 wasn't cheap, clocking in at over $1,000. It was clear that this would be an investment.
Flash forward to last year when Pasquale Rotella and the Insomniac Team announced that they were effectively building a SHIFTPOD city at Camp EDC. It was exciting to see how they would perform for a stress test along with the feedback from the thousands who would stay there. Being able to actually look inside the SHIFTPOD2 and see just how spacious they were inside really helped increase my desire to get one. Once I got to see how it held up with all the ravers using them at Camp EDC this year, I was even more sold on the idea.
Related: Check out our post highlighting the two different editions and get some more information on SHIFTPODs.
With this new information about the SHIFTPOD2, I decided that this year I would make the jump for Burning Man.
I was long overdue for a much-needed upgrade in lodging and was hopeful that this tent would make living in the desert for a week a bit more bearable. I received my SHIFTPOD2 ahead of Burning Man and immediately began to de-moop the packaging in the largest space I had available (and you'll need it, too).
Before heading to the festival, you'll want to get familiar with setting the SHIFTPOD2 up, and taking it down as well, because even though it seems quick and straightforward there are a few things that can get a little tricky. Practice makes perfect, after all, and since it will be your new festival home, you won't want to waste any time trying to understand how something works on the fly.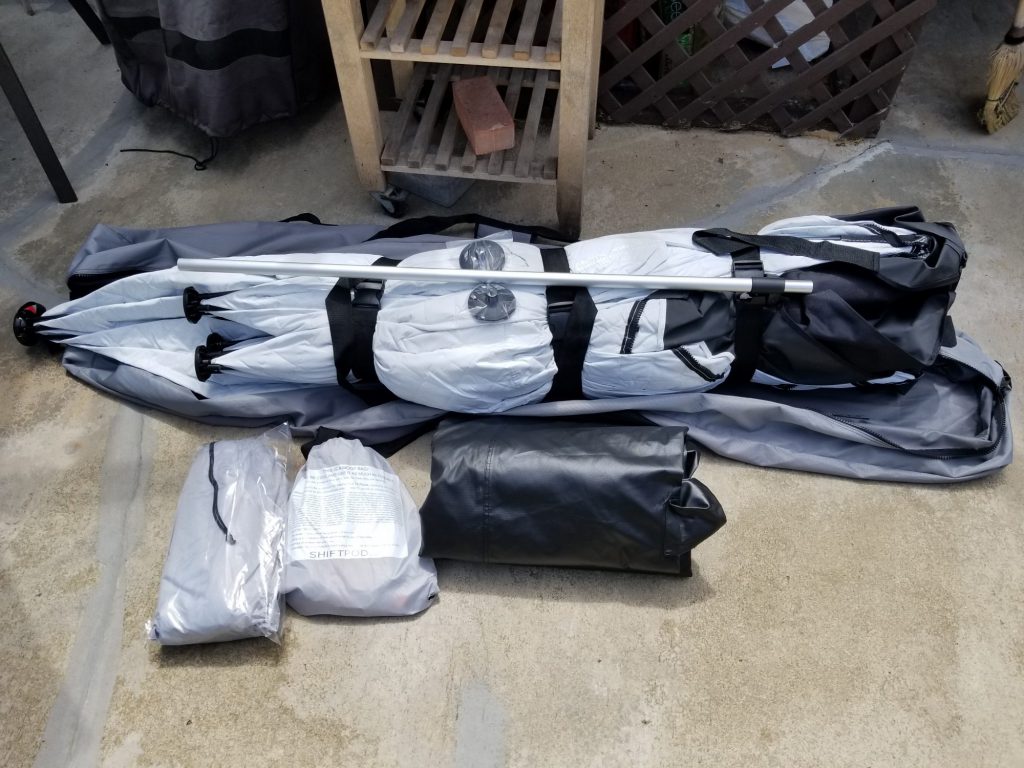 Be aware that there are minimal instructions that are provided with the SHIFTPOD2.
Aside from a single page of instructions, you're left to watch tutorials on YouTube or simply figure it out yourself. I'm all for radical self-reliance and it honestly isn't too difficult to understand the basics of how it pops out, but there were some smaller things like properly packing it up and tie-downs that might not be clear. And don't forget you also might not be in service range to watch the tutorials online, so you might want to download the videos for future reference just in case.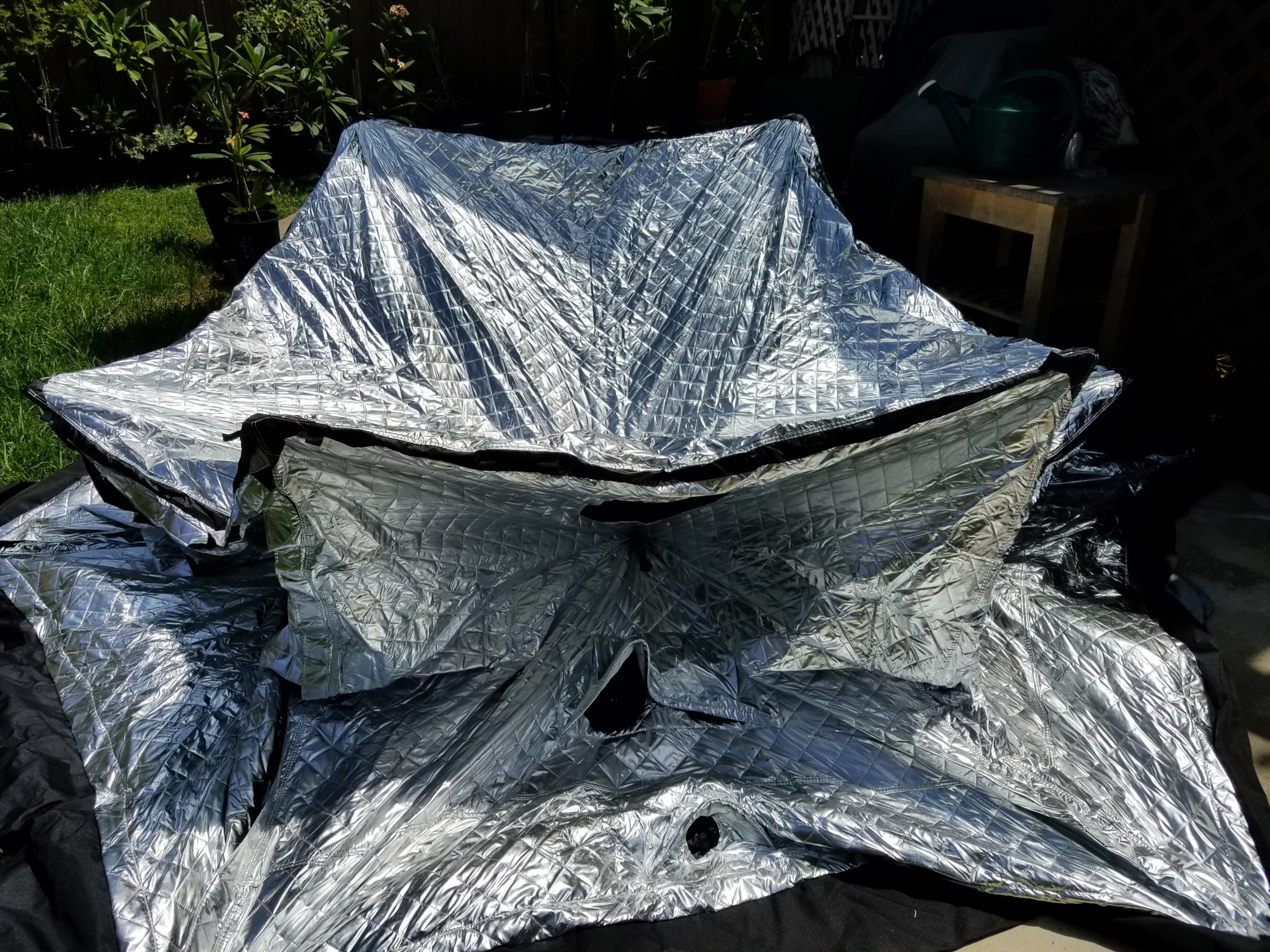 Due to the size, you'll also want to make sure that the SHIFTPOD is one that you can actually set up by yourself.
I won't lie, the first time I set up the SHIFTPOD2 by myself it was a struggle. I am not a tall guy, so there were some moments where I could see someone around my size, 5′ 7″, having issues setting it up. If you're planning on a lot of solo trips or are shorter than I am, perhaps consider buying the SHIFTPOD Mini instead for the smaller size and portability. Pictures don't really do a great job at showing the true size of the SHIFTPOD2, this tent is absolutely massive.
My biggest struggle wasn't actually with setup, which goes pretty quickly as everything pops out, but rather with the takedown. Pulling it all back together became a game of balancing while hugging the SHIFTPOD and occasionally using a wall or tree to help me out. Once I had set up and taken the tent down a few times for practice, though, I was confident I could do it by myself out in the desert.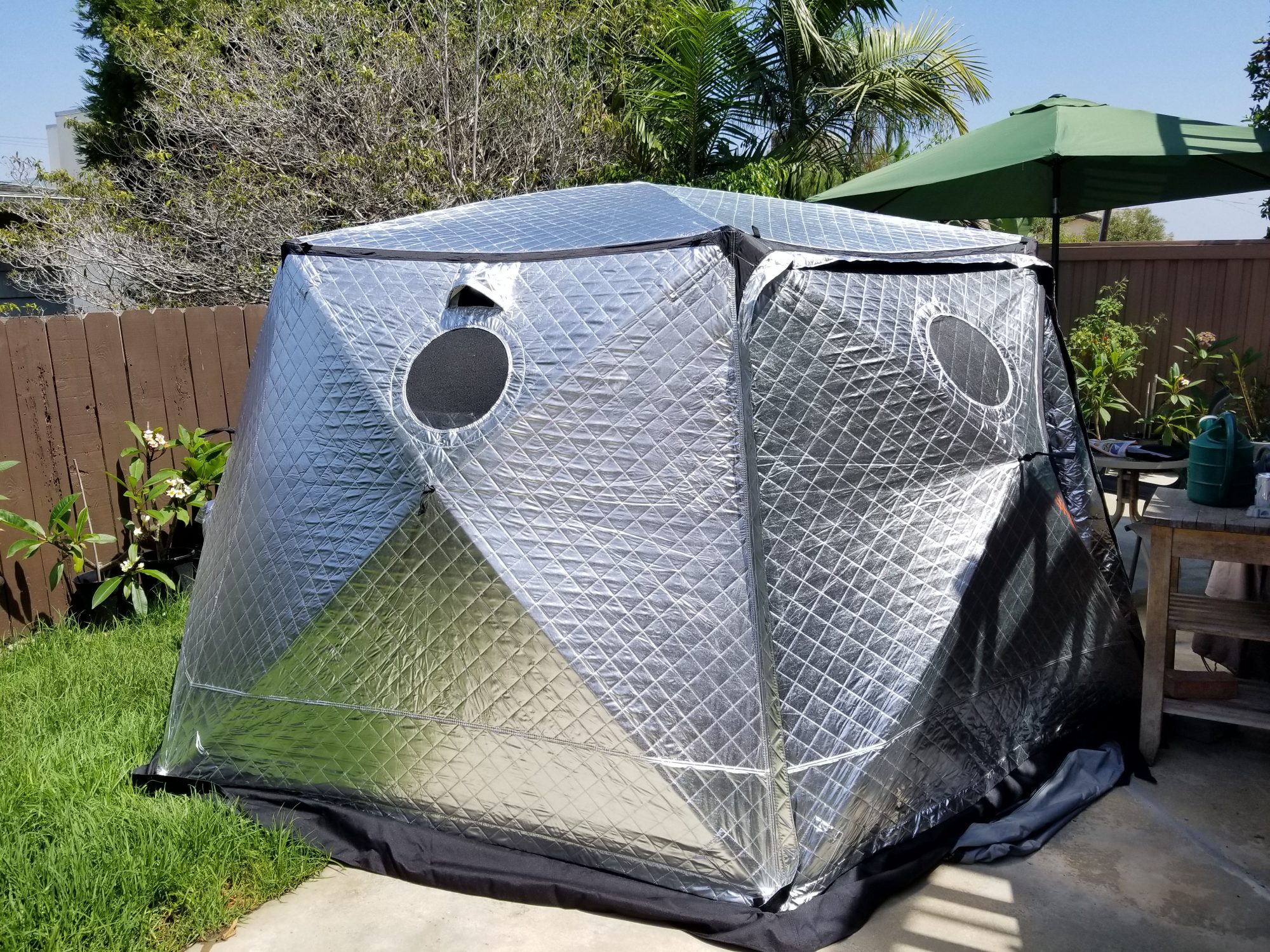 Unlike most other tents I've owned, this one actually fits properly back in its bag.
One of the most annoying things about tents I've purchased from Coleman or other companies has been that once you set it up and use it, it can be difficult to reuse the storage option it was purchased with. The SHIFTPOD2 does not struggle with this in the slightest, and everything fits neatly in the carrying case (which by the way is also very tough). It also features a few different carrying handles as well, which you'll need since this is not a light tent and an extra helping hand makes moving it from place to place far easier.
Confident in my new home, I packed it up with the rest of our gear and headed out to Black Rock City to live in it for a week.
Upon arrival and after we set up our shade, I decided that it was time to get my shelter situated. I opted to lay a tarp down, knowing that the inside of the tent was currently facing out and hoping to limit the amount of Playa Dust on the inside of it. This is when I realized the fault in my plan, I calculated the space to fit under a 10'x20′ Costco Carport, and initially, it just didn't fit. I ended up finding a way to juxtaposition the SHIFTPOD2, but if you buy one of these you should be aware that you might need a wider shade structure to accommodate.
I also didn't hook up the AC Unit for a few reasons. First, because I had already experienced the inside of one with AC at EDC Las Vegas. Second, was because I did not own an AC unit that would work or a generator that I could run consistently. The main reason I didn't, though, was that I wanted to see how this tent would hold up in extreme elements while "off the grid".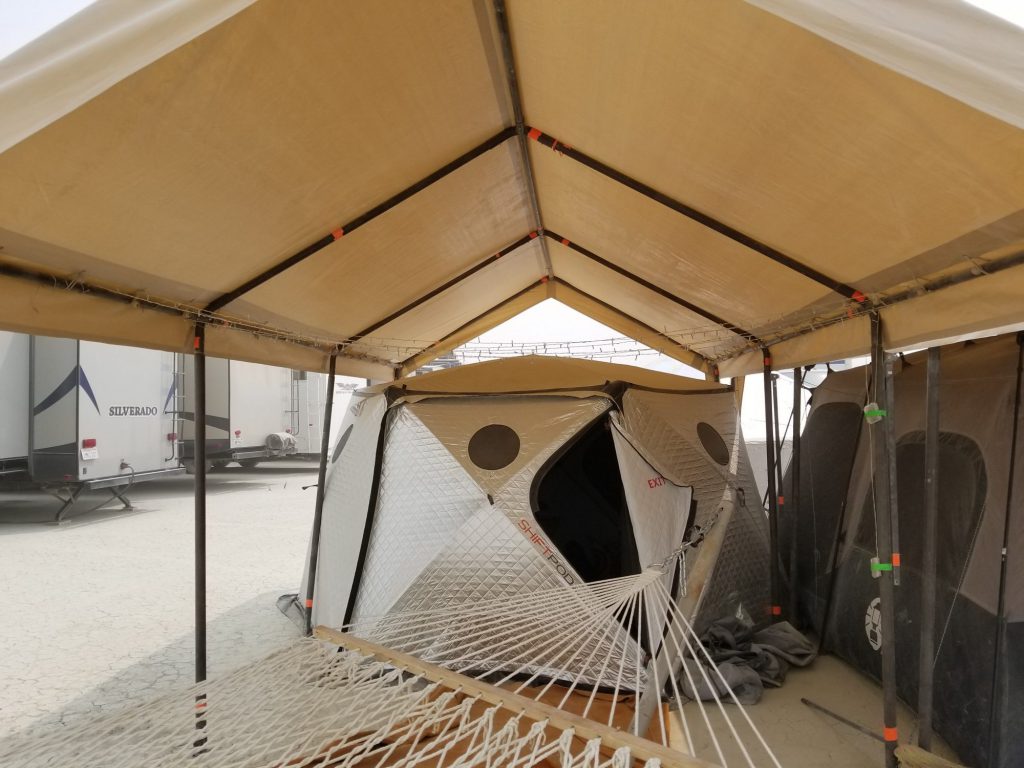 So, how did the reflective material and ventilation work for the SHIFTPOD?
Well, when I was able to open the doors and windows, it did a fairly decent job at keeping things cooler than previous tents I've slept in. During the heat of the day, it did become a bit unbearable but at night it was actually pretty toasty inside. The heat retention became apparent pretty quickly. Also, when everything is zipped up it is pretty dark inside, even during the day but by then it was just a tiny amount of light that slips through.
Overall, I estimate that I was able to sleep for an extra hour or two each morning before inevitably waking up in a sweat to open windows and the doors. While it is an improvement on other tents or shelters, if you're in a hot environment and you can bring or use a generator, it makes the most sense to utilize it with the SHIFTPOD2.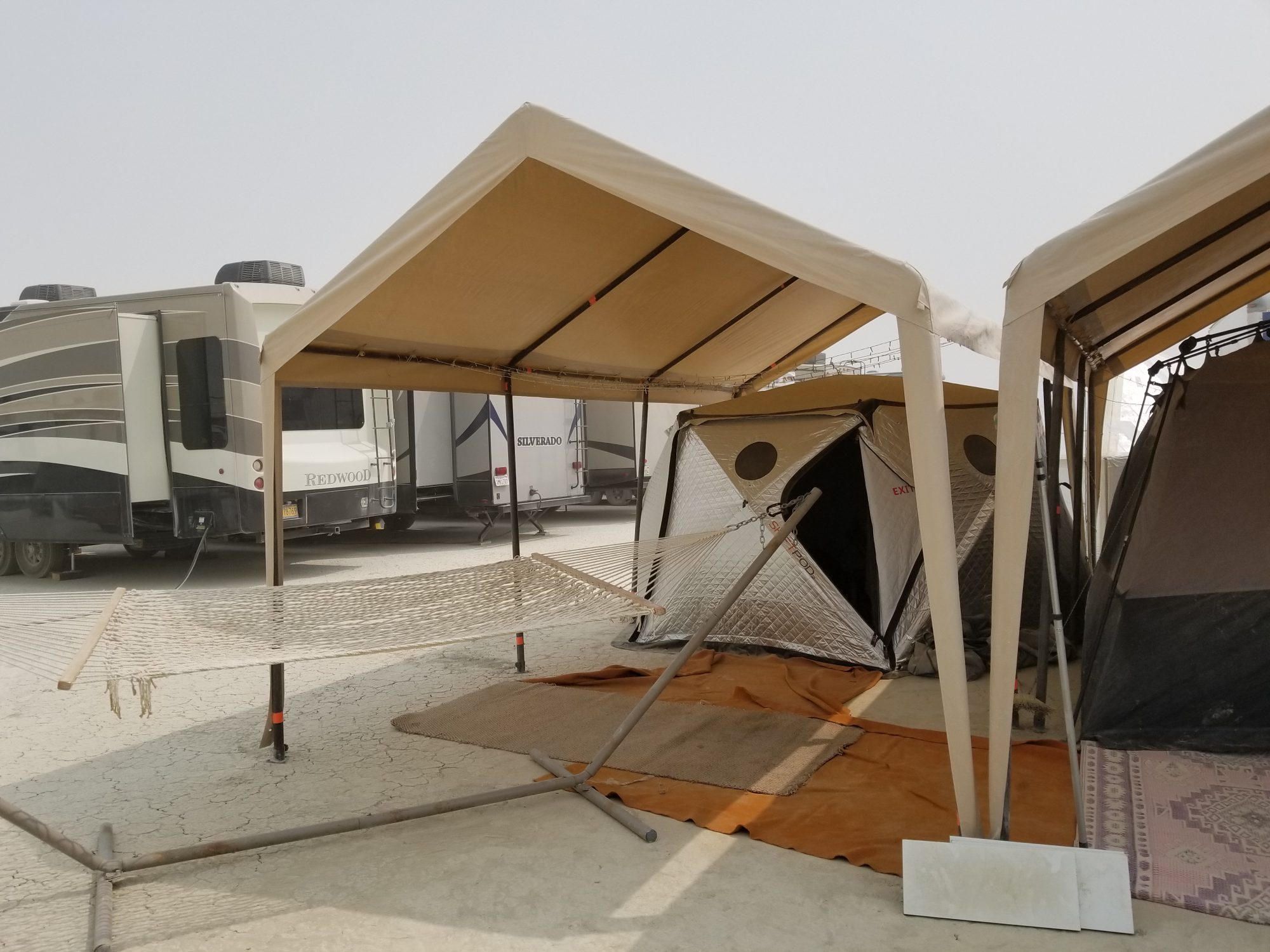 Living in the SHIFTPOD2 for a week was actually very comfortable.
Once you stepped inside you realized that there was a whole other world and so much room for activities. I was able to fit a queen sized air mattress, both crates of clothes and gear, a chair, side table, and more inside my SHIFTPOD2. That's a huge improvement from years past, where I wasn't even able to get changed easily without moving things around.
Packing it up was a bit tricky, but that was mostly due to my attempts to avoid getting it too dusty inside along with my own exhaustion after a week at Burning Man. Once we arrived home I also went through the process of setting it up again, hosing it down, and then making sure it was as dry as possible before storing it away. Cleaning the SHIFTPOD2 was actually a fairly quick process.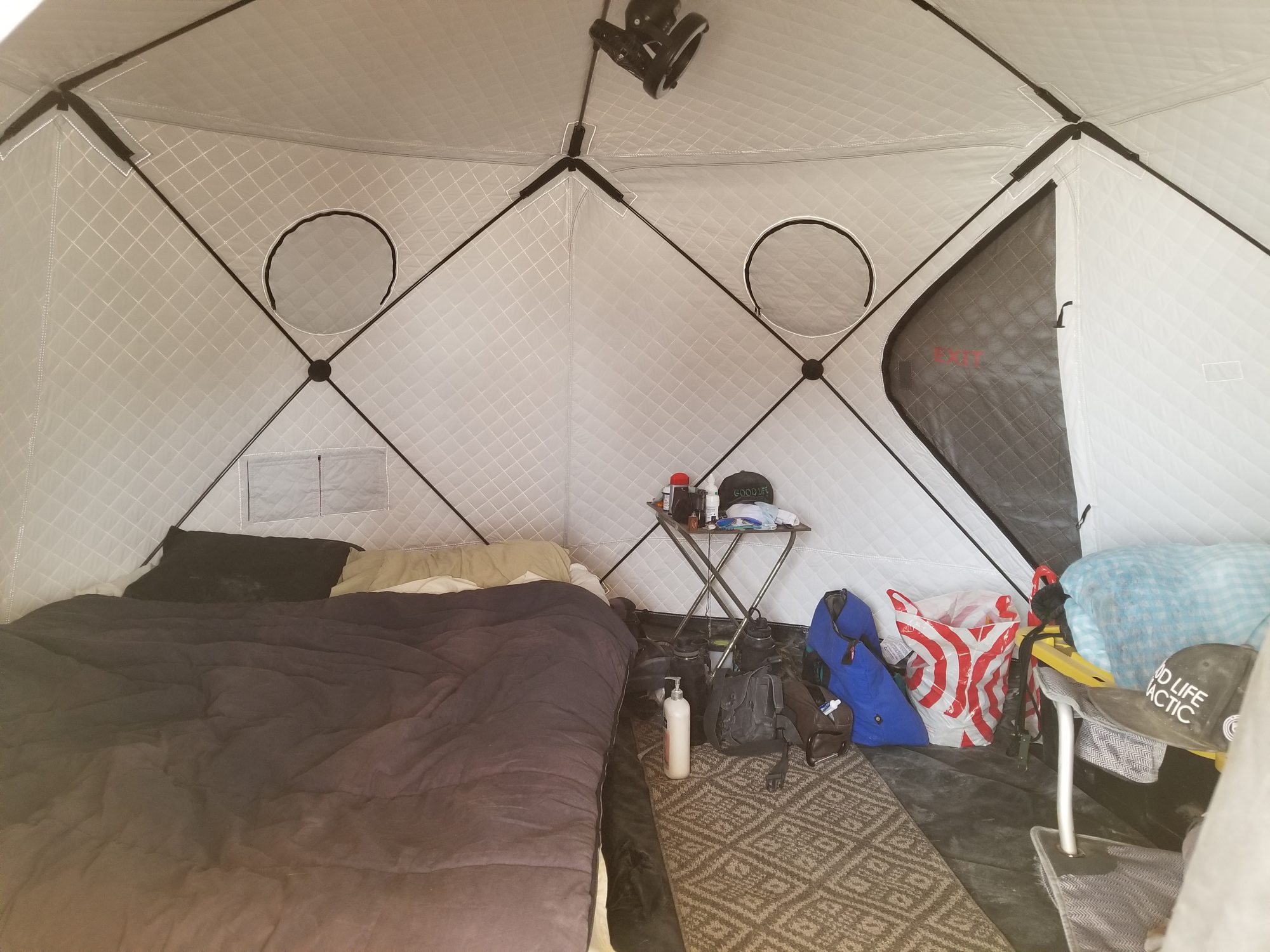 Afterward, I wondered what the SHIFTPOD would be like at other camping festivals like Nocturnal Wonderland, Dirtybird Campout, or Lightning in a Bottle?
With Nocturnal Wonderland up next on the list of festivals, I made the decision to attend and camp to see how this SHIFTPOD would work in a more controlled environment. The first surprise to me was that I was able to fit the entire thing in my Nissan Altima, so major props for that portability.
Although I had a similar experience compared to Burning Man, I realized that the SHIFTPOD2 wasn't exactly the best solution for my regular camping festival woes.
Why? Well, as I said earlier, the SHIFTPOD2 is large. At 12'x12′ it also means that is larger than most every campsite I've ever had at placed camping festivals. Nocturnal Wonderland advertised a 12'x30′ car camping space so I thought I'd be in the clear, but the SHIFTPOD2 just barely fit and actually bulged out into our neighbor's spots.
This isn't the worst thing in the world, our neighbors really were nice and it clearly didn't bother them, but at festivals like Coachella where you have a 10'x30′ space, the SHIFTPOD2 is probably just too big. Add in the lack of an easier shade option that isn't the blast shield, the typical ban on generators, and I'm just not sold on this replacing other, cheaper options for many mainstream camping events.
Just make sure you take into account the type of festival you're attending because the SHIFTPOD Mini might be a better option as it only clocks in at 6'x6′. I actually think that might be a better option overall for the festivals with restricted space as they're not just smaller but lighter and easier to travel with as well.
I could see the SHIFTPOD2 working in a better way at festivals that have less of a restriction on space like Dirtybird Campout or Lightning in a Bottle since you'll be able to sprawl out a bit more. In fact, this tent would be perfect for those style of festivals as they are typically a bit lengthier than two or three nights and having some extra room to decompress after a long day is important.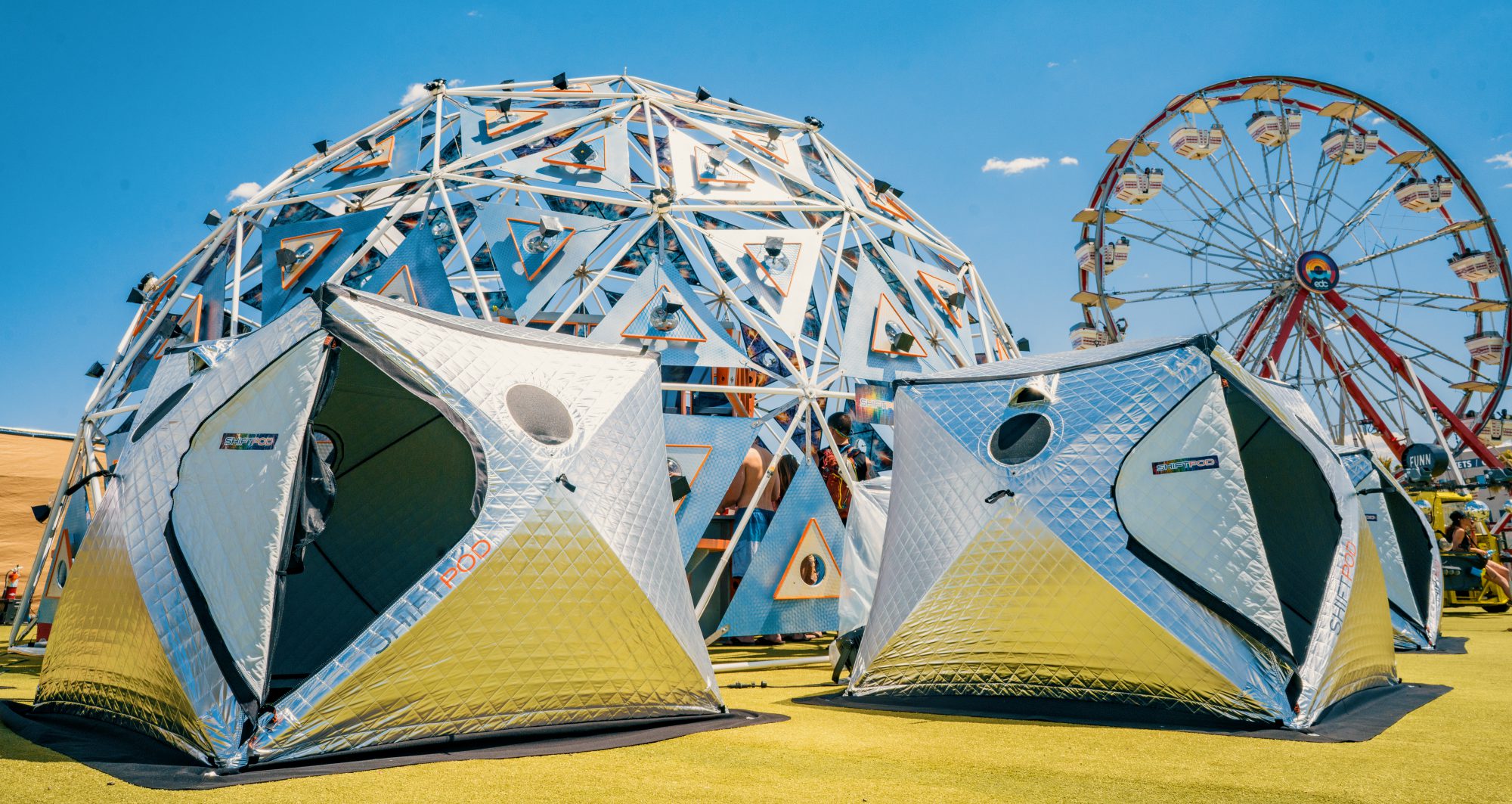 Overall, if you're planning on actually camping or heading to a festival that has no set placement, I recommend making the jump and grabbing a SHIFTPOD2.
I've slept in many tents over the years and by far the SHIFTPOD2 was the roomiest and most comfortable I've ever experienced. The ability to utilize so much more of the interior and the extra added hours of sleep it gave me alone made this worth the upgrade. While the SHIFTPOD2 might not be for everyone, especially if you're only attending limited-space festivals, the SHIFTPOD Mini would also be a solid investment for anyone looking to upgrade their camping experience.
---
Connect with SHIFTPOD on Social Media: