With 20 solid years under their belt, Cosmic Gate set the stage for a massive 2019 with a brand new album, tour and GRAMMY nomination! 
---
With dozens of timeless classics, a slew of mind-bending anthems and club bangers, 50+ remixes as well as eight (soon to be nine) fan favorite albums, Cosmic Gate will go down in history as one of the greatest acts to ever grace the scene. With so much to look back on Nic & Bossi have chosen to keep their eyes on the future as they gear up to present 20 Years – Forward Ever, Backward Never.
Set for release in the spring of 2019, 20 Years – Forward Ever, Backward Never will enter the hearts of fans across the globe with brand new Cosmic Gate productions, and collabs with artists who have brushed elbows with them along their illustrious journey. It will also feature some incredible reworks of tracks that have inspired the boys beyond comprehension as well as fresh takes from other artists revolving around classic moments.
"What Bossi & I didn't want was something that focused exclusively on our last 20 studio years – a straight up 'greatest hits of Cosmic Gate or whatever. More, we were looking for something that was a broader echo of what we've experienced as DJs, with – further – an as-strong emphasis on the future". 

– Nic Chagall

"This will take us closer to the 360 of who we are, where we've been and – as much – where we're going".

– Bossi 
---
But with such a massive album in wait, fans are dying to know…will there be a tour?
Cosmic Gate would never want to let their fans down and have proudly announced that yes, there will, in fact, be a tour for all who wish to get down to the sounds we can't help but adore! Dubbed the Cosmic Gate: 20 Years – Forward Ever, Backward Never Tour the shenanigans will kick off on the eve of their 20th year, December 31, 2018, at the Sydney Metro Theatre in Australia. From here, Cosmic Gate will embark on an adventure that will take them to 20 cities and clubs, all which have played a significant role throughout their career.
Read on below for the first phase of tour dates and make sure to grab your tickets before it's too late!
Cosmic Gate: 20 Years – Forward Ever, Backward Never Tour dates:
Dec 31 – Sydney Metro Theatre 

 

Jan 01 – Melbourne Shed 14

 

Jan 04 – Adelaide HQ

 

Feb 08 – Toronto, ON Rebel

 

Feb 09 – Montreal QC New City Gas

 

Feb 16 – St Petersburg Trancemission 

 

Feb 23 – Utrecht ASOT 900

 

Mar 01 – Seattle, WA Showbox 

 

Mar 02 – Vancouver, BC Harbour Event Centre

 

Mar 08 – Denver, CO Gothic Theatre

 

Mar 09 – San Francisco, CA The Regency

 

Mar 15 – Chicago, IL Concord 

 

Mar 16 – St Louis, MO RYSE

 

Mar 22 – Houston, TX Stereo Live

 

Mar 23 – Dallas, TX Stereo Live 

 

Apr 05 – Los Angeles, CA Palladium

 

Apr 21 – Cologne Bootshaus

 

Apr 27 – Singapore Zouk 

 
 More dates to be announced …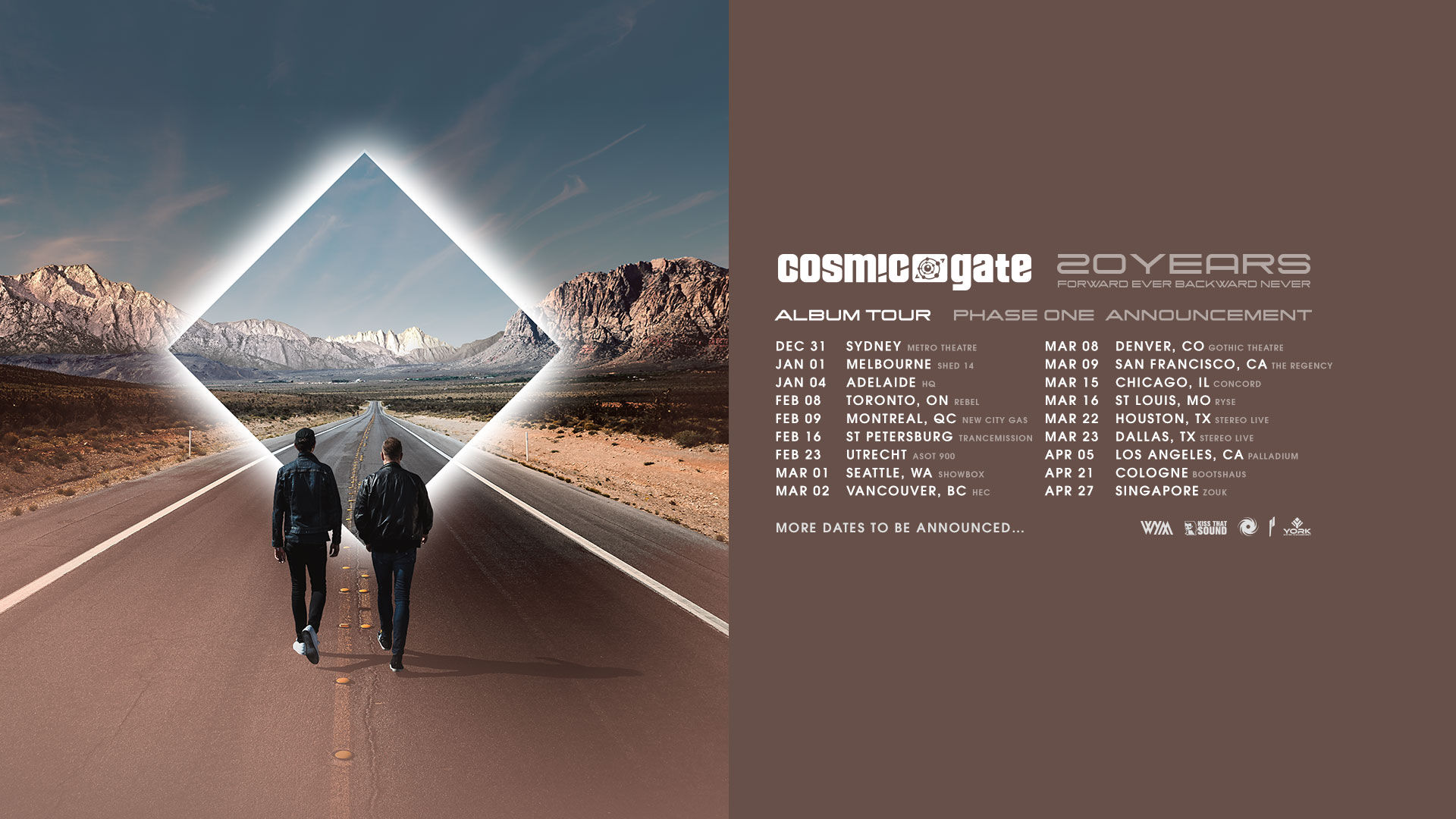 ---
As the cherry on top, Cosmic Gate has their eyes on bringing home a GRAMMY too!
With the GRAMMY nominations flowing like wildfire it is Cosmic Gate's nomination that has us jumping out of our seats with anticipation! This is the first time that the dynamic duo has caught the attention of the illustrious rewards event and with their remix of Gabriel & Dresden's "Only Road" chosen for the potential trophy, we have high hopes for celebration!
Released last February, the remix stole the spotlight as one of the most beloved tracks of the summer season, knocking the socks off of festival and club revelers all over the planet. With heart pounding rhythm, sensual lyrics, and the unique Cosmic Gate character that has placed the boys in a league of their own, it is no wonder that this track would be set up for some serious accolades. The GRAMMY's take place on February 10, 2019, so make sure you set a reminder and watch as history is made!
Stream Gabriel & Dresden "Only Road" (Cosmic Gate Remix) on SoundCloud:
---
Connect with Cosmic Gate on Social Media:
Website | Facebook | Twitter | Instagram | SoundCloud