Brainquility Music Festival has expanded to two days, moved to a new home, and dropped a diverse phase one lineup for 2019! 
---
There are not many festivals that combine funk, electronic, rock and more but Brainquility Music Festival has brought all these genres together. First occurring in Tampa last year, Brainquility Music Festival has found a new home at The Spirit of Suwannee Music Park in Live Oak, FL.
Last year the Brainquility Music Festival was hosted on a single day event in April. As we look forward to 2019, they have expanded to a two-day event as well as moved the event up to February 16 – 17. This coming year Brainquility hopes to offer another weekend of unique fusion and immersive experience that is driven by the community.
Lotus, the groove-based improvisation and electronica band, took 2018 off to create their 19-track album, Frames Per Second. Their triumphant return in 2019 will be to Brainquilty Music Festival joining OPIUO. OPIUO, of course, is unmatched with his wonky, bass-heavy productions. These two headliners both deliver unpredictable, always live performances that really showcase their unique styles.
Joining OPIOU and Lotus on stage will be Flamingosis, Zach Deputy and the Heavy Pets, Side Trakd, Chachuba, and more! Brainquility dedicates themselves to showcasing art and creativity from an alternative festival community. The festival will treat its attendees to live glassblowing and woodwork, incredible and interactive art installations, impromptu jam sessions, scavenger hunts, and more throughout the two-day camping event.
This breath of fresh air festival offers something different in both sound and experience and I'm here for it. So pack your bags and get your camping gear ready as this will be a great 2019 experience you won't want to miss!
Tickets are available now through FestivalTicketing.com, don't wait for a later tier and cop yours today! 
---
Brainquility Music Festival 2019 Phase One Lineup: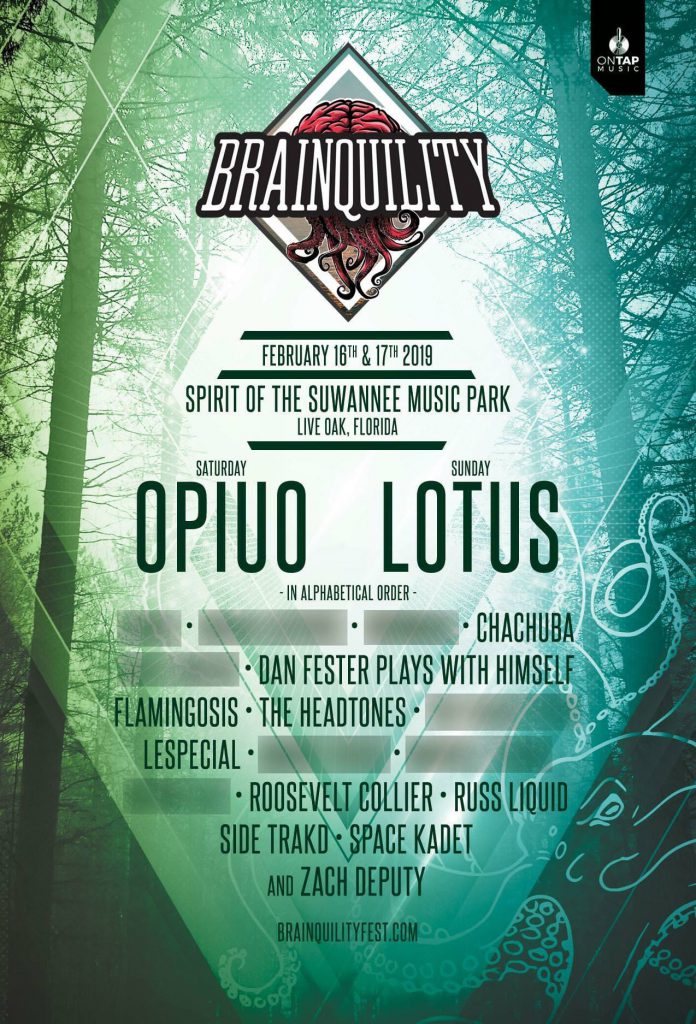 ---
Brainquility Music Festival 2019 Phase One Lineup By Artist:
OPIUO
Lotus
Chachuba
Dan Fester Plays With Himself
Flamingosis
The Headtones
Lespecial
Roosevelt Collier
Russ Liquid
Side Trakd
Space Kadet
Zach Deputy
+ more to be announced!
---
Follow Brainquility Music Festival on Social Media: