Learn more about Arizona-based EDM Identity Team Member Bill Savory as he looks back on some favorite moments and more!
---
Name: Bill Savory
Rave Name: None
Age: 51
Hometown: Galesburg, IL
Current City: Anthem, AZ
Occupation: CFO/COO and EDM Identity Team Member
Instagram: @EDMIdentityBill
---
What was your first electronic music event?
Crush Arizona 2016
What/who influenced you to attend your first event?
From my early musical roots head-banging in the Midwest as a teen and having been a well-traveled Deadhead for over a decade in my youth, I had been to several hundred concerts and festivals. I have been all over the country following the Grateful Dead and attended many special GD events, New Year's Eve, Valentine's Day, Mardi Gras, Chinese New Year's, Halloween and others.
I feel there are many parallels between a set of Grateful Dead shows and multi-night EDM festival. In my opinion, the origins of PLUR were created by the Grateful Dead. A few years ago, a girlfriend suggested that we attend Crush at Rawhide Event Center just south of Phoenix. Shortly after entry to the show, it was apparent that EDM, with its amazingly diverse genres, excellent production aesthetics and a scene that puts a value on peace, love, unity, and respect, was the answer to fulfilling my musical needs.
What is one moment from an event that was special and why?
I had been to so many different concerts and events over the years. Going to my first EDM festival was very eye-opening for me. Feeling the tactile sensation of heavy bass hitting my chest, seeing the care that fellow festival goers showed for each other, the hive-like energy that is created by the drops, and being in a place were everyone was there to have a good time was so reflective of my Grateful Dead experiences that I instantly knew I had found something I could really get into.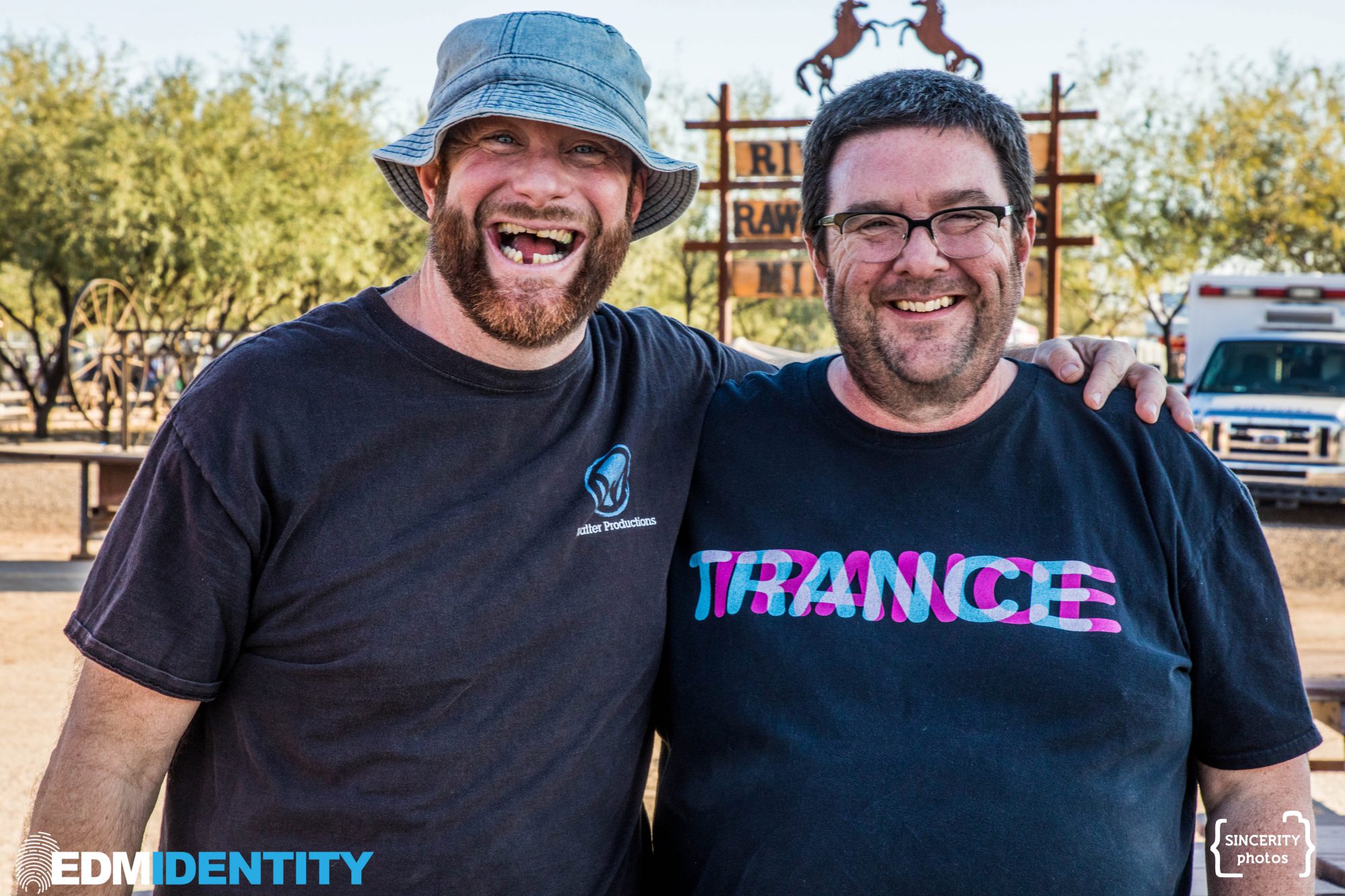 What is your favorite festival or event?
I would have to say Decadence AZ. I am a sucker for holiday-related music events. There is something magical about spending the last and first few hours of a year with 10,000 friends. Add in multiple days of amazing sets, the festive nature of a New Year's celebration, and an incredible countdown set, and I am in concert heaven
What is your favorite electronic song and why?
Has anyone actually only had one? The answer to that question changes minute by minute depending on what time of day, which day of the week, mood, etc. I am lucky enough to get to listen to EDM at the office while doing my work, so I get about 11 hours a day of listening time.
In the hauntingly beautiful category, "Faded" by Alan Walker (original or any remix) and "Crave You" by Flight Facilities (Adventure Club remix) get the nod. In the adrenalizing banger section, Riot Ten's "Rail Breaker" featuring Rico Act and "In The Pit" by Lil Jon & Skellism get the blood flowing. To satisfy my trance cravings, Armin Van Buuren's "This Is What It Feels Like", "Sanctuary" by Gareth Emery, and the old classic "Sandstorm" by Darude fill me with good feels.
Who are your favorite artists?
I live for live music. Honestly, I have only seen one DJ that I did not like. In every other set, I found something to energize, entertain and/or satiate my need for music. Some of my favorites are Armin van Buuren, Markus Schulz, Paul Oakenfold, Seven Lions, Dillon Francis, Kayzo, REZZ, Alison Wonderland, Krewella, NGHTMRE, SAYMYNAME, Illenium, Steve Aoki, and Excision.
What are your favorite genres?
Trance brought me to the party, I will always have immense love for that genre. As I get more into the scene, I am enjoying hardstyle, dubstep, and trap in addition to trance. One thing I love about EDM is that there always seems to be something new around the corner. I love to evolve with the music and going on the journey that EDM makes possible.
What do you feel your "Identity" is in the electronic music community?
Being 51 years old, my identity in the EDM scene is probably one that was assigned to me based on my age. Although rave-dad might be appropriate, I am going for the elder statesman of EDM. I sing the praises of the diversity and all-encompassing entertainment value of dance music and its scene to anyone that will listen.
I take my role at festivals very seriously as well. I learned a long time ago that being aware and making sure the people in your general vicinity are doing well and having a good time is incumbent on all of us.
Aside from that, apparently because I appear chill and responsible, I am asked to take picture after picture of the various clans of festival-goers. Evidentially, being older gets you voted least likely to damage one's phone while taking a picture at a festival. [Laughs]
Is there anything else you would like to add about yourself for the readers?
Just a reminder to care. Care about yourself and the people around you. The scene is a special combination of artists and fans, the unprecedented potential can only be realized if everyone involved maintains an appropriate level of respect and appreciation for the evolving scene that is EDM.
---
Do you want to be featured in our weekly ID Spotlight segment? Click HERE for the submission form!