Minnesota releases a remix package of his Curio EP featuring Pigeon Hole, Esseks, Partywave, and Um..!
---
Christian Bauhofer, otherwise known as Minnesota, released his hypnotic Curio EP in March of this year. Each of the five tracks traverses through wonderlands of dreamlike synthwaves and resounding bass, making this collection one of Minnesota's best yet. Now, he's come out with an official remix package that features a diverse array of artists' takes on his bass-induced tunes.
Released on Wakaan, the package features everything from some seductive bass crooning from Esseks, to exuberant pops and sizzles from Partywave. Though only three out of the five original tracks have remixes in the package – "Dark Crystal", "Desert Diamond", and "Technique" – each is entirely unique from the last and crafts its own story.
Stream or download the Curio Remixes EP on your favorite platform and read on for a review of my favorite tracks!
Listen to Minnesota – Curio Remixes on SoundCloud:
---
The Curio Remixes EP begins with Pigeon Hole's remix of "Dark Crystal", a smooth and sensual ensemble of hip-shaking bass and sonar clicks.
The remix contrasts the worldly instrumental twinges of the original, adding a deeper experimental edge while still retaining the track's subtle cheekiness. But my favorite out of the four remixes has to be Esseks' remix of "Desert Diamond". Esseks dives deep and dark with his rendition of the original, delving into a subterranean underworld and unearthing the heaviest and thickest of bass warbles. This remix is the kind of freeform bass that hits your soul in all the right places, so prepare yourself for a complete cognitive override with this mesmerizing brew of gnarly wubs.
Partywave's remix of "Technique" adds a layer of gravelly bass rips and wet sonic bubbles.
With the addition of some juicy sound layering, it's a higher-energy take of the original. Um..'s remix of the same track is vastly different, utilizing alien-like chittering and hollow bass whomps similar to the ones used in Champagne Drip's "The Portal".
What is your favorite track on the Curio Remixes EP? Leave us a comment!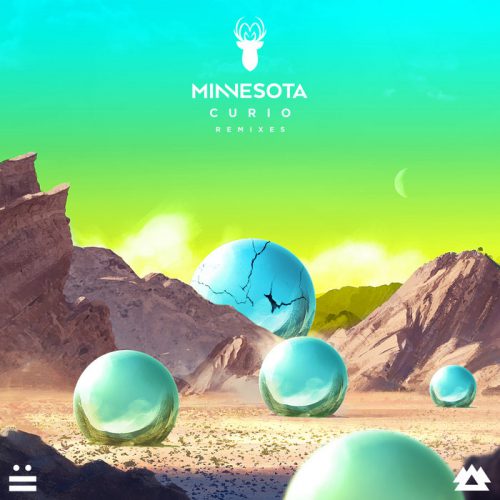 ---
Follow Minnesota on Social Media:
Website | Facebook | Twitter | Instagram | SoundCloud