Learn more about Logan Garrison and find out how he fell in love with dance music, which event was his first, and more!
---
Name: Logan Garrison
Rave Name: None
Age: 25
Hometown: Aspen, Colorado
Occupation: DJ / Writer
Facebook: Logan Garrison
Instagram: Dj Lo_G
---
What was your first electronic music event?
Global Dance Festival 2010 at Red Rocks Amphitheater.
Seeming to happen simultaneously, at the age of seventeen, my friends and I discovered the magic of electronic music and Red Rocks Amphitheater all at once as we were gathered in the lunchroom, junior year of high school. Always having close friends who were older I started hearing about how nobody was going to see rap shows anymore and that it was all about dance music and these things called "Raves". I came to find out the next one to hit Colorado was Global Dance Festival at the infamous Red Rocks Amphitheater and knew I needed to go.
After a couple of weeks of tirelessly listening to some of our new favorite tunes, the lineup was released and featured heavyweights such as deadmau5, Rusko, Pendulum, Kaskade, Paul Van Dyk, Savoy, and Morgan Page. It was a done deal. The end of the school year couldn't come soon enough.
What/who influenced you to attend your first event?
The discovery of deadmau5 and wanting to be able to share my new-found passion for dance music with my best friends was truly the driving force behind getting me to my first event. That one night at Red Rocks would catapult the rest of my life in a direction that I never want to stray from. Not only did that experience at Global Dance Festival show me how truly open-minded, passionate, and inclusive the dance music community could be, but it also showed me the power behind these shows on every level. From the stage production with its lights, lasers, and visuals to the community of people and fans that would soon become family, my mind was blown.
What is one moment from an event that was special and why?
One of the greatest nights of my life came last winter on December 27 in Aspen. I was fortunate enough to open up for Dillon Francis at The Belly Up. The venue is one of the greatest small spaces in America, maxing out its capacity at less than 500 people and constantly bringing in A-List talent across every genre and style of music. And there I was, with the chance to play a Dj set of my own before one of my all-time favorite producers in my hometown.
The Belly Up is the venue that not only fueled my love affair with electronic music but a passion for live shows in general. I showed up to my set two hours early as I was too nervous to focus on anything else, let alone socialize with any of my friends. The show was completely sold out and the room was essentially full by the time I went on. With a lot of practice and seemingly a slight amount of luck I played the greatest set of my life to a packed house. I swapped a quick hug, and high-five with Dillon behind the decks and hurried backstage to piece together what had just happened.
At the end of the night after Dillon played an absolute smasher of a set we crossed paths again at the front of the club as we were both on our way out. He was nice enough to take some time out of his busy night to chat with me about everything from past performances at Coachella to what tour life is really like, and even touched on having a residency in Vegas. He couldn't have been a nicer dude, and he was the first major artist I have shared the stage with that legitimately thanked me for being there and opening up. Regardless what you may think of his music Dillon Francis is an all around good dude and an absolute legend in the club. The next time he comes through your town, you owe it to yourself to go.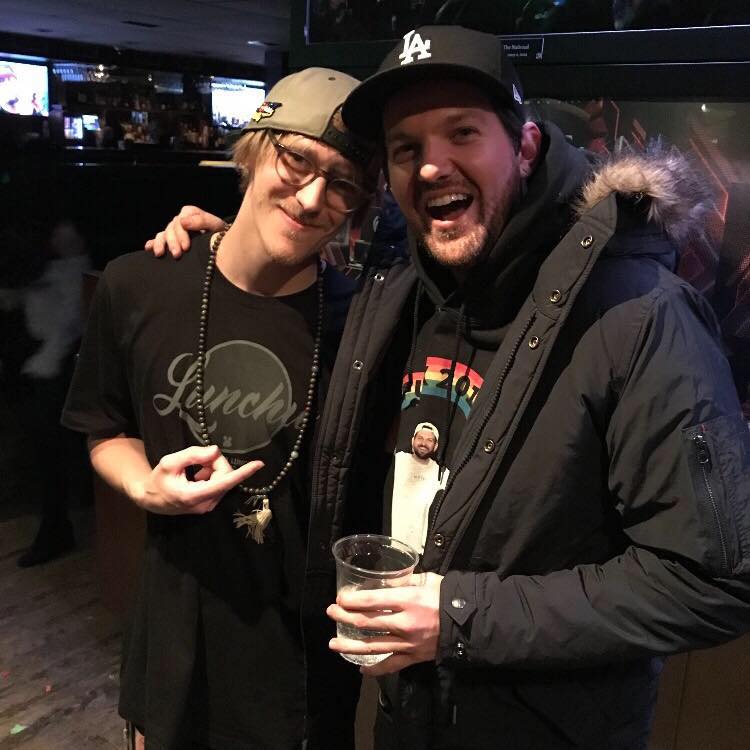 What is your favorite festival or event?
Coachella in Indio, California is hands down the greatest live music event of our time. I understand that it gets a bad reputation and can be known as, "the land of the basics" but believe me, after attending every year since 2012 and tickets already locked down for 2019, I can honestly say it is one of my favorites year after year. If you love live music, big art, and delicious food you've got to go check out Coachella for yourself. The fact that you can bounce from stage to stage and see world-renowned artist across a wide range of genres is seriously one of the most fun things you can do as a music fan. From dubstep and techno to rock and funk, and plenty of hip-hop, Coachella has everything to offer and is the ultimate playground. See you on the Polo Fields in 2019!
What is your favorite electronic song and why?
"A Fine Way To Die" – GRiZ Ft. Orlando Napier off of the album Say It Loud.
A song that truly never gets old no matter how many times I've heard it. The one track that made me fall in love with GRiZ forever. "A Fine Way To Die" truly has it all, from soulful and groovy sax solos to smooth vocals and the heavy, driving bass line, it shows GRiZ's range of skills in the studio in a way few other artists have come close to. The progression between the heavy, funky bass and one of the most soulful, moving saxophone solos really touches the heart regardless of what may be going on in the day-to-day chaos of life. GRiZ fam forever.
Who are your favorite artists?
Griz, Tipper, Jade Cicada, Fisher, Zhu, Disclosure, Flume, Tchami, Gorgon City, Nora En Pure, Justice, deadmau5, Eric Prydz, Rufus Du Sol, SNBRN … the list goes on and on it really just depends on what mood I'm in and what sounds good at the time.
What are your favorite genres?
Deep house, techno, Bass Music, Funk, Glitch, EDM
What do you feel your "Identity" is in the electronic music community?
To me, I believe it is my responsibility and purpose to spread love throughout the community of like-minded dance music fans like myself. This is achieved through my role as a Dj on stage playing sets as DJ Lo_G, or as a fan in the crowd, whether that be a crowd of 50,000 or 15.
Is there anything else you would like to add about yourself for the readers?
From the main stage to the underground… Show love and spread love!
---
Do you want to be featured in our weekly ID Spotlight segment? Click HERE for the submission form!