After hearing that HARD Day of the Dead was returning this year, I knew that I needed to see the resurrection of one of my favorite fall festivals firsthand. 
---
Personally, I can't say that I know all that much about resurrections. I'm not a witch, nor have I ever dabbled in dark magic, so I must admit that my experience with attempting to bring anything back from the dead is less than extensive. I would, however, consider myself an expert in all things Netflix, and if Hocus Pocus and The Chilling Adventures of Sabrina have taught me anything, it's that when something is resurrected, it never really does come back exactly the same. So when I heard that HARD Day of the Dead was set to return this year, I'll admit that I was a tad wary about Insomniac's attempt to bring back the fest.
As a long-time fan and attendee of HARD Summer's little, spookier sister, I was skeptical of the new, seemingly smaller event's return for the first time since 2016. Rather than a full two days of spirited fun (pun intended), this time around Day of the Dead would only be on one day, Saturday, and have only two stages, with a significantly smaller lineup than it'd boasted two years ago.
However, as soon as I heard that the event would once again be 21+ (yay for no beer garden!) and that it'd be returning to its original venue at LA's State Historic Park, my interest was piqued. A mere $20 Uber from my house, I knew that I was going to have to witness this resurrection first-hand and the planning began.
Upon arrival, I was immediately met with confusion as our Uber pulled up next to the curb outside of the festival entrance.
Yes, you read that correctly. Our Uber was able to literally drop us off directly outside the festival gates. Where was all the traffic? Had there been an apocalypse on our way over, forcing the cancellation of the festival before it had even really begun? One glance around quickly debunked that theory, as groups of lively, costumed attendees filled the streets, joining us as we made our way towards the entrance. Scanning our tickets and IDs were as painless as our traffic-less arrival, as each line was relatively short and as organized as you could possibly hope for at a festival.
As we made our way to the Duro Stage, which was nearest to the gates and home to the house artists on this year's lineup, I noticed the first staggering difference in this new, and dare I say, improved Day of the Dead. 
Although 2016's edition was also 21+, there were significantly fewer people this time around. Whether that was due to it only being one day or its lineup, which featured less top-billed artists and more unique house acts, I'm not entirely sure. However, it was undeniably refreshing to be able to weave in and out of sets as we pleased and having ample room to dance without worrying about being hit in the head by a nearby fist-pumper, or otherwise suffocated by crowds.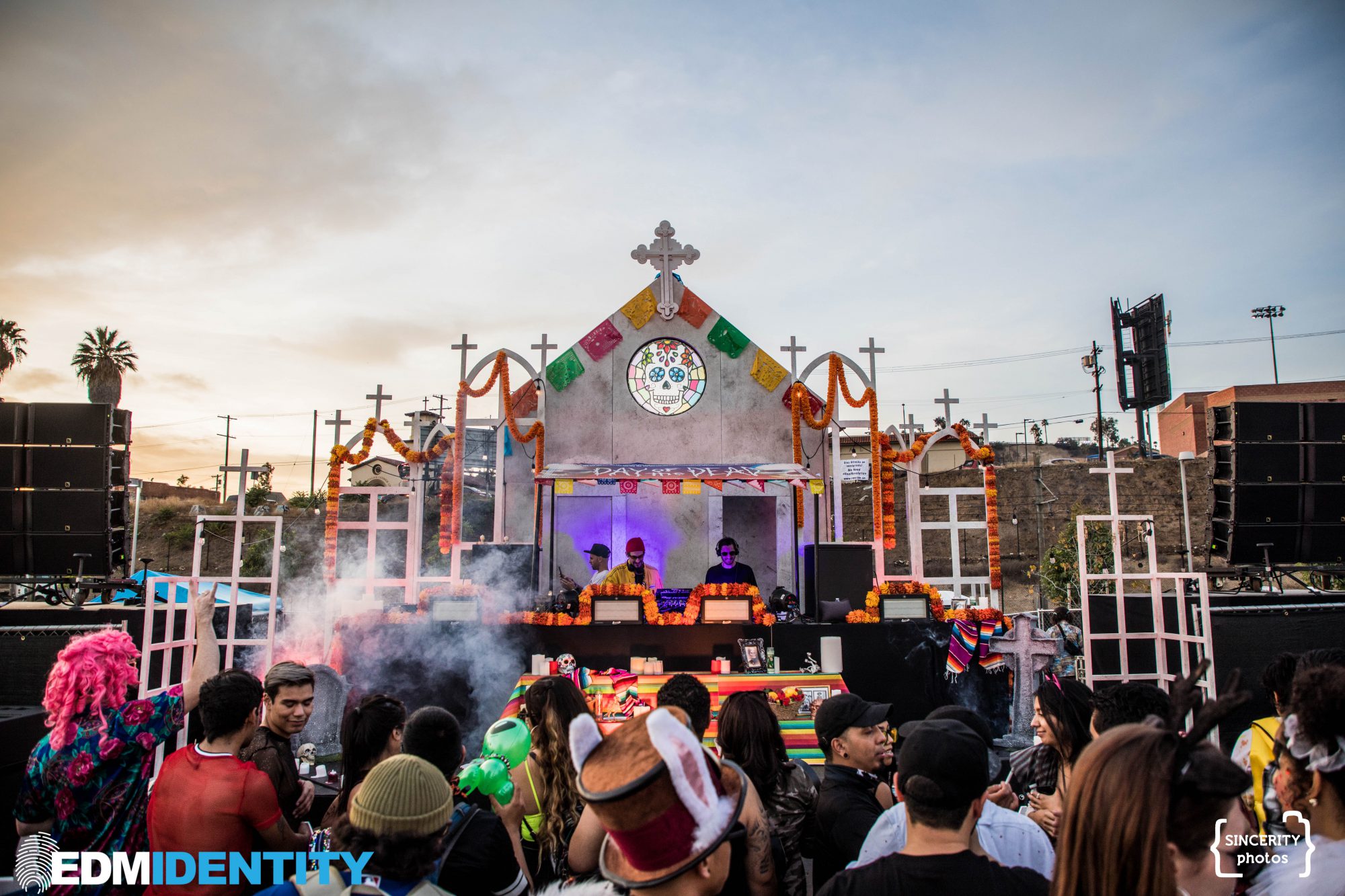 Speaking of crowds, surprisingly, for only having two stages, this year's event's were some of the most manageable I've ever experienced.
Even during the bigger acts of the night, like Justice and Knife Party, it was fairly easy to move around. Plus, I found myself appreciating the smaller venue space. Occasionally, the sheer size of festivals, particularly those with four-plus stages, can be overwhelming. Rather than waste time trekking 15 minutes from one end of the event to the other, HARD Day of the Dead's simpler set up made for a more casual and overall, enjoyable festival experience. Plus, less walking equals fewer blisters, which is always something I can happily get behind.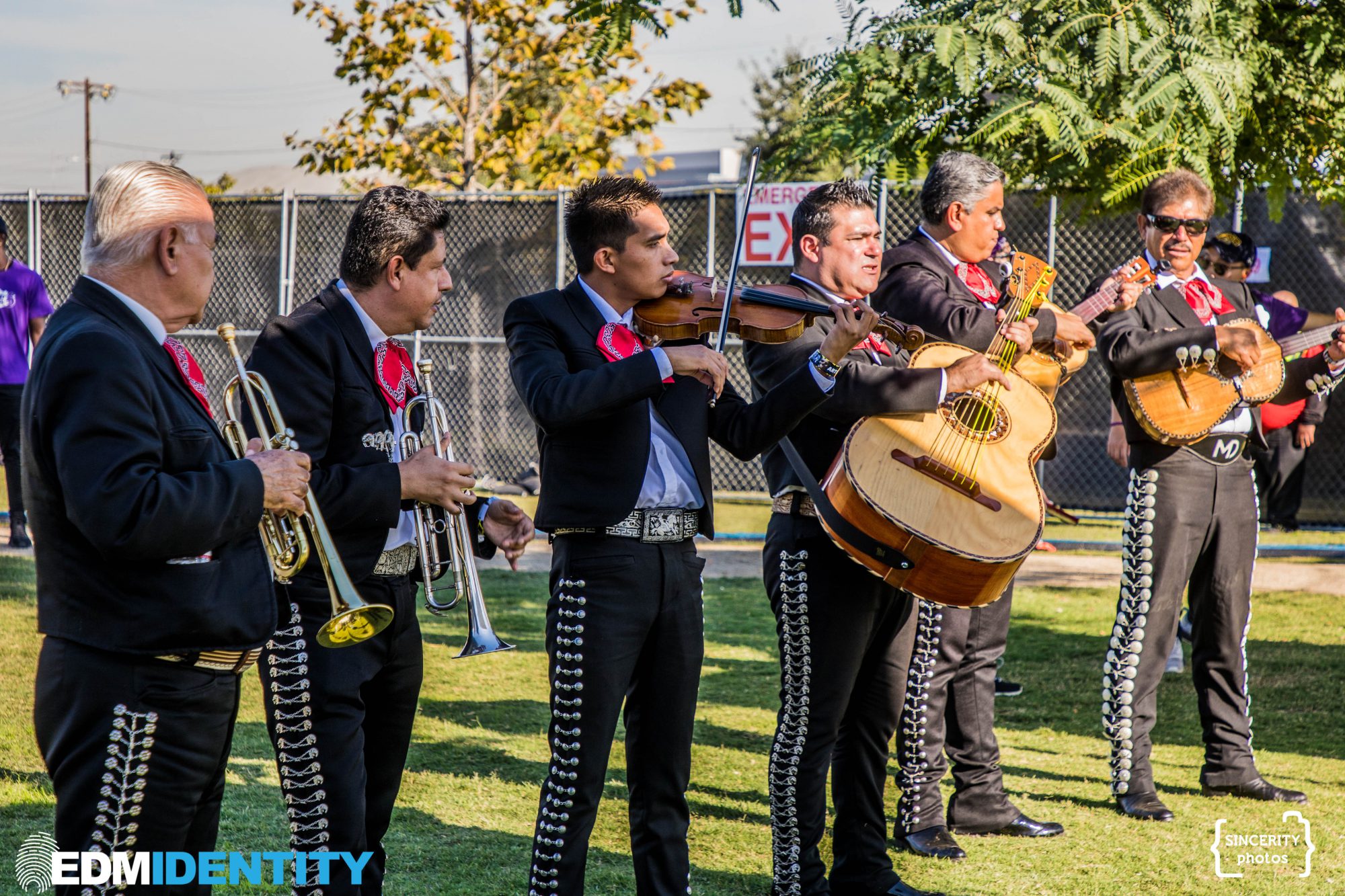 As for the other differences I noticed between the old Day of the Dead and its resurrected version, it started with less Halloween and more Día de Los Muertos. 
Although Day of the Dead and Halloween may seem hauntingly similar, the former is actually a Mexican holiday celebrating and remembering the dead. In years past, HARD's Day of the Dead was nearly the same as Insomniac's annual Halloween event, Escape, in that there was really nothing, well, Day of the Dead about it. During the two years that I attended, I always noticed more of a darker vibe, reminiscent of Halloween rather than the brighter themes usually associated with Día de Los Muertos.
This time around, though, not only did Insomniac make an effort to differentiate the event from its own Escape, it actually honored the holiday that Day of the Dead is named after. A mariachi band greeted festival-goers on their way to the main HARD stage, adorned in full suits and sombreros.
A massive sugar skull marked the middle of the venue, surrounded by LED grave markers and brightly colored paper awnings. My personal favorite touch, the Duro stage was intricately decorated as a shrine, complete with candles and framed photos of loved ones. There was even an actual shrine further in the festival, filled with more photographs and guarded by security to ensure that no one defaced it.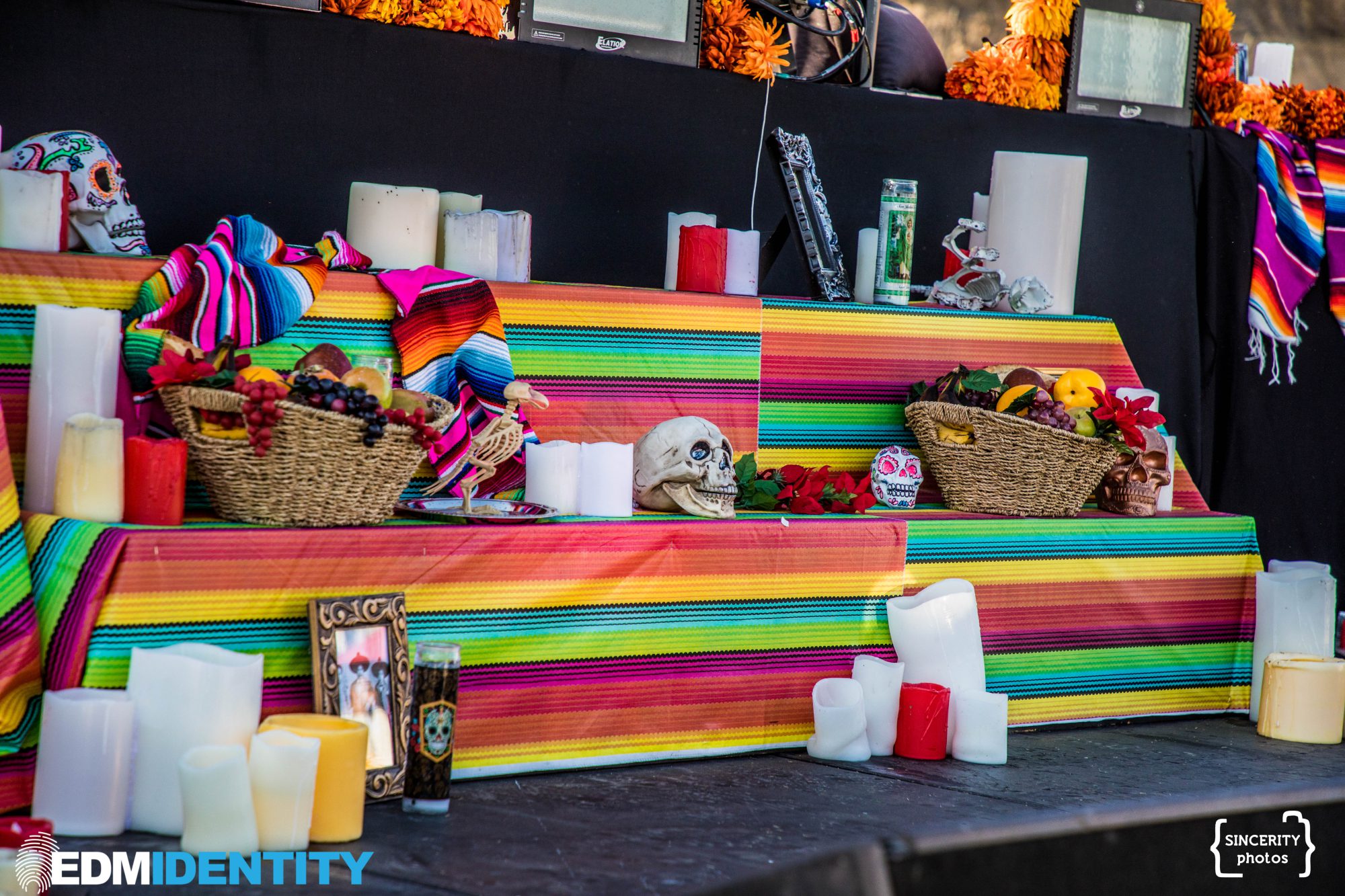 Albeit smaller, Day of the Dead packed a far more unique, house-filled lineup.
Back in the olden days (well, 2015), HARD Day of the Dead was notorious for its stacked lineups that often saw many similar artists billed year after year. Rather than bringing all of the usual suspects back again, though, this time the festival opted for a lineup filled with artists that we don't necessarily see at every other event. Of course, I'm not talking about Justice (even though Saturday night's show was the last with their "Woman Worldwide" production), or even returning Day of the Dead regulars Knife Party and Jack Beats.
Rather, the Duro Stage's lineup was admittedly home to some of the best acts of the night. Rybo B2B Lubelski kept the whole crowd bumping and OMNOM delivered a sunset performance of any house music lover's dreams. The best discovery of the night award goes to Rodriguez Jr., whose set my group and I just happened to wander into after grabbing a beer post Knife Party and immediately had us thanking ourselves that we did. His funky melodies electrified the crowd and almost made me forget about the blisters that'd been plaguing my feet all day… almost.
That's not to say that headliners Knife Party and Justice didn't deliver.
As they're both two of my long-time favorites, I made sure to catch both and I was expectedly not disappointed. After easing the audience in with a light-hearted progressive house-filled opener, Knife Party unapologetically tore apart the stage, spending the rest of the set in hardstyle heaven. He was so good, that I'm only a little butthurt that he was cut off right before he was about to drop "Internet Friends". Okay, maybe more than a little.
Justice, as usual, put on a legendary performance comprised of their pulsing melodies and signature stage setup that ended with them literally walking into the crowd and giving everyone lucky enough to be standing near them a high-five. It doesn't matter how many times I see them, I'm left speechless each time and with zero camera space leftover on my phone from needing to record basically the entire thing.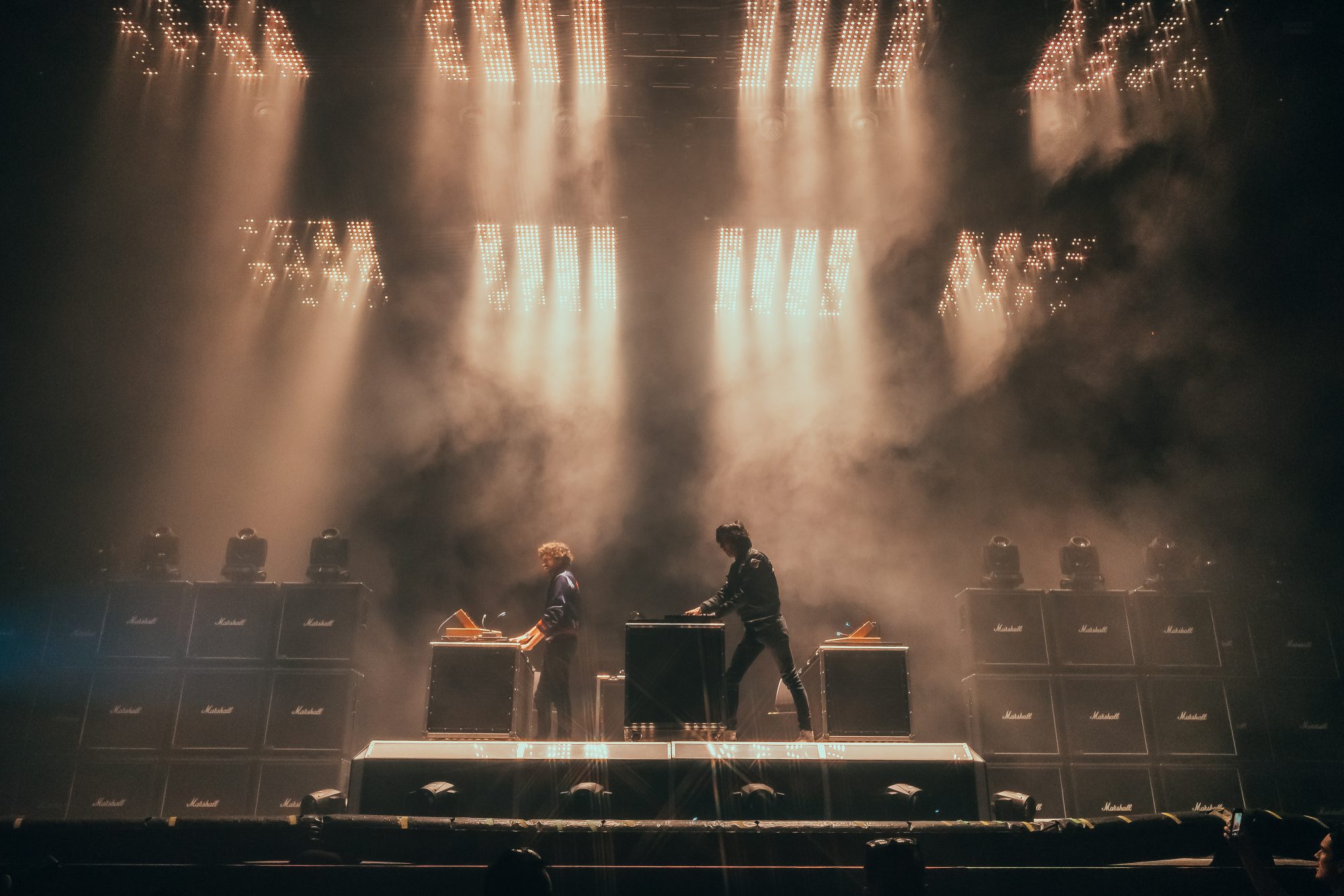 And of course, some honorable mentions that made this year's Day of the Dead experience so memorable…
The specialty cocktails that were both delicious and kind to my wallet. Well, kind is a broad term but hey, they did taste great!
Speaking of tasting great, those food trucks though. Artisan grilled cheese sandwiches? Instant key to my heart.
The free sugar skull makeup booth in VIP! Perfect for people like me who've always dreamed of doing this for Halloween but are lazy and awful at YouTube tutorials.
The strong ground control presence throughout the festival. One of my favorite things about Insomniac is their Ground Control team, which walks around the event making sure everyone is having the safest and most fun time possible. I loved seeing them at HARD Summer and loved seeing them making their rounds again at Day of the Dead.
The venue, namely, the fact that the Downtown LA skyline surrounded the entire festival. Pomona what?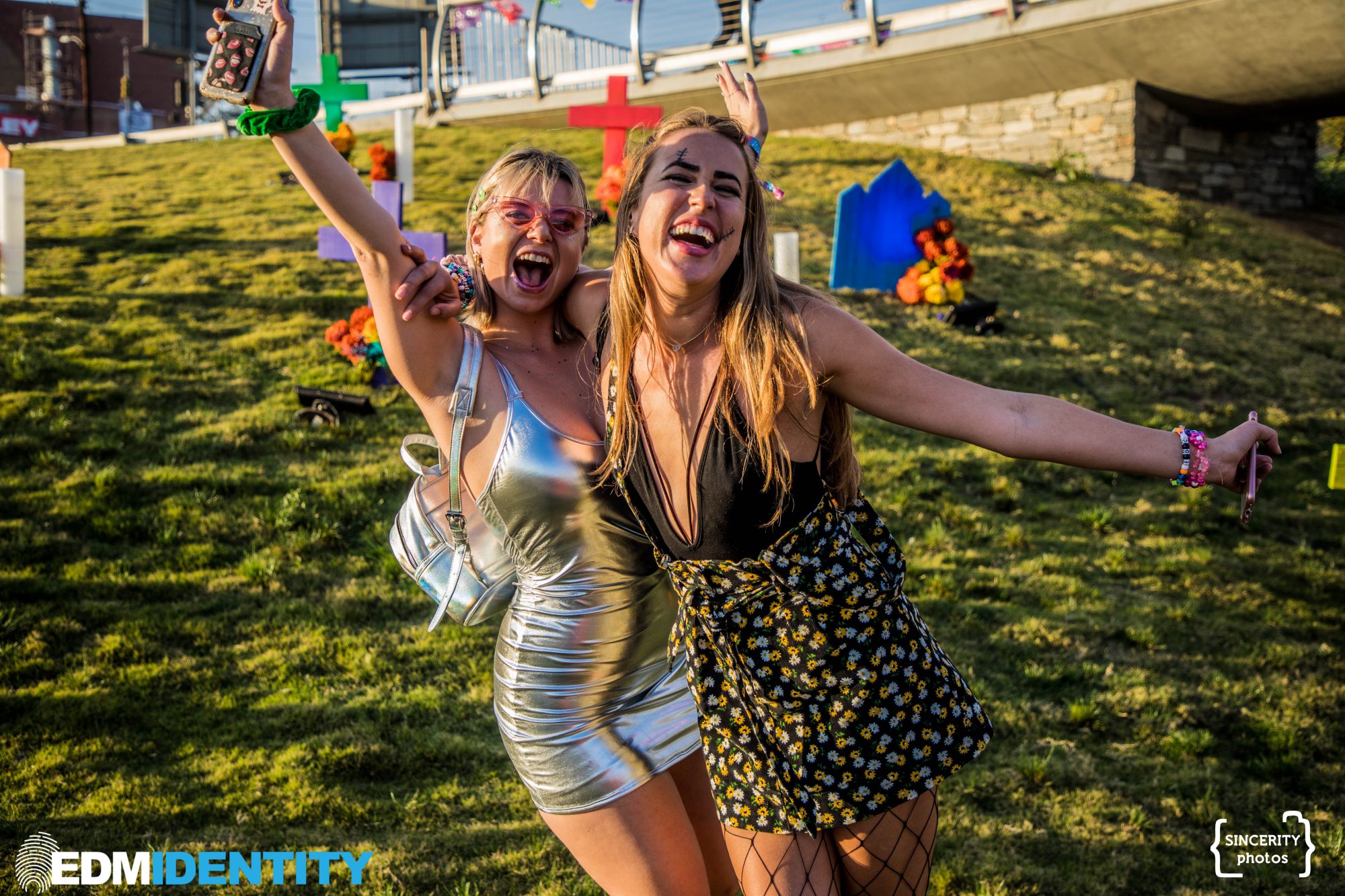 Overall, it would seem like the shows on television are correct. Anything that's resurrected never really does come back the same, but HARD Day of the Dead proved that sometimes change can be a good thing. 
Under the direction from Insomniac, the event was free to stop trying to compete with Escape and instead fully embrace its true Día de Los Muertos spirit. It returned more intimate and culturally relevant than ever before, trading its impressive, although arguably generic lineups and decor for an overall more unique experience.
In the case of this festival, Insomniac proved that at times, less is certainly more and chose to impress attendees with stellar performances and key attention to cultural detail rather than giant lasers and excessive stage setups.
So, is this new and improved edition of HARD Day of the Dead perfect?
Well, what festival is? Besides adding another set of bathrooms (there was only one st inside the event), and maybe throwing in some more food options for GA (although I must say, that grilled cheese I had was life-changing), I can't say I have that many improvements. Plus, after the event, I was able to catch an Uber within 15 minutes without walking ten blocks and I've gotta say, that might have been the highlight of any festival I've been to in the last year.
So thank you, HARD and Insomniac, for resurrecting one of my favorite fests and having it come back perhaps not bigger, but undeniably better than ever before!
---
Connect with HARD Events on Social Media:
Website | Facebook | Twitter | Instagram | SoundCloud