Heavy bass, good vibes, organic food, and a beautiful forest venue made this year's edition of Organic Fest one for the books. 
---
Organic Fest in Northern California was my first West Coast event, and completely reframed my expectations of what a small music festival can be. It started just a week after I drove from New York to California, but I wasn't about to miss the chance to see G Jones, Opiuo, Oshi, Of The Trees, and a dozen more of the hottest acts in bass music in one fell swoop.
I planned on a roughly seven-hour trip from Los Angeles to Wilseyville, located an hour and a half east of Sacramento on the edge of the Eldorado National Forest. It ended up taking closer to ten hours after factoring in gas, food stops, and the hundreds of people cruising under the speed limit in the left lane (Californians, please tell me why you do this), but it was a nice drive overall. I especially loved the last two hours, as I watched the desert transform into farmland, into rolling hills, and then finally into an old forest with towering trees.
Upon arriving at Blue Mountain Event Center, I encountered some frustrations in the check-in process, but they were admittedly minimal compared to what I had experienced at camping festivals back East. I waited in a line of cars for about an hour and a half, before being ushered into a small clearing where our group of about 10 cars waited to receive wristbands.
There was only one woman manning this station, so I had to wait another short while as the group ahead of us tried to figure out why they weren't on the guest list. I don't think it was an unreasonable amount of time to wait in line for an event such as this, but the check-in experience could have been made far better by just having one more station – one for the cars that have all of their information ready, and one off to the side for the stragglers so that they don't hold up everyone else.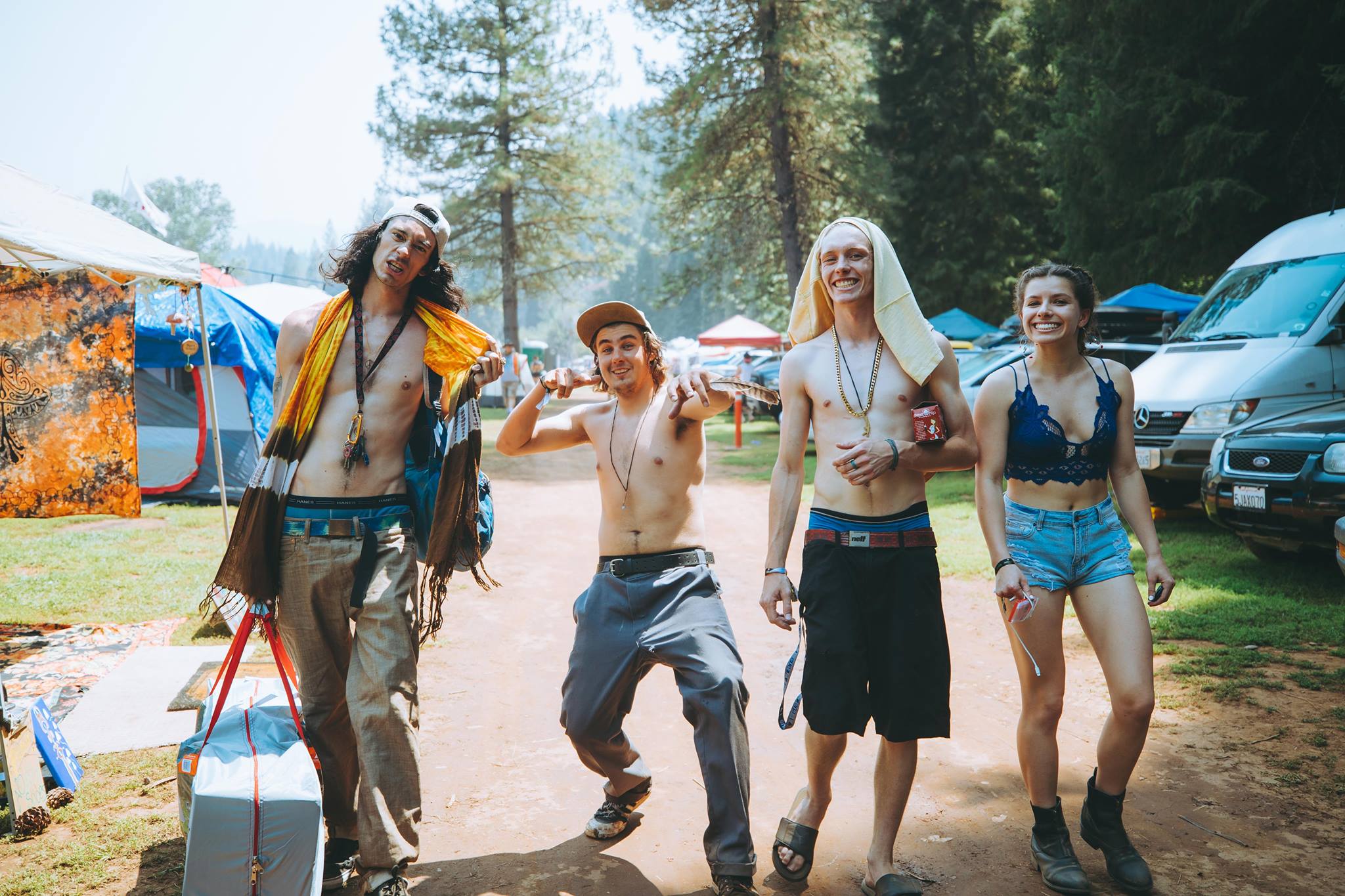 My second, larger frustration with check-in was what I received with my $130 "car camping" pass.
The description for this pass said that it allowed me to camp next to my car, so I assumed that even if I arrived Friday evening there would still be space for me to do just that. However, while driving in I immediately saw that the campgrounds were packed full, and one of the staff members informed us that we'd have to park in an improvised lot and walk to find space for our tent.
If there had been some sort of disclaimer that car camping was "first-come-first-serve" this would have been more tolerable, but I had just unknowingly purchased a grossly overpriced on-site parking pass. The rest of the weekend was trouble-free though, so I chose to let it lie.
The staff members themselves were a joy to interact with at the festival. Everyone went out of their way to be friendly, and help however they could. There were guides on ATV's to direct us into the grounds and help us find a place for our things. During the festival, the staff went relatively unnoticed, which I liked, but you could usually spot someone in uniform if needed.
It's hard to explain how beautiful Blue Mountain Event Center really was, and it was a perfect venue for Organic Fest.
As soon as I entered the clearing, I was struck by how massive the trees were that surrounded us on all sides. They were probably twice the height of those I typically encountered in upstate New York. There was also a beautiful little river winding through the campgrounds. People pitched their hammocks over the water and developed little hangout areas that became my favorite places to escape the midday heat.
There was thin grass covering most of the open fields but also a lot of powdery bare dirt, so things got quite dusty when the crowd moved in. The haze from the distant wildfires didn't help with breathability either, so I'll definitely be bringing a few bandanas or masks next year.
There were lots of vendor booths surrounding the main meadow, but surprisingly minimal food options – I could only find one vegetarian place, a grill operated by a local family, and one pizza truck. The pizza was really good, and this is coming from one of the biggest pizza snobs west of NYC, but if you care about varying your meals I'd recommend bringing at least some of your own food.
The Green Leaf Stage was minimally decorated with some wooden accents and a nice-sized screen. It had a PK sound system that was absolutely bumping – I could have done with slightly more pronounced highs, but the bass was strong as hell and I thought it was very good overall. The Bounce Car Stage was much more ornate and had a solid sound system too, but I admittedly only spent a few minutes there the entire weekend.
I've never really felt bad overall vibes at a camping festival, but at Organic Fest it seemed rare to see someone who wasn't smiling.
This may be the New Yorker in me, who is still used to people avoiding interaction with each other at all costs, but I thought this crowd was one of the friendliest I've ever encountered. I usually go out of my way to meet people at festivals, but it felt like I didn't have to there – people around my campsite offered help setting up, and many more came over to introduce themselves once I was settled.
I was also impressed by how much people respected the venue. Even with minimal garbage cans (they were usually at least a minute walk away) I didn't see anyone in the act of dropping things on the ground. I did, on the other hand, see people repeatedly picking up what little trash was left around. All in all, it was an incredibly laid-back vibe with really respectful and friendly people.
Unfortunately, the troubles at arrival caused me to miss Toadface, DMVU, and Big Chocolate.
I was told that all three of their sets were on point and got the crowd nicely warmed up on Friday, but it would have been nice to see them live. I finally got my camp set up in time to catch the end of Immortal Technique, who did not disappoint. I've seen more bad hip-hop performances than good ones at electronic festivals, but this one was really raw and passionate. I hadn't heard of him before this performance but was pleasantly surprised by his lyricism and positive message.
G Jones was up next, and I was ready for him to hammer my consciousness as he always does.
It turned out to be one of the best G Jones sets I've seen to date, and was exceptionally high-energy throughout. He blended a nice range of throwbacks together with all of his latest releases including "Time", "In Your Head", and "Understanding the Possibility", into a really cohesive performance that got me even more excited for his upcoming album The Ineffable Truth.
G Jones' style has dramatically evolved over the past few years, and the fact that he still manages to mix in his full range of sounds is a testament to what an awesome DJ he is. I just hope I still get to hear songs from Eyes when this upcoming release blows him up even bigger.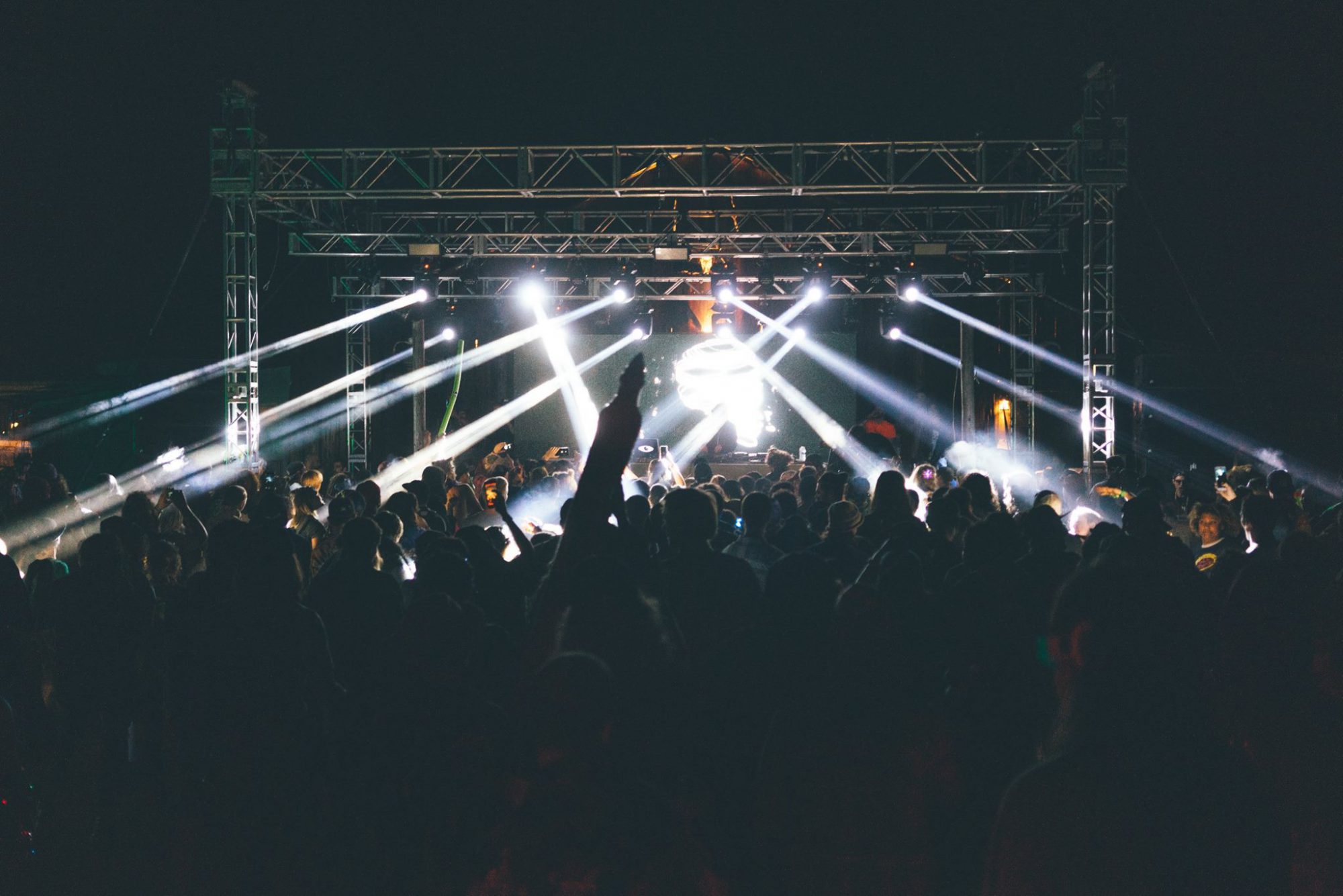 Right after G Jones was another favorite set from Friday: Oshi.
I instantly fell in love with Oshi when I first heard the song "Pink" back at Basslights 2015, and thankfully he played it at Organic Fest. He dropped other heaters like "The Fuckin Man" and the set was heavy throughout, but he wasn't afraid to switch things up, dropping a Spongebob remix at one point, a vibey track called "Ridin Round", and weaving in Kendrick's "Humble" on top of a booming beat. You can tell how much fun he has with his sets, and his happy energy really spread throughout the crowd this time.
My favorite set of the entire weekend was Of The Trees on Saturday. I think I can objectively say that most of the crowd agreed, as I didn't see people dancing harder during any other set.
Every transition was smooth as butter, and every track pushed the PK sound system to the max. Of The Trees blessed us with all three parts of "Our Hero Returns", "I get those bootlegs every time", and "Kick Back" to name a few. By the way, "Our Hero Returns (Pt. 2)" is, in my humble opinion, one of the hottest tracks of all time. It's one of those songs that makes you grin from ear to ear, and mutter expletives when the second drop hits you out of nowhere – I still do pretty much every time. He also dropped a new collab with Esseks, which I believe is still unreleased.
Ivy Lab followed Of The Trees with another great set.
Ivy Lab's set was slightly more subdued in comparison to the fire that the latter had just started, but I think that's more just a function of their overall style, and Gove kept the crowd going strong. The set was full of fan favorites like "Cake", and other new 20/20 beats like "Jet Lag", which I hope they'll continue to build on with new releases. I thought that track was an awesome new side of Ivy Lab that I'd love to hear more of.
In regards to pure, on-stage energy, I think Opiuo won Organic Fest.
I noticed something exceptional about Opiuo even in the realm of live electro-funk acts. Bigger artists like GRiZ and Big Gigantic, who I also love, usually have significant breaks in their instrument playing for those heavy, distorted drops. Opiuo, on the other hand, was dancing and banging on his drum pads almost non-stop the entire set and you could tell that everyone appreciated this performance because they responded in kind.
We got to hear most of the songs from his Omniversal LP, and they seemed to be the ones that the crowd liked most as well. Horn-heavy tracks like "Jelly" got people bouncing around like crazy, so while Opiuo said that he had nothing at the start and was feeding off our energy, it felt more like we were feeding off his.
Overall, Organic Fest was a beautiful, friendly, and bass-heavy festival.
Ignoring some minor changes that should be made in the check-in process and the number of car camping passes available, it went more smoothly than any camping festival I've been to. The vibes were relaxed and welcoming, and every artist brought a heartfelt performance. I didn't see a bad or generic set the entire weekend. I'm excited to experience more west coast festivals and see how they compare, but I have a good feeling I'll be back in Wilseyville the same time next year.
---
Connect with Organic Fest on Social Media: