Australian house music duo Yolanda Be Cool are back with their brand new Chilimanjaro EP, and they are ready to get this party started!
---
Andrew Stanley and Matthew Handley, better known as the notorious party-starting house music duo Yolanda Be Cool, have been tearing up the scene with their unpretentious tunes for the better part of the last decade. They first hit it big in 2010 with "We No Speak Americano," their insanely catchy collaboration with DCup, which put them squarely on the map.
Since then, they've put out dozens of releases on labels like Dim Mak, Spinnin' Deep, and Club Sweat, including their critically acclaimed 2013 album Ladies and Mentalmen. Now, the duo is back at it with their brand new Chilimanjaro EP, produced in conjunction with close pal and tech house mastermind Cut Snake. The EP features two tracks of delectable tribal-influenced grooves that call to mind the world's most fantastic beach party. It is seriously rad.
In addition to producing and playing their own music, they also co-own and A&R for indie Australian label Sweat It Out, which has put out music from such notable artists as RÜFÜS DU SOL, What So Not, Anna Lunoe, and Wax Motif. We had a chance to chat with the duo about their music, how they keep it real in the ever-changing music world, and the elements for a perfect party. Check out their Chilimanjaro EP and read on for the full interview below!
Stream Yolanda Be Cool – Chilimanjaro EP on Spotify:
---
First of all, congratulations on the release of your Chilimanjaro EP! Can you give us a little bit of background on how the EP came to be?
Thank you. It came about slowly actually… we found the sample probably a year ago. We look for samples all day, then work on them, then park them… then sometimes come back to them.
In this case, we were over at Sedz' (Cut Snake) house which is about 90 minutes south of LA and we were working on some tunes (which are still parked hahaha) and we played him what became "Chilimanjaro," and he loved it and had some awesome ideas so we just smashed it out together.
Same with the B-side, "Afro Force," really.
I was really excited to see that you'd collaborated with Cut Snake on the tracks. What was it like working together?
Awesome. We are huge fans of Sedz and also great mates so it's a perfect combo. He comes to us or we go to him. We work on tunes, go for a surf, work on tunes, have dinner, go to bed, wake up, do the same. So it's a pretty awesome work/play environment.
Oh, and when we are at his house, at night we battle out who can show the most ridiculous YouTube videos with him and his legendary girlfriend.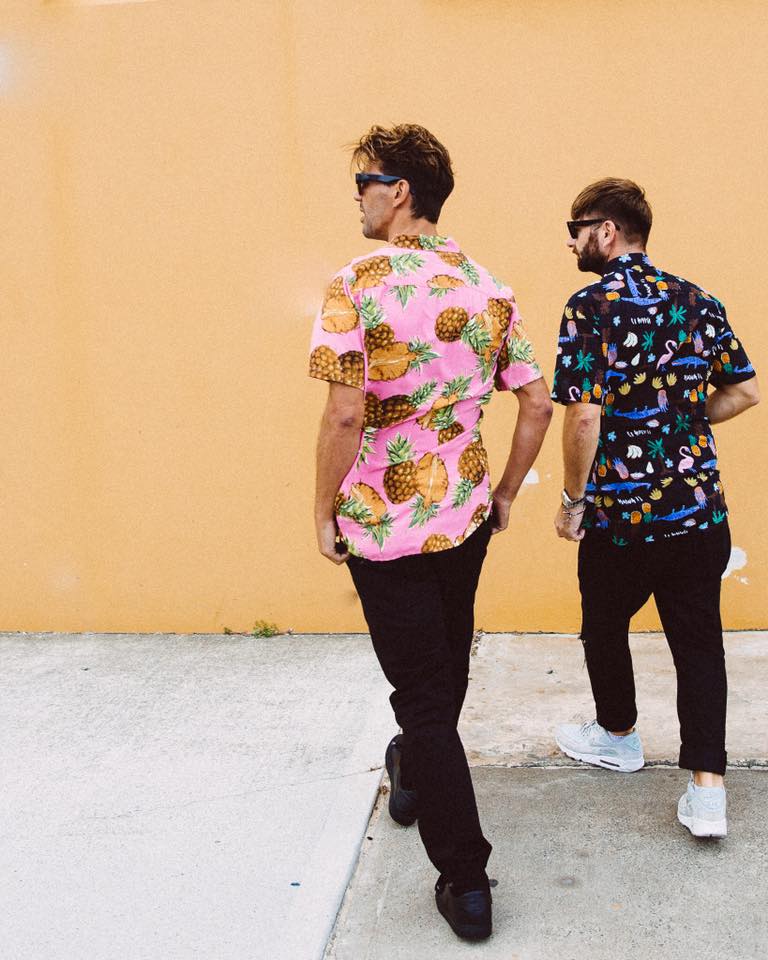 Coming from Sydney, it has to be a trip having an opportunity to play gigs all over the world. How does playing in other locations compare to playing back home?
It's such a trip. Especially playing in countries where English really is the second language. I remember the first time playing in Brazil and the sound guy was trying to talk to us in Portuguese having no idea we had no idea what he was saying. But yeah, we pinch ourselves all the time, how lucky we are and how lucky we've been to see so many amazing places.
In terms of how do things differ, it varies greatly from country to country. Right now, the US is pretty awesome to play in as tech house is almost like the new EDM so what was probably once a cheesy EDM warm up, is now laced with Solardo and Camelphat and the like… which we love. Then, going to Europe and South America, it's crazy where the parties often don't start 'til 2 am, so if you compare that to our ridiculous lockout laws in Sydney…
How did growing up in Australia shape your path into the music industry, and did it play a role in your sound?
Well, lucky for us, we grew up at a time when there was no such thing as lockout laws, so we could literally go clubbing 'til 10 am if we wanted to, three nights a week. Our hero was Ajax and we would try to watch him play as often as possible and then, and this was before Shazam, do our best to hunt down all the records he played. This was also when everything was on vinyl so you then had to hope it was in the country, etc.
The good thing about the Australian music scene is how supportive everyone is… It never really feels competitive in a bad way but more that everyone is super psyched on seeing everyone else do well. Great place to be, really, and pretty much most "internationals" tour Australia once a year, so there is never any shortage of seeing awesome music, not to mention the homegrown talent.
In the past, you did a couple of absolutely massive collaborations with DCup, who most people might best remember from your smash hit "We No Speak Americano." Do you have any plans to collaborate again?
Well, we would love to but DCup has retired that moniker for the time being – though we have convinced him to come play with us for the 10-year anniversary Sweat it Out parties that are going down in November, which should be fun. We might even drop that song lol!!!
With a number of hits under your belts, you're no strangers to success. How do you keep it real musically and avoid some of the more common pitfalls of success in the industry?
Well, it's all a learning process, really. You can't really know what a situation is like, or how you will handle it, until you have been in it. And then just learn from that experience and do it better next time. So that's more how we have rolled than anything… Take it as it comes.
Musically – we just try to stay true to what inspires us knowing that our biggest hit was never meant to be a hit. So, rather than try to make "hits," we just try to make songs that we love that go off on the dancefloor. That's our goal really. Then maybe the hits come, maybe they don't, but as long as it works on the dancefloor, then we consider it job done.
In addition to being killer producers, you also co-own and A&R Sweat It Out, which has a pretty sensational roster of artists. What things do you look for in the music you sign?
Ajax was the founder of the label and his whole thing was always centered around this pretty cool word called schtick – does it have schtick? What makes it stand out? Is it unique? Or is it good but generic?
We try to avoid the generic – because there really is a lot of amazing but same kind of music out there. We aim to find the ones that stand out, be they songs or artists.
Which artists should we be keeping an eye on in the year ahead who are about to make a serious impact?
In the dance world, Jordan Brando, who we just signed to Club Sweat – he is definitely on the up and up. I would say Dom Dolla, but you can't really rise further than Beatport number one which he has just had.
Next in line would be Torren Foot and Go Freek – they have been threatening hugeness for a while so it really is only a matter of time for them for sure.
In the less dance world, Price J is going to be huge in 2019 – watch this space!!! We couldn't be more excited about her. And then if you haven't heard of Crooked Colours, well, 2019 going to be their year too!
Okay, fun question: since your music is basically built for starting parties – suppose you're throwing the world's most incredible soiree. Who's playing, who do you invite, and what is the one thing you absolutely have to have in order to make it a success?
Well, I think we have an outdoor arena, by the pool. Here we would have Seth Troxler, Jamie Jones, and The Martinez Brothers playing their tribal disco pool party vibes.
Inside, we might have more of an acid disco vibe, so Peggy Ghou, Black Madonna, and we would probably have to give ourselves a set.
On the invite list, well… all our friends, obviously, from around the world – a nice and eclectic bunch for sure.
And then hmmm… what about a mushroom chocolate fondue fountain to really make sure the party gets fun!!!
What else can we look forward to from Yolanda Be Cool in the future?
We have a track out November 29 on Sweat It Out called "Dance and Chant." We love it and have been playing it all summer and never fails us so can't wait to get it out there.
---
Connect with Yolanda Be Cool on Social Media:
Facebook | Twitter | Instagram | SoundCloud | YouTube