The Trip Home overcomes a few growing pains to become The Crystal Method's best, and most experimental, album in ages. 
---
Back in 2014, I was obsessed with The Crystal Method. The eponymous album from the famous electronic duo, full of sparky, electro beats that threaded a careful line between exhilarating and cheesy, somehow infiltrated my daily rotation of alt-rock hits such as The National, Joywave, and Queens of the Stone Age. I didn't expect it to stick, but stick it did, and I listened to it over and over, each tracks' relentless momentum and go-for-break energy etching itself into my memory. Even now, when I picked up the album two days ago in preparation for this review after years of forgetting it existed, I could still trace the beat of each song, each squirrely synth, and careening drop, like it was 2014 all over again. In short, I fucking love that album.
Released today, September 28, The Trip Home is nothing like The Crystal Method. Hell, it's practically nothing like The Crystal Method, the band. But that's not necessarily a bad thing. In fact, for the most part, it's a really good thing. Despite it feeling half-finished at times, this album is still an experimental triumph.
The Trip Home is the first Crystal Method record without founding member Ken Jordan, who has since retired from the group. With half of the duo gone and member Scott Kirkland continuing to use the mantle as a solo artist, one is left to wonder if the group can still maintain their signature sound. Is this still a Crystal Method album, and not a Scott Kirkland album? The answer is mostly yes, but also no, no, no.
More so than any other past release, The Trip Home is a concept album, dense with atmosphere and offering a strong thematic cohesion throughout all the tracks that instantly marks it as a new sound for the band. Instead of feeling like a collection of songs tied together by the format and little else, this album feels like a movie score, less interested in making you dance or bob your head than drawing you into its world. It's the most ambitious Crystal Method record yet, and it works — for the most part.
Stream The Crystal Method – The Trip Home on Spotify:
Stream The Trip Home on your favorite platform or grab a physical copy! 
---
As a 12-song album, The Trip Home is best examined in threes.
The first three songs, "The Raze," "Holy Arp," and "Moment of Truth," are fantastic. "The Raze" sets the tone with screaming synths that screech and snarl, announcing itself like the theme song for a horror movie. As a thumping beat drags you along, bass assaults your senses, acoustic drums lull you into a trance, and arpeggiating keys cut the night sky. It's a fantastic opener.
Then the album does an immediate about-face and sends you head-first into "Holy Arp," a funky single that's a hell of a good time. Evoking Rebel Era-era GRiZ with its toe-tapping swagger and electronic harmonica, "Holy Arp" is the closest the album has to a "fun" song. Honestly, it doesn't even need quotes — "Holy Arp" is a fun song, period. Enjoy it while it lasts.
"Moment of Truth" returns the album to its darker sound that it retains for the majority of its runtime. It's a great melding of The Crystal Method's previous electro style with the new commitment to more filmic sounds, featuring a heavy use of The Crystal Method's big beat synth and a manic smattering of keys. It even has a dramatic break in the middle where the synths soar and a lone voice brings you higher and higher before crashing back down into chorus.
The next three songs begin to show the album buckling under the weight of its ambitious ideas.
"Ghost in the City" is another single song that doesn't work nearly as well as "Holy Arp." Despite having an awesome intro that builds to what should be an awesome drop, the song quickly seems to run out of ideas, juggling a few different sounds that give the track a scattershot feeling that kept me from feeling totally invested. It just keeps switching things up, starting and then stopping, never allowing the listener to fully appreciate any one style. I wish it had spent more time fleshing out some of the better ideas than just throwing everything at the wall and hoping something stuck.
While slightly undercooked songs end up become a theme of the album, "Turbulence" suffers from no such problems. It's a great electro tune, moody and intricate, anchored by an eerie vocal sample and the waa-waa of synths. Perhaps mimicking its namesake, the track ebbs in and out, giving itself an oddly inviting energy that bumps up and cools down throughout its runtime.
"Carry On" is an interesting idea that's barely there. It just sorta comes and goes. I understand the need for intermission songs to help establish flow on an album, but "Carry On" just feels unfinished. It starts with a nice guitar-plucking melody that gets marginally more complex as it goes on, as if it's heading towards something, and then just… ends. It sounds like the beginning to a more interesting song, and I feel like it could have been if it had spent a little more time in the oven.
Atmosphere is everything on songs seven through nine.
"The Drive Inside" feels like it should take place in outer space. I'm not 100% sure what that means, but after listening to it a few times, that's all I can think about. This is one of the more downtempo tracks on the album, and wouldn't feel out of place in the score of a sci-fi film. Despite its chill exterior, it stays fresh throughout, continuing to layer interesting sounds upon interesting sounds — new beats, new synths, new arpeggios, new samples — until the very end. It's low-key one my album favs.
"Chapter One" is a vocal cut that feels even more filmic and experimental than the last track. Eschewing any type of beat, this song is all emotion, all the time, starting small and growing until it overwhelms. Lyrics waxing metaphoric about the ocean and a lost lover tug at the heartstrings, and late-coming violins offer the punch it needs to fulfill its big screen ambitions. It feels like it should accompany a triumphant scene in a movie, where the lead character looks out at the sunset and finally realizes who they really are.
"Cabin Pressure" is probably the darkest song on the album, and probably my favorite, too, thanks in part to two incredible features: Matt Lange and Justin Chancellor. Yes, Justin Chancellor, the Tool bassist. Taking a classic Crystal Method drumline and slathering on an absolutely sinister synth, "Cabin Pressure" keeps the tension high throughout, breaking out the slide guitar section in alternating sections that feel way more foreboding than they should. As a standalone song, it doesn't have the same umph as some of the other highlight tracks, but it works perfectly where it is on the album, synthesizing the sounds both new and old into one wonderfully unique track.
The last three songs are the most ambitious — and the least successful.
"There's a Difference" is an interesting track in more than just its composition. It's actually a full-on remake of a song on their previous album, there known just as "Difference". Here it uses the same vocals and guitar but offers a completely different take on the sound. While on The Crystal Method it was a typically prickly joint, full of the blaring Crystal Method electro sounds that dominate that album, here it's a no-holds-barred rock anthem, combining ambient synths somewhat clumsily with live drums.
It's a fantastic idea, and when it blasts off near the end, it's an absolute riot — I only wish it was mixed slightly better. By the end, the guitar is so smothered by the drums and the synths that you can barely hear it, and thus it ends more limply than it should. Speaking of the ending, it's abrupt, and about two bars too soon — it really sounds like it's going to go for an encore, but then it doesn't. If only it did; that would've helped sell that ending a lot more. A really good song, which would have become a great one if it was executed a little better.
"Hold on to Something" is the next song that could've used a little more time to figure out what it wanted to be. It starts with one vocalist and one beat for about a minute before giving up on that and noodling aimlessly with another vocalist until the end. Much like "Ghost in the City," this song jumps around too much to get a grip on it. It's packed with cool ideas that I wish were given a full song to be developed. Still, at least it's sonically in line with the rest of the album, which is more than can be said for the final track.
"Let's Go Home" ends the album with a complete departure. Immediately calling to mind the chiptune work of Lifeformed, "Let's Go Home" is a strange track that feels completely at odds with the preceding eleven songs. It's got a lot of cool ideas going on, each clumsily jostling for attention, stopping and starting and tripping over each other, barely stabilized by a wonderful bouncing bassline and glittering keys. It works — but only just.
On one hand, I think it's a diverse final track that points to an infinity of possibilities on whatever the next Crystal Method album will be — on the other, I was hoping for a little more conclusion on the musical themes of the album. With so many of the prior songs working toward building a brooding, intoxicating atmosphere, it's definitely a bit of a bummer to see it all but abandoned by the final few songs.
Overall, though, the ambitious ideas that The Trip Home gets right far outweigh the ones it gets wrong.
In a press release prior to the record's release, Scott Kirkland said that he "wanted to make a timeless album that sounded great and that conveyed an emotional narrative and a strong appreciation of the album format." He's done just that. More than any other Crystal Method album, this one that flows and feels cohesive like an album. Its songs are emotional, evolutionary, and haunting. Instead of creating another big beat banger full of catchy tunes, Kirkland has gone the riskier route, making something more subdued, more alien — and perhaps more memorable as well.
---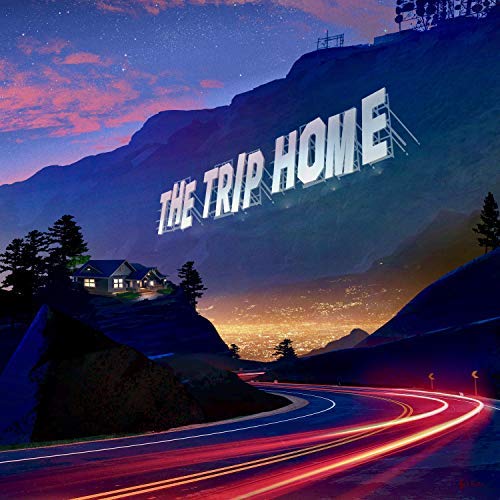 The Trip Home Tracklist:
The Raze feat. Le Castle Vania
Holy Arp
Moment of Truth
Ghost in the City feat. Le Castle Vania, Amy Kirkpatrick
Turbulence
Carry On
The Drive Inside
Chapter One feat. Teflon Sega
Cabin Pressure feat. Matt Lange, Justin Chancellor
There's a Difference feat. Franky Perez
Hold on to Something feat. Teflon Sega, Delila Paz
Let's Go Home
---
Follow The Crystal Method on Social Media:
Website | Facebook | Twitter | Instagram | SoundCloud