Poi and riddim master Subtronics delivers a weaponizing two tracks in his Pashmina Death Sauce EP!
---
I love bass music, but lately, the endless onslaught of dubstep, riddim, and experimental bass has started to sound alike. There are few artists in the scene who I have unwavering support and admiration for, and Subtronics is one of them. Born in Philadelphia, Jesse Kardon has been uprooting dubstep norms and planting his own style. Characterized by murderous thrashes, juicy riddim squelches, and alien sonic concoctions, Subtronics is an incendiary force to be reckoned with and has further proved this on the Pashmina Death Sauce EP.
With a fan base referred to as the Cyclops Army, Subtronics has melted brains and disintegrated spinal cords at acclaimed festivals across the country. His recent b2b with close friend Dirt Monkey was remarkable, topping headbangers' list of their favorite Lost Lands sets. Fans old and new can't wait to embark on another swampy riddim journey with the producer as he performs alongside Black Tiger Sex Machine, as well as at High Caliber and Excision's Red Rocks show.
Released on Kannibalen Records, Pashmina Death Sauce is a rapturous whirlwind of aggressive bass rips and slashes and smooth and sultry sonic whispers. In just two tracks, Subtronics traverses an extraterrestrial spectrum of bass music, one that has never been delved into before by any other artist. Download or stream Pashmina Death Sauce on your favorite platform, and read on for a full review of the EP!
Listen to Subtronics – Pashmina Death Sauce EP on SoundCloud:
---
The EP begins with "Tresspasser", a ravaging beast of a tune that claws and chomps its way through swampy reverb.
This wobbly bone incinerator takes heavy to new depths with a delicately ominous intro dribbling into merciless knocks and chipper quacks. A robotic swarm rips into a guttural wavelength, and before you know it, an invasion of incomprehensibly heavy bass whips and warbles overtakes your entire being. Amidst energetic vocal interjections, Subtronics takes otherworldly sounds and merges them with disgustingly raw filth.
"Pashmina Death Sauce" is a breathtaking assembly of feather-soft chimes and gentle taps of bass.
Though my obsession with nasty bass is strong, my level of appreciation for Subtronics' softer takes is beyond words. "Pashmina Death Sauce" somehow retains all the elements of the producer's signature heavy style, while taking everything down a couple hundred notches. Every hypnotizing blip and melodic basskick beckons to wooks and their most prized pashminas. The track is a soothing lullaby after the vicious onslaught that is "Tresspasser", as if Subtronics is saying "I know that last one was crazy, so I'll save your necks on this one."
Subtronics' Pashmina Death Sauce further establishes this artist as a much-needed breath of fresh air in the bass scene.
As Subtronics continues his sweep of shows across the country, I can only hope I get the chance to see him again in the near future. Having had the pleasure of meeting Jesse at Lost Lands, I couldn't be more thankful that an evidently talented yet inspiringly humble artist is forerunning a new, unique movement in the bass scene. I am thrilled to see what else he has in store for his Cyclops Army, and I know I'm not the only one – if you're interested in catching Subtronics in your city, check out his remaining tour dates!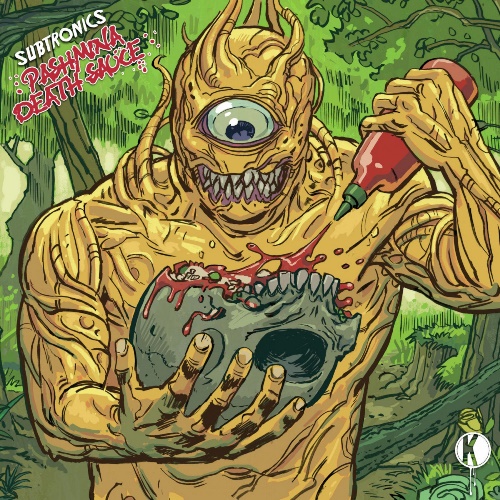 ---
Connect with Subtronics on Social Media:
Website | Facebook | Twitter | Instagram | SoundCloud