Das Energi 2018 was not without hiccups, but we weathered the storm on the first night and came back with a vengeance to make the second a night to remember.
---
No festival is perfect and to expect them to be as such may be slightly misguided. Putting on an event of this scale is incredibly difficult and has many moving parts that can be sidelined instantly by mother nature. This year, V2 Presents demonstrated that they were able to roll with the punches when the weather doesn't play nicely at Das Energi.
As some who read this are well aware, the first day of Das Energi 2018 was partially shut down as rain, excessive wind, and thunderstorms pounded the venue and surrounding area. This compromised part of the Galactic Flats and Energi Field stages to a point where it was no longer safe for attendees.
It was during the first few minutes of K?d's set that V2 Presents made the correct call to postpone further sets that night until the weather had subsided.
The festival was shut down for approximately two hours as they waited for the weather to pass at which point the festival was reopened with the Galactic Flats stage shut down entirely for the night. Resuming the event, V2 Presents even extended the festival's end time from 2AM until 3:15AM so headliners like Kaskade could perform an adequate set for the crowd.
Let's address two things here, mother nature cannot be controlled and patron safety is the number one priority ALWAYS. 
With this in mind, I entirely support V2's decision to postpone part of the first day until it was safe for everyone involved. Additionally, they even went a step further and stated that artists who were set to play the Galactic Flats stage on Day 1 but were canceled (Midnight Tyrannosaurus, Quix, ATLiens, and Ray Volpe) will be brought back to Salt Lake City as soon as possible for makeup sets.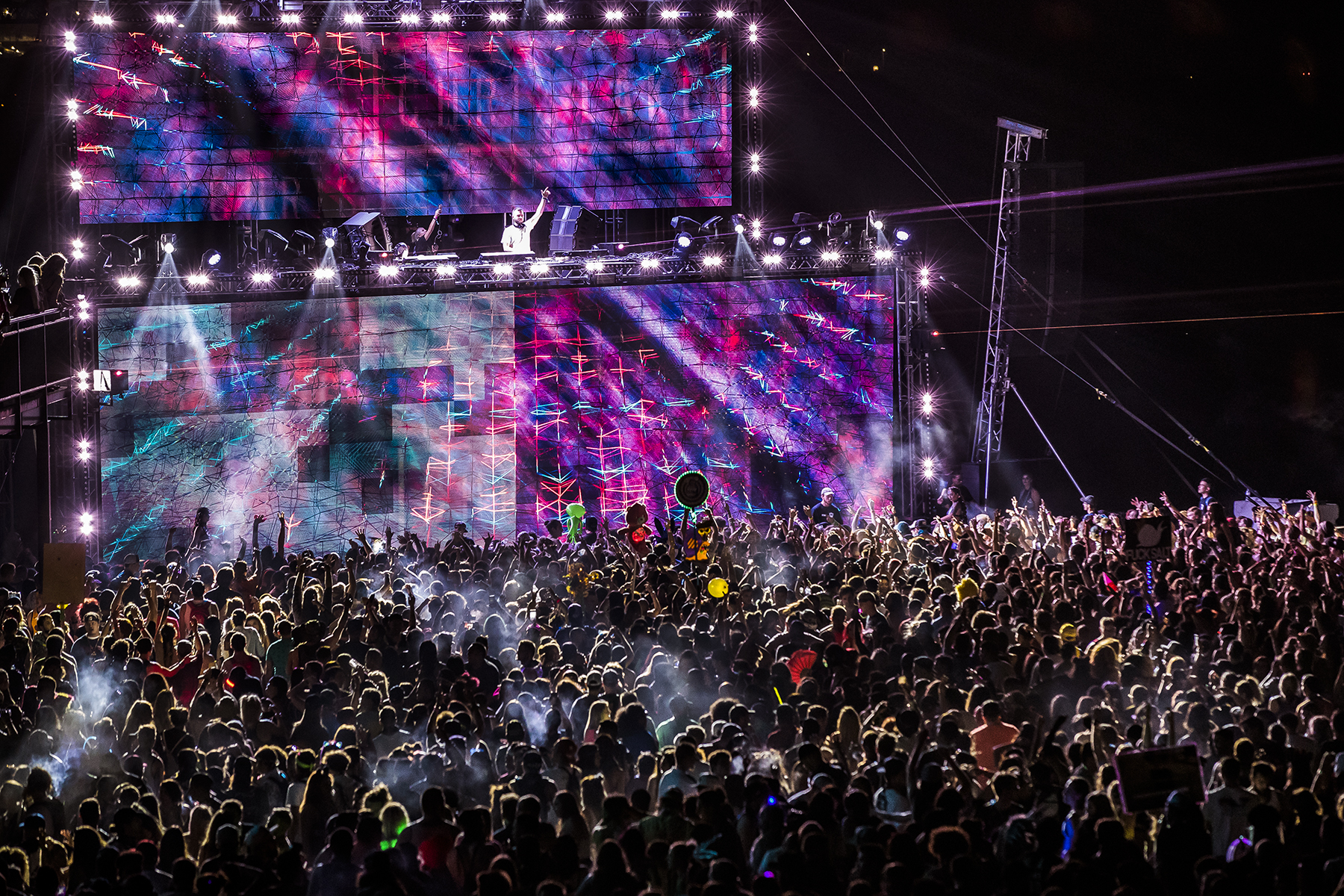 The second day started off exceptional compared to the first, and it was clear the weather wasn't going to be an issue that evening.
The weather was much more forgiving with it being a warm, sunny day on the beaches of the Great Salt Lake. The lineup for this day was star-studded and delivered nothing but the best.
Prior to attending Das Energi this year I had never heard of GG MAGREE, but after watching her set, she's made another fan.
Hailing from Australia this rising star has had quite the year. Her set flowed from start to finish, throwing in crowd favorites, bangers, and everything in between it was a set I'm glad I caught!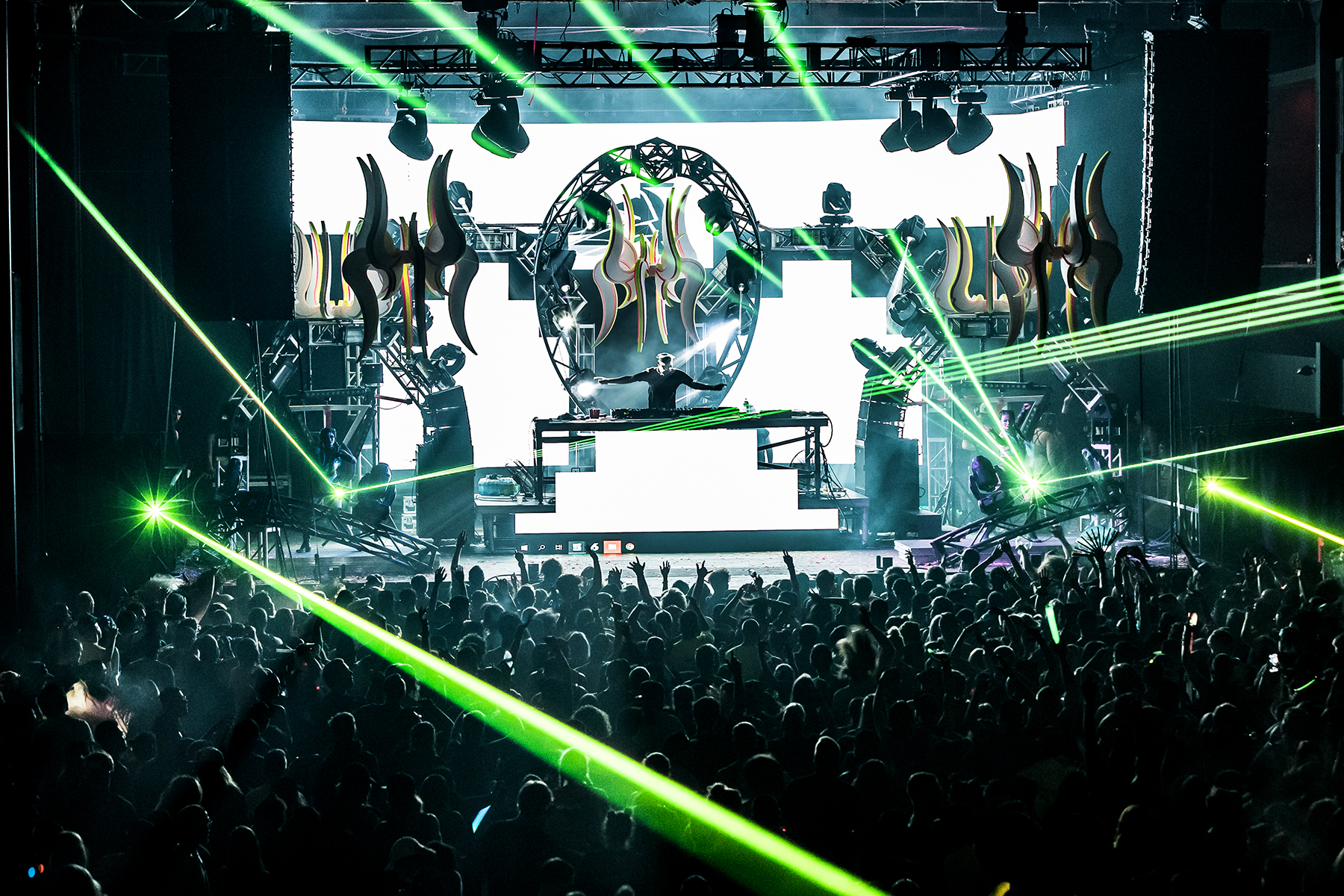 The special guest was rumored to be 1788-L, which generated a lot of hype and also ended up being right.
I had very high expectations going into this set, but I honestly left the set feeling incredibly disappointed. The song choice was questionable, the flow was almost non-existent, and I didn't really vibe as much to his set as I would have liked. Overall I felt like this is one of those artists that is an extremely talented producer but has a long way to go when it comes to DJing.
On the other hand, I was left impressed by Chris Lake once again.
I've had the pleasure of seeing Chris Lake perform in the past, and each time his set has been well worth the cost of admission to any festival or club night. Das Energi 2018 was no exception and his set has great flow and song choice while also killing it on the mixing side of things.
Deadmau5 and REZZ delivered some stand out performances at Das Energi.
It had also been a handful of years since deadmau5 has performed a festival in Utah, and in addition to that, it was my first time ever seeing him perform. I was not disappointed in the slightest and any issues that people had with the festival were resolved with his performance in my eyes. Even his penchant to trolling was shown when he ended with a "thanks bye" as he walked off stage and seemingly upset some people on social media.
REZZ, or "Space Mom" as she is affectionately called, has a cult following for a reason and that was evident with the crowd at her set at Das Energi. Coming off the release of her new album Certain Kind of Magic, I was expecting a different set than I've heard her play previously and she absolutely delivered as well.
With all those epic artists in mind, I'm going to go out on a limb and call KRANE's the best set of the entire festival in my opinion.
KRANE played a late set on the Galactic Flats stage that unfortunately conflicted with REZZ but his song selection, mixing, and energy was next level and mainstage worthy by far. I've been a fan of KRANE's production for years now, but this was the first time I was able to catch him live. He absolutely lived up to the hype.
Overall, Das Energi Festival was an incredible success this year.
Regardless of the bad weather conditions and the brief shutdown on the first night, I had an all around great time at the event and it was clear that others I spoke with did as well. The art they brought was fun and inventive, the stages were top notch, and the lineup curation for the event this year was impeccable. It all came together to create an experience that I won't soon forget.
---
Stay 
Energized with Das Energi 2018 on Social Media:
Website | Facebook | Twitter | Instagram
Connect with V2 Presents on Social Media: