Sébastien Léger's Underwater Rocket EP is the melodic house soundtrack you've been waiting your entire life for.
---
French house music artist Sébastien Léger is nothing short of an electronic music legend. With releases dating back to 1999, he's become known for creating dazzlingly complex, stunningly artistic musical productions that are always more than meets the eye. Continuing in that vein, his brand new Underwater Rocket EP, out now on Lee Burridge's All Day I Dream, comprises three tracks and 23 minutes of exquisite soundscapes quite unlike anything you've ever heard before.
Listen to the Underwater Rocket EP on Spotify below, grab your copy on Beatport, and read on for my take on the latest from Sébastien Léger!
Stream Sebastien Leger – Underwater Rocket EP on Spotify:
---
The first track on the EP, "Rocket To Lee's Little Cloud," glimmers, shimmers, and soars through the most perfect sky imaginable.
The production is astonishingly multi-layered – so much so that if you weren't paying attention, you might not even catch all the different elements going on in the track. But the real star is that unusual, soft synth melody, which feels like it spirals gently upward into the sky, taking the listener up into the clouds along with it. All of Underwater Rocket is excellent, but "Rocket To Lee's Little Cloud" is really and truly breathtaking.
With "Satellite," the EP's second track, we get something a little bit more earthy and visceral. Its slightly off-kilter, Mediterranean vibe mixes effortlessly with the layers upon layers of musical elements that Léger has so deftly fused together – the understated drum beats, the golden guitar riffs, the effervescent synth arpeggios.
Rounding the bend to the final track, "Underwater" gives us a dose of the unexpected and mysterious.
The laid-back drumbeat gives the feel of a more downtempo track, while the unusual combination of instruments that Léger employs evokes a feeling of moving forward and backward within the composition itself. Fluently transitioning from notes played by harp, vibraphone, violin, and so many others, one feels as though they were peering through a kaleidoscope into a previously undiscovered world. It's a remarkable effect.
If you love melodic house music with an unexpected twist, then you need look no further than Sébastien Léger's exquisite Underwater Rocket EP. Close your eyes, press play, and find yourself transported to a faraway place filled with enchanting sound.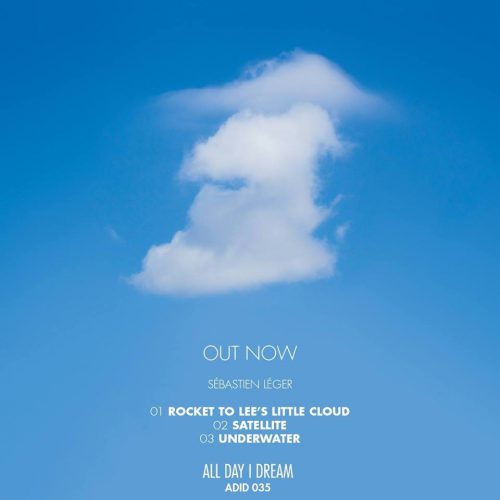 ---
Connect with Sébastien Léger on Social Media:
Facebook | Twitter | Instagram | SoundCloud