Lee Burridge's open-air All Day I Dream concept is hitting the road for its biggest season ever as part of its Journeys of 2018 world tour.
---
It all started in Brooklyn in 2011, and now, All Day I Dream is embarking on its biggest event series yet with its Journeys of 2018 world tour. Spanning over 50 shows and touching down in over 20 countries across the world, Lee Burridge's iconic brand is bigger and better than ever, and now fans everywhere will have a chance to see this beautiful concept come to life in places they've never seen it before.
The events range from summer season events in New York, Los Angeles, and San Francisco to single-day gatherings in Chicago, Miami, Las Vegas, and more. All Day I Dream will also host stage takeovers at major festivals including Tomorrowland (both weekends), ADE in Amsterdam, Iceland's Summer Solstice, and more.
Tickets for the gatherings are now on sale at All Day I Dream's website. Check the full list of dates below for more information on when the iconic events will be touching down in a city near you!
Lee Burridge described his feelings on the announcement of the new tour:
"I'd always imagined this music being embraced the way we see it today, but it never ceases to make me smile actually seeing it happen. I'm so excited and humbled at the opportunities ahead of myself and the amazing and talented group of artists around me"
Will you be dreaming with Lee Burridge and company as part of All Day I Dream's Journeys of 2018 tour? Let us know in the comments!
---
All Day I Dream – Journeys of 2018 World Tour Flyer: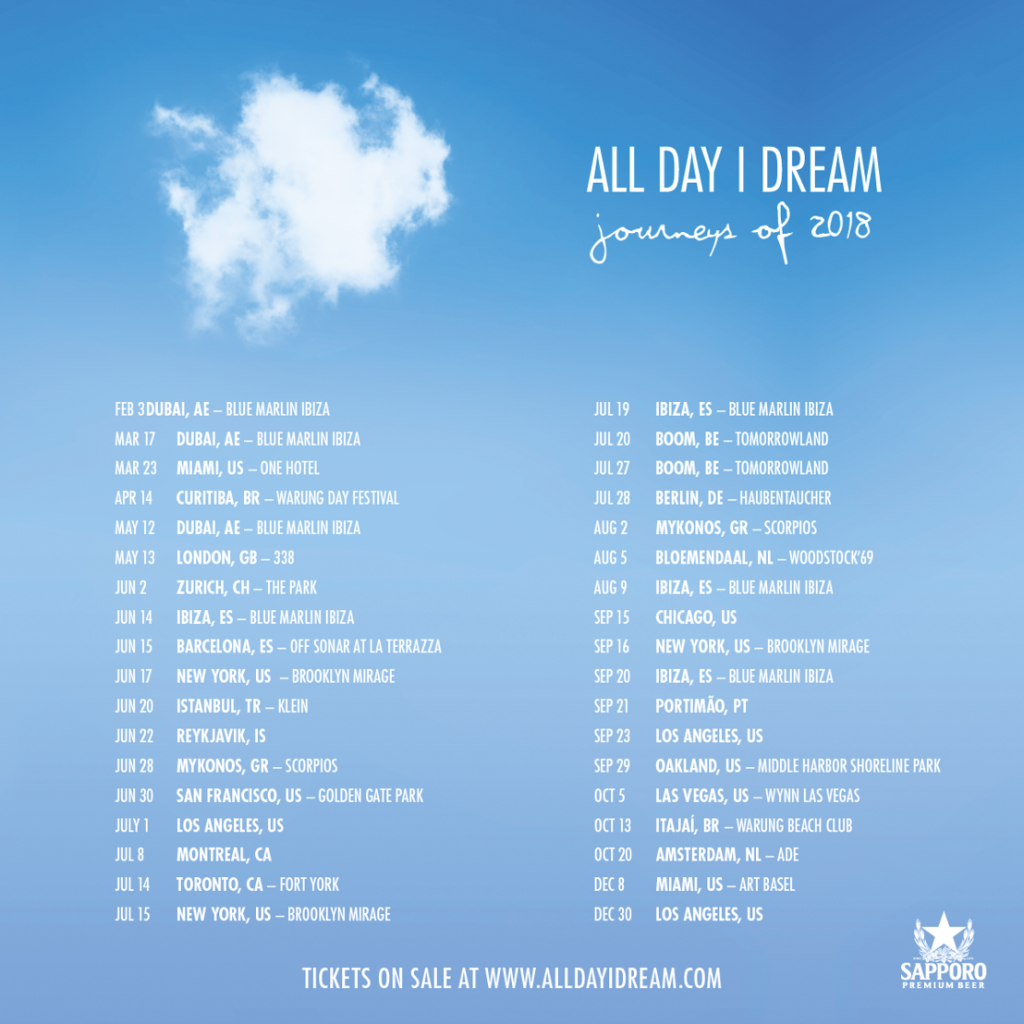 ---
All Day I Dream – Journeys of 2018 World Tour Dates:
February 3 – Dubai, AE @ Blue Marlin Ibiza
March 17 – Dubai, AE @ Blue Marlin Ibiza
March 23 – Miami, US @ One Hotel
April 14 – Curitiba, BR @ Warung Day Festival
May 12 – Dubai, AE @ Blue Marlin Ibiza
May 13 – London, GB @ 338
June 2 – Zurich, CH @ The Park
June 14 – Ibiza, ES @ Blue Marlin Ibiza
June 15 – Barcelona, ES @ Off Sonar at La Terrazza
June 17 – New York, US @ Brooklyn Mirage
June 20 – Istanbul, TR @ Klein
June 22 – Reykjavik, IS
June 28 – Mykonos, GR @ Scorpios
June 30 – San Francisco, US @ Golden Gate Park
July 1 – Los Angeles, US
July 8 – Montreal, CA
July 14 – Toronto, CA @ Fort York
July 15 – New York, US @ Brooklyn Mirage
July 19 – Ibiza, ES @ Blue Marlin Ibiza
July 20 – Boom, BE @ Tomorrowland
July 27 – Boom, BE @ Tomorrowland
July 28 – Berlin, DE @ Haubentaucher
August 2 – Mykonos, GR @ Scorpios
August 5 – Blomendaal, NL @ Woodstock '69
August 9 – Ibiza, ES @ Blue Marlin Ibiza
September 15 – Chicago, US
September 16 – New York, US @ Brooklyn Mirage
September 20 – Ibiza, ES @ Blue Marlin Ibiza
September 21 – Portimão, PT
September 23 – Los Angeles, US
September 29 – Oakland, US @ Middle Harbor Shoreline Park
October 5 – Las Vegas, US @ Wynn Las Vegas
October 13 – Itajaí, BR @ Warung Beach Club
October 20 – Amsterdam, NL @ ADE
December 8 – Miami, US @ Art Basel
December 30 – Los Angeles, US
---
Connect All Day I Dream on Social Media:
Website | Facebook | Twitter | Instagram | SoundCloud