Dirtybird Campout West 2018 is packed with arts, games, tournaments, and more including new activities that attendees have never experienced before!
---
Heading to Modesto Reservoir Campgrounds on October 5-7 for the first time, Dirtybird Campout West is completely ready for its fourth annual edition. The lineup for this year's festival is outstanding with huge acts already announced such as Claude VonStroke, Shiba San, Green Velvet, and more.
As always, attendees can expect much more than simply great music at Dirtybird Campout West! There are over 50 games and activities lined up for the three days and four nights of the event. Per usual, Games Headquarters will be setting festival-goers up with their Color Team Tournament bandana where they can compete in a variety of events, including the Iron Bird Championship, alongside the Campout's leaders.
The championship includes games such as Tug-O-War, Dodgeball, and the 3-Legged Race. However, for anyone looking to get creative, there's so much more on the activities list for the event than just athletic challenges. As part of arts and crafts, the event will host groups that can tie-dye clothes, craft totems, test their skills in face and body art or crocheting, and so much more. In addition, guests can tap into their mental and physical health with activities such as yoga, nature hikes, and hula hooping.
With the completely new edition set to be hosted at the beautiful Modesto Reservoir Campgrounds, Dirtybird Campout West has also added water activities to the already expansive list of events. Besides just sitting and enjoying the lakeside view, music lovers will be able to participate in a costumed canoe relay or check out the lake by reserving a paddle style boat.
Check out the full list of activities below, and let us know what you're most excited for in the comments!
---
Dirtybird Campout West 2018 Activity List: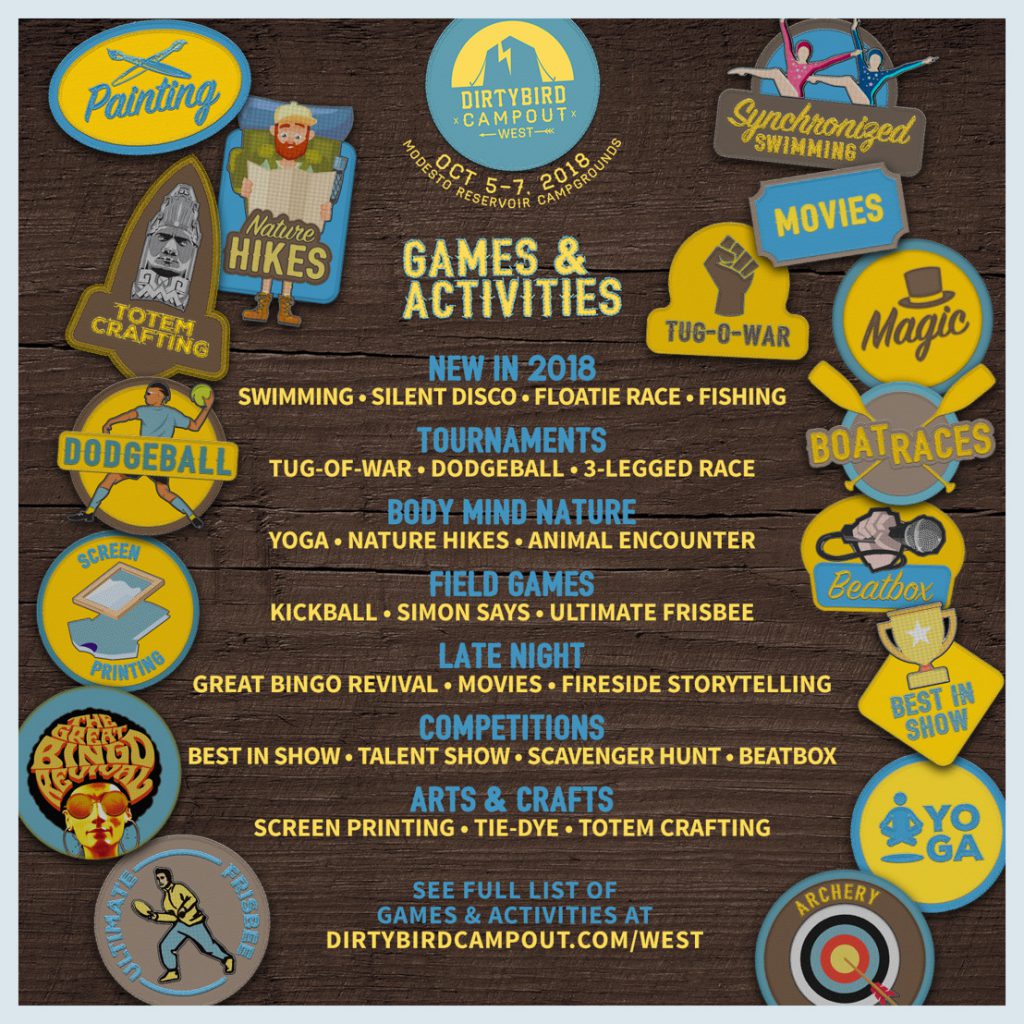 NEW For 2018!
.5 K Floatie Race
Return of the Costume Boat Relay
Paddle style boat reservation
New and improved daily scavenger hunt!
Primitive Skills – Fire Building, Foraging, Fishing
Arts & Crafts
Lanyard Making
Screen Printing
Tie Dye
Totem Crafting
Crocheting
Watercolor Painting
Face & Body Art
Hair Braiding & Wrapping
Bead/Friendship Bracelet Making
Body, Mind, and Nature
Yoga
Hip Hop Dance
Hula Hooping
Animal Encounter
Nature Hikes
Birdwatching
Star Gazing
Games HQ Pick Up Field Games
Archery
Bocci Ball
Badminton
Horseshoes
Campout Cornhole
Ping Pong
Volleyball
Board Games
Tournaments
Dodgeball
Potato Sack Races
Tug-of-War
Water Balloon Toss
3-Legged Races
Kickball
.5 K Floatie Race
Boat Relay
IronBIRD Championship
---
Connect with Dirtybird Campout on Social Media:
Website | Facebook | Twitter | Instagram | SoundCloud