Australian artist Willaris. K stopped by for a quick chat and to shine a light on some of his favorite tunes that he's been listening to this summer!
---
Hailing from Down Under, Willaris. K is quickly rising through the ranks with his tracks that feature stunning soundscapes that keep listeners enthralled from start to finish. His unique style blends industrial, techno, and house elements to create an absolutely infectious sound that we just can't get enough of. Recently coming off the release of his debut EP, Alchemy, which featured tracks like "Risen", "River Song", and "Dour Nights", he has taken the dance music scene by storm.
After playing at Coachella this year along with a tour back in the spring, he is about to embark on another leg in Australia this coming fall. With performances selling out already, this is a show you won't want to miss if you're looking to get swept away by his stylings behind the decks.
Looking for more insight into his development process for Alchemy and more, we caught up with Willaris for a quality chat. Listen to his Summer Playlist on Spotify below, grab your copy of the Alchemy EP on your favorite platform, and read on for our chat with this rising star!
Stream Willaris. K's Summer Selections Playlist on Spotify:
---
You recently released the absolutely fantastic Alchemy EP for our listening pleasure. What was the development process like on the EP?
Thank you. The initial stages were quite slow but once I had some ideas on the go it was good. I was playing the whole EP for about 12 months before it came out so I was able to return and refine after hearing them in a live setting.
Were these tracks produced with the intention of releasing them in a package, or did they just come together naturally?
Not really, I was just writing a lot and the tracks are a reflection of how I was feeling throughout that period. Once they started coming together I realised I had a cohesive project building but it was a very natural process which I think is key. I try not to think about what an idea is going to be and just let it happen.
Your track "Risen" also has a stunning music video to pair with it. How did you approach the production of this video?
I always had the idea of a live video for risen but Yeoseop Yoon is the one that brought the idea to life. He's done both of my videos. Incredible artist.
As a growing artist, what has been your biggest struggle so far in your career?
Probably myself. I can't complain, it's been good.
If you could go b2b with any artist in the scene, who would it be and why?
Jon Hopkins. I love the progressive, kinda psychedelic stuff he plays in his DJ sets.
You're set to for a tour of Australia and will be taking the stage in Sydney, Melbourne, Brisbane, and more. What are you most excited about with this upcoming string of shows?
It'll be the first time playing the EP tracks live since Alchemy came out so that will be amazing. It'll also be my biggest shows yet by a long way.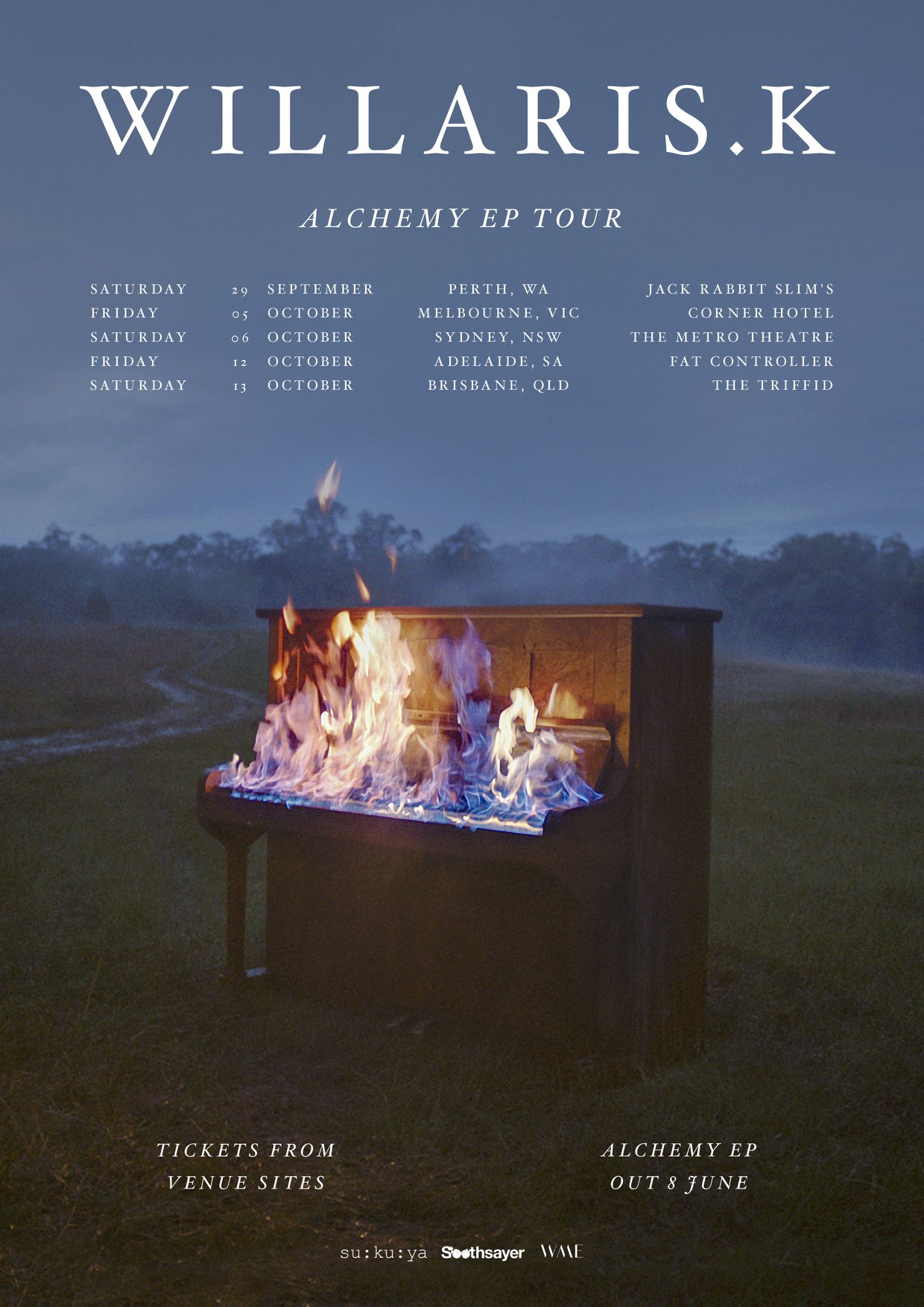 With the summer season in full swing, what are some of your top tips to beating the heat and staying cool while partying?
It's actually winter in Australia but never forget your sunnies. Eat before you party. Smash water.
Finally, where do you stand on the pineapple on pizza debate?
No thanks
---
Connect with Willaris. K on Social Media:
Facebook | Twitter | Instagram | SoundCloud