Descend back into the pure depths with another edition of Pure Trance at Avalon Hollywood on Saturday, September 1!

---
For Trance lovers, there is no sweeter sensation than the journey a talented DJ takes you on.  It the rise and the fall, the movement through sound, and that sweet slight tension that proves how beautiful the genre is.  Since 2012, Solarstone's been one of the genres strongest representatives. He's held firm the bastion of Pure Trance: a movement in his own words that "is a feeling, a passion which exists outside of contemporary musical fads and fashions."

It is little surprise then that his movement grew so vast in the last six years.  Including a plethora of talent around the world, the Pure Trance brand is more than its progenitor; more than a passing in the wind brand to be discarded.  The flag is carried by talents both local and international, which allows Solarstone to create unique experiences from beaches to nightclubs.
On September 1, 2018, Richard Mowatt – aka Solarstone – returns to Los Angeles and is ready to take you on a journey at Avalon Hollywood.  Joining him is local legend and awesome DJ Kristina Sky – a talent who's traveled the world, played at the illustrious A State Of Trance festival in The Netherlands and tends to find her way on one or more Groove Cruises.  Additionally, you have the amazingly talented Orkidea joining the fray – a Finnish DJ with a penchant for the progressive end of the Trance spectrum.  Undoubtedly the trio will be ready to take patrons on the journey of a lifetime at Avalon when the calendar turns to September.
Grab your tickets for Pure Trance at Avalon Hollywood by clicking here!

---
Love Solarstone & Pure Trance? Enter to win a pair of tickets!
Win a Pair of Tickets to Pure Trance with Solarstone

---
Want to understand the soundtrack to the night? Check out these liveset recordings from the DJs!
Solarstone – Live at A State Of Trance Utrecht 2018
Orkidea – Live at Transmission at Airbeat One 2018
Kristina Sky – Live at Luminosity Beach Festival 2018
---
Pure Trance at Avalon Hollywood – Essential Info:
Date: September 1, 2018
Ages: 21+
Hours: 10pm – 6am
Venue Address: Avalon Hollywood – 1735 Vine St, Los Angeles, California 90028
Tickets: Purchase HERE
Facebook Event Page: RSVP HERE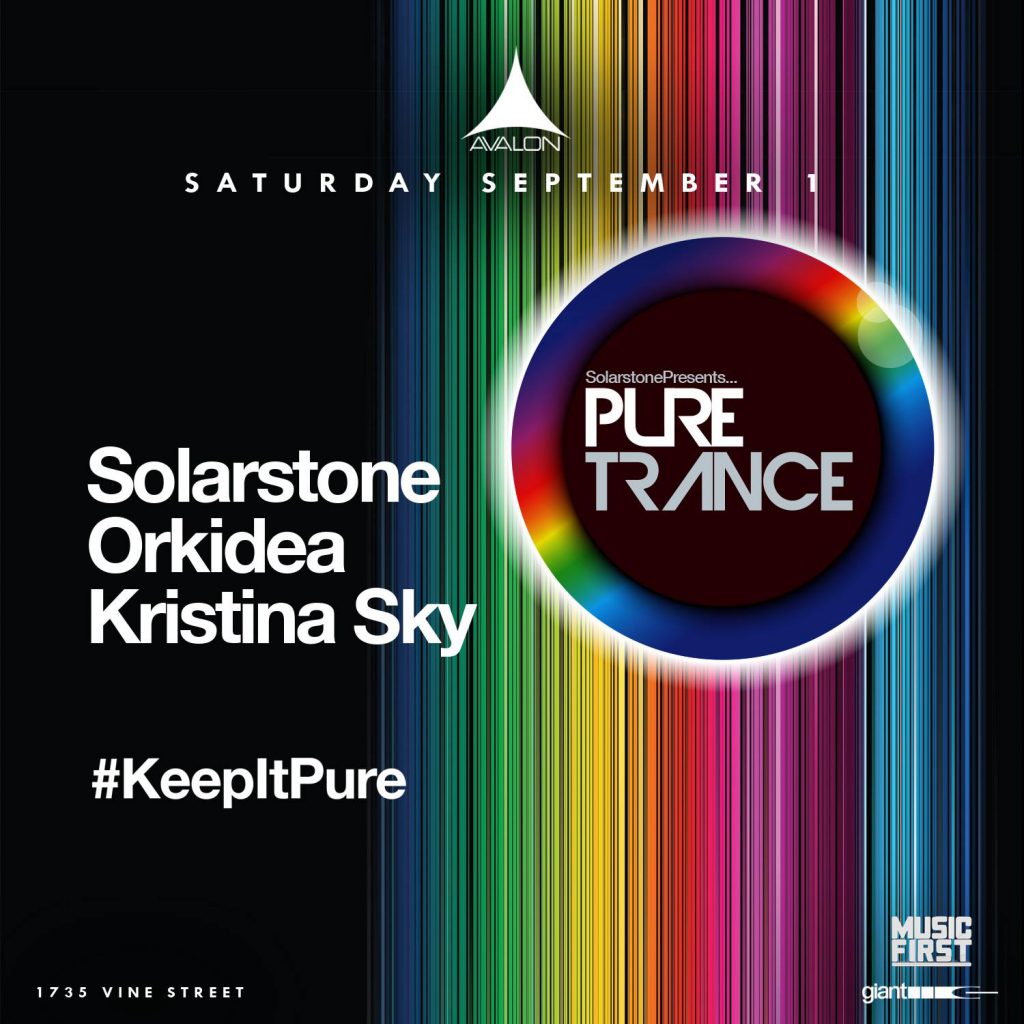 ---
Connect with Solarstone on Social Media:
Website | Facebook | Twitter | Instagram | SoundCloud | YouTube
Connect with Orkidea on Social Media:
Website | Facebook | Twitter | Instagram | SoundCloud
Connect with Kristina Sky on Social Media:
Website | Facebook | Twitter | Instagram | SoundCloud