Everything about Splash House this past weekend was just good pure fun – the music, vibes, venues – I miss it all already! 
---
My second year at Splash House couldn't have been better. Everywhere I turned, the music was banging and smiles were unending as we all danced the days away under the Palm Springs sun. There really is nothing like splashing around, listening to some feel-good house music with your friends at the absolutely beautiful hotels of the Saguaro, Renaissance, and Riviera! Not to mention, you've got some of California's biggest party people all in one place, so it's bound to be a good time.
With sets from house music's finest like Gorgon City, CamelPhat, and MK, along with future bass stars like Louis The Child and Gryffin, you couldn't go wrong no matter which pool you chose, and it was pretty easy to get from hotel to hotel with their complimentary shuttle system. With options to get rooms at the hotels themselves, many festival-goers could even bring the party up to their rooms at any moment, a welcome luxury especially if you got lucky with a balcony room overlooking the stage.
Fisher's "Losing It" was the song of the weekend and rightly so, making an appearance in almost every set.
Each time it was played we succumbed more and more to the house madness, that captivating beat taking hold instantly. Fisher himself was quite the celebrity this weekend as well, playing the closing set at the After Hours party on Saturday night and surprising us all for a secret set at the Riviera on Sunday. The after party master also dropped some tunes for those lucky enough to make it to the Zelda's on Sunday night after the festival.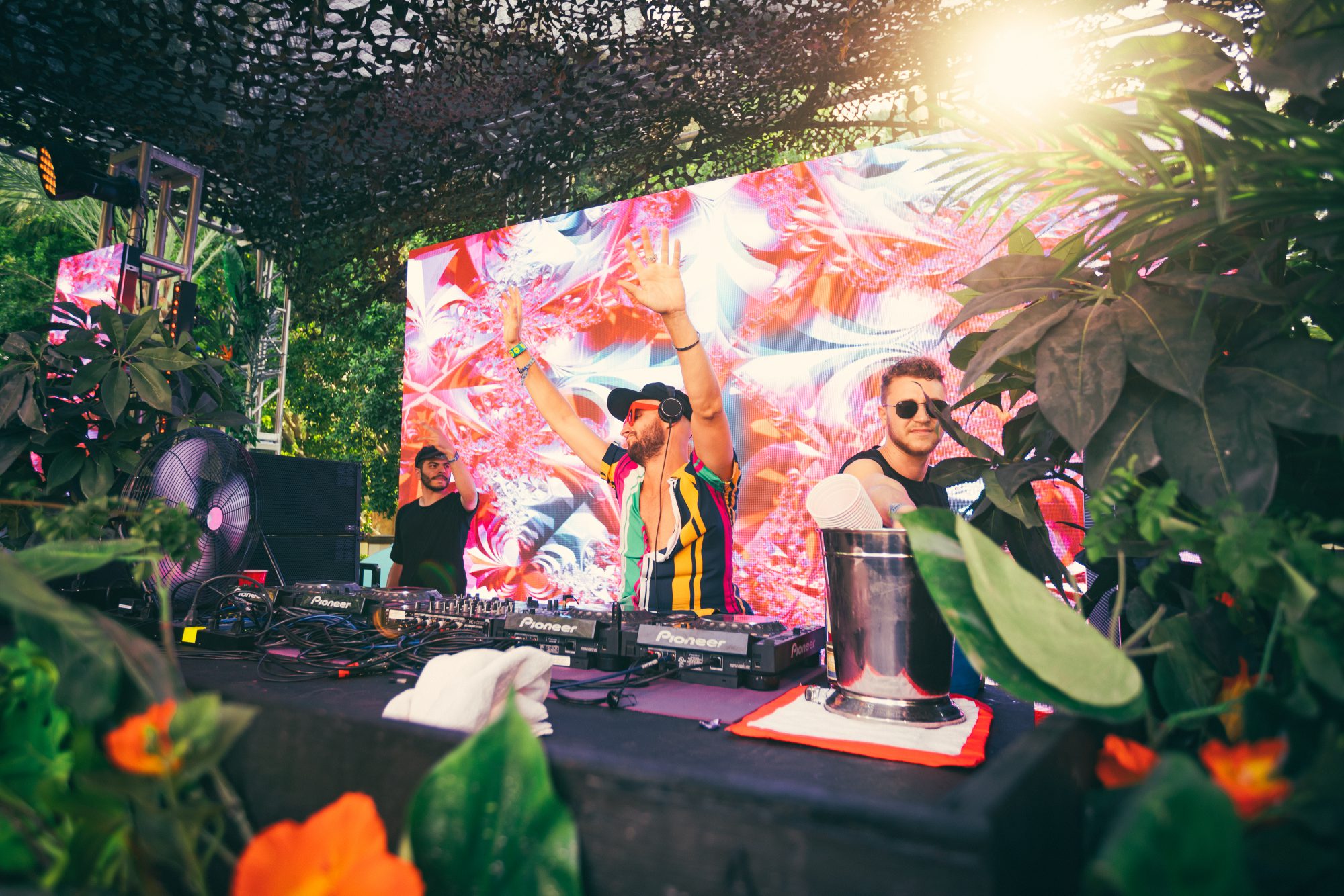 With music beginning at noon and continuing on until 9 PM each day, attendees had ample opportunities to get their pool party on. We got to the hotels around 3 PM each day in hopes of avoiding some of the mid-day heat, and even then the sun was a lot to bear for the first few hours. Luckily, there was shade and misters galore and tons of space in the pool to splash around and cool down.
Saturday we split our time between the Saguaro and the Renaissance, kicking things off with a banging set from Eli Brown followed by Anabel Englund + Matt Ossentjuk.
Aesthetic-wise, I definitely love the Saguaro best with its retro Palm Springs color blocks and vivid ribbons floating overhead. And on top of all that, the creatively decorated balconies for Splash House's "Bitchin' Balconies" contest are always absolutely amazing and hilarious.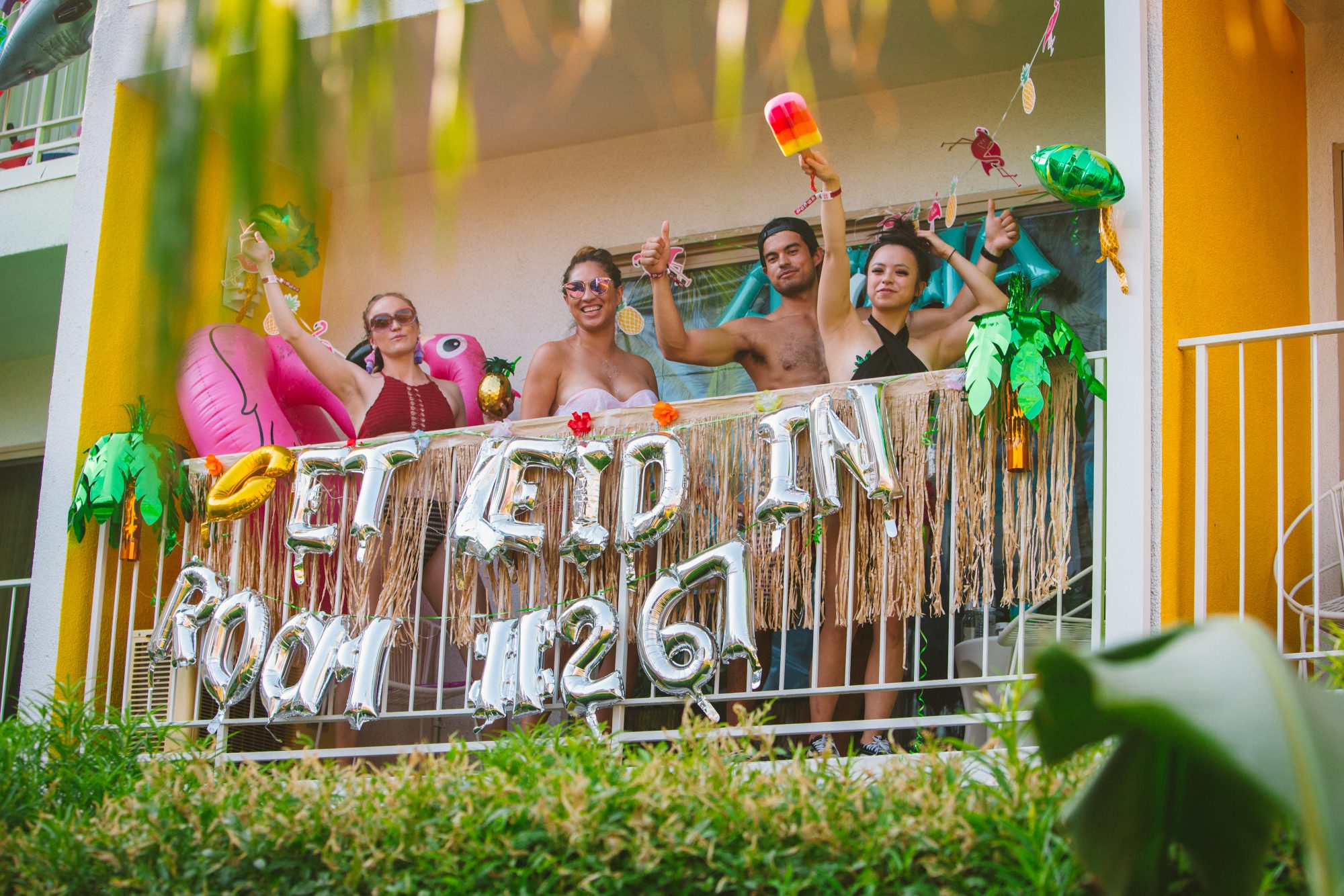 After a few hours at the Saguaro, we headed to the biggest (and arguably best) hotel, the Renaissance, to catch Walker & Royce and Louis the Child. While we wanted to make it over to the Riviera to see Gryffin, we were too worried that the Renaissance would get capped by the time we got back and we would miss the closing sets. That's the one thing that you have to keep in mind at Splash House, since shuttles usually take about 30 mins considering wait times, driving time, and the line at the next hotel, you have to carefully plan out your switches between venues.
We made it just in time to see Walker & Royce absolutely slaying it at the Renaissance, getting everyone splashing and shuffling as they unleashed bangers like "Drop Top" and "Take Me To Your Leader".
Without a doubt, one of my favorite sets of the weekend, Walker & Royce brought all the energy and jumpstarted our night in the best way possible. The Renaissance pool itself was extremely enjoyable as well, as Splash House made some much-appreciated improvements this year, adding some turf cover on the area surrounding the stage and some colorful shade structures.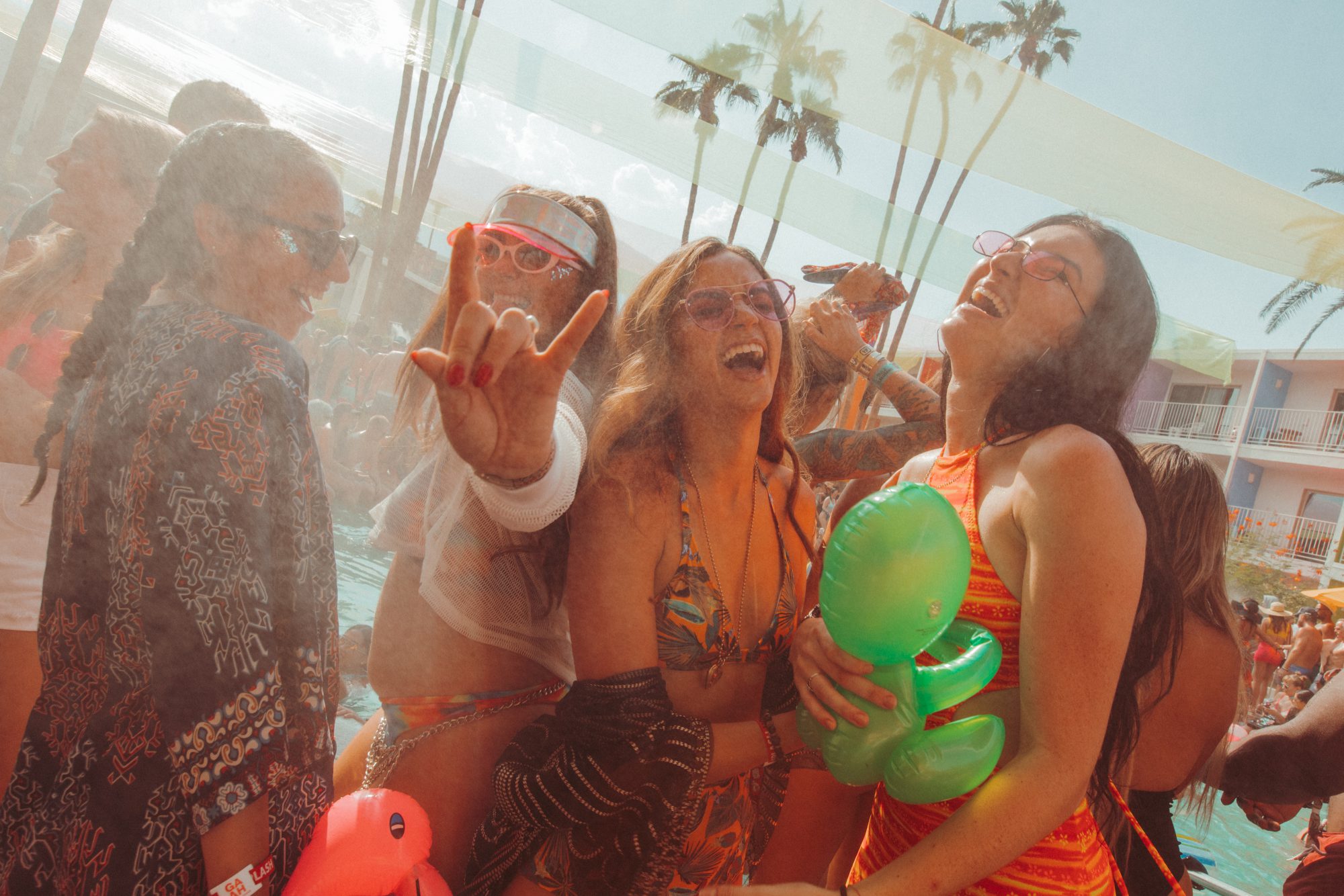 Closing out the night was Louis the Child, who surprisingly impressed most of us with a fun afterparty style set.
As all of the other hotels ended at 8 PM rather than 9 PM, attendees flocked to the Renaissance to catch Louis the Child. Thankfully the venue never seemed uncomfortably packed, and we got a great spot in the middle of the dancefloor for the set. From Flume to Skrillex, Louis the Child dropped a ton of heaters along with their countless pop hits like "Better Not" and "It's Strange", bringing the night to an epic close.
Somewhat to a close that is, as Splash House is all about the afterparties!
On Friday and Saturday nights, Splash House hosted official After Hours at the awesome Air Museum venue, which really upped its game from last year as well. The production level skyrocketed, with LED screens mimicking plane motors spinning round and round surrounding the stage along with some other cool LED elements. Magnificent old planes covered the Air Museum and stood behind the DJ booth, giving the whole event a grandiose feel, like you were at a rave inside an old movie.
While Friday night we arrived at After Hours late only to catch The Black Madonna's set, on Saturday we got hours of blissful house music from Noizu, Mija, and Fisher. 
As usual, Mija played a nonconformist set, this time filled with sounds of the underground and popping house that kept us moving and grooving. Lastly, the man of the night was Fisher, who threw down all of his hits like "Ya Kidding", "Crowd Control", and of course "Losing It", getting all of our last wiggles out before getting some much-needed sleep.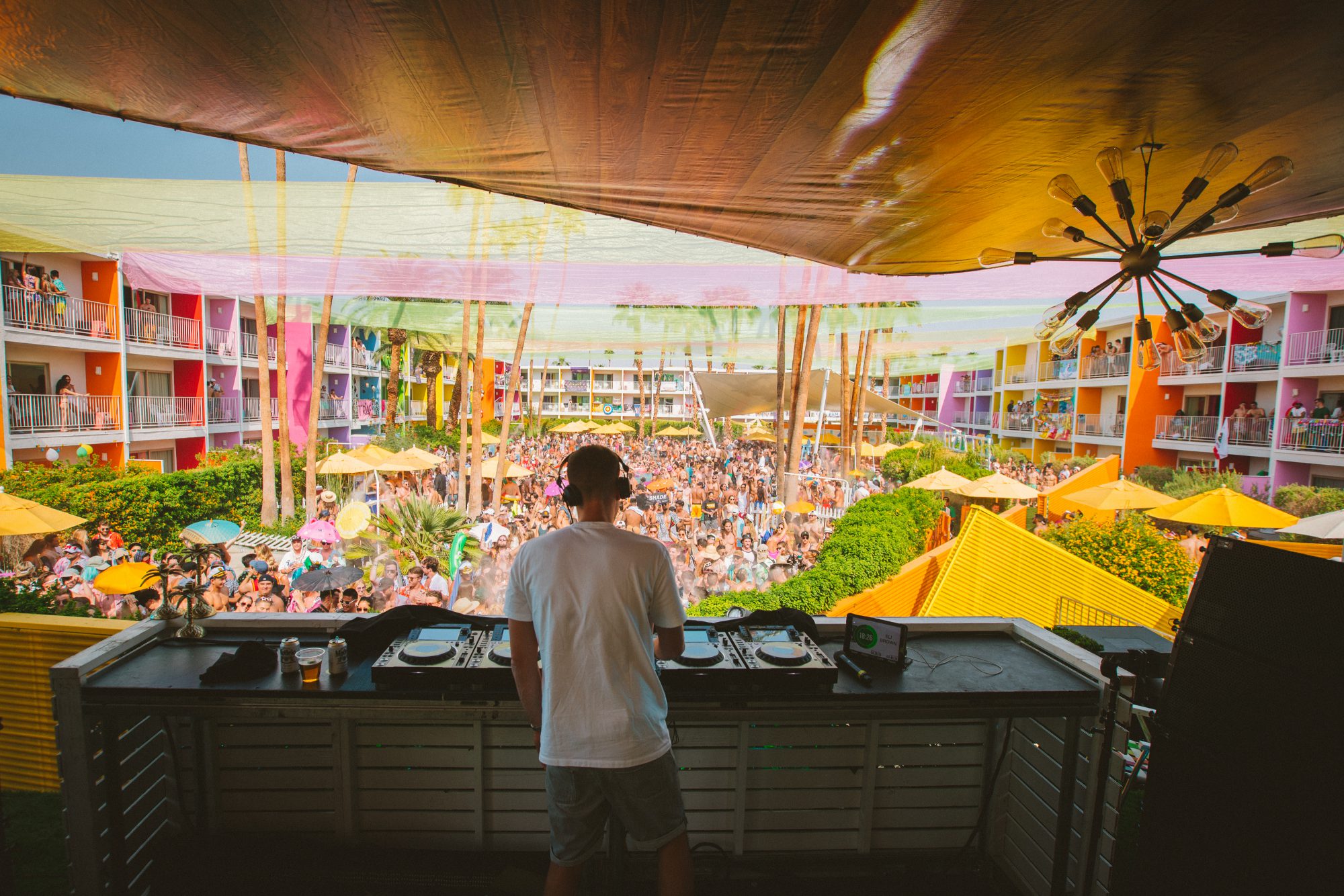 Sunday brought just as much fun and even better music, as Gorgon City, CamelPhat, and Dombresky ruled the decks. 
Once again we kicked things off at the gorgeous Saguaro, meeting up with some new friends and checking out their convenient poolside hotel room. Dombresky was spinning as we walked in, keeping things upbeat and feel-good with fun tracks like "Girls Night Out". We saw the first few minutes of Kyle Watson before heading out, as the 110-degree heat got to us and we needed to get to the ample shade of the Renaissance.
After some refreshing drinks and dinner at the restaurant in the Renaissance lobby, we ran outside just as CamelPhat took the stage. The house duo has had a massive year, with their captivating hits like "Cola" and "Panic Room" taking hold in fans and stages worldwide. The did not disappoint, spinning one of the best house sets I heard all weekend.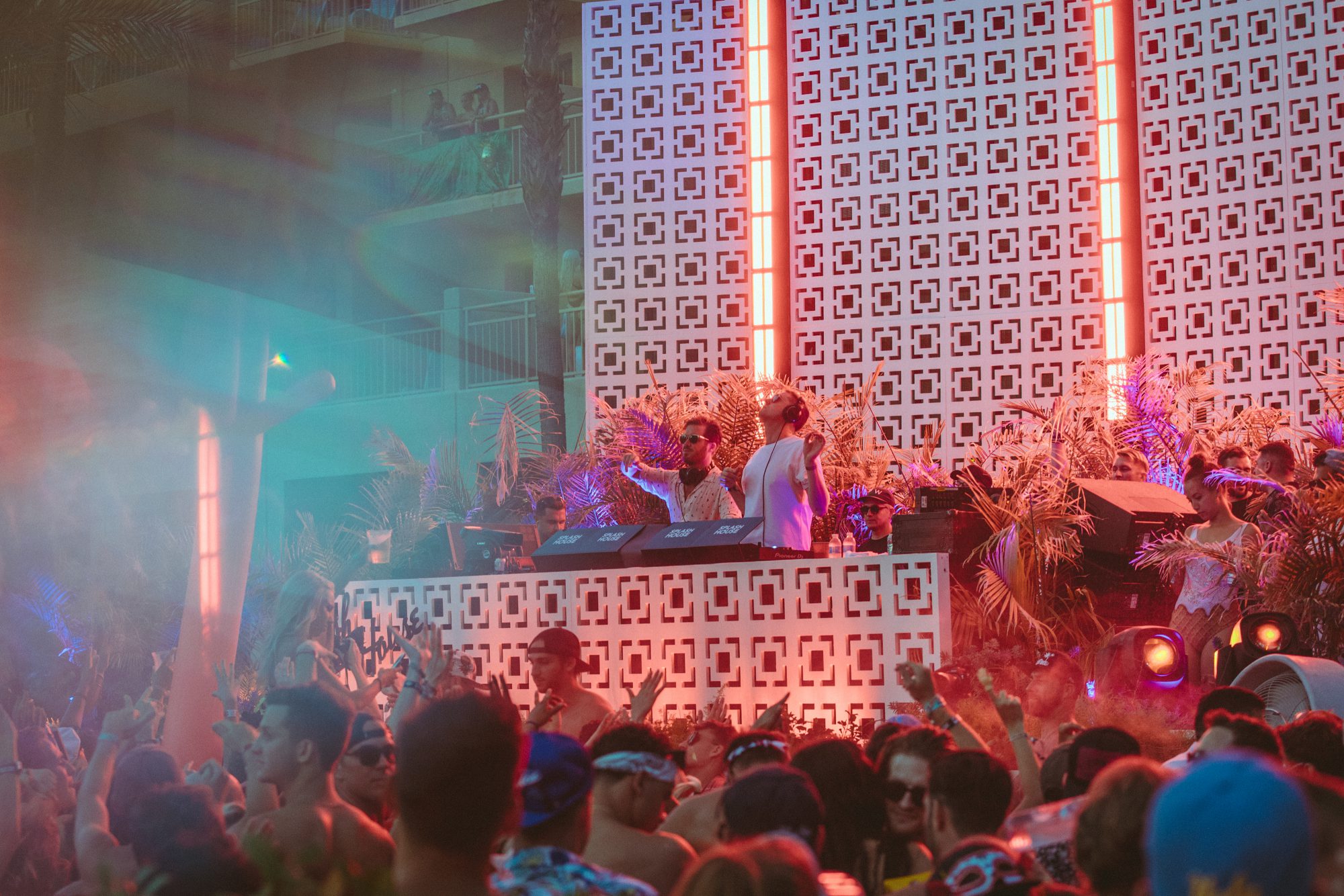 Last but certainly not least, it was finally time the world-renowned house masters Gorgon City to bring Splash House to a wild end. 
They brought all of the funk, jamming out to their timeless hits like "Motorola" and "Real" as we grooved right along with them. It was quite the party as the crowd danced out all their last bits of energy, not wanting all the amazing times at Splash House to come to a close. I can still hear the repetitive beat of "Primal Call" echoing through the pool as Gorgon City wrapped up their absolutely banging set. What a way to end such an incredible weekend!
I'm still yearning to be back amongst all that house music and good vibes – Splash House really does provide an experience unlike any other! Keeping the festival feel at pool parties is no easy task, but with the stage production, pool decorations, and unreal lineup Splash House definitely did the trick. Leaving with dozens of new friends and even more amazing memories, I feel so lucky to have had such a radiant experience. You can bet my flamingo floaty Felipe and I will be back splashing around next summer!
---
Connect with Splash House on Social Media: