Matt Robson-Scott from Gorgon City chats about their newly released album Escape, their upcoming live tour, their label REALM, and more!
---
One of the most iconic duos in the house music scene who have absolutely dominated the airwaves over the years is Gorgon City. First coming together back in 2012, the UK-based duo has released hit after hit, keeping crowds dancing deep into the night with tracks like "Real", "Ready For Your Love", and "Go All Night". Complementing their productions, Gorgon City has gone one step further with live shows featuring a band and vocalists that bring memorable experiences for all who attend.
Today, they've released their latest album, Escape, which has been years in the making. Featuring collaborations with artists like Duke Dumont on "Real Life" and NAATIONS on "Let It Go", along with plenty of solo work as well, this album is a must-listen for any house music lover. The duo will also be going on a live tour this fall that will see them take the stage everywhere from San Diego and Brooklyn to Dublin and London, with tickets on sale now!
Purchase or save your copy of Escape today on your favorite platform and read on for our in-depth chat with Matt for some insight into the album, their upcoming tour, and what's happening with their label, REALM!
Stream Gorgon City – Escape on Spotify:
---
First and foremost, congratulations on your brand new album Escape! Can you tell us about what the release of this record means to you?
Thanks! Yeah, so it's been a long time coming for us to have like a full album project that is physically available on a vinyl and a CD because the Kingdom project before was kind of just like an online, Spotify playlist. that we released a track every few weeks and it was kind of like an experiment, and it was cool, we released a few tracks that really did well at that point.
But I think since then we've really wanted to put out a full body of work you know? For us and for our fans and just to kind of really continue the Gorgon City project in that album focused act. Once you release an album and people know you as an album act its like you move to another level. Your live show becomes a proper live show and you can play and headline festivals.
Being able to continue that is what we really want to do, so I think the only way we could do that was by releasing another full LP, and it means a lot to us to have finally done that. And we're now at the point where we can create a new live show because of the new album, and people have something to actually come and see us play rather than just repeating what we've made before. It's like a new era for Gorgon City and obviously for the band, the experience.
Escape features 12 tracks featuring the gorgeous melodies and spectacular vocals for which you've become so well-known. What do you hope that listeners feel when they listen to it?
Yeah, I think with this album its kind of like a mixture of dancefloor bangers and a bit more deep and pensive, more downtempo rhythms and stuff. So it's a mixture of feeling good and wanting to go out clubbing or go to a festival, but also some elements that make you think about everything in your life whether its relationships or sort of pensive lyrics that are actually deep and meaningful.
I think we've always tried to do that with our lyrics, we try to make them not generic and not sort of throwaway. We try to make people think about everything, whether it's themselves or other people or the song itself, trying to work out the meaning of it and stuff like that. I think we've done that and the people we've written with for this album have been really good and really fresh for us. Working with new people and new singers.
That's what we've always wanted to do with our albums, bring through new artists. We did that with Sirens there were lots of artists on there that were unknown at the time and they sort of became big stars after they were on our album, and hopefully, that will happen with the artists on this album too.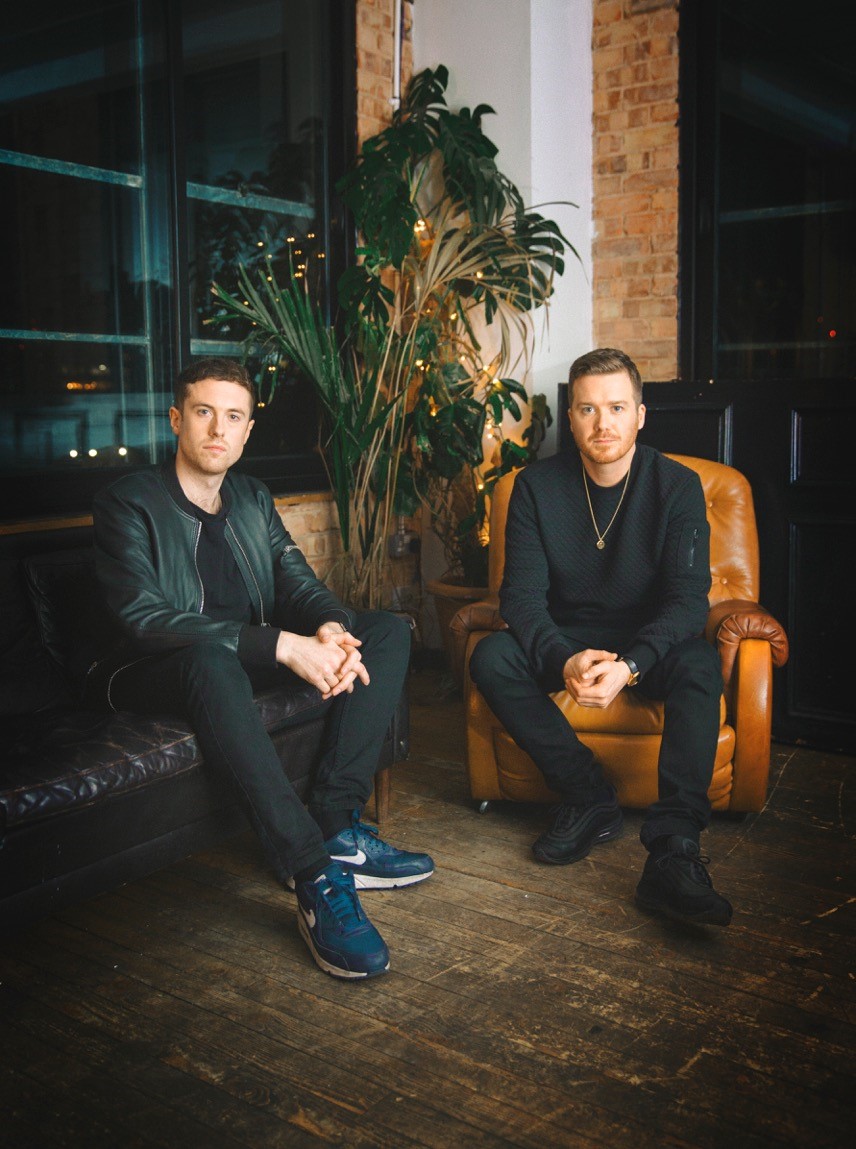 After the success of 2014's Sirens, I think it's safe to say that expectations were quite high for your sophomore outing. Did you feel that pressure when you hit the studio, or was it smooth sailing?
Kye and I always try to be pretty chill in the studio, we're pretty relaxed when it comes to producing music. When we're writing music we never think about what it's for or how it's going to turn out. We just have fun with it and vibe in the studio and do it quite relaxed. It's kind of the way our relationship very like that we're very chill with each other, we don't really succumb to pressure. We try to just have fun and that's why we always try to remind ourselves the reason why we do this music stuff is that we love it and it's what we enjoy doing.
When you start worrying about deadlines and label politics and stuff like that, that's when it starts affecting your music and it makes your music maybe not come from the right place. I think the best tunes that we always make are the ones that happen spontaneously and quickly in the studio with no planning. When you sit down and think "oh god we've got to make something exactly like this" or make another version of "Ready For Your Love", that's when you sort of start conforming to your own constraints. That's when things become difficult and you start hitting brick walls and not getting the right results.
The best tracks that we make are always the ones that are made in the quickest and most natural way. So yeah, we feel the pressure sometimes, I think the biggest pressure we feel is once it's about to come out, that's when you're like "oh dear, are people going to like this?" But when you're actually making it you're just having fun with it. I think the pressure comes on at this point when it's about to come out because you're releasing your baby into the world and waiting for people to react to it.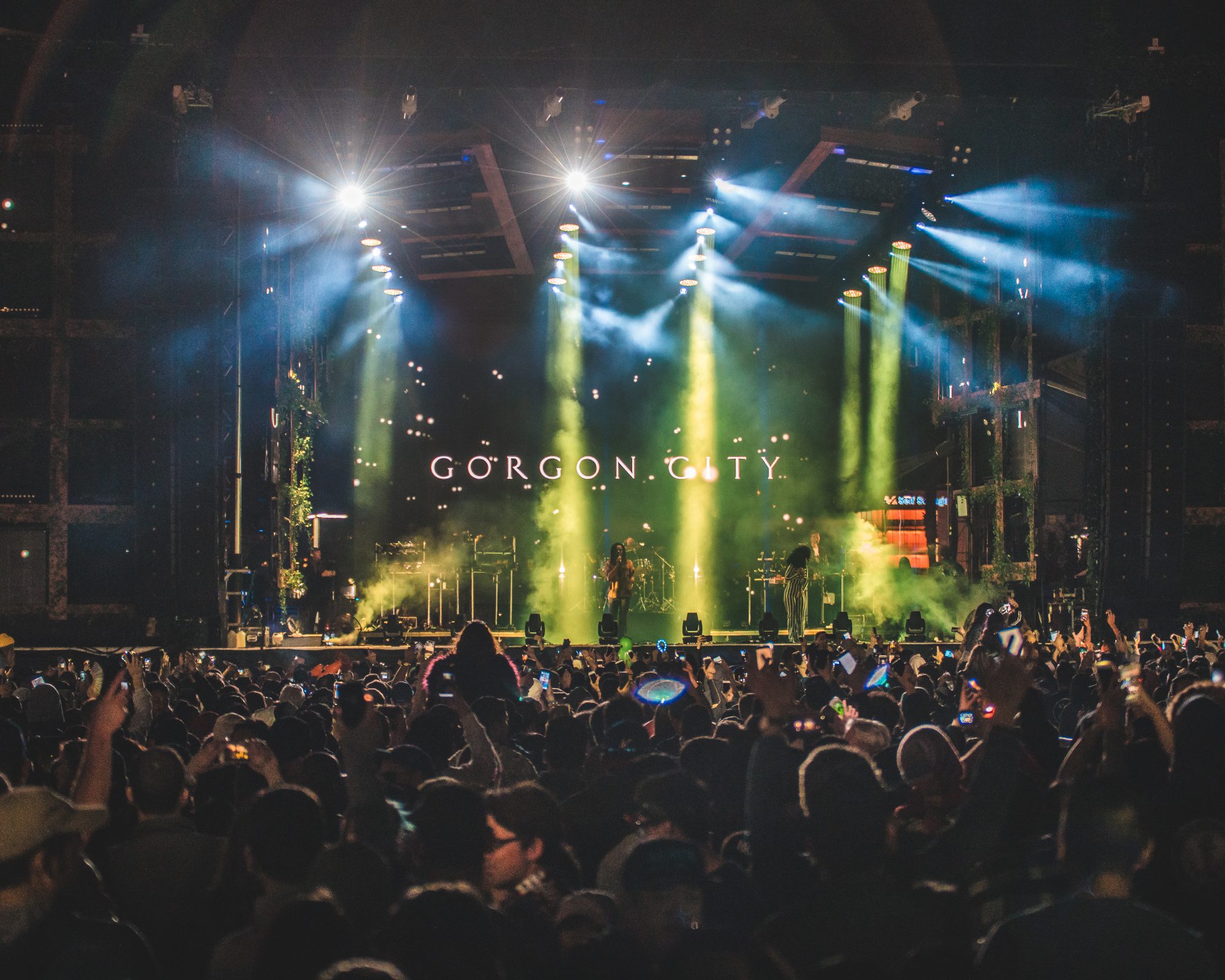 You collaborated with a Duke Dumont and NAATIONS on a couple of tracks on the album. How did the creative process unfold in working with those artists?
It's funny because normally when we collaborate with people we always do it in the studio with them. But with the Duke Dumont thing, he was actually in LA at the time. So we had a track and we sent it over to him, and then he added some of his ideas to it and sent it back, which he did that over the internet which is quite funny because we had never really done that before.
But then with NAATIONS, we became really good close friends with them after we did "Real Life" with Duke Dumont. We started touring quite a lot with NAATIONS, we went all over the world in Australia, America, in the UK, and then we just became really good friends. Nat and Nicky, they're from Australia but they live in LA, and they just became really good friends of ours.
We just started writing more and more in the studio, they came to London, and then we sat in the studio, wrote loads of tracks, and "Let It Go" was one of the standout tracks that we wrote together. There's still quite a few more that we've written that we haven't even finished yet, which we're really excited to finish maybe after this album.
And yeah, there's a really good process with most of the artists we work with, it's very kind of chilled, we try to have a relaxed atmosphere in the studio and see what happens each time. Nat from NAATIONS is an amazing writer, she's been a part of lots of big hits when it comes to big pop acts and dance acts, so yeah, she's an amazing writer. She's actually coming to New York today to perform with us, so she's arriving in a minute before we do the launch party tonight.
Do you have any particular favorites off the album, or is it impossible to choose between them?
Yeah, I mean personally, when I think back to writing a track, I think the one that really stood out to me was probably the track with Josh Barry called "Overdose" which is quite a sort of deep, dark track. When we were in the studio writing it, it was just a really good vibe and we hadn't written together, we had worked together a lot but we hadn't actually written a song together, and it just worked really well. We wrote really quickly and I just remember us going out for a beer afterward and being like "wow, this is a really cool tune," and just loving it. So that's one of my favorites, and I also really like "Never Enough" with Chenai on it as well, I think I like all of them. [Laughs]
You're headed out on a huge live tour of North America and the UK this fall and winter. What can you tell us about what you have in store for fans for the upcoming shows?
This is the first time that we're going to re-make the live show completely. Because we've toured the live show for about two and a half years, we've obviously added new bits, new sets, new tracks over the past couple of years. But we've never actually completely reformatted the show, changed the structure, changed the way we play stuff, so this time we're going to do that and it's going to be a completely new beast basically.
We're going to start doing that in about a month's time, we're going to get back into rehearsals and sort of remake the show and change the way we do stuff. We're going to get loads of new technology, loads of new instruments, and yeah it's going to be really exciting and a completely brand new experience basically. We obviously try to switch it up every time we do a new tour, but this is going to be a revamped Gorgon City live show. Can't wait to get into it and start preparing for it because it has been a long time and it's really exciting!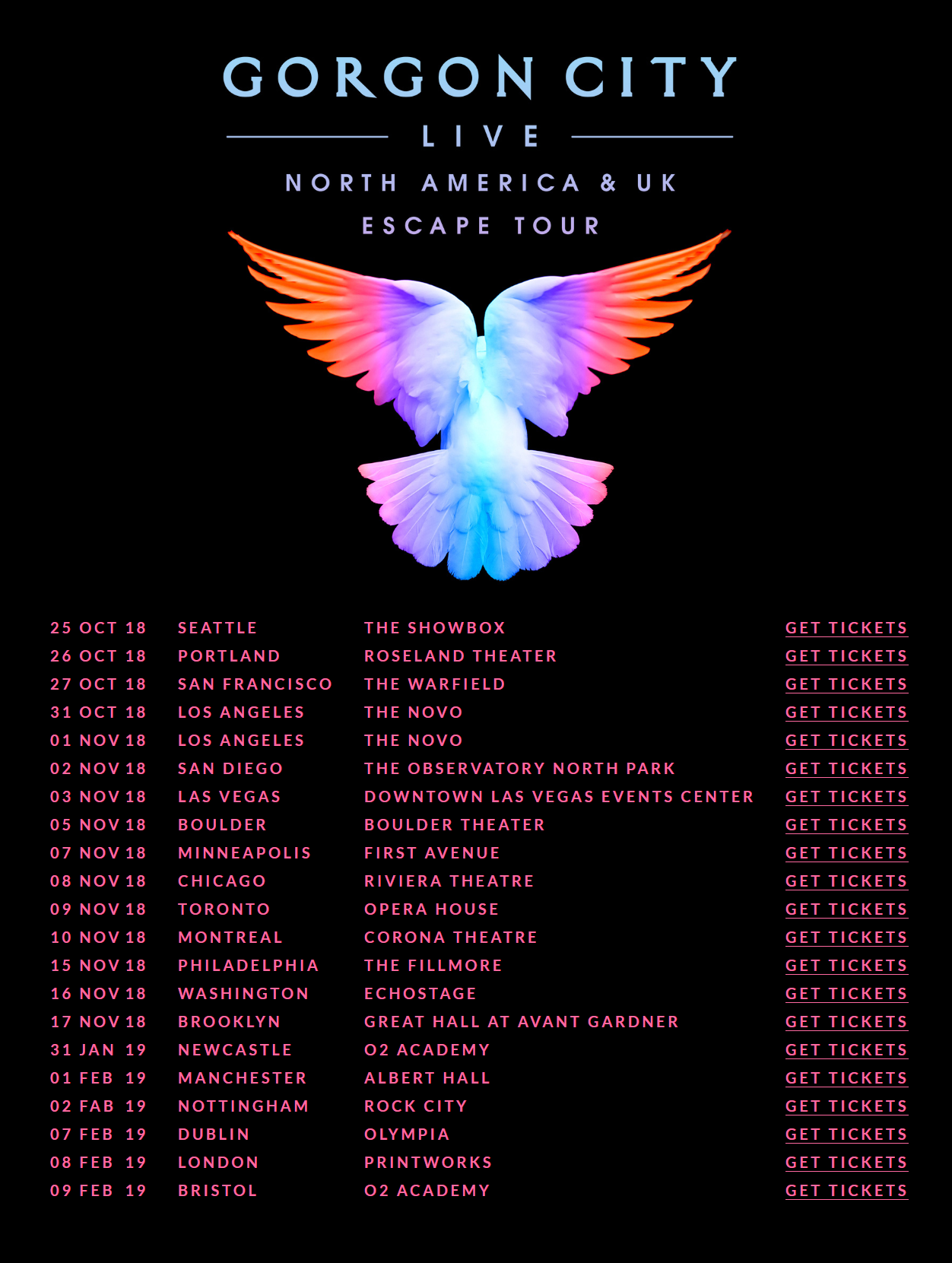 How much time does it typically take to arrange and practice these live shows?
Roughly, in total, including the production side of it which is getting all the tracks, working out how to play all the different elements of each track, plus the rehearsals, it's roughly three weeks. So basically three weeks to a month before you go out on tour, and then you road test it.
The first show is always a little bit scary because you don't know how it's going to go down, and then the more you do it the better it gets and the more comfortable everyone becomes. Then by the third or fourth show, it's like clockwork and everyone just starts smashing it and it works out, it always works out fine. The first show is always a bit nerve-wracking.
Grab tickets to the Escape Tour by heading to GorgonCity.com/EscapeTour!
Finally, last fall saw the launch of your label, REALM which had huge success this spring with the release of "Motorola". Can you tell us anything about your plans for the label or any other artists that you might be looking to work with on it?
Yeah, so we just start to sign some new acts on the label. We're kind of focused on the more underground, club sounds at the moment. Right now we're just concentrating on our album, we gotta get that out, and then we'll really get our teeth into REALM. It's mainly just underground house acts that we're signing at the moment.
We've also got some tracks from a producer in the UK called Huxley, whose a well-established artist, and we're really excited about that release that we've signed. And yeah we're just looking for new and up-and-coming acts mainly, people who are sort of exciting and haven't had a home for their music yet and we want to provide that. It's really exciting for us, that's the next chapter after the album, we're really going to concentrate on the label and we've never done that before so it's an exciting time for us with the label.
Thanks for taking the time to chat with us today!
No worries, thanks for chatting!
---
Connect with Gorgon City on Social Media:
Website | Facebook | Twitter | Instagram | SoundCloud | YouTube