Coming together on another stunning tune "In My Dreams" are Light The Sky and Eriel Indigo!
---
Known for his work with the Lucent Dossier Experience and stunning performances at festivals like Oregon Eclipse, Altra Gadret has continued to impress with his latest project Light The Sky. Blending elements of future bass, electro-pop, and trip-hop to conjure up a sound that is simply infectious, and now he's back with a new tune "In My Dreams" which is out today on Artist Intelligence Agency.
"In My Dreams" sees Light The Sky look to Eriel Indigo to provide her sultry vocals to the track, leaving a lasting impression on listeners and taking them out of this world. After teaming up last year on "Mothership" we couldn't wait for more coming from these two artists who clearly have some synergy in the studio. so this release today was one we were hoping to see!
Much like their previous track, "In My Dreams" features Indigo's stunning vocals and storytelling elements that create an emotional connection beyond the beat, making this a tune you'll find coming back to over and over. Listen to the track below and tell us what you think of it in the comments!
Stream or purchase "In My Dreams" on your favorite platform!
Stream Light The Sky  – "In My Dreams" (feat. Eriel Indigo) on SoundCloud:
---
""In My Dreams" is a melodic journey into our hearts, mixing future bass and electro pop to serve up an epic unrequited love anthem.

The instrumental chords were originally written on guitar and then digitalized with shiny synths and complemented by massive drums. I teamed up with Eriel Indigo to weave vulnerable yet powerful lyrics into the song.

Indigo's etherial vocals and heartfelt lyrics blended perfectly with the angelic electronic vibes and majestic bass of the track. I think we captured some raw, beautiful emotion that anyone who has loved and lost can relate to. We're excited to share the genuine magic of catharsis that we experienced creating the song with the listener and hope you feel it as well."

– Light The Sky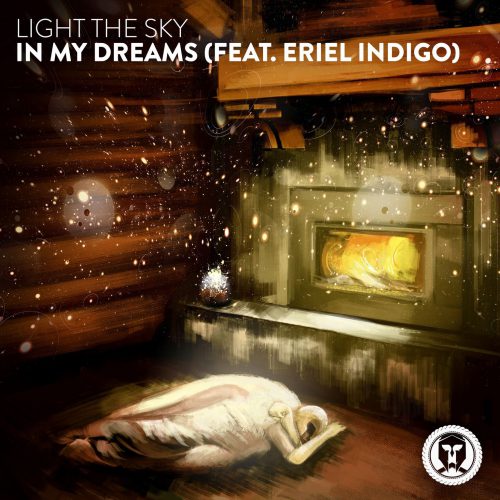 ---
Follow Light The Sky on Social Media:
Facebook | Twitter | Instagram | SoundCloud
Follow Eriel Indigo on Social Media:
Website | Facebook | Twitter | Instagram | SoundCloud | YouTube