Swedish Trio Brohug give us some insight into their recent performance at Tomorrowland, their label, and more!
---
Bringing together the styles and sound of brothers Christopher and Niklas Lunde, along with John Dahlbäck, the Swedish trio Brohug has been making some serious waves in the dance music scene. First coming together in 2016 after meeting in a studio, they set out on a mission to bring some fun back into the house genre.
Over the past few years, the trio has Released a plethora of tunes on a variety of labels ranging from CONFESSION and Dim Mak to Arkade and their own Brohouse Records. Notable tracks include "In The Morning", "Knuckles", and "Fun", all of which are absolute bangers. Most recently they dropped "Charlie" on Tiesto's Musical Freedom, timed perfectly for their performance at Tomorrowland this year.
Coming off some massive sets at festivals around the world and gearing up for some shows in Los Angeles, Las Vegas, and New York City for Electric Zoo, we wanted to get some insight into their productions and tour. Check out their set from Tomorrowland below and read on for our chat with this trio today!
Watch Brohug's Set from Tomorrowland 2018 on YouTube:
---
Earlier this month you took the stage at one of the world's top festivals, Tomorrowland. What was it like playing this year, and did you get a chance to check out the festival for yourselves?
We had a great debut at Tomorrowland this year! A real milestone for us. We played a lot of new music and the reaction was great. We did walk around for a while and checked out some of the other stages, the whole festival has such a great atmosphere.
When you are working on tracks in the studio is there a certain creative process you guys sync into in a cohesive manner, or are you all throwing down separate ideas? 
We rarely have time to be in the studio these days. We make most music on the road. Someone can make a beat on the plane, and get a bass line sent from somebody else. And then we always road test the music.
Aside from your solo releases, you've also worked with major artists like Tchami on "My Place" and Kaskade on "Fun". What has it been like working with these artists over the years, and do you approach these productions differently than solo work? 
Collabs are always cool. You get stuff from other producers that you wouldn't normally include in your songs. The best case scenario is when two different styles become something completely unique. We hope we have done this so far with the collabs we've done.
On top of all the music that you create you also manage a label, Brohouse Records! What are you looking for in artists who are sending you demos, and how do you manage your time between the label and producing your own music?
We look for something out of the box, and something we can play in our sets. It's hard to describe what we are looking for, we just know when we hear it. We listen to a lot of demos when we're on tour and then decide which ones that'll make the cut.
What is the message that you'd like to bring forth with your music and the releases on your label?
We are trying to provide people with great music that sounds fresh and unique. There's so much terrible music being released out there, so we are trying to make a difference.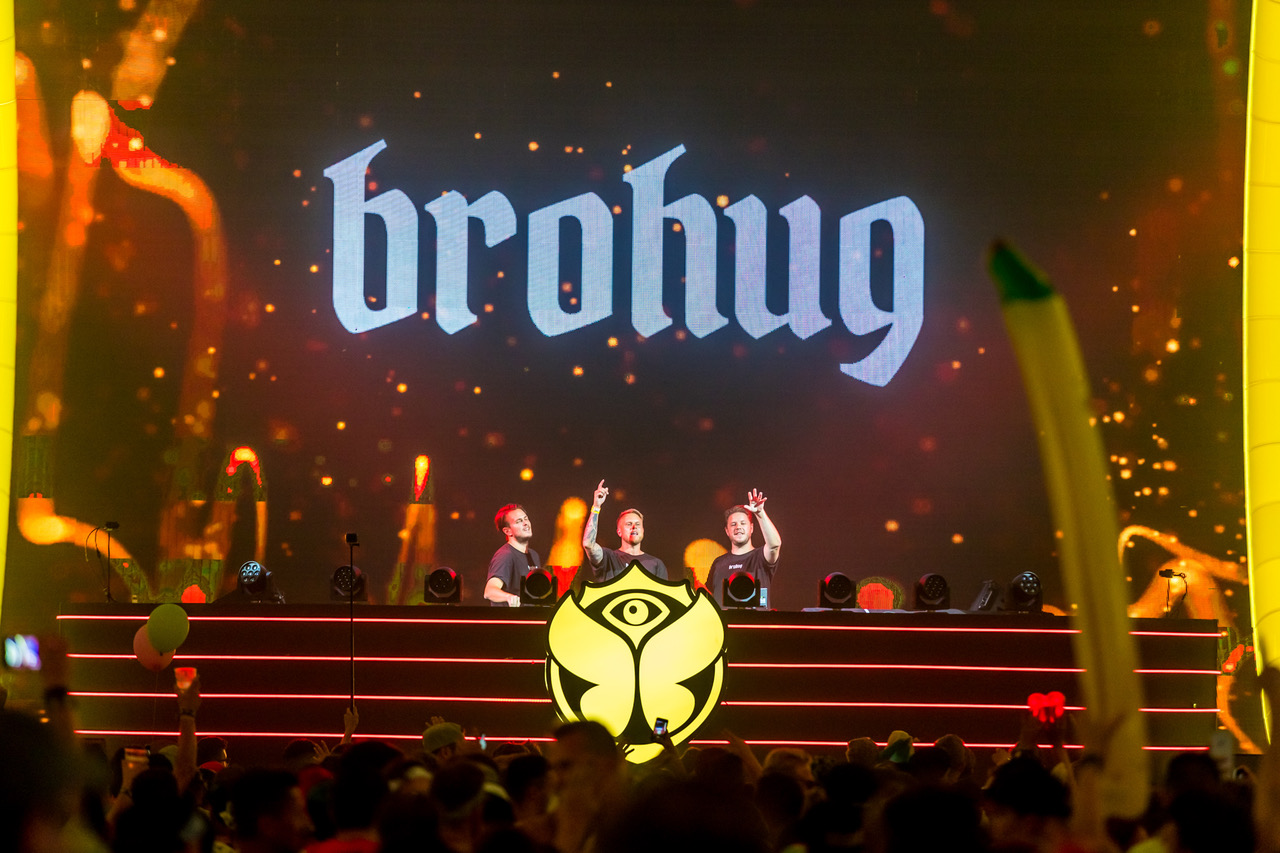 You're about to embark on a tour that will take you all over North America to close out the summer season. Is there a specific city which you're excited to be playing in for the first time or returning to?
There's no specific city, we just love being in the US!
Since you all tour together, is there a game plan of how you play sets or is it more of a constant b2b2b type situation where you all just take turns playing out some tunes?
We are very synced when we play. If it's a festival, we have planned the set more to fit in as much music as possible. On club shows, we wing it more.
The three of you were also very active in the scene as DJs and producers prior to coming together as a trio. Can you share what has been the biggest lesson you've learned over the years?
The biggest lesson would be to listen to yourself, instead of a record label trying to guide you into making something you don't want to do. At this point, we release exactly what we want, and we're proud of every release.
With half the year already in the rearview mirror, what are each of you looking forward to in the remainder of 2018? Any new releases that are coming up that you can share with us?
There are a few songs, both original and collabs, that we're gonna release before the end of the year, and they're big.
Finally, what are your thoughts on the ever-popular Swedish Meatballs from IKEA?
If you don't have the skills to make great meatballs yourself, the IKEA ones are a good backup.
---
Connect with Brohug on Social Media:
Facebook | Twitter | Instagram | SoundCloud