Russian artist Proxy is blowing up the house music scene of late with a slew of hard-hitting tunes that are destined to dominate the dance floor.
---
Hailing from the Eastern Block, Evgeny Pozharnov, better known to fans as Proxy, has been capitalizing on the popularity of the tech and bass house scene with his dark, gritty take on the genre, and we've been loving every minute of it. If you're not familiar with that Proxy sound just yet, never fear – now is the perfect time to get to know this Russian DJ/producer, because he is blowing up in a major way and he's about to hit your radar.
Having worked over the last decade to create a sound that is uniquely his own, Proxy has worked with labels from This Ain't Bristol to Night Bass to mau5trap, but he has never for a moment strayed from his signature. Bringing a hard, sometimes grimy edge to house music, he infuses his productions and sets with a ton of raw energy for tracks that are destined for dance floor greatness.
We had an opportunity to sit down with this rising star in the house music scene and get to know a little bit more about his process when producing tracks, how he approaches sets at festivals, and some of his latest tunes. Listen to his latest release, "Shake It," below, and read on for the full interview below!
Stream Proxy – "Shake It" on Spotify:
---
First of all, congratulations on your new track, "Shake It," out on Bingo Bass! What has the reception from fans and the industry been like?
Thanks, "Shake It" is one of those tracks which contain some old electro vibes and some new bass house vibes which makes it perfectly working on the floor, at least in my live sets. It's a good track for the old and new fans of electro and bass house. 🙂
Earlier this year, you released the Language Barrier EP on This Ain't Bristol, which is three tracks of relentless, banging house perfect for the dance floor. Is there anything in particular that you can tell us about your process for creating the EP?
Yeah, the funny thing about the main track, "Language Barrier," is it contains vocal samples saying something in a non-existing language making it not possible to translate and understand it. I really like to approach vocals from this side where you are working only with musical part of the words. Like it still can be groovy and repeatable even if you don't understand it. It's almost the same story as "Aida," but to me, it was associated with an android person from a famous TV show. "Afterburner" has got this tech house driving power and kinda simple groove which is a perfect additional track to this EP.
Tech and bass house are having a moment this summer, and your sound manages to hit on a lot of the things that make both house and bass music popular. When you're producing a track, what things do you try to incorporate, and are there any sonic elements that you view as essential to your music that you always try to include?
I mean it's all in our brain I guess. I personally don't see much difference between Tech and Bass House from the sonic side. Yes, these styles have different atmospheres on the floor, but at the end, they both have the rhythm, low section, and high section. To me it's a cool thing to approach the making of my new track exactly from the side of mixing these two different atmospheres in one and seeing what happens at the end. So experimenting with the sounds is the key to me.
You've worked with a number of high profile labels, including Night Bass, This Ain't Bristol, mau5trap, Dim Mak, and many more. What has it been like to release your music on such well-known labels, and have you especially enjoyed working with any of them?
All of these labels are great and they having great heads like Steve Aoki, AC Slater, and more who are good friends of mine. I am really proud to have releases on their labels and be part of their music families and remain good friends. Some of these labels are working faster than another, some are making better artworks or some have bigger networks, but I really love them all and you know, everything must be different enough in this life to always extend your experience.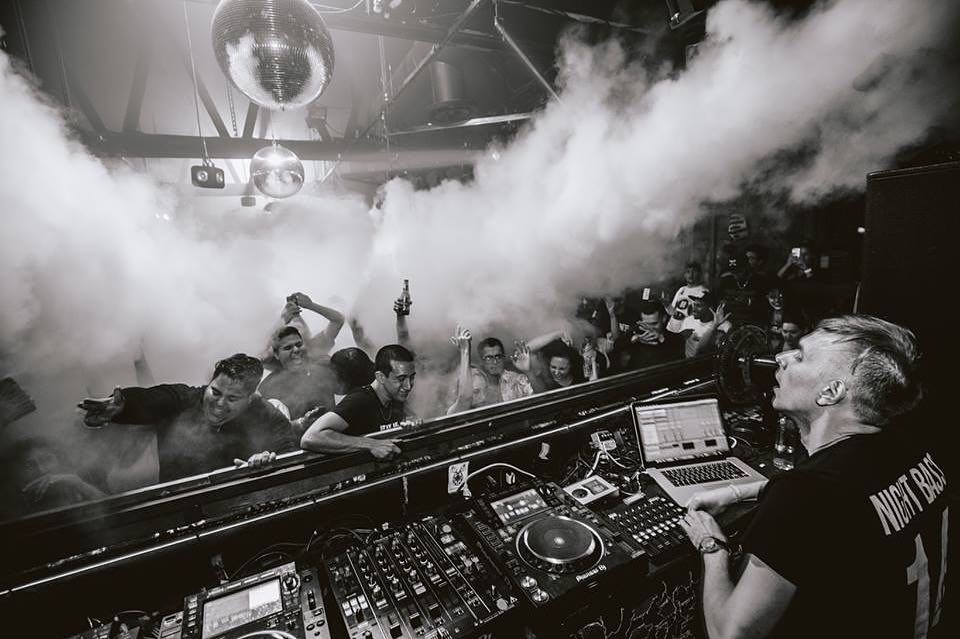 In the past, you've collaborated with artists like Prodigy, Boys Noize, and you even released a track with Sen Dog of Cypress Hill. How have these collaborations come about, and are there any artists that you hope to collaborate with in the future?
I've really enjoyed working with all these amazing people and every time it was so different and interesting and sometimes a challenge. I feel like I will enjoy working with completely different sounding producers, so maybe making a track with someone like Diplo could be a cool idea.
You're originally from Russia. How did growing up there influence your sound? Do you ever make it back to Russia to play a show?
I mean Russia is always behind the music scene as everyone knows, and I was a good example of when you start to listen to all the music by the age of 17. Before that, I was only listening to some shit folk like Mama Maria, etc. So at 17, I listened to lots of different styles of music that were way too interesting for me to do not start to be a producer.
At the beginning of my career, this small amount music information I had really affected my music in a good way: when you hear some interesting sound, you are trying to copy it and when it's no success in copying, that's the time when your own unique sound is happening. And as I said before, Russia is a bit slow in music and I kinda got used to this feeling when you are much much bigger outside of your own country and you playing here less than outside but it's okay and as I know this happening in many other countries.
You recently joined the This Ain't Bristol crew for a set at Parookaville. When you're playing a set, how do you decide what you're going to play, and is there anything that you want the audience to get from a set? Did you change anything about your approach when playing as part of the This Ain't Bristol takeover?
In my case, it's always two sides as I'm playing live sets most of the time, and it contains my own productions only. The good side is I always represent my own new and old tracks, and I mix them, imagining peoples' reaction on the floor and after each gig I edit it. The bad side of this playing style is I can't do much when it's a bad transition or bad mix of two tracks or something going wrong during the set… Especially for this gig with the TAB gang, I prepared a special set which as much tech house I have in the pocket. 🙂
Okay, fun question – you have an opportunity to play back to back with any two other artists at a festival. Who do you pick, and why?
Don't why but I would love to play with Rage Against The Machine and ASAP Ferg haha… You know, this could look like a mess on the stage but I think it will be funny!
What else can we expect to see from Proxy in 2018?
Lots of new music for sure and some new big things, which I can't reveal at the moment! 🙂
---
Connect with Proxy on Social Media:
Website | Facebook | Twitter | Instagram | SoundCloud | YouTube