Richie Hawtin announced that he will be returning to North America at the end of 2018 for his only territory show this year of CLOSE.
---
Richie Hawtin's iconic, award-winning audio-visual show, CLOSE – Spontaneity & Synchronicity, is returning for its only stop in North America at the end of 2018. The extended show will take place on Saturday, December 8 at Brooklyn's Avant Gardner in New York City and will be produced by Output Events. CLOSE is a very unique show that dives into the relationship between innovative technologies and human creativity. Hawtin's show has received honorable awards such as Best Live Performance 2017 at the DJ Awards and Best Live Performance at the Ibiza DJ Awards.
Pre-sale tickets for the show start July 25 with special code "CLOSELIVE" and can be purchased via TicketFly. General on-sale ticket sales will start on Monday, July 30.
The CLOSE concept had its first debut at Coachella last year and showcases how the traditional boundaries of DJing can be pushed to create a special, exclusive experience for fans. The completely improvised performance means that no two shows are the same which makes this show one you definitely can't miss! Support for the show has not been announced yet but will include a very special guest artist, so stay tuned for that announcement.
Watch the Trailer for Richie Hawtin's CLOSE on YouTube:
---
"New York has been important to me since the early 1990s from the early Storm raves, record shopping at Sonic Groove, and meeting new friends like Joey Beltram and Sven Vath at New Music Seminar, to years of great times at different clubs and venues from Brooklyn to Manhattan. I'm looking forward to presenting CLOSE at Avant Gardner, a show where I feel you get to see me at my best!"

– richie hawtin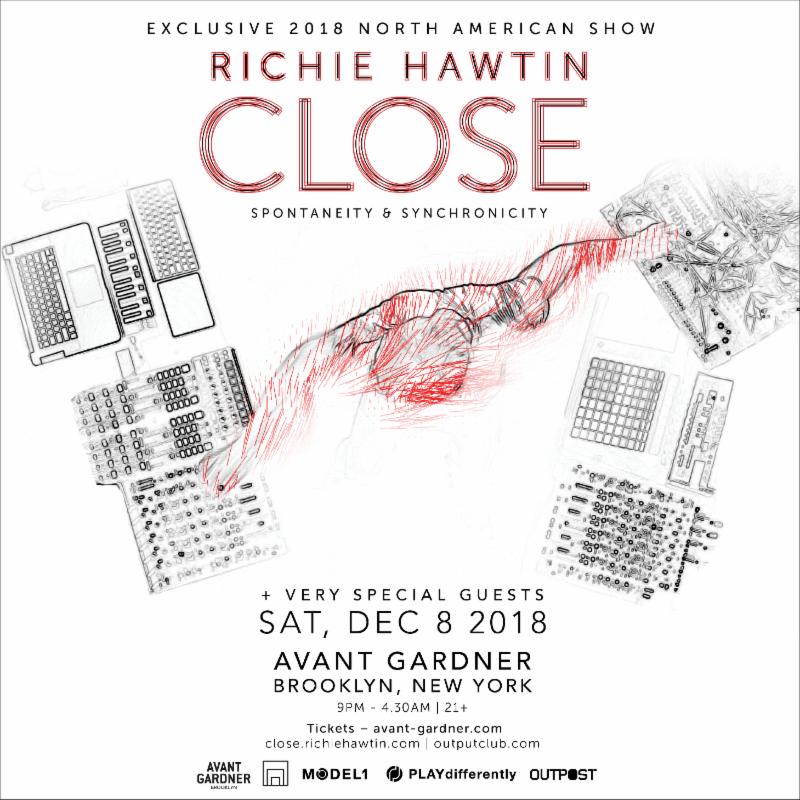 ---
Connect with Richie Hawtin: 
Website | Facebook | Twitter | SoundCloud | YouTube