Learn more about Los Angeles-based producer Dustin Husain who is a rising star in the Trance scene!
---
Los Angeles based producer and DJ, Dustin Husain, has become known for his Uplifting Trance sound. Exposed to some of the biggest names in the Trance industry at a very young age like Ferry Corsten and Armin Van Buuren, Dustin fell in love with the genre and became motivated to start producing his own music.
Dustin's original tracks and remixes have peaked at the top of the Trance Beatport charts and been supported by multiple artists and radio shows such as Ferry Corsten's Corsten's Countdown, FSOE Fables, Steven Allen's Uplift, Solarstone's Pure Trance Radio, and more.
His impact on the Trance music scene continues to grow as do his skills in music production. We wanted to take a peek into what this up-and-coming artist has in store for Trance fans in the future, so we reached out to chat. Listen to his exclusive guest mix below and read on to learn more about this rising star!
Stream EDMID Guest Mix 126 || Dustin Husain on Mixcloud:
---
What would you say motivated you to get your start in Trance music production?
Growing up, I have always loved Dance Music spanning from Eiffel 65, Ian van Dahl, Lasgo, and others..growing over time, I have discovered ASOT and TATW (Trance Around the World, Above & Beyond's old radio show) which had enabled me to have a more euphoric feel with the music they have brought to my ears. From there on, I was motivated to make Trance Music so I could bring this joy and feeling to everyone together!
You've coined yourself as an "Uplifting Trance Specialist". What makes you love Uplifting Trance more than the other Trance sub-genres?
I love Uplifting Trance because of the feels and the journey the track can take you on.  Uplifting can also be manipulated into a style where you can add elements of Tech and Psy sounds, so the possibilities are endless!
You've recently seen great success with your remix of Raz Nitzan and Ana Criado's "The Spirit of Summer". What went into remixing this track and was there a reason you chose to remix this track specifically?
Yes, it peaked at #13! This remix actually took me a long while to produce because of the vocals. Even though the vocals are divine, it was a challenge to fit them into an uplifting piece as the original was made in 128 BPM. Once I figured out how to configure everything from the vocals fitting with my melody, everything else was smooth sailing. There was a short spurt where I messaged five or six labels for remix requests, and the reply back from Raz grabbed my attention the most!
On that note, I really love your remix of "Feed The Fire", and your remix of "Hi Tension" is great as well. What goes into choosing the tracks you want to remix?
First of all, thank you!! In all my remix cases, I have been given the track to remix.. but now with more knowledge of remixing, I would study the track and see how my style can change the track and if I can't, I would just ask for a different track to remix.
Are you working on any other productions that you can clue us in on?
My main focus right now is a follow-up to my track "Max Revive" that I have released on Infrasonic Recordings Pure imprint. It also has received tremendous feedback and was played during Luminosity 2018. I also have another scheduled collaboration with a duo that we just signed our first track with — should be releasing soon!
What goals have you set for yourself for the rest of 2018 and 2019?
My 2018 goals are to get booked at a music festival or even play the main stage at one of the iconic venues here in Los Angeles. My 2019 goals will also consist of playing at music festivals and main stages at clubs, but location doesn't matter at this point. I would also like to achieve an exclusive contract for a notable label and grow from that.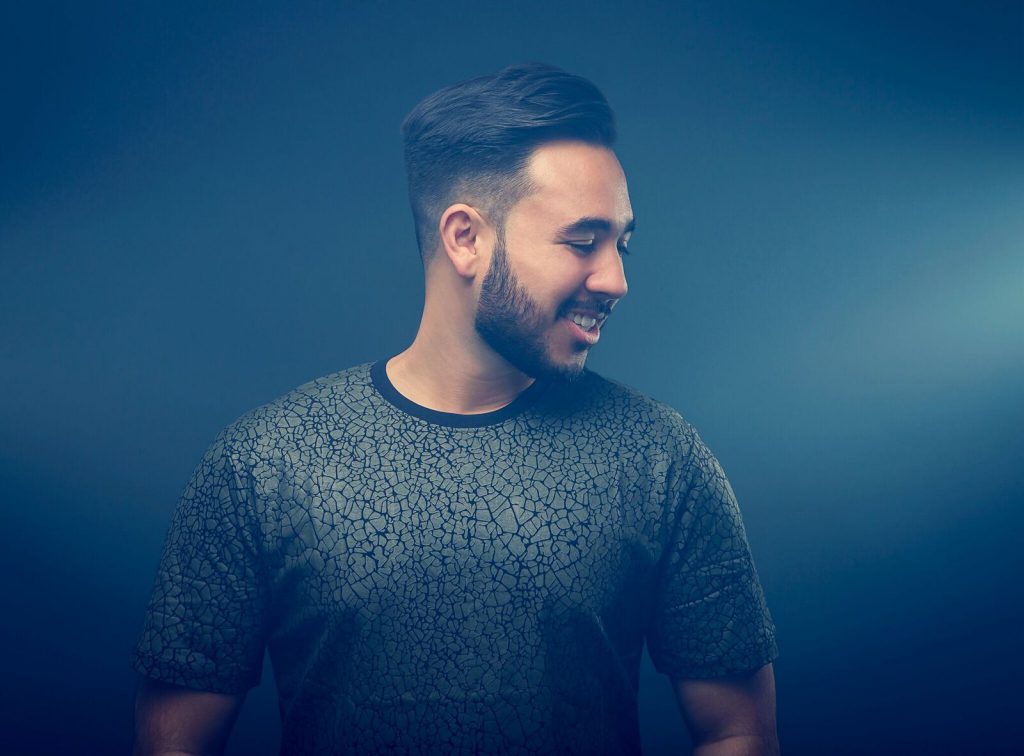 If you could only choose three artists to listen to for the rest of your life, who would they be and why?
Armin van Buuren, Ferry Corsten, Aly & Fila. Yes, they are all Trance artists, but I love everything each and every one of them brings to the table. Their work is so diverse, and in my opinion, they are the three pillars of Trance Music.
If you could play anywhere in the world, where would it be and why?
I would love to play EVERYWHERE! Haha. In all honesty, my top place to play in the world would have to Amsterdam because of the music scene support.
Lastly, what toppings make up your perfect slice of pizza?
So many people are going to bag on me for this but… PINEAPPLE!
---
Follow Dustin Husain on Social Media:
Facebook | Twitter | SoundCloud | Beatport