Pendulum People is a unique group that combines electronic music with design, poetry, and dance in order to bring us all together.
---
There are a few electronic groups that incorporate live elements to their shows and Pendulum People really takes that to the next level. Having started out as individual performers and connecting through dance they strive to reach out to communities through music, poetry, and dance. Their electronic sound can most easily be described as Trip Hop but it's what they do on stage that really sets them apart.
Not only does Pendulum People mix experimental sounds into their sets but their resident designer, Lukas, creates their costumes by hand! Whether their process starts with a poem or a sound, they come together with the intention of sharing love and perspective with their audience.
Recently taking the stage at Electric Forest this year, we wanted to chat with Pendulum People to get more insight into the project and its unique performances. Take some time and listen to their latest EP, Paradise, and read on for the full discussion.
Stream Pendulum People's Paradise EP on SoundCloud:
---
Why don't you start by telling us a little bit about yourselves, where are you from and how did you all meet?
Lukas: We are Pendulum People. I am Lukas (aka LVDF) and I was born and raised in Austria, but I moved to America and this is how I connected to the rest of the group.
Soraya: I am Soraya Lundy and I'm from New York. I'm a mover, choreographer, in the group and yeah I'm from New York City.
Justin: I am Justin Conte. Wazzup! I am Director and one of the choreographers and I'm from New York originally. Nova and I grew up together and I met Soraya through dance and met Lukas through dance as well and then we got married.
Soraya: So beautiful.
Nova: I am Nova Zef and I'm originally from New York like Justin said and we live in Brooklyn, New York. I'm a vocalist and poet.
How did you come up with the name Pendulum People and what does it mean to all of you?
Justin: Well, Pendulum People transformed many times but it was always a collective of people (a community) and we like to embody movement – not just in the sense of dance but movement in the sense of moving things forward. Of course in the spiritual sense and in the crystal world a pendulum is something that swings and helps to decide. It helps you move forward with that decision. But also, pendulums sometimes move in unison and that's really what we want to portray.
We are a community of people displaying different individuals coming together with the same idea, with the same understanding and we really want to push that for others, for the world. We can be different but we have to understand and we have to be willing to understand one another – that's why we're Pendulum People.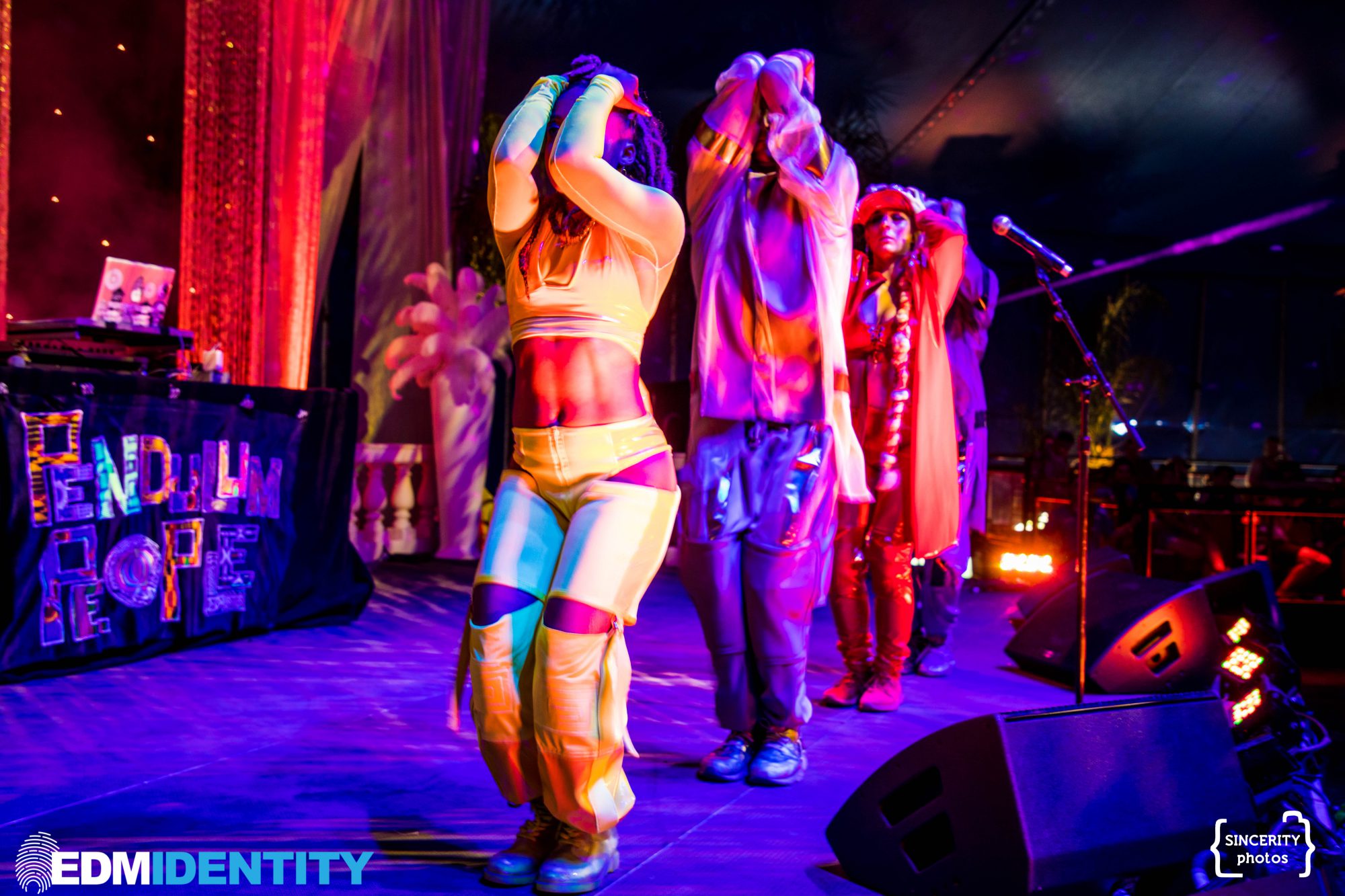 Your combination of music, choreography, and poetry is a very unique blend that we don't see in the electronic scene very often. How does having so many players affect the creative process and are all those facets created at the same time?
Lukas: I mean it depends. There are so many aspects to it. So for me, I'm the producer and wardrobe designer, so if I make a beat and I think "Oh my God" this is amazing for the group, I bring it to the group and we all go, "ok, cool, what can we build on that?" But then sometimes, Nova comes to us and brings this amazing story and this poetry and we all go, "we have to make a beat out of that" and create something on it. We come together as a group and we build from there.
Nova: Sometimes we work off a vision and sometimes we work off a sound so it kind of goes back and forth sometimes. Sometimes I'll come up with a vision or Justin will come up with a vision and Lukas will make a beat to it and sometimes in rehearsal we're like, "oh this is a water part" so let's bring some sound in there that represents water or bring in a vision that represents that and interacts with the costumes and movements of course.
Justin: Bringing a community together can be challenging, especially with powerful and strong-headed artists it is hard to collaborate. I'm sure any other artist would say that. But at the end of the day, that's what true art is. That release of ego, that release of fear of what someone else is gonna think or say or if someone will love that or agree with that but that's really what this is all about for any artist.
Nova: You have to completely surrender. Completely surrender to each other in order for it to work.
Lukas: We're all really supportive. Our main drive is to really be like, "nothing's wrong, just play and share it and then we can always edit it" but we don't want anybody to feel like they have to hold back and just share what's right. You don't share what you feel right now.
That's a lot of trust in each other too.
Justin: For sure yeah! Be inspired by your community.
Soraya: We're definitely inspired by one another for sure.
[Group Hug]
I was also at Oregon Eclipse, what was one of your favorite memories from that festival?
Soraya: The eclipse of course.
Soraya + Nova: We were freaking out.
Where were you guys for the eclipse itself?
Justin: That was my Birthday. We were on the plane.
Soraya: It was Justin's birthday, so we all dressed in white.
Justin: We were sitting in this field with literally thousands of people and Nova all of sudden starts, "HAPPY BIRTHDAY…" and it was the entire field. I look over and I just see thousands of mouths, "HAPPY BIRTHDAY"
That's incredible! I can totally imagine that too because it was so quiet beforehand and everyone was just waiting.
Lukas: Our sets were cool too.
[Everyone Laughs]
Lukas: But they were really special.
Justin: Yeah we got to play the Big Top stage and …
Lukas: The Fringe Theatre
Justin: They were two very different experiences. Very special.
Nova: We actually had four shows that week. So with four shows in one week we really had to keep ourselves healthy, be on time, be rested. Taking care of each other.
Lukas: And mind you, Justin is our production manager and tour manager so whatever we are, we all have to do more jobs than just this so it's…
Nova: More than just the performance.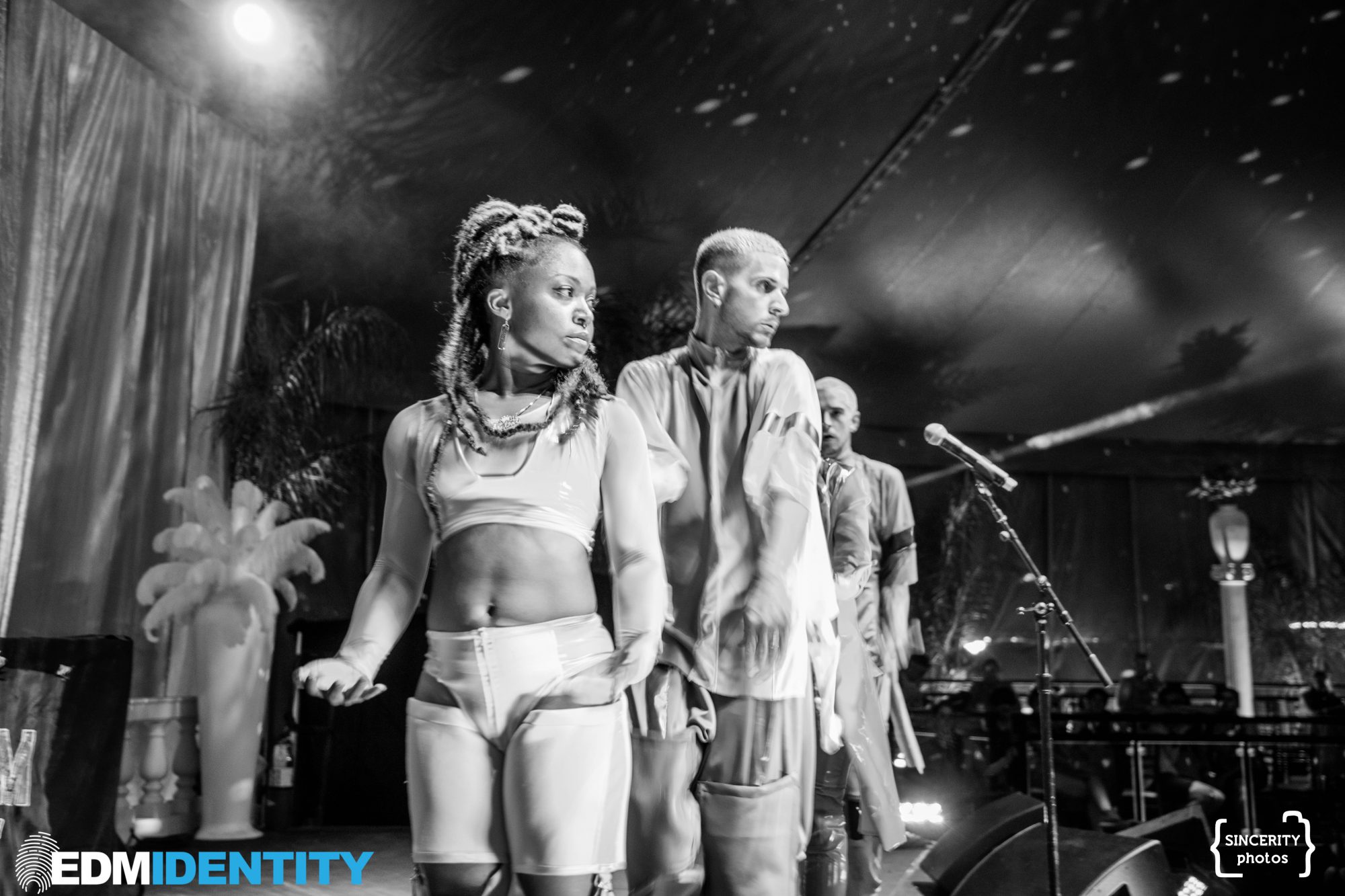 The way you dress for your performances is very unique. How do you find your outfits and style?
Lukas: Well, all of our costumes and pieces you see on stage get all made from scratch. I design and make them and then we all style each individual outfit to what we want to wear, but it's all created from scratch. I'm inspired as a designer by a lot of different designers and I pay homage to that and I respect that but honestly, it's just play, it's practice. Every piece is practice and whatever it is, it is.
Many of your music videos portray images that seem very cultural or tribal can you tell us a little bit about what goes into that story building process?
Soraya: Yeah, we are very inspired by many cultures. We live in New York City so we are constantly around people from all over the world. We're constantly hearing different languages, accents, we're seeing different flags, we're seeing different colors so we really want to represent this entire world.
We want to share culture so that it does not die. There's no better way to do it than to mix it artistically and not steal from culture but be able to fuse it all together so that it becomes one and becomes whole. And in terms of that, you know it's important to keep culture alive in building your own being inspired by so many.
Justin: Culture is creativity, that's where the essence comes from, it's from the integrity of heritage, of the past, and we don't know where we're from. I don't know where I'm from. I don't know where I descended from, all of us we're a mix, so that's what we like to bring and I think we're also inspired by nature and with nature comes this tribal energy. Whether it seems like it's from a culture or not. The essence of nature is that. So I think that's what we like to embody and be inspired by and share.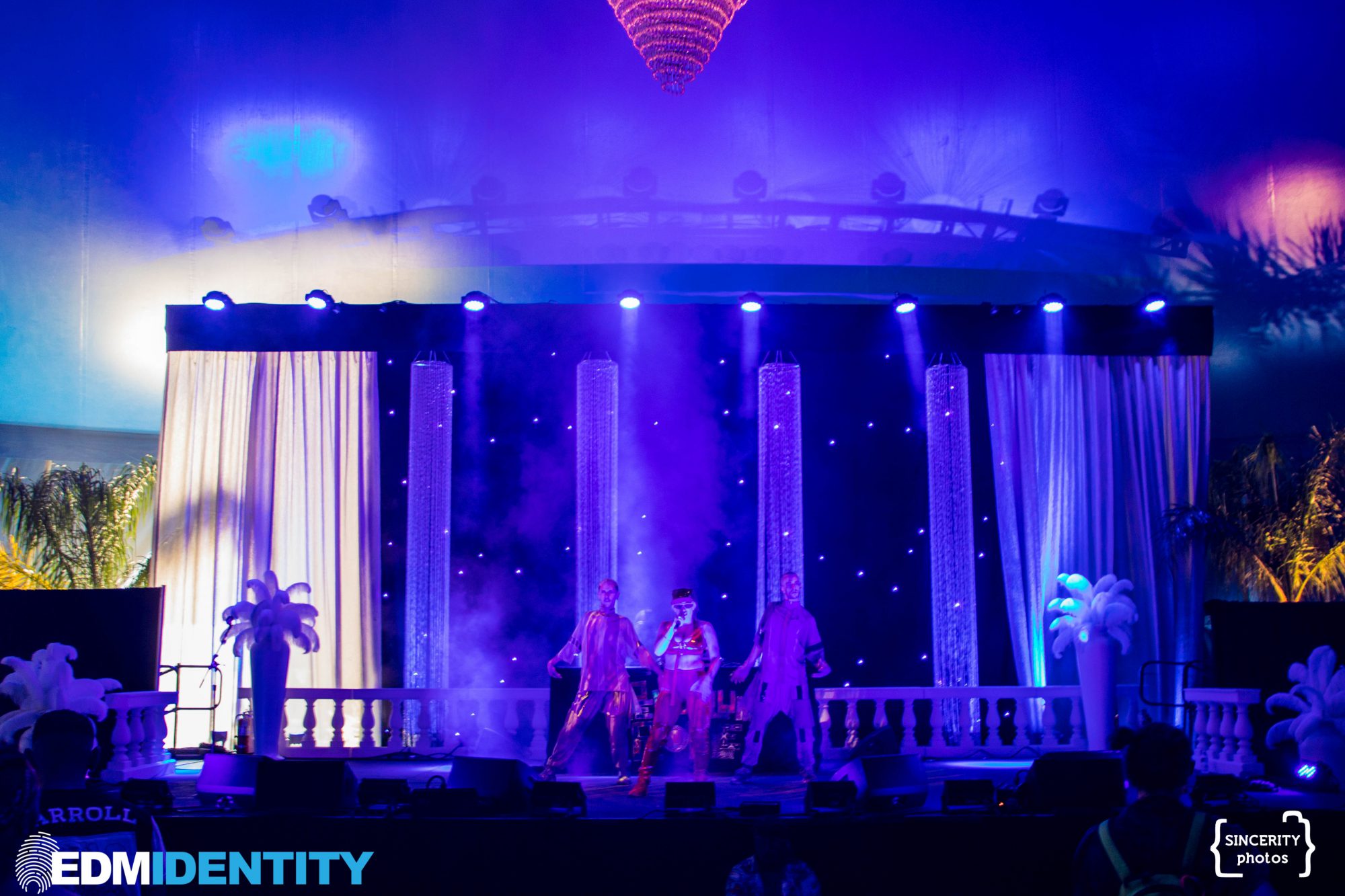 What do you see as your overall mission or goal in the music you share? What message are you trying to convey?
Nova: We're trying to bring people together to create awareness. We find that the Earth is in need of some help for her survival and in a lot of the poetry that I'm writing, I'm trying to give and offer people the truth. Whether it's hurtful or joyful, I'm just trying to really offer the truth and bring that forward so we can move forward and this planet can survive. So I guess the message is coming together to build consciousness so that this planet can survive.
Justin: And women are at the front of that.
Soraya: That's right.
We saw your video with Thriftworks. Are there other artists that you want to collaborate with in the future?
Nova: We're big fans of Thriftworks. Jake is incredible. That was actually our first video collaboration before I was even writing before I was even making music really. We had visions, where we wanted to put on cool costumes and dance and build cool sets and I had heard about Thriftworks that year and I heard the track "Greenie Beanies" and we're like, "yo let's just play and practice." We went in my backyard and threw some powders, threw some fabric up, we built the set and created a video and we've listened to the rest of Thriftworks music from that point on.
Justin: We would love to collaborate with other artists. Most of all, we were just talking on our car ride here that we want to connect and collaborate with communities. That's what we really want to do right now. When we have the means and the funds, we want to be able to connect with communities or go around the world and create projects to bring awareness.
Soraya: And also collaborating with artists that we're inspired by. That's originally why I came to the group, it's because I'm inspired by all these guys here. Just making cool art with dope artists.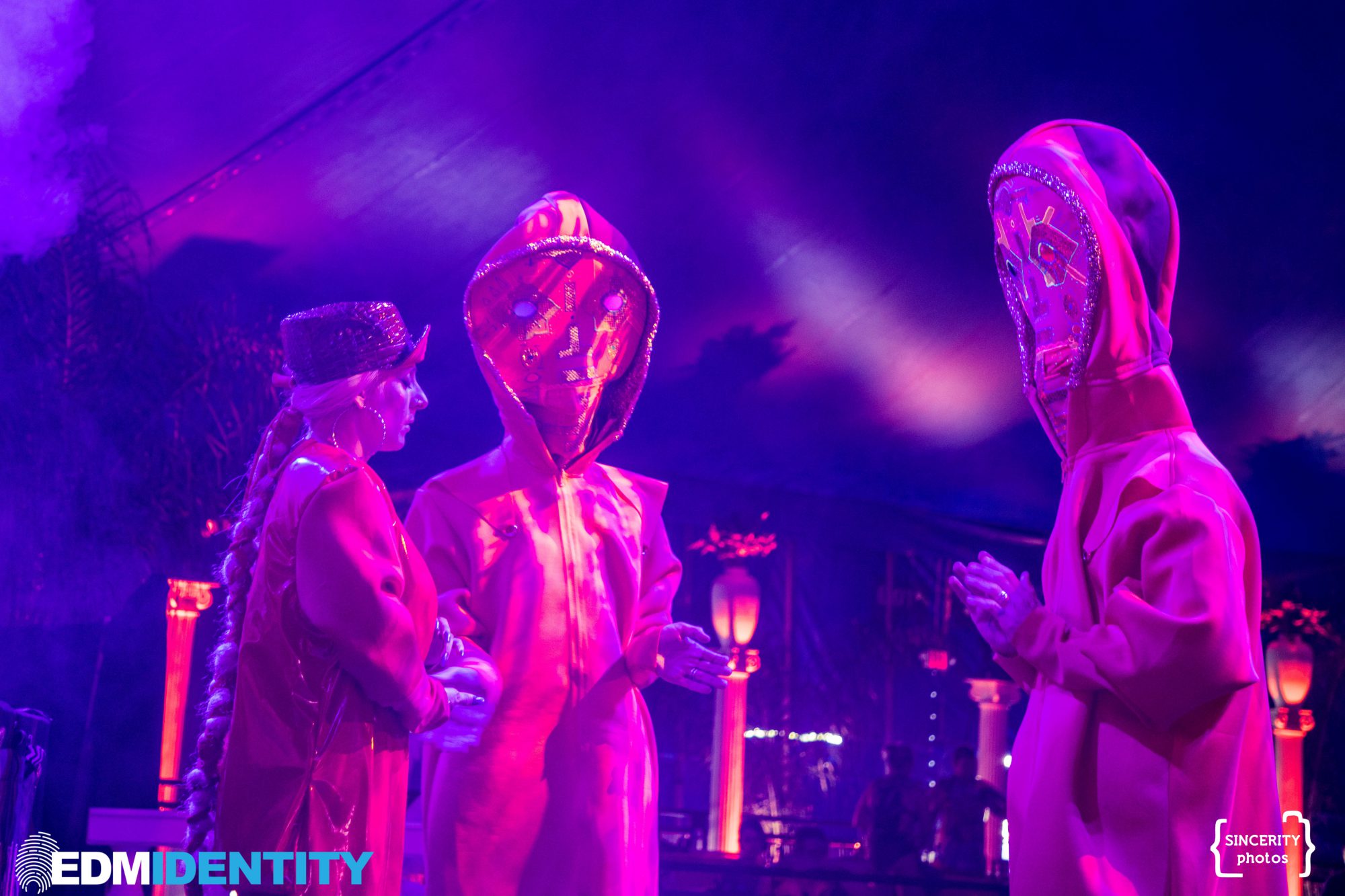 What are some of the things aside from music that you guys like to do together?
Soraya: Eat!
All: Yes, dinner, food
Which leads to my next question, what are your favorite foods?
Soraya: Ramen
Nova: Japanese food
Soraya: We love Japanese BBQ
Justin: We want to go to Japan
Soraya: We really want to go to Japan.
Lukas: I love European food because I'm from Austria. I treat my babies with some Austrian goodies.
Justin: Yeah, we love Italian food… Do we have all day?
Lukas: Basically all restaurants. What else do we like to do with each other?
Justin: No, food. Food is our main thing it's how we come together and brainstorm…
Well, they say that breaking bread is one of the most historic things of bringing people to the table, of bringing them together. And in New York, you probably have your choice of everything?
Nova: Yes, all of it, we have our spots.
Soraya: Yes, let us know when you're in New York.
Yes definitely! Is there anything you want to add about your set today or any upcoming releases you can share?
Lukas: Our newest EP release which is called Paradise. It's fresh out – check it out on all music platforms
Justin: Yeah our sets, we're playing the Carousel Club, it's going to be lots of fresh new stuff. We're bringing our full hour-long set to Electric Forest. We're really blessed to have that time and a beautiful space to share it in. Lots of new stuff, new clothing, new wardrobe, new music. Fresh dance, new moves.
Well, we look forward to that. Thank you guys for chatting!
All: Thank you! 
---
Connect with Pendulum People on Social Media:
Website | Facebook | Instagram | SoundCloud | YouTube