We've got all of the essential info you might need to know before having all the fun in the sun at Kaskade's Sun Soaked 2018!
---
One of the most highly anticipated events of the year is almost upon us – Kaskade's Sun Soaked will touch down in Long Beach, CA for its second year this Saturday, July 21! With two sets from the king himself along with performances by acts like Cazzette, Loud Luxury, and Felix Cartel, Sun Soaked 2018 is set to be a magical day we'll never soon forget.
On top of hours of music in the sun, Kaskade has also announced a slew of Sun Soaked after parties and Redux shows, so you can keep the party going all night long! It truly is going to be a magical few days filled with as much Kaskade as we could possibly imagine.
Make sure to check out Kaskade's Sun Soaked Spotify playlist to get excited for the event! 
---
Sun Soaked 2018 Essential Info:
Date: July 21, 2018
Hours: 2PM – 9PM
Venue Address: Alamitos Beach -700 E Shoreline Dr. Long Beach, CA 90802
Facebook Event Page: RSVP HERE
Acceptable Forms of Identification for Entry
Any US government-issued driver's license or ID card containing a photograph and date of birth
US or foreign government-issued passport containing a photograph and date of birth
Foreign government-issued driver's license/ID with a color photocopy of passport (not valid for 21+ wristband. To purchase alcohol or enter VIP areas, a physical passport or US ID will be required.)
Temporary DMV documents proving you are currently renewing a license — ONLY if accompanied by passport or expired license
Unacceptable Forms of Identification for Entry
NO School ID
NO Consular ID
NO Birth certificates
NO Expired ID of any kind
NO Photocopy of any ID (except as noted above)
NO Temporary DMV license without a passport or expired license.
---
Sun Soaked 2018 Set Times: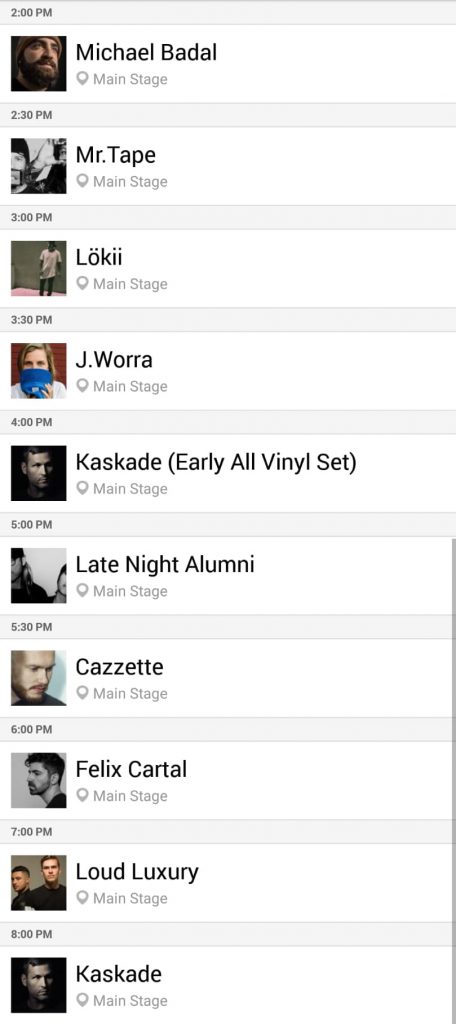 ---
Sun Soaked 2018 Festival Map: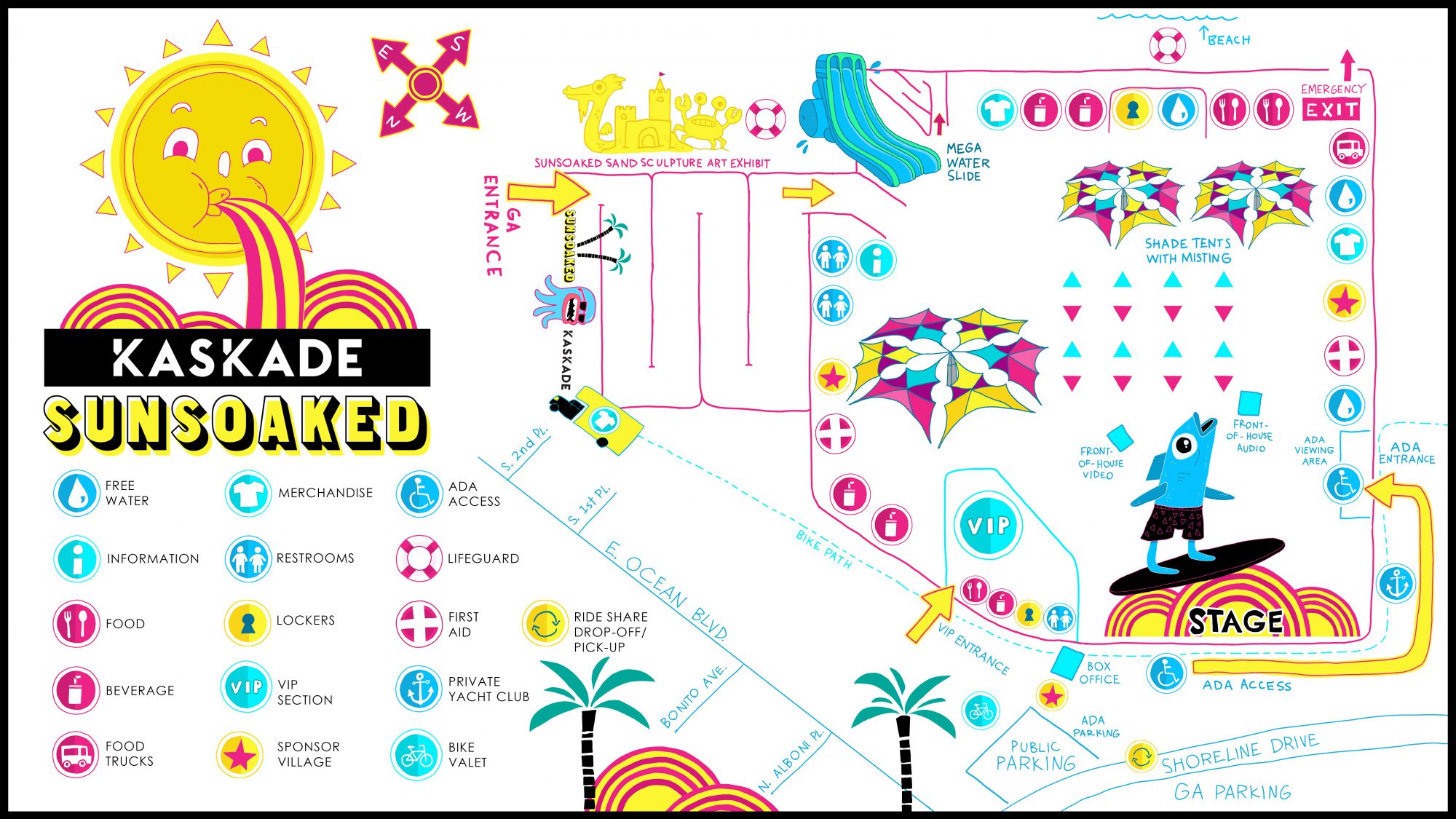 ---
Sun Soaked 2018 Do's & Don'ts:
Prohibited Items
Weapons of any kind including poles and sticks
Fireworks or explosives
Illegal substances of any kind
Outside food or drink
Pets (service animals O.K.)
Flyers, Posters, Handbills, Stickers (No Solicitation)
Chairs or Coolers
Glass of any kind
Skateboards, Scooters, Bicycles or Motorized vehicles
Professional recording devices including Cameras with detachable lenses, video or audio
Laser Pointers
Large signs, kites, stuffed animals (including backpacks)
Masks of any kind that obstruct or partially obstruct the face. (Religious headwear O.K.)
Any item deemed by security as a risk to public safety
Bags larger than 12" X 12". Single Pocket EMPTY Camel Backs OK.
Permitted Items
Ticket
Photo ID see (Acceptable Forms below)
Water Containers – must be empty upon entry
Sealed lip balm/gum/tampons/sunscreen
Physician-prescribed medication that is not expired. Must show physician's prescription and consult with a safety officer upon entry
Inflatable beach balls etc – must be deflated upon entry
Sunglasses/Sun hats
Beach-appropriate footwear
Your mama if you are not capable of making good decisions
Flags/Banners/Totems (See Totem Guidelines Below)
Non-framed, small backpacks and bags (no larger than 12x 16" x 8")
* For security reasons, traditional handbags will take longer to process at the gate. For faster entry, please place personal belongings in a clear plastic bag/tote. Sun Soaked has partnered with Game Day Tote offering a variety of clear totes that are pre-approved for the day's event and will be on site for purchase.
Totem Guidelines 
Maximum height is 10 feet
Totems must be made from a lightweight material (e.g., foam, PVC / no solid metal)
Collapsible/telescoping camera extenders that follow the above guidelines are OK (lightweight/hollow aluminum/polycarbonate)
PVC, light wood or aluminum poles must be no thicker than 1 inch in diameter
Decorated pool noodles work great for easy entrance through security
Inflatables attached to totems must be deflated upon entry
Any item deemed dangerous will not be allowed
Totems promoting illegal activity or hate speech will not be permitted
Please keep it PLUR
---
Reminder To Mind Your Belongings:
Unfortunately, many people have reported pickpockets, bag slashings, and theft of wallets, smartphones, purses and other valuables during this festival season. While this small number of bad apples in the bunch doesn't define an entire crowd, there are opportunistic people who come to these events to take advantage of unsuspecting partygoers and it's important to be mindful of your valuables while at Sun Soaked Long Beach.
Looking for tips to keep your belongings safe? Check our post highlighting some ideas!
---
Connect with Kaskade on Social Media:
Website | Facebook | Twitter | Instagram | SoundCloud