The Sriracha Man didn't just choose the sauce life, it chose him. Find out more about this iconic raver! 
---
Aaron Nguyenning started his journey into the festival scene back in 2012 and along the way found both a community and himself. From humble beginnings in gaming to growing into an icon of the rave scene as the Sriracha Man, his story is definitely one that is unique. Similar to many of us within the scene, he found true acceptance at festivals… the only difference was that he was getting lost on the sauce.
Whether he's chugging the sauce or pouring it for others, his main drive is to leave a lasting memory and positive influence with people. It's all about getting lost in the sauce and realizing that life is weird yet beautiful. Any place you can go and sit on someone's shoulders while squirting sauce into your mouth, while everyone cheers you on, is a place we want to be. Read our chat with the iconic Sriracha Man below and be sure to catch him at the Second Weekend of Electric Forest!
Watch the Sriracha Man get lost on the sauce at Camp EDC this year:
---
Let's start by sharing a little bit about where you're from and how you fell in love with electronic music? 
Aaron is the name I go by however among the people within the EDM scene I am also known as the Sriracha Man! Born and raised in the West Coast Bay Area city of San Jose, sauced up a fiery pavement to build a foundation to vision currently establishing my platforms.
I used to devote my life playing video games such as World of Warcraft and Counter-Strike honestly spending up to 8-18 hours glued to the screen all bad… but my passion from EDM began from nostalgically from trance, listening to such legendary tracks such as ATB's "Ecstasy" and DJ Taucher's "Ayla" Remix, those sure take me back into a place and time. I had a great pleasure in listening to the music while enjoying my favorite games blasting some real fire tunes.
I guess you could say my love for gaming ignited my passion for Electronic Music, just taking a moment to recall the memories as we wish we should have and could have,  I'm content of how electronic music reconstructed my life.
It was really cool being able to meet and rave with people who I only used to know that were worlds apart by just a game!
What was your first festival or event you attended? 
Electric Daisy Carnival Las Vegas 2012 was my first festival, and it was even more epic that it was on such a massive scale, it really is the Mecca of EDM Festivals! I had been attending events prior to EDC LV 2012 thought, my friends and I would find intel on the warehouse and underground parties. Everything I went to before I turned 18 or 21 was such a wild, magical experience!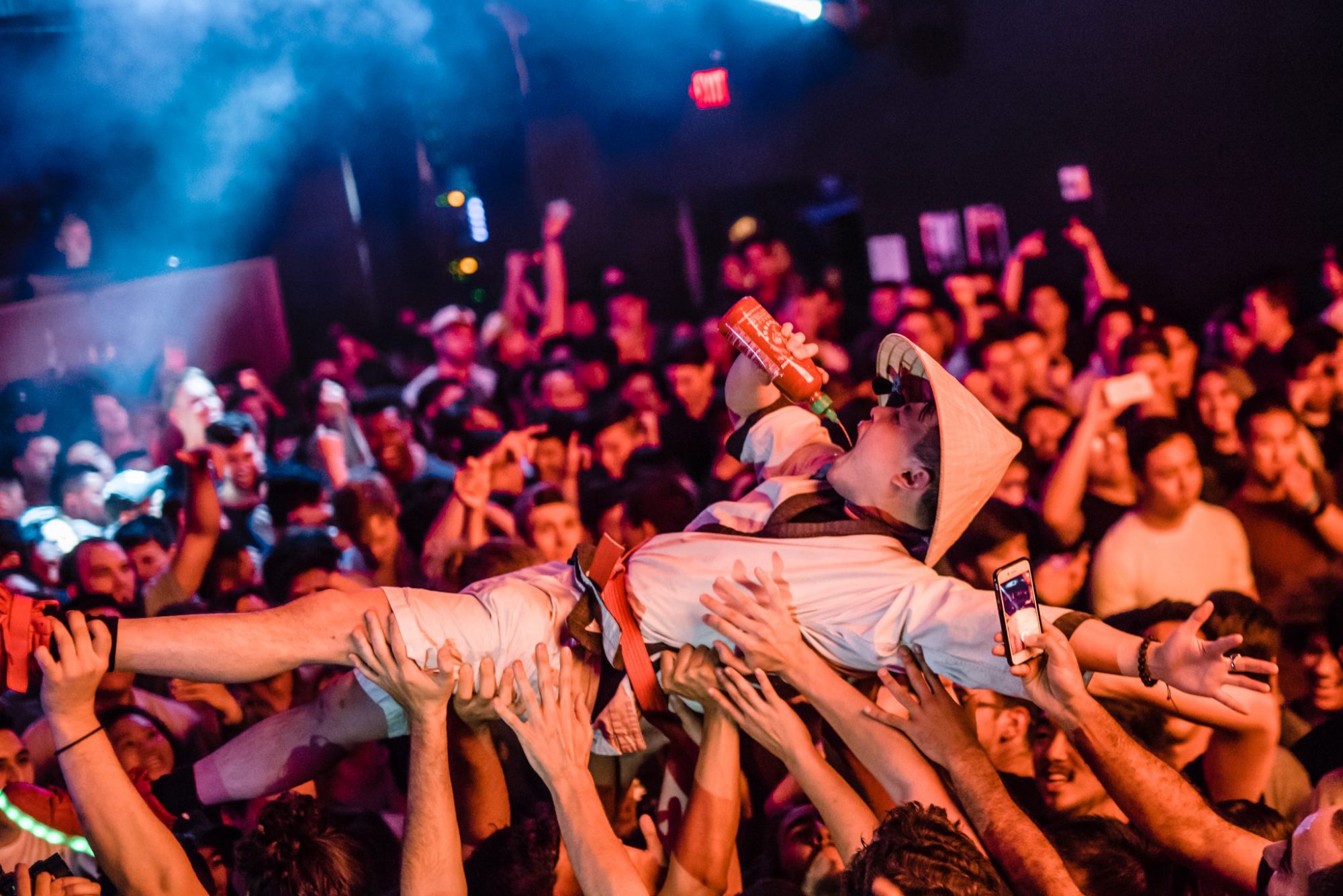 Who are some of your favorite artists that you always love to catch at events? 
I believe have been raving for over eight years religiously, you can imagine how many times I've seen the same artist. I have a buddy who always forces me to see Tiesto and Hardwell so I've seen them few times per year multiplied by eight. [Laughs]
As of recently, I've been digging the techno movement as it's getting proper recognition! One thing I can say is I like my music and beats dark and heavy, same goes for the side of Trance that I love, Psy and Tech are just pound stomping!
When did you decide to start bringing Sriracha with you and why Sriracha over other condiments? 
I didn't choose the sauce life, the sauce life chose me…
The Origins of the Sauce dates back to the year 2015 bringing in the new year of 2016 at the Oracle Arena for POPNYE. I made the mistake of not getting floor tickets and got stuck on the balcony…let'ss just say celebrating the New Year watching other people pillow fight, and party with champagne and go bananas during Dada Life Headling is no bueno.
It got really boring being on the sidelines, so I like f*ck it and went out to the food court. When I was strolling through I came across a full bottle of Sriracha standing there in all its glory, with a crazy thought I grabbed the sauce and proceeded back to the rave!
I swear over thirty phones were busted out when I got a little lost on the sauce for a brief second. This was before security escorted the Sriracha Man out of the party and building, funny story I never been kicked out of event all my life until then.
Aside from being Lost on the Sauce since 2016, all my life the Sriracha Sauce resonates as I am Rooster and an Aries, as well my heritage combined with my whole outfit. The Conic Rice Hat represents my heritage, the Martial Arts Gi represents my passion for martial arts, and the sauce is the finishing touch to complete me as a whole! You can't get more Asian than that, which why Sriracha is most suitable.
In your PLUR Video Series, you ask people what PLUR means to them, what has been your favorite response or what does it mean to you? 
Each and every response is grand and unique to a fault as hearing the feedback and positive construct it gives me great happiness and hope. The ones I do especially enjoy are the stories of acceptance as it reminds me how the scene changed me.
During my first EDC, I was lost from my friends and all three days and I was pretty much on my own due to complications and there were some periods that were frightening. I remember asking these group of bros if I could hang out with them just to be near people who could care for me in the worst case, needless to say, they welcomed me with open arms having great adventures that night! Even though I was alone I knew I truly wasn't after meeting my long-lost family and we have been pretty tight ever since!
We're sure when you're walking through the crowd people ask you for some Sriracha, what's the weirdest thing people have asked you to put it on? 
Hilarious that you ask! This past Paradiso there was a gentleman dressed as Toad from Super Mario who chugged mighty sauce. He blasphemously requested sauce in his Mojito for an extra sauce which blew my mind but legit it was good! [Laughs]
If you want oddly satisfying there was this one time I had a nice hot and bothersome experience with this lovely lady. Dancing vigorously like filthy party animals the girl brought me in a kiss but just before she said she wants a mouthful of the saucy sauce… you already know the end but, let's just say it was actually enjoyable and fun!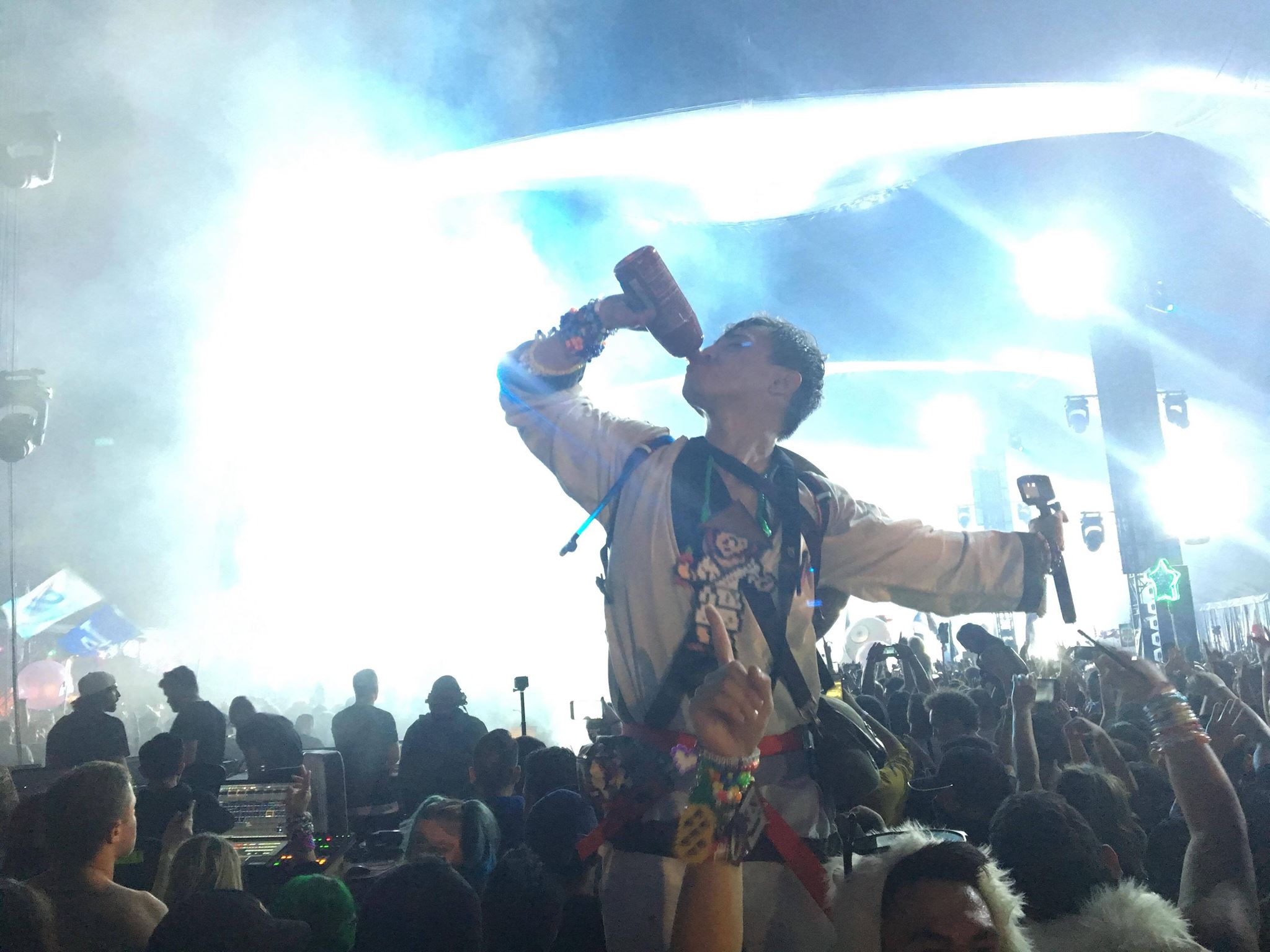 As someone who has become "rave famous" and can be seen in plenty of videos, what do you see as your role at festivals as you continue to gain notoriety? 
My mission isn't for the sake of fame, yet being famous helps bring an influence. The scene has done so much for me, and I feel deep inside that I have my purpose within the community. I hope to reach people's hearts and minds through my content and to influence them positively!
The thing I realized as Sriracha Man is that my shenanigans leave an everlasting impact on others. People tell me to this day that their friends still talk about me and that really warms my heart while forgetting the pain that comes out. [Laughs]
There are a few other condiments that seem to be prevalent at festivals, how do you feel about Ranch and its passionate followers? 
There were ideas of forming some sort of The League of Sauce. There is a legend in slumber that goes by the Tapatio Man who was my saucy duo, I hope to one day ignite the fire inside him so we can squirt our sauce together in happiness.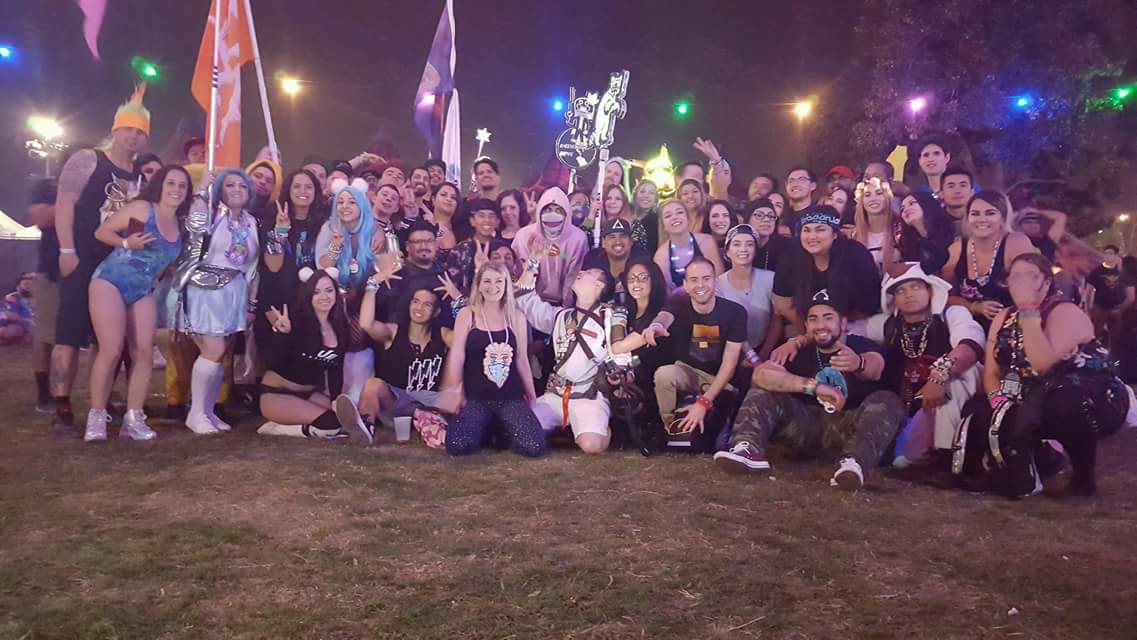 What's a special moment you've shared with a Sriracha bottle during a set? 
Honestly, there are too many memories to mention, the one that most memorable would be the great chug at the shuttle lines at EDC Las Vegas 2017! We were all dying in the line waiting for the shuttle for over four hours, and it wasn't my initial intention to chug the sauce as I climbed upon a platform to get an angle to spot my friends.
All eyes were on me when I got on top of the platform and moments later people just started chanting "Chug Chug Chug," and you know I can't really let the people down like that… It was the most epic and legendary moment that people remember fondly till this day!
Finally, Where are you planning on going next, what are some dream festivals you'd like to explore in the future? 
Electric Forest is coming up for me this weekend! This event has been a bucket-list dream for me since the beginning of my rave life, and I'm really excited for what the magical forest hidden secrets and wonders await.
When it comes to more dream festivals, I've wanted to expand into Europe to experience how raving is like there and hopefully a rave cruise such as Holy Ship, AMF, and Groove Cruise as well!
I also got the Festival Passport this year, so I'll be doing a lot of traveling and partying building the best and most unique content out there. Don't be a stranger and say hi if you see the Rice Hat & Sriracha Sauce!
---
Follow Sriracha Man on Social Media: