Are you ready for Electric Forest this year? Stay in the know with this essential info!
---
In just over a week the first weekend of Electric Forest will be kicking off and we're more than excited to return for the magic. A place that is so dear to our hearts will once again host thousands of attendees in the woods right outside of Rothbury, Michigan. With a solid lineup that covers the genre bases and an array of stages and art nestled directly into an actual forest, it is a unique festival. Four days of music, camping, and adventure await!
With the expansion to two weekends the event continues to grow and evolve, they've also announced some epic curated events that will feature artist and label takeovers! Moreover, the festival is jam-packed with activities, interactive art, a church, a silent disco and so much more. Whether you're going to the First or Second Weekend we have all the information you need to really maximize your forest experience.
Want to meet up with some other EDM Identity Fans? Join the EDM Identity Friends & Family Facebook Group to find some new friends!
Get in the groove with our Spotify Playlist for Weekend Two! 
---
Essential Info:
Dates: June 21-24, 2018 & June 28-July 1, 2018
Venue Address: 7100 South Water Road Rothbury, MI 49437
Ages: All ages are allowed, 21+ to drink.
Unless you have purchased an Early Arrival Add-on or Good Life Village package, do not arrive at Electric Forest before Thursday, June 21 at 12:01am (First Weekend) or Thursday, June 28 at 12:01am (Second Weekend). All campsites must be vacated by Monday at Noon following each weekend.
For both weekends, those who would like to arrive at the GA Campgrounds on Wednesday between 12 noon ET and 11:59 pm ET must purchase a Wednesday Arrival Parking Pass in advance. Wednesday Arrival Parking Passes are limited.
Register your wristband before you leave for the festival via Frontgate!
Download the EF App on iTunes or Google Play for the latest updates and announcements!
---
EF 2018 Weekend 1 Set Times:
Download the PDF for Weekend 1 Set Times via electricforestfestival.com!
---
EF 2018 Weekend 2 Set Times:
Download the PDF for Weekend 2 Set Times via electricforestfestival.com!
---
Festival & Camping Maps: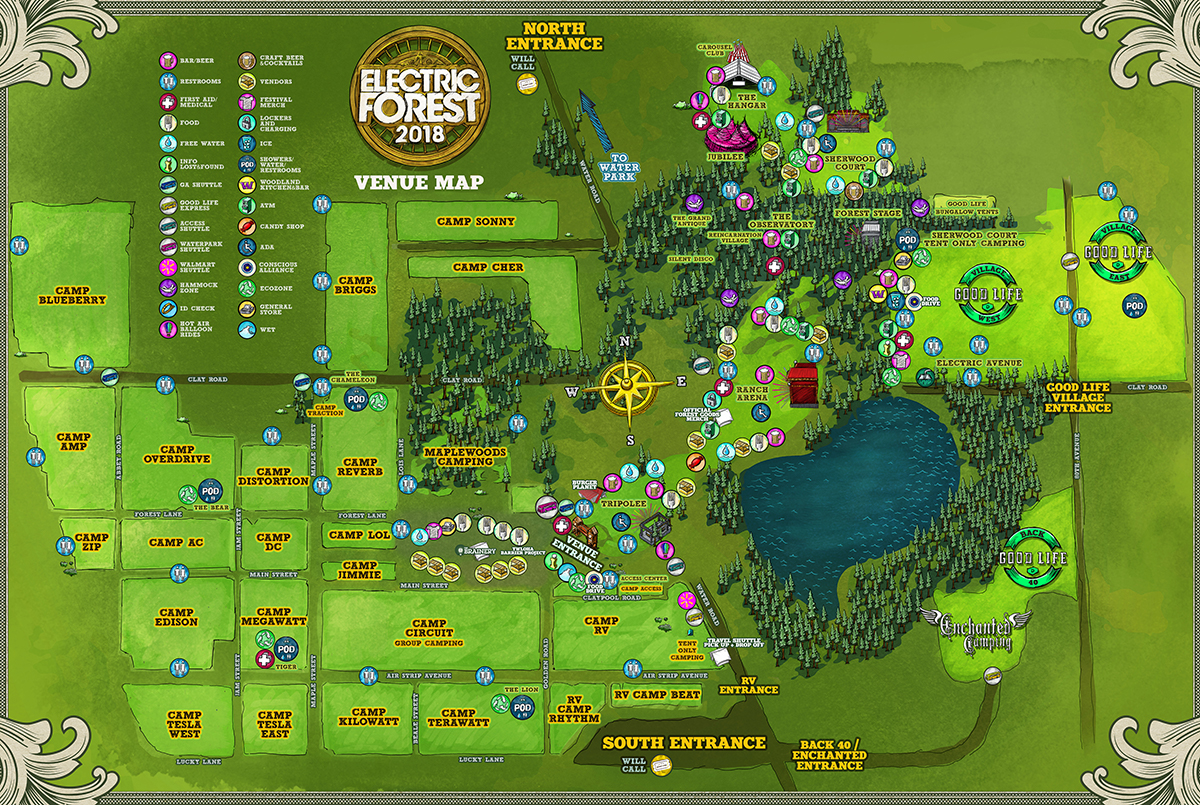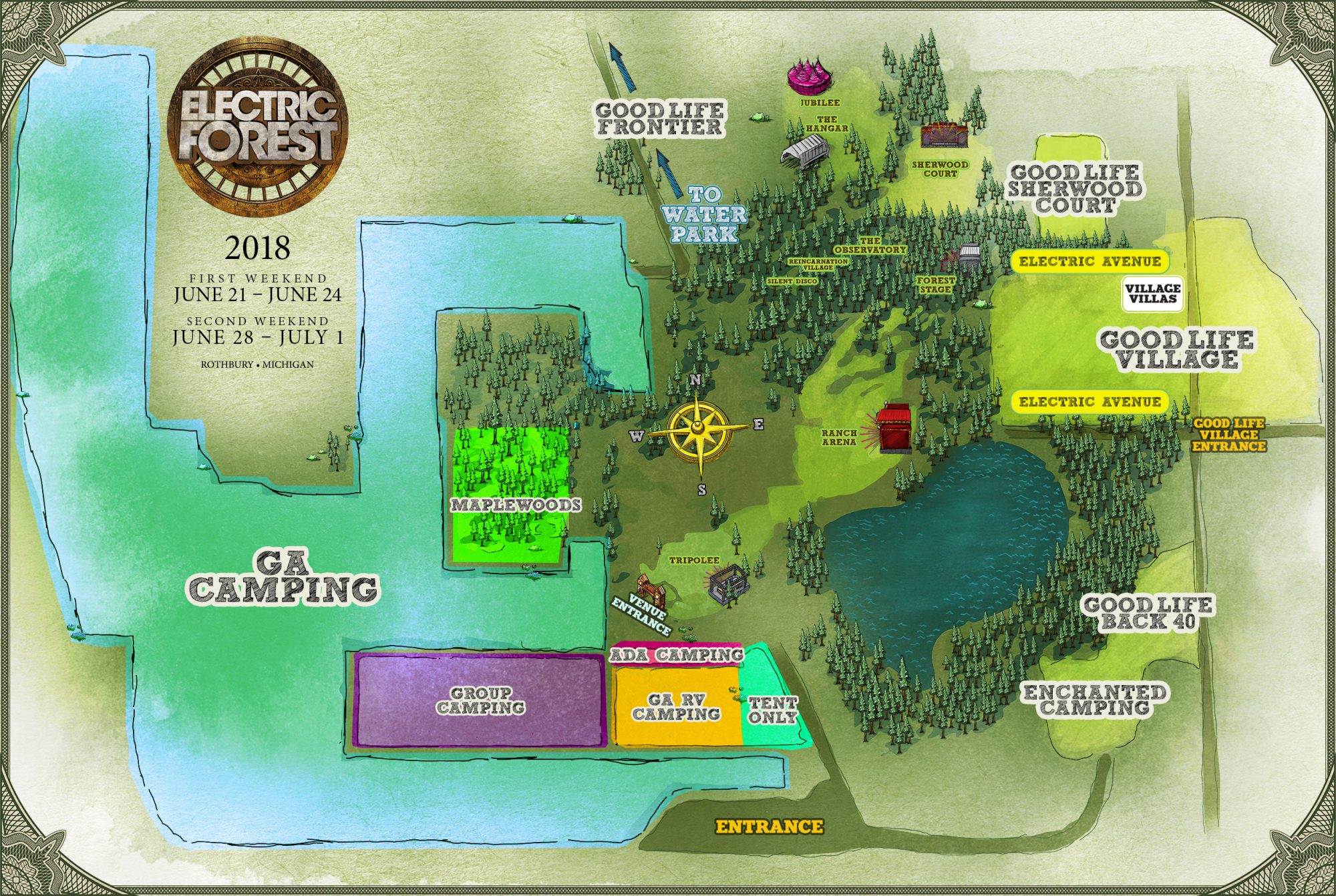 ---
ADA Info:
If you require assistance or special accommodations, please contact the ADA Team ahead of your trip. They will not only help you out with camping, parking, or while inside the festival, but they are some amazing people as well. More information about ADA can be found on their website!
---
Reminder To Mind Your Belongings:
Unfortunately, many people have reported pickpockets, bag slashings, and theft of wallets, smartphones, purses and other valuables during this festival season. While this small number of bad apples in the bunch doesn't define an entire crowd, there are opportunistic people who come to these events to take advantage of unsuspecting partygoers and it's important to be mindful of your valuables.
Looking for tips to keep your belongings safe? Check our post highlighting some ideas!
---
Do's & Don'ts:
Prohibited Items
No fireworks, flying prayer lanterns, or explosives
No grills, open flame, candles, or charcoal
No gas/fuel cans of any kind
No drones
No laser pointers
No illegal substances
No weapons of any kind
No tiki torches
No golf clubs
No hammers
No unauthorized merchandise
No helium tanks
No One Wheelers
No American Indian headdresses*
No threatening signs or apparel*
Prohibited Items Inside Venue
No outside alcohol, food, or beverage (exception: see Water Policy below)
No laser pointers
No chairs, beach chairs, or lawn furniture
No audio recording equipment/pro cameras/video equipment
No glass or glass containers of any kind
No knives of any kind
No framed or large backpacks
No picnic baskets
No tents
No bicycles, skateboards, or scooters
No wagons, strollers, or carts
No frisbees
No large markers, paint pens, or spray paint
No unauthorized soliciting, advertising, handbills, posters, product sampling, giveaways, etc.
No American Indian headdresses*
No threatening signs or apparel*
Totem Guidelines
Your totem must be no taller than 7 ft
Your totem stick should be made of something light (makes it easier to carry anyway!) – use PVC pipe or similar, no wood or metal, please!
Don't put anything that could gash a head or poke out an eye on the end of that totem. If it looks like you're preparing for a medieval joust, security may take it away!
No threatening messages on totem
Alcohol Policy
You must be 21+ to consume alcohol. A reasonable amount of unopened beer and wine (limited to 1 case of beer and one box of wine per person), will be permitted to be brought onto your camping area. If, however, in the security's judgment anyone in the vehicle is intoxicated, or the alcohol is open, then the organizers reserve the right to confiscate the alcohol.
Kegs, glass, liquor, or vending of alcohol is not permitted in the campgrounds, and alcohol may not be brought from the campsites into the festival venue.
---
Connect with Electric Forest on Social Media: