There's always room for Catz 'N Dogz in the DIRTYBIRD flock and after four long years, the duo comes home to open arms with The Feelings Factory in tow!
---
Catz 'N Dogz has an incredible history with the DIRTYBIRD family of tastemaking musical maestros, spanning back to 2007 with their very first release on the label. As they transitioned from their old 3 Channels alias to their current moniker Catz 'N Dogz, the bond between figurative mammal and poultry would be solidified. After multiple EP releases, a few albums, and a slew of remixes, they would take a four-year hiatus from the brand, but would find their way back once again with The Feelings Factory EP!
With two insanely infectious productions on the tracklist, the Pets Recordings head honchos have dug deep within their creative prowess to ensure that their homecoming would be one to remember! Oozing with pristine technical skill, Grzegorz Demianczuk & Wojciech Taranczuk lock in on the quirky DIRTYBIRD luster all the while placing their unique Catz 'N Dogz stamp on The Feelings Factory. 
We just know you are going to love what these two have dreamed up for your listening pleasure, tune in below and read on for our take on "Fine Feeling" and "Factory Settings"!
Stream Catz 'N Dogz – The Feelings Factory EP on Spotify:
Purchase or stream Catz 'N Dogz – The Feelings Factory on your favorite media platform!
"Fine Feeling" gets the party started featuring the smooth Isaac Hayes-like vocals of Robert Owens. With a touch of jazz to express its character, "Fine Feeling" is just the tune to get the good vibes flowing on the dance floor. Bringing along elements like syncopated organ chords and jazz-like percussion, this track will melt your senses like butter, leaving you hungry to get down and dirty as you groove to the mellow beat.
"Factory Settings", with Pets very own Joseph Ashworth, takes disco to the next level as the DIRTYBIRD-esque flair tickles the airwaves in all the right ways. With a crunchy bassline to lead the way, "Factory Settings" offers up fun-filled vocal chops that promise to leave its listeners vibrating from head to toe in hilarity! Seriously, it's as if a pack of crazed monkeys broke into the production studio to offer up their opinion on how to properly raise the bar on tech house insanity!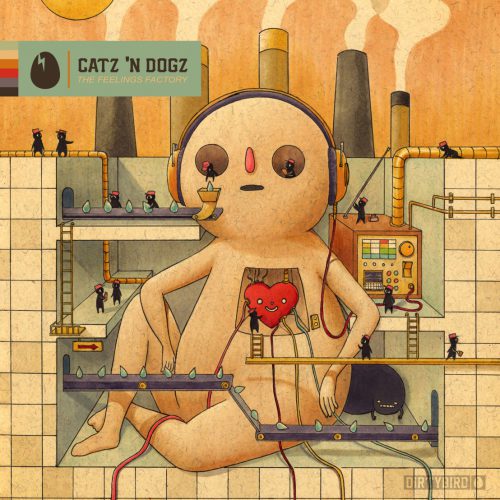 As we prepare for this years Dirtybird Campout we can only hope that Catz 'N Dogz will be included in the action! Check out all the info on Dirtybird Campout West's new venue and remember, the flash sale begins at 10 AM sharp on June 15, 2018! 
---
Connect with Catz 'N Dogz on Social Media:
Facebook | Twitter | Instagram | SoundCloud