Getter has created a new vision for himself and his music starting with his highly anticipated album VISCERAL, which is set for release in 2018.
---
If you follow Getter on his social media platforms you'll know that he has expressed his desire to "graduate" from EDM and make music that he is truly passionate about. While many wondered what direction he would go in, it seems that this week the answer was received as he released the teaser for his upcoming album, VISCERAL.
While his history features mostly dubstep and trap productions, based on the teaser it is pretty clear that this project will be different than the rest of his work. The 7-minute video contains snappy drum & bass lines, a wide array of powerful sounds, and vocals from rap-style to pop.
Related: Check out Space Laces' latest EP Overdrive featuring collaborative track "Choppaz" with Getter!
Watch the VISCERAL Album Teaser on YouTube:
Aside from the journey in sound, one of the other things to look for when an artist releases music is the art that comes with it.
Though the VISCERAL album art seemed tough on the eye at first as it's just a rib cage and lungs, the visualizer from the teaser is smooth and rotates effortlessly as the guts expand and move to the music. Looking for more insight into the album art? Back in April, Getter took to Facebook to provide the meaning:
"The ideology behind the album art is that its human guts put together in a way to make it look like a flower. Flower (beauty) surrounded by broken ribs (pain); There's beauty in the pain."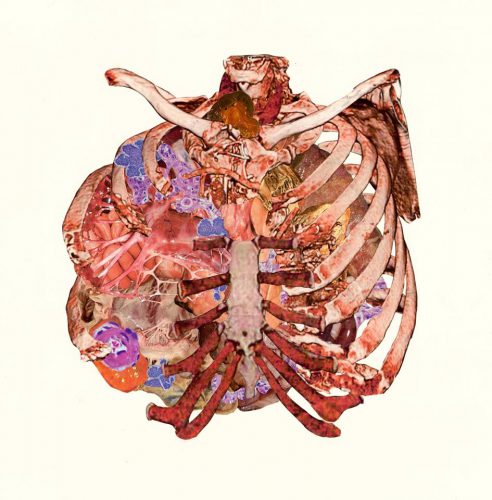 Although there is no set date for the album's release Getter promises fans will have it in 2018, so stay tuned for more information as it surfaces. Let us know what your thoughts are on the upcoming release in the comments below!
---
Connect with Getter on Social Media:
Facebook | Twitter | Instagram | SoundCloud