Movement Music Festival once again turned Hart Plaza into the underground dance music scene we all know and love as house and techno artists from all over the globe descended upon Detroit.
---
Memorial Day Weekend is the official opening weekend of the summer, right?  It's the time when pools are opened, grills are cleaned and fired up, and thousands of festival-goers descend upon the cozy industrial confines of Hart Plaza in downtown Detroit, Michigan to truly celebrate the return of something awesome: house and techno music like only Movement Music Festival can provide.
The lineup featured a stellar variety of house and techno artists with the occasional oddball to round out the mix.
In the interest of full disclosure, there was no one act that convinced me to punch my ticket to the 2018 edition of Movement Music Festival.  This would be my third consecutive year in attendance and I knew exactly what I was getting into.  Once the schedule was released, I knew that I'd have to spend some thoughtful time reviewing the conflicts and making some difficult decision.  I mean honestly, how can you choose between Justin Martin, DJ Hype b2b Hazard, Ida Enberg, and Carl Craig all at the same time?!
As with any large festival lineup, there was sure to be a fair bit of controversy surrounding some of the artists that made the cut.  With the likes of Diplo, REZZ, and The Wu-Tang Clan on the docket, this year was no exception and Movement regulars made their voices heard on social media.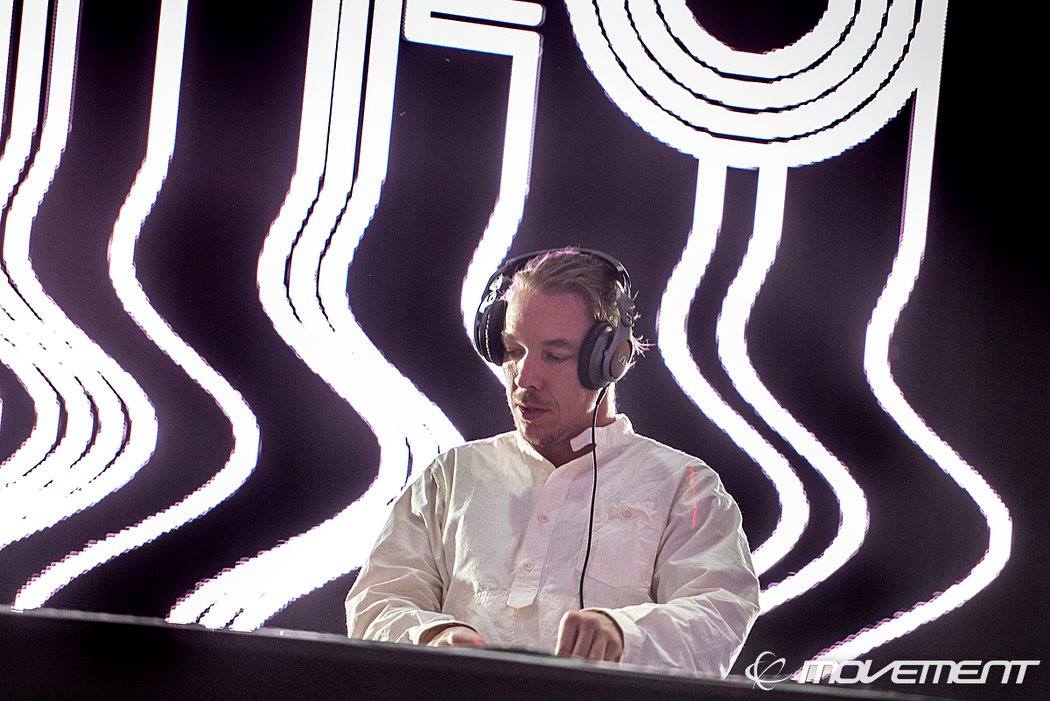 Many were incensed about the inclusion of Diplo because his wheelhouse of music rarely includes house and techno.
Known for taking on controversy head-on, Diplo delivered what I consider to be one of the most unique sets of the weekend; it was house to the core with many homages to the artists, labels, and sounds that made Detroit into Techno City, USA.  After the event, he gave this explanation on Instagram that revealed his thoughts on the issue:
I'm not gonna pretend I'm a techno head but Truth is if it wasn't for Detroit, I wouldn't be doing music.  My first love was always electro. Miami bass, getto bass, Florida breaks, and freestyle.  I was obsessed as a kid.  Maggotron, Magic Mike, Uncle Al, Jam Pony DJ Icey, Pretty Tony, I would tape radio sets and go to raves in muddy fairgrounds in Orlando as a teen.  But it was all influenced by the Detroit sound.  Before techno was huge… DJs like the Wizard blazing trails and producers like Cybotron Model 500… Belleville 3.  So many pioneers.  From Berlin to Detroit, NYC to Florida, that's my first love as a DJ.
The one thing that truly astounds me about this annual house and techno function is that it brings in artists which you would find exceedingly difficult to see if not for the festival; names like Laurent Garnier and Hito instantly come to mind.  Music is what drives this festival and you can tell that Paxahau takes tremendous pride in their work.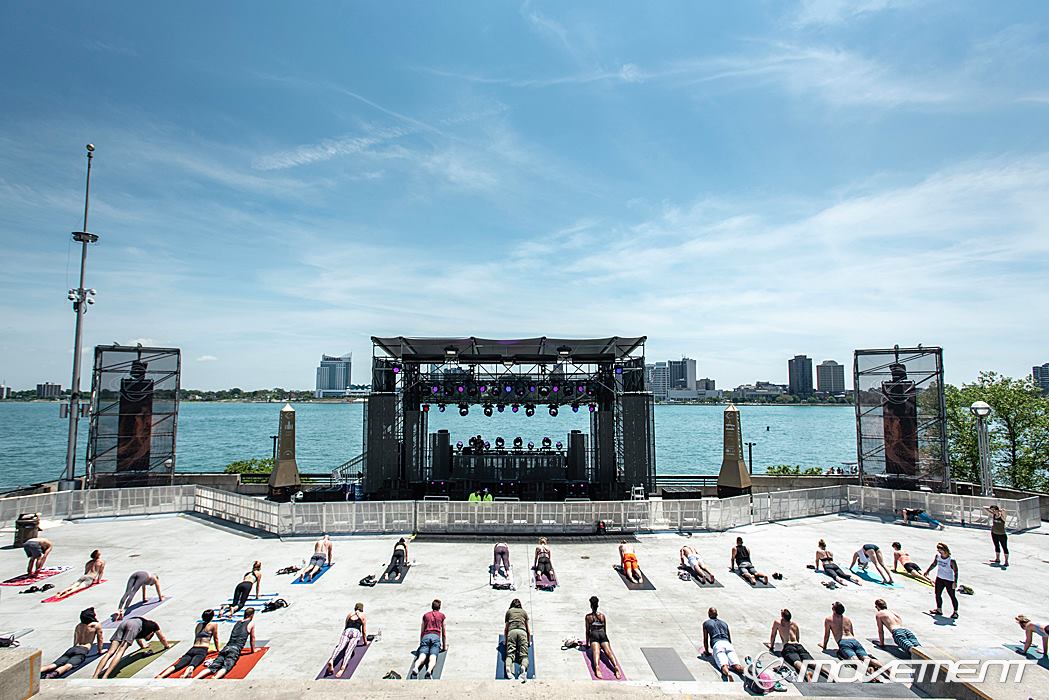 The physical space improvements to Hart Plaza were a welcome change as compared to previous years.
Hart Plaza isn't exactly the largest venue to hold a music festival.  What it lacks in size, it makes up for in intimacy and the industrial feel that Movement Music Festival is known for.  When I heard that the Pyramid Stage had been reoriented to face the concrete Pyramid on the Southeast side of Hart Plaza, I was a bit skeptical.  That area of the plaza has three hard boundaries (the East end of the plaza, the Detroit River, and the concrete pyramid itself) and space was already at a premium.
My skepticism turned out to be completely misplaced as the new orientation allowed for more spectators to gather in the area.  As an added bonus, due to the orientation of the speakers, the sound was crystal clear on the inverse side of the Pyramid as well.  If you're interested in sitting down in the shade or admiring the artwork, you can easily do so and listen to crunch tunes.  This is a huge win.
Other changes included the addition of Club 303, a lounge area constructed in the bowl of the main stage.  The new space offered soft seating and a private bar for patrons willing to shell out a bit more dough.  The last change of the year was the elimination of the "Made In Detroit" stage.  In lieu of music, the area was filled with vendors and ample green space to relax with friends.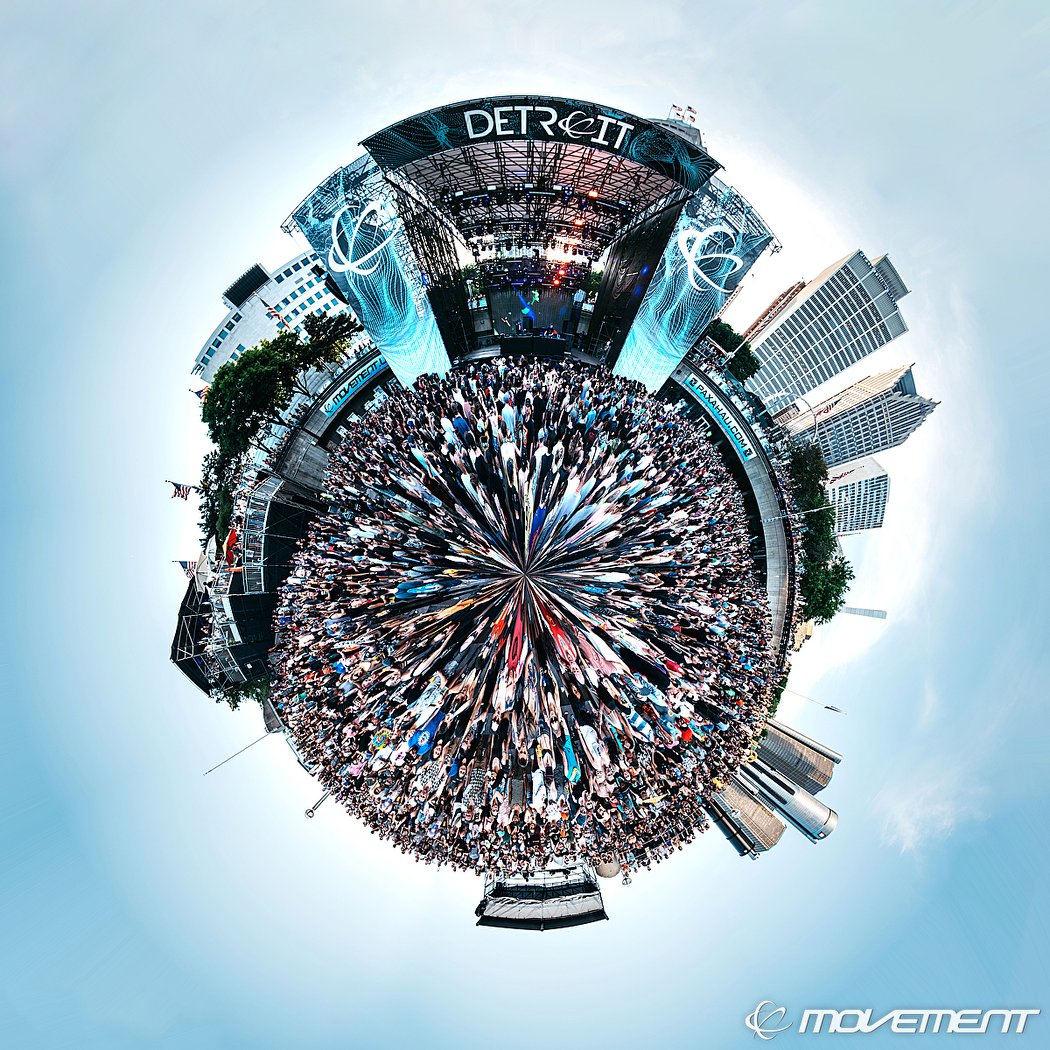 Detroit is quickly turning into a food destination and the vendors at the festival showcased its burgeoning talent.
It seems that there are two types of people at most music festivals: those who don't eat anything and those who stuff their faces as if the world were ending.  I usually skew towards the latter side of that spectrum and I was extremely pleased with the variety of options at Movement Music Festival.  Whether you were after some Detroit style pizza or the always delicious Slows BBQ, your tastes could be met, and quickly.
While the food vendors were always johnny-on-the-spot with their efficiency, the bartenders left a bit to be desired.  Not every service station was able to accept payment cards which led to the regular formation of long lines.  Every purchase required proof of ID; this always leads to longer wait times and can be solved by simply issuing wristbands for those of age.  While not the end of the world, it was noticeable and I found myself wondering how much music I'd be missing if I opted to booze it up.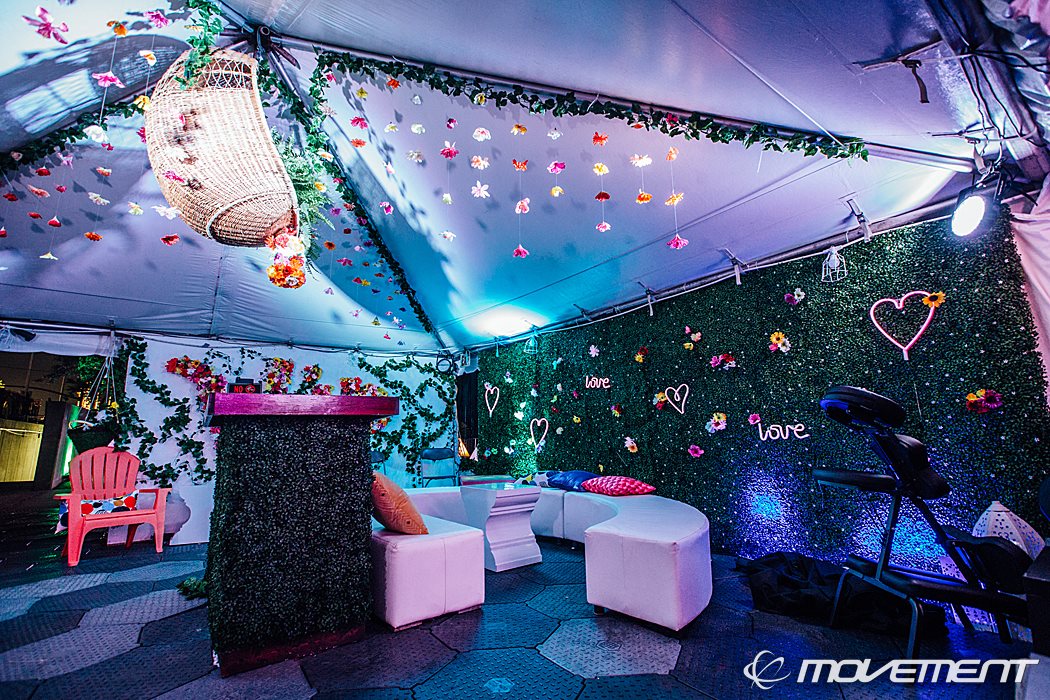 The VIP amenities at Movement Detroit were well worth the extra coin.
I am not the type of person who regularly purchases VIP tickets for events.  I find that the added convenience is rarely worth the cost and does not result in a better experience; Movement Music Festival proved me wrong.
From the VIP entry line, which never had more than ten people queued to the private bars with additional selections of craft beers and cocktails, it was already looking to be worthwhile. Adding to the value was the soft, shaded seating, the intimate stage that featured exclusive sets, the air-conditioned bathroom trailers, the VIP area, and more, making this a great deal.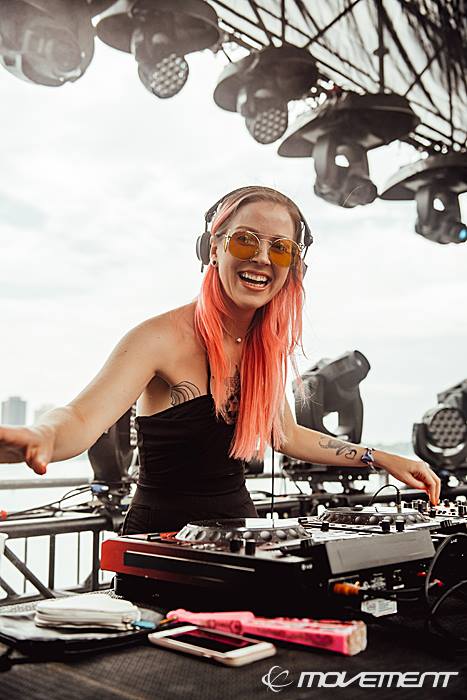 The vibes on the first day are crucial to setting the tone for the entire weekend!
I often find that the first day of any major festival is filled with excited patrons who are eager to get in early and stay late.  This is especially true at Movement Music Festival where the festival runs Saturday through Monday of Memorial Day Weekend.  Festival-goers can easily accommodate their regular work schedules and still enjoy the entire weekend.  This lends itself to establishing a very chill environment that permeates throughout the festival.
My favorite set of the day was an artist that I'd never seen before: Öona Dahl.
Before I embarked upon my journey to Detroit, I made sure to ask some trusted friends who they thought I should see at the festival.  Without hesitation, a friend immediately said Öona Dahl.  I made a point to get to the festival quite early on Saturday as her set ran from 2 to 4:30 pm; this was perhaps one of my best decisions of the weekend.  She played a set that was filled with tech and tech/house and felt like it could have been performed on the playa at Burning Man.
After her set was finished, I made a point to go wander around the festival to see as many artists as I could.  Latmun threw down a tremendously dark and groovy tech house set at the main stage that had the crowd dancing like fools.  Before taking a breather in VIP, the legendary Stacey Pullen had the Stargate Stage filled to the brim and bouncing like a pogo stick.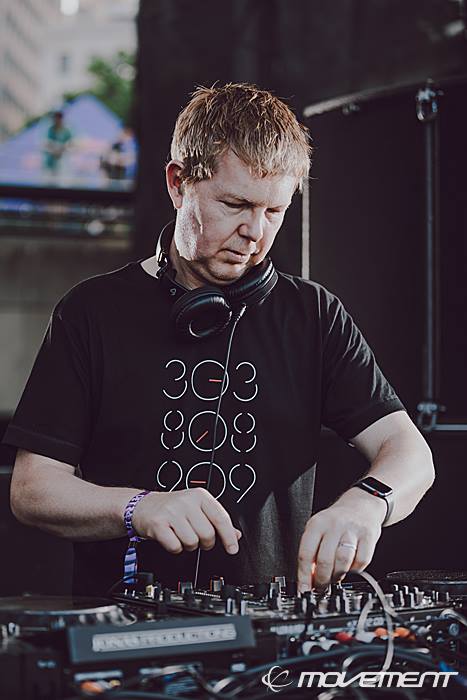 Sunday Funday, or Sunday Technoday?
The afterparties surrounding Movement Music Festival are notorious for going into the wee hours of the morning; as a result, there is a noticeable late arriving trend of those who make it into the festival on Sunday.  Staying up all day and night dancing can be hard, but someone has to do it!
I started my day off with some Gene Farris at the Stargate Stage and it was exactly the vibes I needed to get things off to a great start.  After playing some banging tech house, he left the crowd with a timely remark that reminded me to stay in the moment and enjoy m time at the festival:
Dreams come true.  I've been partying at Movement for 20 years and I'm just happy to be here.
After hanging around at the Stargate Stage for a fair bit of the Saunderson Brothers set, I took a quick breather before heading across the festival grounds to catch Tiga.  I was quite excited to see him perform although I must say his live set was not what I was expecting; his productions always have this catchy vibe that gets right into your head and slowly work their way out.  His live set was much more of a minimal, driving techno feel.  While it wasn't what I had expected, it was quite good.
The highlight of the second day came in the form of a ridiculously good John Digweed set at the main stage.  His style of minimal, driving, electro techno was everything that the crowd desired and then some.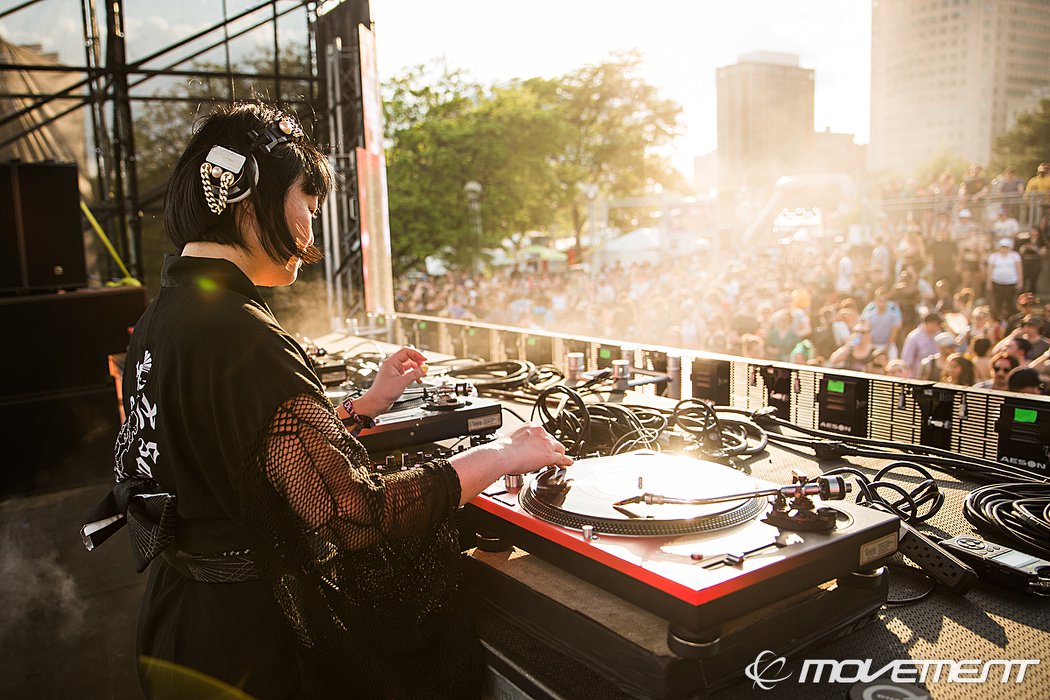 The true warriors survive and advance to the third and final day of Movement!
It wasn't until the sun had started setting on Hart Plaza that the crowd truly started arriving in earnest.  This was truly a shame as they missed a truly phenomenal set from Detroit locals Golf Clap at the Stargate Stage.
The time slot immediately following turned out to be the most difficult for me from a scheduling perspective.  On one hand, I wanted to check out Hito, an artist that I'd never seen before but who was strongly recommended by multiple friends; on the other, I had to get my Dirtybird fix and see the always stellar J. Phlip.  Incidentally, I went to the Pyramid Stage first to see Hito and found it nearly impossible to pull myself away from her techno mastery.  I feel for the vinyl that she destroyed on that beautiful Monday afternoon.
Upon arriving at the Stargate Stage, I immediately noticed that the crowd size had at least doubled from Golf Clap nearly an hour earlier.  Without fail, J. Phlip delivered track after track of phenomenal, moving house music.  In my opinion, she is the best technical DJ of all the Dirtybirds and it shows in how the crowd responded to her style.
Before closing out the evening, I caught some of Ellen Allien's and Dubfire's sets at the Pyramid Stage.  Allien was as eccentric as one would expect and got the crowd perfectly worked into a frenzy before Dubfire took over.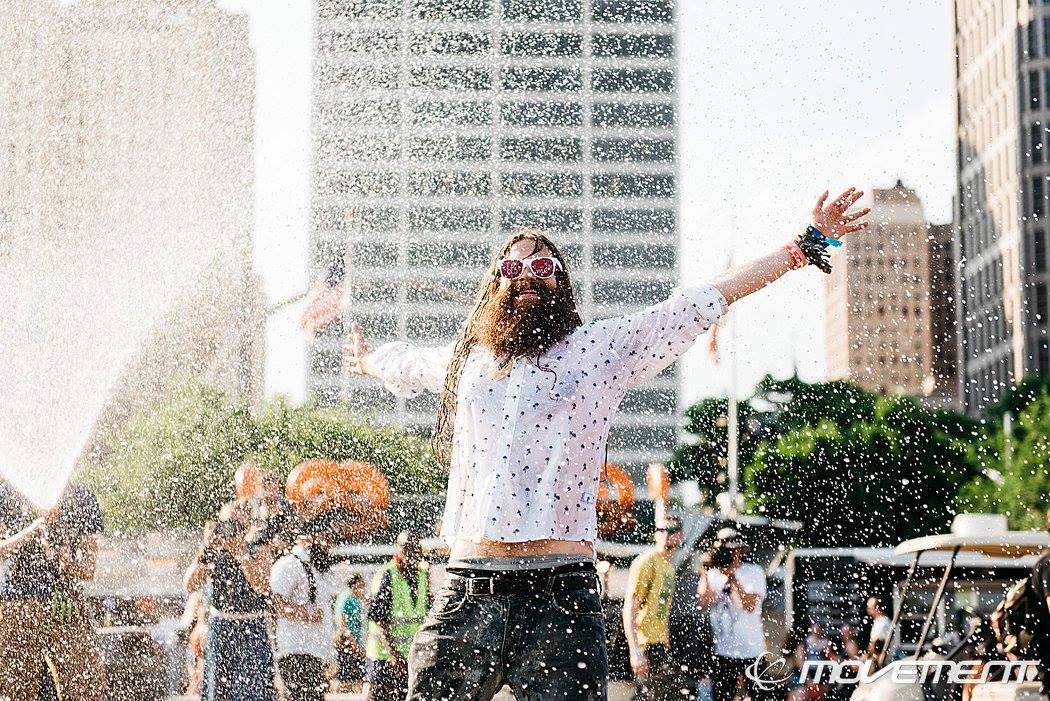 Staying hydrated can be challenging at Movement Detroit.
Many music festivals have figured out that a basic requirement for all humans is the need to consume copious amounts of water, especially when dancing in the hot and humid environment that is so often found in the Midwest.  Movement isn't one of those festivals.
Bottled water was available for sale at all the food vendors and bars but there isn't a single water refill station to be found on-site.  There were eight sinks split between a pair of gendered bathrooms near the Pyramid Stage that have become the defacto water filling areas but these are paltry compared to other mainstream music festivals.
As someone who always carries a hydration pack with me to outdoor music festivals, I find it to be extremely gross and unsanitary to fill the water bladder from a sink, especially when said sink isn't large enough to actually allow the entire bladder to fill without hitting the sides and bottom.
Paxahau, if you're reading this, please consider this my earnest plea to add water filling stations to the infrastructure for Movement Music Festival 2019!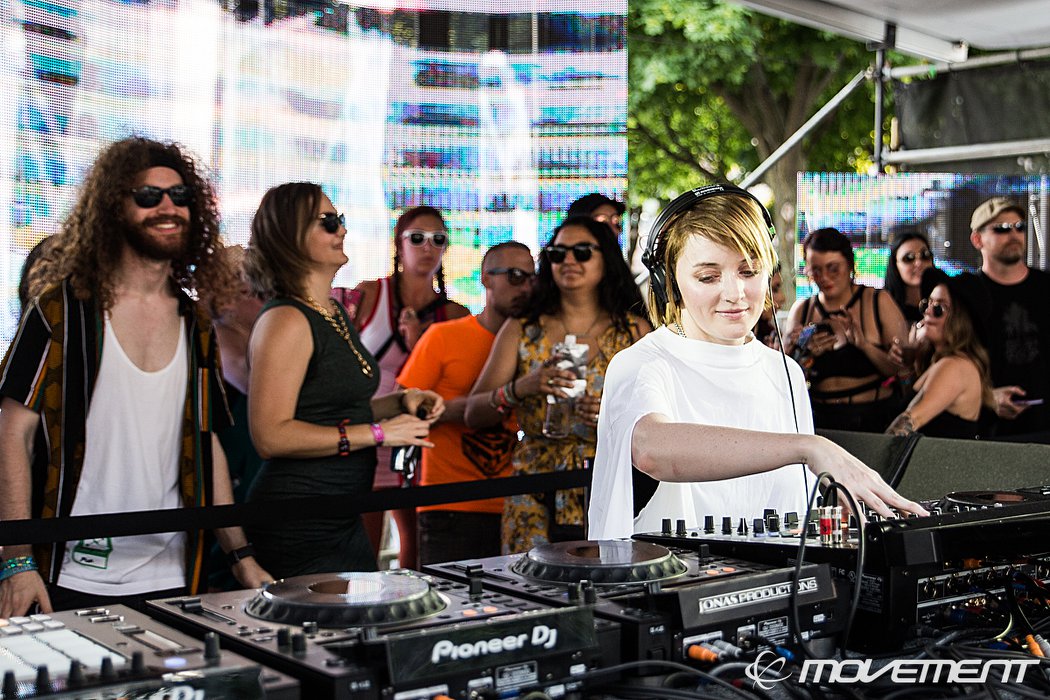 Overall, Movement Music Festival 2018 was a smashing success.
Top to bottom, this years edition of Movement Music Festival was a great event that showcased some of the best house and techno artists from all over the world.  I found myself truly in awe of the moment that was shared by thousands at Hart Plaza and look forward to attending this event for many years to come.  Kudos to Paxahau and the City of Detroit for making this event all that it has become.
---
Connect with Movement Music Festival on Social Media: