Heading to Movement Music Festival in Detroit this year? Stay in the know with this essential info!
---
Hosted over Memorial Day Weekend, Movement Music Festival has become one of North America's most renowned destinations for lovers of the sounds of the underground. Boasting of an absolutely stacked lineup featuring the best and brightest of the house and techno scene, the excitement is palpable.
With only a little over a month to go before house and techno fans from all over the world descend upon Detroit, Movement Music Festival has released the schedule for the 2018 edition of the event. Now those who are attending can begin to plan who they'll see at the event while also weighing out the inevitable conflicts between some favorites.
We've compiled all the information you'll need to have a fantastic weekend in Detroit at Movement, so read on for the set times, which items to leave at home, and more.
Tickets for Movement Music Festival are still on sale via SeeTickets! Still on the fence? Read our review of the 2017 edition.
---
Movement Music Festival Essential Info:
Dates: Saturday May 26 at 12 PM to Monday May 28 at 12 AM
Venue Address: Hart Plaza  – 1 Hart Plaza, Detroit, MI 48226
Ages: All Ages
Tickets: BUY HERE
Facebook Event Page: RSVP HERE
Gate and Box Office Hours
Friday, May 25th from 5pm – 9pm
Saturday, May 26th from 10am – 11:30pm
Sunday, May 27th from 12pm – 11:30pm
Monday, May 28th from 12pm – 11:30pm
Not finding what you need? Check the official Movement Music Festival website for every bit of information you need for the festival!
---
Movement Music Festival 2018 Set Times: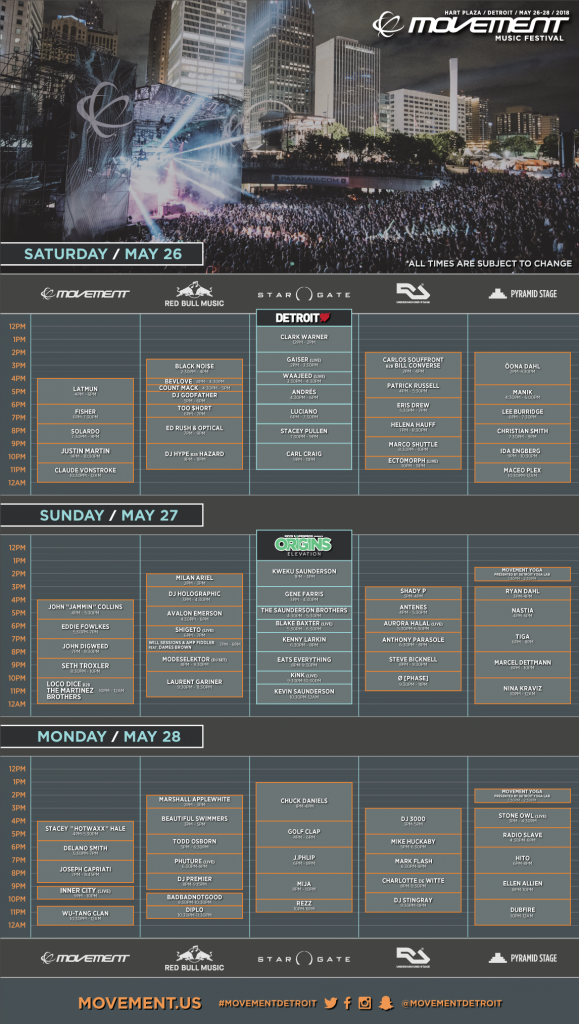 ---
Movement Music Festival 2018 Festival Map:
Coming Soon!
---
Movement Music Festival 2018 Do's & Don'ts:
Permitted Items:
• Baby strollers
• Backpacks (Standard school sized. No framed backpacks or camping gear)
• Binoculars
• Blankets, sheets, towels
• Cameras (no detachable lenses) – must be without equipment attachments such as camera stands, selfie sticks, tripods, and monopods
• Empty CamelBak-type hydration packs and water bottles, and plastic or aluminum water bottles
• Umbrella (hand-held ONLY and no bigger than 42 in. when open)
Prohibited Items:
• Aerosol containers, including sunscreen and personal beauty products
• Any and all professional audio recording equipment
• Shoulder-mounted video cameras
• Cameras with detachable lenses, camera stands, monopods, tripods, attachment sticks (selfie sticks) or other commercial equipment
• Drones or any other remote flying device
• Laser pointers
• Coolers of any kind (exceptions may be made for medical use)
• Framed backpacks
• Glass and metal containers of any kind, except for aluminum water bottles
• Illegal and illicit substances of any kind
• Outside food or beverage (including alcohol)
• Skateboards, scooters, bicycles, wagons, carts or any personal motorized vehicles (with the exception of disability-related items)
• Pets (except documented service animals)
• Professional radios or walkie-talkies
• Unauthorized/unlicensed vendors are not allowed
• No solicitation and/or promotional materials including handbills, flyers, stickers, beach balls, giveaways, samples, etc.
• Weapons or explosives of any kind
• Fireworks
• Bicycles inside festival grounds (free bike valet is available east of the festival entrance)
• Carts or wagons of any kind.
---
Reminder To Mind Your Belongings:
Unfortunately, many people have reported pickpockets, bag slashings, and theft of wallets, smartphones, purses and other valuables during this festival season. While this small number of bad apples in the bunch doesn't define an entire crowd, there are opportunistic people who come to these events to take advantage of unsuspecting partygoers and it's important to be mindful of your valuables while at Movement Detroit.
Looking for tips to keep your belongings safe? Check our post highlighting some ideas!
---
Connect with Movement Music Festival on Social Media: