The party doesn't stop after Movement Detroit shuts down for the evening. Check out these sick after parties now!
---
Presented by Paxahau Events, Detroit's annual Movement Music Festival 2018 will bring thousands of attendees from all over the country to the iconic Hart Plaza for three days of some of the best house and techno. The festival ends at 12am each night but that doesn't mean the party has to stop.
Ask anyone who has attended this event before and they will share that Detroit doesn't sleep during Memorial Day Weekend!  In fact, the after parties are often times wilder than the festival itself. Given the absolutely enormous list of events that you could attend throughout the weekend, we've compiled a list of our top #MovementDetroit after parties.
Be sure to secure your tickets if you haven't already done so as many of these will sell out. You can find a full list of official Movement after parties on the festival's website.
Headed to Detroit for Memorial Day weekend? Don't miss a beat and stay organized with all your set times, festival map, and more!
---
Dirtybird Players Detroit at The Masonic Temple: An Official #MovementDetroit Afterparty
Lineup: Claude VonStroke, Justin Martin, Fisher, and an opener TBA
Date: Sat, May 26, 2018 11:00 PM – 4:00 AM
Venue: The Masonic Temple, Detroit – 500 Temple Avenue Detroit, Detroit, Michigan 48201
Age Restriction: 18+
Cost: $35
Tickets: Purchase Here
Facebook Event Page: RSVP Here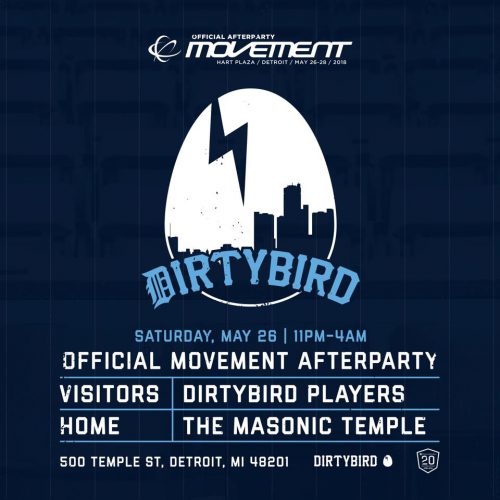 ---
Paradigm & Paxahau Present: Maceo Plex | Ida Engberg: An Official #MovementDetroit Afterparty
Lineup: Maceo Plex, Ida Engberg, Giorgia Angiuli (live), Jason Patrick
Date: Saturday, May 26, 2018 10:00 PM – 6:00 AM
Venue: The Leland Hotel (City Club) – 400 Bagley St, Detroit, MI 48226
Age Restriction: 18+
Cost: $30-$45
Tickets: SOLD OUT
Facebook Event Page: RSVP Here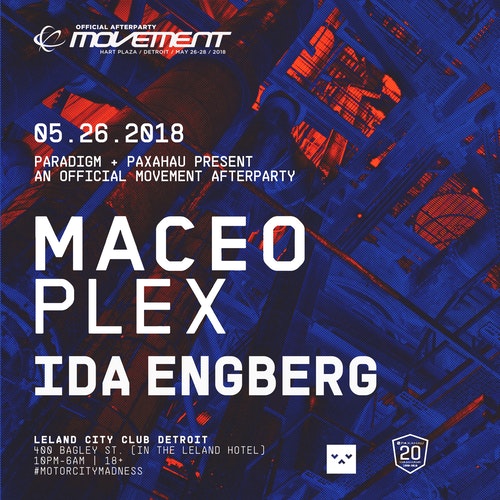 ---
Paradigm & Paxahau Present: Seth Troxler B2B The Martinez Brothers | Loco Dice B2B Stacey Pullen: An Official #MovementDetroit Closing Party
Lineup: Seth Troxler B2B The Martinez Brothers, Loco Dice B2b Stacey Pullen
Date: Sun, May 27, 2018 10:00 PM – 6:00 AM
Venue: The Leland Hotel (City Club) – 400 Bagley St, Detroit, MI 48226
Age Restriction: 18+
Cost: $30-$45
Tickets: SOLD OUT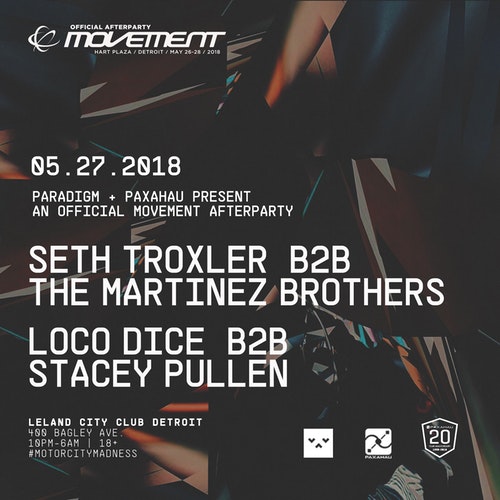 ---
Country Club Disco Warehouse After Party with Chris Lake
Lineup: Chris Lake, Justin Jay, Yotto, Cut Snake
Date: Sun, May 27, 2018 10:00 PM – 4:00 AM
Venue: The Russell Industrial Center – 1600 Clay St., Detroit, MI, 48211
Age Restriction: 18+
Cost: $25-$50
Tickets: Purchase Here
Facebook Event Page: RSVP Here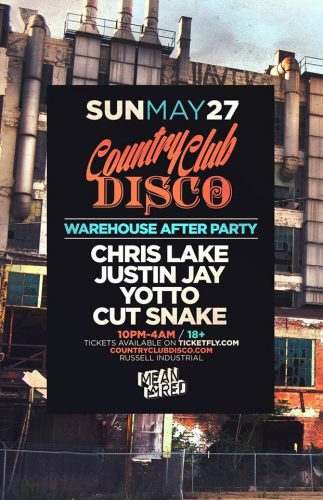 ---
Dax Presents and My Baby Present: OK Cool: An Official #MovementDetroit Afterparty
Lineup: Eats Everything, Ardalan, Delano Smith, Ralph Lawson, Cosmin Trg, Eddie C, Tara Brooks, Ataxia, Atnarko, Dax Lee, Mr. Joshooa, Taimur, Anthony Mansfield, Loren, Victor Vega, Beige, Steve the Amazing
Date: Sun, May 27, 2018 10:00 PM – Mon, May 28 11:59 PM
Venue: TV Lounge – 2548 Grand River Ave., Detroit, Michigan 48201
Age Restriction: 21+
Cost: $30
Tickets: Purchase Here
Facebook Event Page: RSVP Here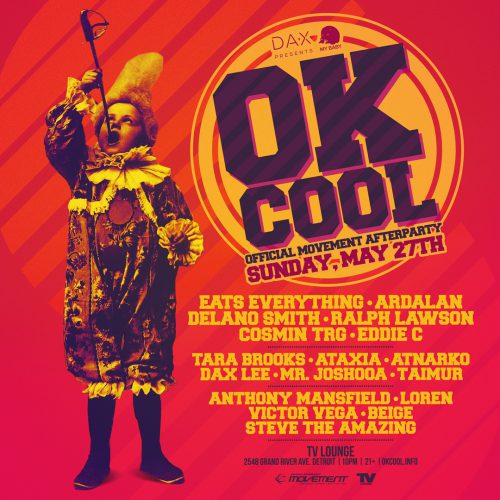 ---
Sampled Detroit & Marble Bar Present: Sampled Sixteen: An Official #MovementDetroit Afterparty
Lineup: Riva Star B2B Harvard Bass, Kenny Glasgow B2B Chuck Daniels, Mark Farina B2B DJ Heather, Andrés B2B Rick White, Jason Hodges B2B Wally Callerio, Shaun J. Wright B2B DJ Holographic, Burning Bridges B2B Hiroko Yamamura, Hazmat Live, Punisher B2B Rufus Gibson
Date: Sun, May 27, 2018 11:00 PM – 6:00 AM
Venue: Marble Bar – 1501 Holden St., Detroit, Michigan 48208
Age Restriction: 21+
Cost: $30+
Tickets: Purchase Here
Facebook Event Page: RSVP Here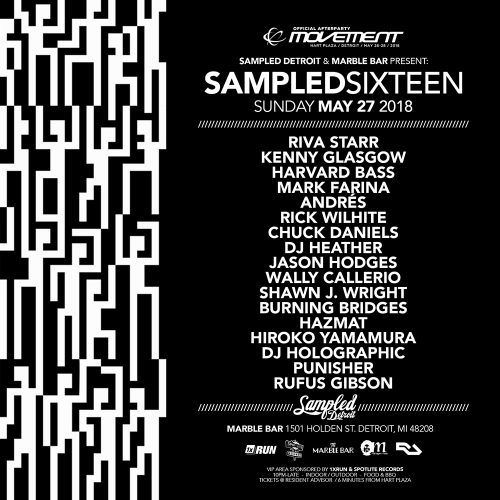 ---
Repopulate Mars: An Official #MovementDetroit Afterparty
Lineup: Lee Foss, Moon Boots, Nathan Barato, Anabel Englund, Will Clarke, John Johr, Dru Ruiz
Date: Mon, May 28, 2018 11:00 PM – 4:00 AM
Venue: Magic Stick – 4120 Woodward Ave., Detroit, MI 48201
Age Restriction: 18+
Cost: $20
Tickets: Purchase Here
Facebook Event Page: RSVP Here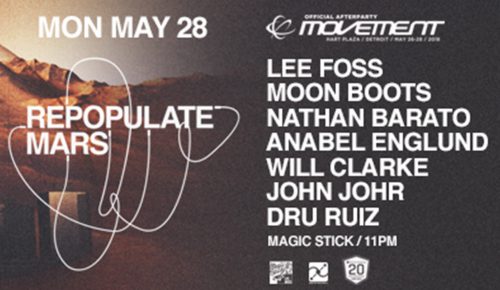 ---
The Blu Party
Lineup: Doc Martin, Gene Farris, Kenny Glasgow, Christian Martin & Worthy, Nitin, Sydney Blu, Soul Goodman, Dabura & Derek Specs, Miz Megs & Evan G, Franceso E Marcello, Honolulu Boys
Date: Mon, May 28, 2018 10:00 PM – 4:00 AM
Venue: Level 2 Bar & Rooftop – 535 Monroe Ave., Detroit, Michigan, 48226
Age Restriction: 21+
Cost: $30
Tickets: Purchase Here
Facebook Event Page: RSVP Here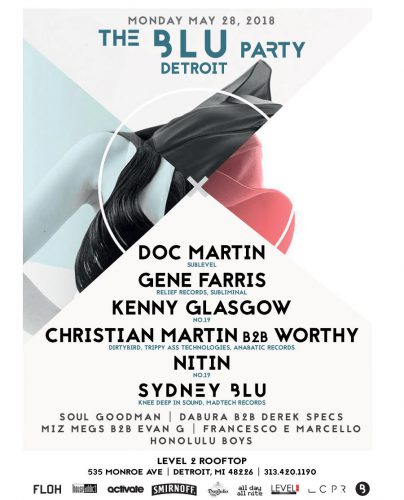 ---
KMS ORIGINS
Lineup: Kevin Saunderson B2B KiNK, Octave One, DJ Minx
Date: Sun, May 27, 2018 11:00 PM – 4:00 AM (Doors 11:00 PM)
Venue: Magic Stick – 4120 Woodward Ave. Detroit, MI 48201
Age Restriction: 21+
Cost: $30
Tickets: Purchase Here
Facebook Event Page: RSVP Here

---
Follow Movement Music Festival on Social Media