Who doesn't love when a release gets some juicy vinyl exclusives?
---
Alex Ridha is no stranger to the odd inner-workings of the dance music circuit.  The DJ/Producer better known as Boys Noize continues to hover and blend his unique style of Techno with Tribal, Electro, and Acid and captivate ears the world over.  Since emerging in 2004 as a new flag-bearer for the experiments that are part of the electronic music's culture, he's cut track after track in an effort to boost new sounds throughout an industry.
Collaboration is so tasty!
As such, Boys Noize – now an artistic director for Louis Vuitton as well – teamed up with Virgil Abloh, a Rockford, Illinois born architect and civil engineer with a mind for the creative – to the tune of becoming creative director for Kanye West's "Donda" creative think tank.
Working over numerous analog synthesizers in the Boys Noize Berlin-based studio, the two creative minds concocted their first collaboration "ORVNGE."  Released back in January, it offers an organic approach to the structure while blending synths back and forth.
Check out "ORVNGE" by Boys Noize & Virgil Abloh on YouTube:
No rest for the weary!
Never one to rest on a single accomplishment though, Boys Noize, who's about to play at EDC Las Vegas next week, and Virgil Abloh completed not only one track, but actually grabbed enough studio time to pull together three productions.  If you fancy a listen though, there is a catch.  You can only get the other two tracks by picking up the vinyl release of the ORVNGE EP.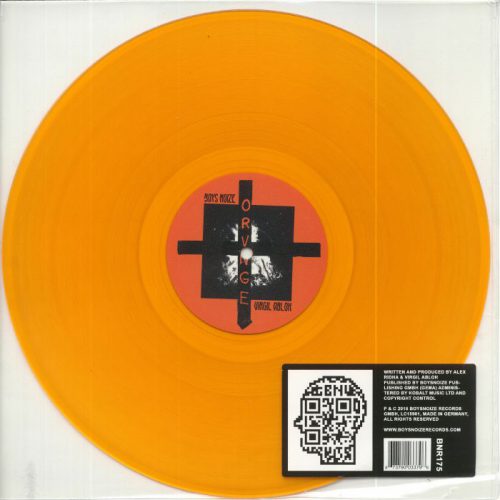 A peek behind the vinyl exclusive curtain.
The two b-side tracks are titled "??" and "Sirene."  "??" feels like the organic growth out of the ending of "Orvnge" with its deep bass swells, similar percussion, and almost ghostly or haunting melodies. "Sirene" on the other hand brings the dark industrial vibe to the EP.  Overlaid the top is a descending synthesizer melody and some extremely haunting effects work.  The vocal effects, in particular, are reminiscent of the sounds of dolems in the anime RahXephon – almost operatic in a way.
If you are a vinyl lover and love the experimentation that Boys Noize compiles in his back catalog, pick up a copy of this special release!
Grab the ORVNGE EP via mail order or by clicking right one of these online shops!
---
Connect with Boys Noize:
Website | Facebook | Twitter | Instagram | SoundCloud | YouTube
Connect with Virgil Abloh: