One of California's most heartfelt gatherings took a large step forward to becoming an even bigger force in the festival community.
---
After having trouble securing a venue in 2017, Serenity Gathering decided to take a year off and concentrate on finding a better home for themselves. When it was able to be worked out that they could bring the festival to Woodward Reservoir, many people were soon teeming with excitement. The possibilities for a festival during the spring months meant there would be beautiful green grasses and the potential for warmer weather.
Shortly after arriving, there was no disappointment in the venue or the weather. There were green grasses, purple flowers, and water that looked very inviting. The ingress was nice and easy, and finding our group wasn't hard in the slightest. Wanting to get going with the weekend, my crew and I set up camp and got ready to check out our first set of the night; Charlesthefirst.
Fresh off his performance at Bicycle Day, Charlesthefirst's set was full of dub and bass that was melodic, welcoming, and made everyone's feet dance.
The crowd was loving it and there was a great vibe of energy on the dance floor. Shortly after that amazing set, it was a short stroll over to the main stage where G Jones was getting ready to throw down his own collection of tunes. His set was remarkable, and he pulled out all the stops to make sure that it was tuned specifically for his hometown fans.
Aside from my initial impression musically, something else caught my eye at the main stage as well.
I noticed that there was an art gallery along with live painters on both sides of the main stage, allowing for attendees to check out some creations made in real time. This is something that isn't typically seen at non-camping festivals, and it was impressive to see the different pieces that were being created at the festival.
The after hours at Serenity Gathering were filled with lots of time at the New Moon stage to watch amazing acts such as Labrat and the Moontribe take over. The chilled out vibes made this a great spot to enjoy late into the night and early in the morning.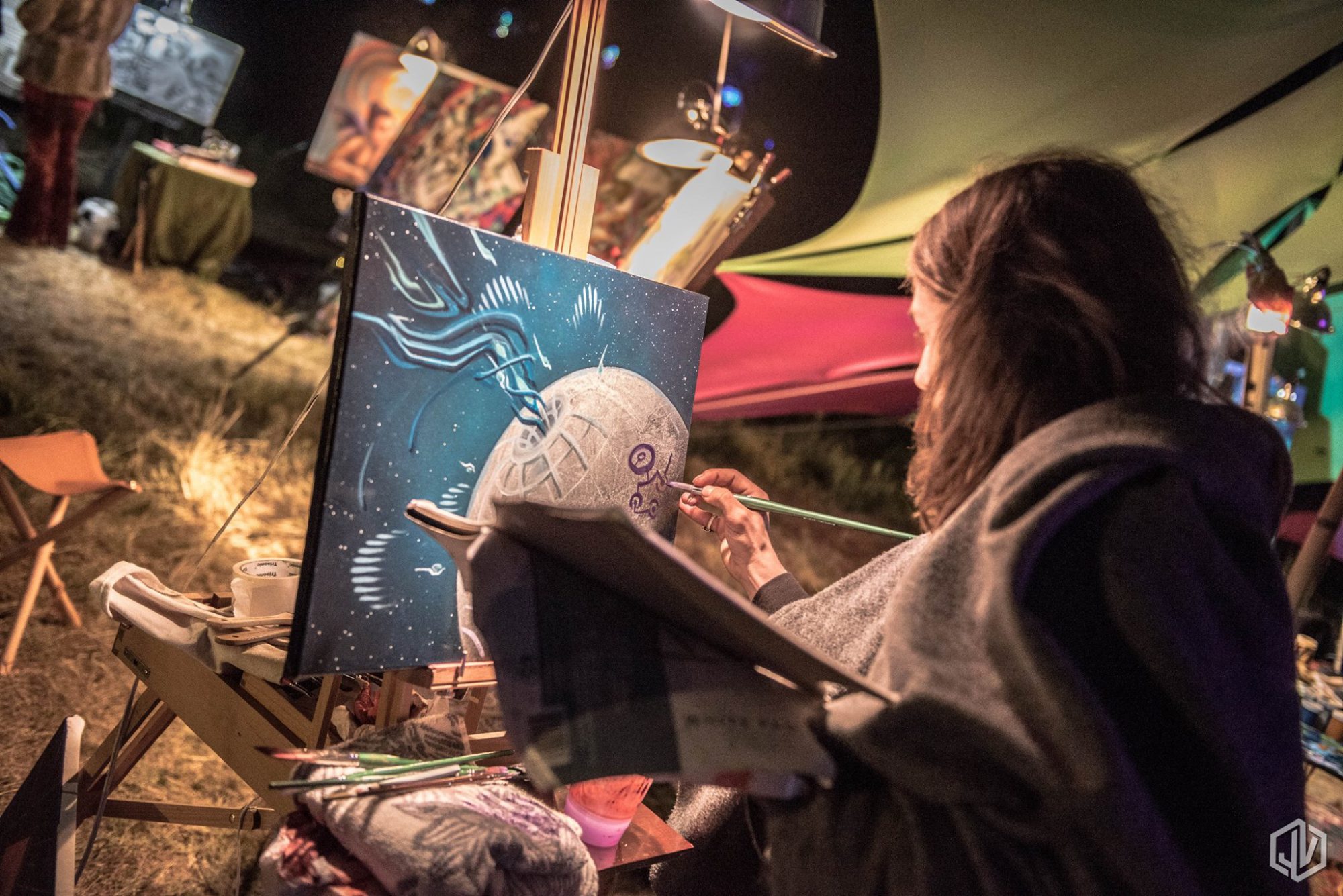 After an eventful Friday, we decided to turn in for the night and get rested for the next day of fun and activities.
This was the first festival where I had purchased a small power inverter that was able to charge my phones, run a few strings of Christmas lights, as well as power a heating blanket. The temperature only dropped into the 50's, but with a steady breeze, it often felt colder. The electric heating blanket and power inverter are great investments for those looking to keep warm on those colder festival nights.
Saturday morning greeted us with another beautiful day that had clear skies and was a perfect temperature to get into the water.
My group made breakfast and headed out to see what else Serenity Gathering had to offer. Near the festival's entrance was the Heart of Serenity, which offered courses in Kombucha making, many forms of yoga, as well as musical acts.
One of the things I found lacking was that there were very few art installations. With all of the space that the venue has to offer, there could have been many different types of art installations for attendees to check out. Hopefully, this will be something that can be improved upon for future events.
Something that every festival attendee has experienced is forgetting things at home while preparing for an event. On top of that, it always seems to be one of the most important items that you'd use daily, like sunglasses and sunscreen. Serenity Gathering had this covered though, as a vendor in the center sold all of these things as well as toys, ice, and snacks.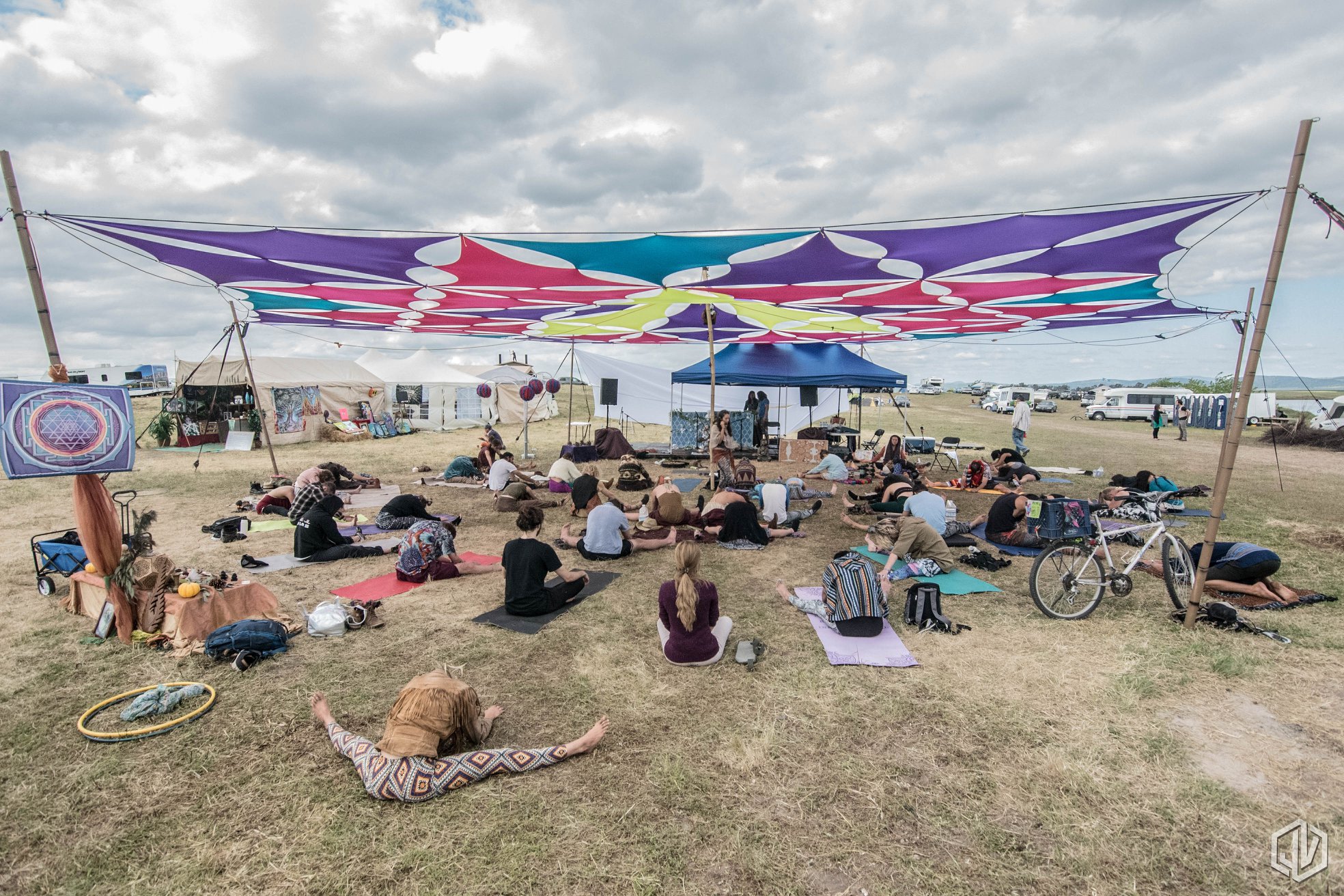 The food vendors who were present also had something to make everyone happy.
My favorite was pizza sold by the slice or whole pie by Fire Goddess Pizza which came out fresh and hot, with reasonable prices as well. Additionally, there was plenty of delicious veggie options available for those who were Vegetarian or Vegan from Govinda's Veggie Bomb.
Something that gets overlooked by festivals at times is lack of variety, and this definitely helped keep things fresh. I personally tasted their bomb fries and potato tacos, which were very good. As a meat eater, I can say that anyone who tried their food would have been very satisfied.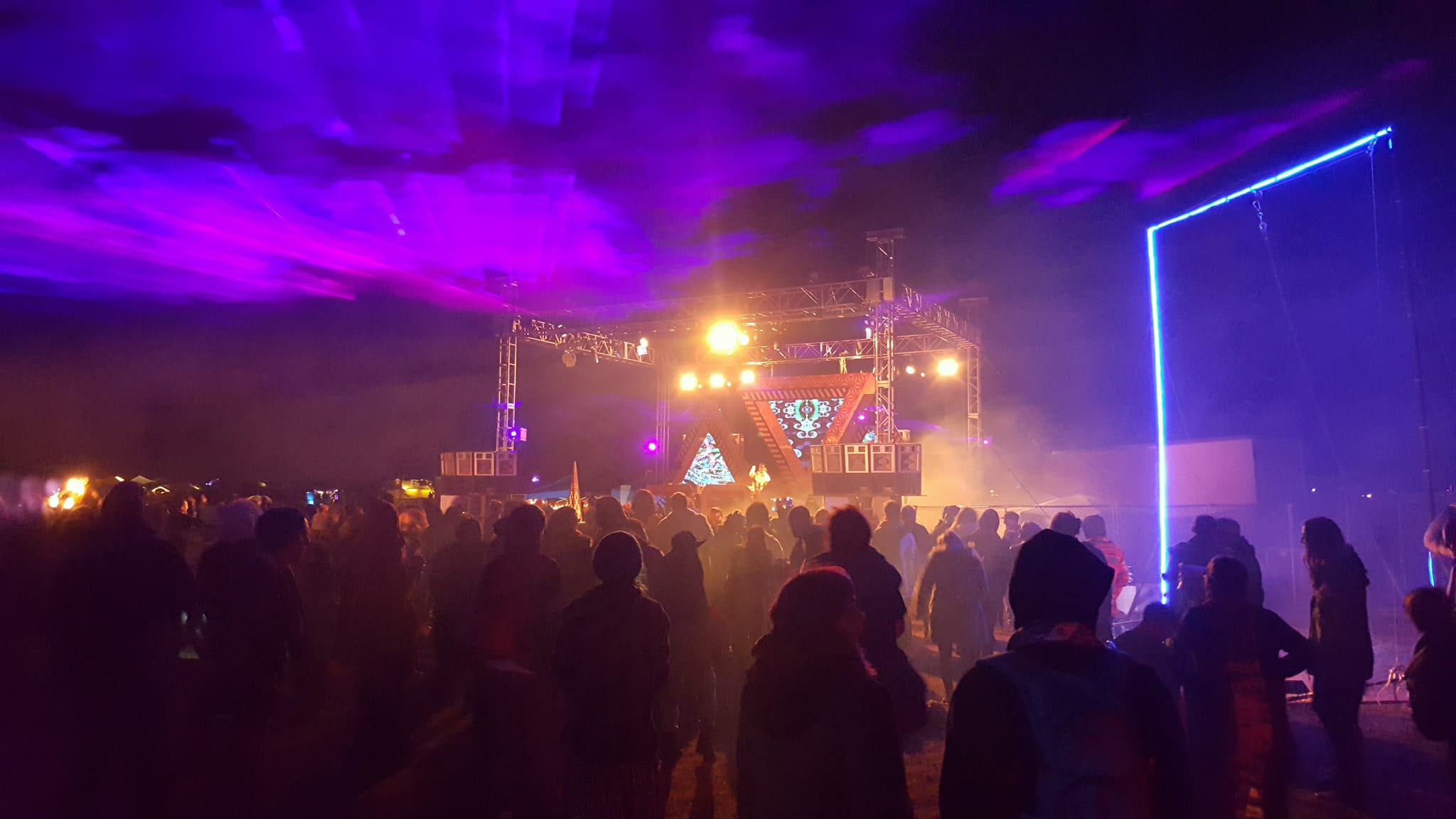 The sound systems were dialed in correctly and the Funktion One speakers never failed to produce very clean high and mid sounds while not sacrificing any deep, hearty bass.
While the sound blew us away, the production quality of the stages a bit to be desired. It felt like both main stage and the Pisces' stages could have used a bit more effort in production. The main stage was too small to host live acts that also had performers on stage, there can definitely be some improvement in the future there.
As for the Pisces stage, it was noticed that there were some very powerful lights used on stage that almost seemed to be too powerful when pointing at the audience. These lights are usually 10 feet off the ground in order to avoid the eye line of the crowd, but they might not have been high enough. When my group and I were watching Conrank, the lights turned on, directly hitting our eyes and causing a painful sensation that left a blind spot momentarily.
As the moon began to rise on Sunday, we were treated to one of the most beautiful sights I've ever seen.
It was a perfect moonrise at one of the most beautiful venues I've visited. There was a celebration of the Full Moon in Scorpio which was said to bring about new changes and a time for shaking off old habits.
Sunday was dominated by an amazing set from Dirtwire. Featuring tons of twang and a folksy, bluegrass kind of vibe, it was a fun change up from all the other stages and acts. They've been hitting the festival scene hard lately, so if you see them on a lineup, make sure to go check these psychedelic string pluckers.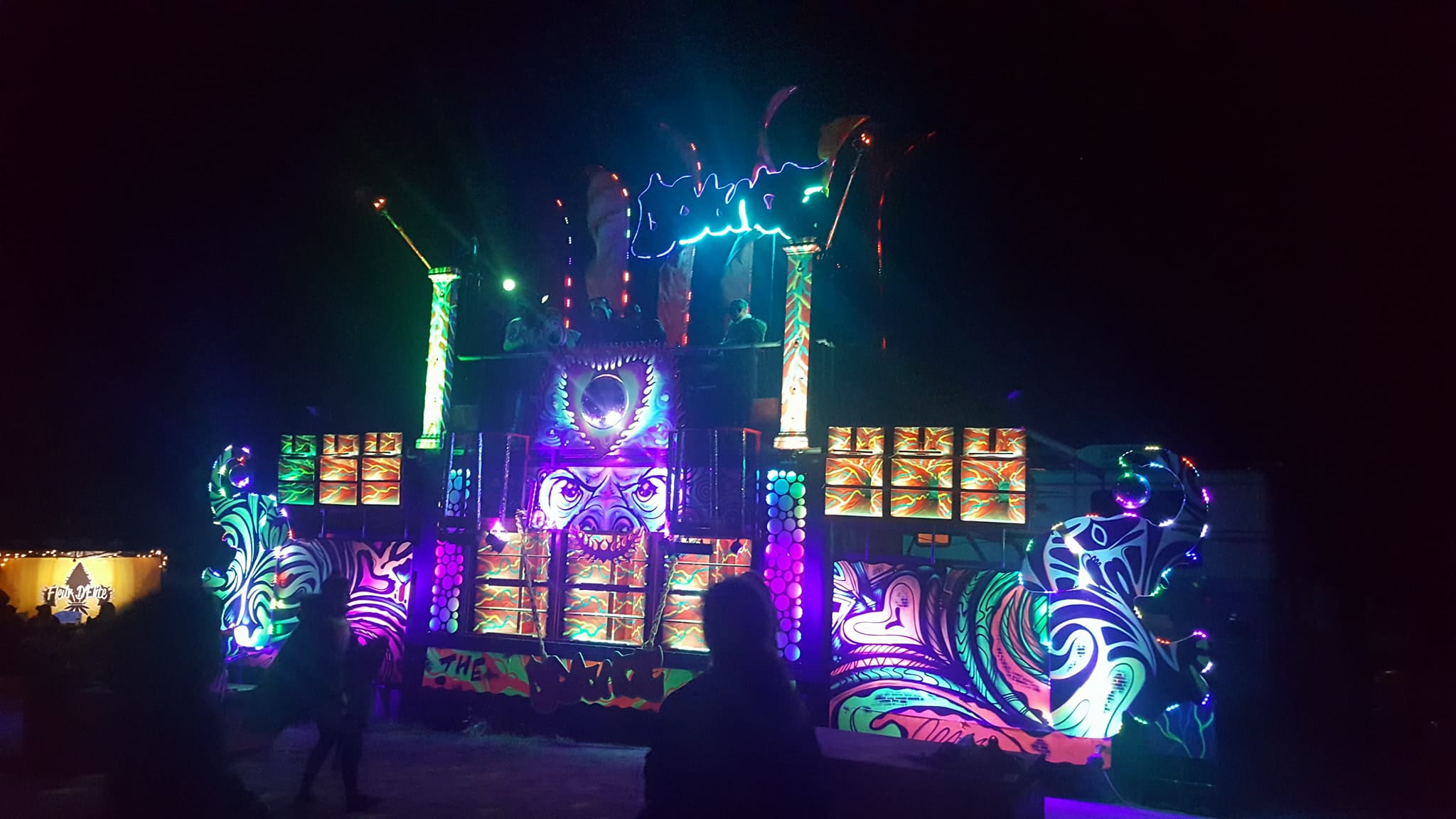 We closed out our weekend at the Euphoric Bounce stage, which had become one of my favorites at the festival.
The stage was filled with plenty of cool lights and production elements and made for a great place to take a break at throughout the duration of the festival. Of course, the talent that took the stage there was amazing as well and catching J. Loki b2b Sikkie as the last set at the stage capped things off nicely.
Although the size of the festival's attendance was a bit smaller than expected, everyone who was at Serenity Gathering brought unreal vibes and plenty of positivity with them.
There was an undeniable vibe of love that's often missing in many festivals. The joy that many experienced at Serenity Gathering was due to the festival not being over-crowded, with weather that was gorgeous, epic beats from artists playing the festival, and that it took place inside one of the most beautiful venues possible. I can't wait to see what they bring to the table next year!
---
Connect with Serenity Gathering 2018 on Social Media:
Website | Facebook | Twitter | Instagram | Facebook Event Page